There is nothing quite like that first glimpse of the sea when you approach your holiday destination.
The quivering blue expanse creates waves of excitement as the family senses they have finally arrived for a vacation of sun, sand, and fun.
Navarre beach is safe, as it enjoys one of the lowest crime rates in the US and has clean air and water free from pollution and toxins.
The only area of concern is water safety, as this stretch of coast suffers from the highest number of drownings compared to anywhere in North America. 
If you are investigating Navarre beach as a potential holiday destination or even looking at a possible move, you can be assured that safety will not be an issue.
The only proviso is related to swimming and being caught in rip tides which have caused a high number of drownings.
Navarre Beach and Navarre Beach Pavilion
Navarre Beach is found on the same barrier island as Pensacola Beach. 
Navarre is a small beach community found just east of Pensacola at the far North-Western tip of Florida and offers 12 miles (20 km) of perfect, unspoiled white shoreline.
Temperatures range between an average high of 60.50F (15.80C)and an average low of 42.20F (5.70C).
The average rainfall is 65.27 inches (1,658 mm) per annum, with the wettest months being June, July, and August, when the average rainfall is 6.9 inches (175 mm)  per month.
Hurricanes often threaten Navarre, and the area incurred significant damage from hurricanes Erin and Opal in 1995, Georges in 1998, Ivan in 2004, Dennis in 2005, and Sally in 2020.
Navarre beach lies between the Gulf Islands National Seashore and Navarre Beach Marine Park.
The beach offers a beautiful clear turquoise sea with pristine sand and is rated amongst the best in the US year after year.
Crossing the Navarre Bridge opens up a vista of sea views, peace, and relaxation.
The main attraction in Navarre is the idyllic beaches. Sitting on a perfect beach, swimming in the emerald clear waters, picnicking in the park, or riding a bike on the scenic bike path
 are all creating a sense of peace and separation from the world's busyness.
Navarre has grown from around 1,500 full-time residents in 1970 to a population estimated to be 37,362 residents in 2022.
The County of Santa Rosa Island is responsible for operating and maintaining the Navarre Beach Marine Park, which covers 116 acres of land along the Santa Rosa Sound and the Gulf of Mexico. 
The pier at Navarre beach is the longest fishing pier in the Gulf and hosts a restaurant and live music.
How Safe Is The Water At Navarre Beach?
Navarre Beach is a pristine setting with clean white sand which stretches for miles.
Navarre is renowned for its crystal-clear waters, where snorkeling is a popular activity, and local organizations continuously strive to provide artificial reefs and other marine enhancements.
The onsite amenities include covered pavilions, restful picnic areas, dune crossovers, and restrooms that are handicap accessible.
The pier charges admission fees, and fishing rods are available to rent.
Navarre beach has a generally good safety record.
Navarre Water Quality
Water quality is tested daily at Navarre beach and is recorded as 100% clean with no toxins, as reported by the Canadian company – Beach Guide.
Water Safety At Navarre
Navarre beach only has lifeguards on duty during the "in" season, from March to October. Between the four months from November to February, there is no lifeguard provision.
Navarre Beach Drownings
The national secretary of the United States Lifesaving Association, David Shotwell Sr., claims that The 30-mile stretch of Santa Rosa Island beaches, which includes the Navarre beach is the worst place in North America for drownings.
Predators At Navarre
The following are the predators which are present on Navarre beach.
Alligators At Navarre
Though alligators are not as common as in central and southern Florida, they live in Navarre. They are regularly found on the barrier islands and occasionally have been seen on Navarre beach.
Sharks At Navarre
Navarre Beach was the place in which the iconic film JAWS was set. 
While there is no record of anyone being killed in a shark attack at the Navarre beach, many recorded sightings have gone viral over the years.
A dramatic video filmed in 2019 recorded a Hammerhead shark attacking its prey. As these are not aggressive human species, this is not an issue.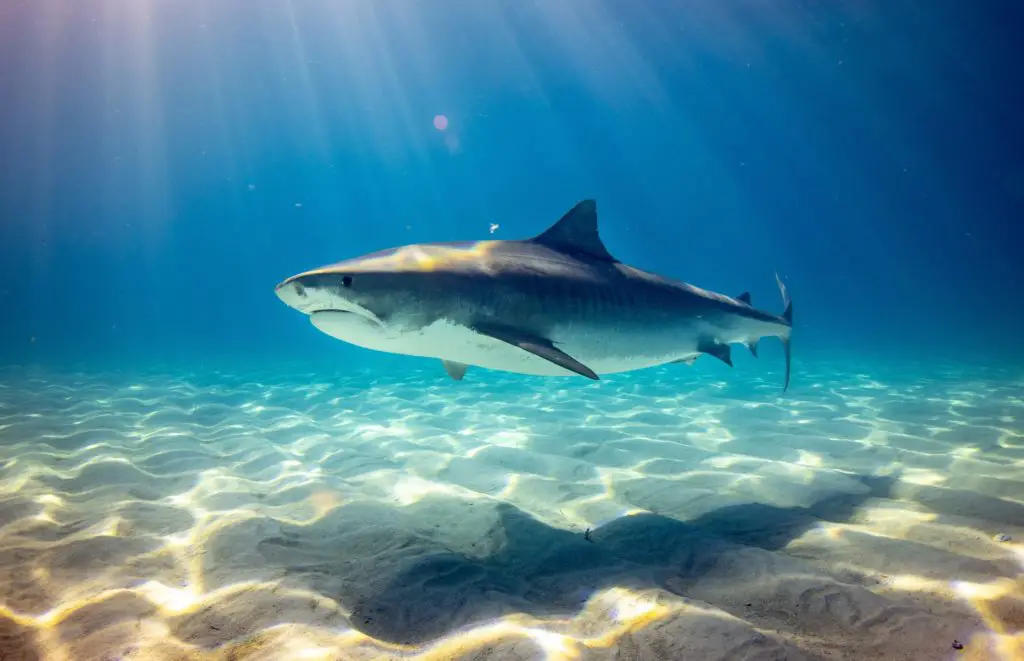 In February 2019, a Great White Shark was tagged and released near the Navarre beach pier.
In November 2021, a Tiger shark was spotted swimming around the pier on Navarre beach.
In January 2022, an 11ft Tiger shark was tagged and released off the Navarre beach.
Air Quality At Navarre
Navarre beach enjoys better air quality than the city average in the US.
The Air Quality Index (AQI) level has averaged 61.0 in 2022, better than the US city average of 74.2.
Crime At Navarre
Navarre is in the top 10% of safety in the US. Only 10% of US cities have a lower crime rate than Navarre, and 90% of cities have a higher crime rate.
Navarre's overall crime rate is 12.98 crime incidents per 1,000 residents during a standard year. It is 63% lower than the national average. 
Residents consider the western side of the city the safest.
On the western side of the pier, Navarre beach is designated an A-grade crime area, meaning it is very safe, and the crime rate is much lower than the average US city. 
Speaking of crime, ever wonder if you can drink alcohol on Navarre Beach? Check out the answer here.
Towards the Eastern side of the pier, the crime map changes to a moderately safe area.
Every 18 hours and 31 minutes, a crime occurs in Navarre. While this sounds high, it is 63% lower than the national average. The numbers of crimes per category include
Seventy-three violent crimes are committed annually in Navarre.
Two hundred sixty-five property-related crimes are recorded every year.
There are an average of 206 kidnappings occur every year.
An average of 4,600 drug offenses occur.
There are an average of 8,254 vandalism offenses.
Three thousand one hundred nine cases of identity theft are recorded each year.
Population of Navarre
The broad demographics of Navarre beach are as follows.
| | |
| --- | --- |
| Racial grouping | Percentage total |
| White | 80.34% |
| African American | 9.03% |
| Hispanic | 5.19% |
| Other Races | 2.10% |
| Asian | 2.95% |
| Native Hawaiian and Other Pacific Islander | 0.22% |
| Native American and Alaska Native | 0.17% |
The average age of Navarre residents.
Total Male and Female combined – 37.4 years
Male – 36.1 years
Female – 38.9 years
Conclusion
Navarre beach in Florida is a haven to which holidaymakers retreat every year and is a place where the pristine beaches and turquoise blue sea create an oasis of relaxation where you can unwind, de-stress, and prepare yourself for the next year.
Apart from a relatively large number of drownings, it is one of the safest places in the US on virtually every other metric.