If you are like me, a huge pet lover and your dog is just a four-legged baby to you, well, then there is nothing more fun and rewarding than frolicking on sandy shores with them.
Dogs are part of your family and to see their excitement when you take them down to the beach to run and chase the surf is uplifting. 
Navarre Beach is a tourist attraction that doesn't allow dogs on the beach.
However, petitions are being pushed to Santa Rosa County to open a portion of the beach to dogs to reach a more pet-friendly environment, and holidaymakers can include their dogs on their vacations.
Not all beaches are pet friendly, and finding the perfect spot to go on holiday with your best friend is important for both your and your dog's happiness.
Do research ahead of time to find out where the pet-friendly areas are in relation to where you are staying. 
Is Navarre Beach Dog Friendly?
You may have free range on your trip, but nothing will make your canine friend lonelier than sitting in an unknown environment while you go out and enjoy the sights and smells of your vacation.
Unfortunately, Navarre beach has still not been deemed pet friendly and is reserved for humans' enjoyment only.
This beach is still very much a tourist-based area, and some commissioners are hesitant to open these beaches to pets.
Some reasons are the wildlife and the health issue that dog fecal matter will cause if not properly picked up and disposed of.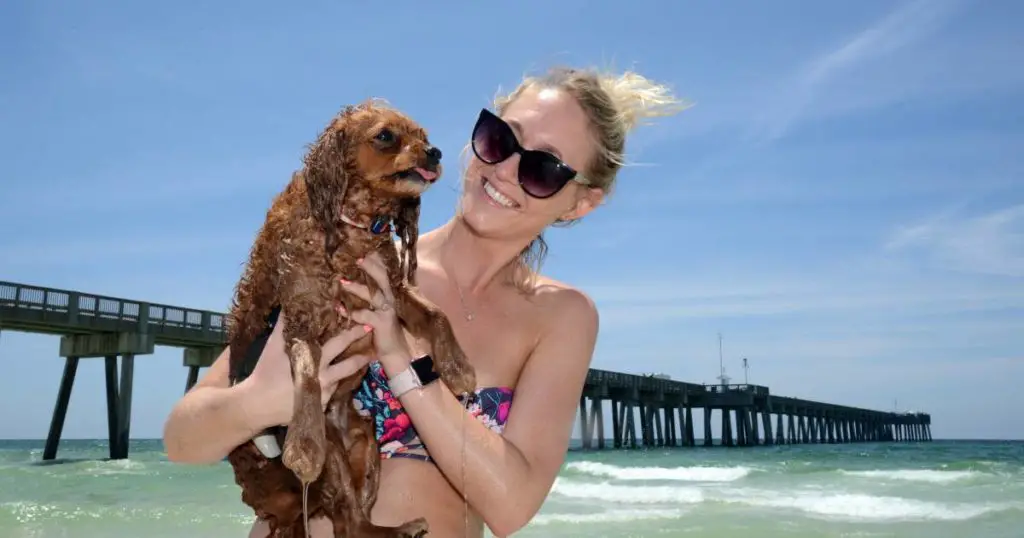 Places Near Navarre Beach That Are Dog Friendly
Although Navarre beach is not pet friendly, there are other spots that are available for you and your canine pal to visit and enjoy a sun-filled, surf chasing day.
You have two beautiful beaches on the Pensacola beach that dog owners and dogs can enjoy.
These beaches are reserved for dogs only, and even though it is small, about half the size of a football field, your dogs are welcome to frolic in the surf and enjoy some fun in the sun.
Parking lot 21.5 is the Pensacola beach west dog park situated on Fort Pickens road, just past the set of condos, 19 miles from Navarre Beach Fishing Pier, and should take about 35 minutes to reach.
A closer beach would be the Pensacola beach dog park east, located at the first parking lot past the Portofino Towers number 28.5 on Via de Luna.
This is about 12 miles from the Navarre Beach Fishing Pier and will take you roughly 25 minutes to reach.
Both these parks are dog friendly and offer doggie bags, disposable bins, and handy wipes to ensure that you can easily dispose of your dog's mess, but just in case, bring your own.
To avoid the dog box and any hefty fines, follow the same rules at either park.

Hours are from sunrise to sunset daily. During the turtle season months of May 1 to October 31, the park opens from 7 am to sunset daily.

Two big signs have been posted to designate the area that is open for your dog to explore.

Both beach parks are open to dogs only.

Dogs must at all times be on a leash.

An up-to-date rabies tag must be visible on the dog. This is as per Florida law.

All dog fecal waste must be picked up immediately and disposed of correctly by the owner.

Always bring water and a bowl for your pet to have fresh water.
Off-Leash Dog Parks Near Navarre
Going to the beach is great when your pup has room to run and play without the restriction of his leash.
Dogs need the freedom to run, bounce and play by themselves without the constant tugging of their leash.
So, where can you take your canine to enjoy some freedom? Santa Rosa County has a waterfront dog park on either side of it.
The Liza Jackson Beach Park in Fort Walton Beach is fenced off for the protection of your pup and that of the wildlife.
There is a petition that has been pushed forward to allow a dog-friendly off-leash beach park in Navarre.
But with concerns for tourist health safety and wildlife trepidations, there has not yet been any final decision on whether or not a park will be opened.
Dog-Friendly Activities In Navarre?
With the limited number of beaches available for your dog to romp around, it would be ideal to find some alternative activities to do that include your canine friend.
Jolly Sailing & Dolphin Cruise

– this is the perfect way to explore the ocean and make memories with your best friend.

– this cruise is pet friendly and will take you to private beaches where your four-legged child will have ample space to enjoy some well-earned freedom.

Ho2 Pensacola dolphin tours, pontoons, and more

– offer rentals on pontoon boats and stand-up paddle boats for those adrenaline junky dogs.

– Rentals of kayaks and SUP are also available, and all their rentals are pet friendly for a truly bonding experience with your best friend.

Blackwater Heritage State Trail

– this is the perfect place to take a leisurely stroll with your dog or take a scenic bike ride for a more vigorous workout for your friend.

Oak Tree Nature Park

– is a beautiful walking trail park for you and your dog, just as long as he is controlled on a leash and you clean up after him.

– This circuit of almost 1mile long trail is the perfect setting for beautiful scenery and a bonding experience with your pal.
Dog-Friendly Restaurants On Navarre Beach?
We all have to eat, but what do you do with your companion when you need to get a bite to eat? Take him with you, obviously.
Navarre is opening up to the idea of pet-friendly facilities, and more and more restaurants are open to accommodate your four-legged fur babies.
Dewey Destin's is a fast-casual eatery that allows your canine friend to join you outside at picnic tables with soft sandy beaches and cool shady areas.

TC's Front Porch is a funky bar and grill where your canine can join you for a delicious meal and some refreshments at their outside tables.

Samurai welcomes your pets at their outside, pet-friendly tables if sushi is what you're after for lunch or dinner.

Tropical Smoothie Café is a great healthy alternative to the usual fast-food options and welcomes your furry friend as well for a relaxing break before the next big adventure.
Conclusion
Navarre is fast becoming a buzzing tourist destination for its white sandy beaches and clear turquoise waters.
But sadly the beaches don't accommodate the family dog that is no longer left at home when you go vacationing.
There are, however, some great beaches close to Navarre where dogs are welcome to frolic and romp around.
But the beach is not everything, and there are some great activities apart from the beach that can be enjoyed with your companion.
Not to mention some fantastic places to sit down for a well-deserved break and enjoy a great meal.