The long white beaches that frame the Gulf coast are renowned worldwide and capture people's imagination.
The turquoise blue sea is a tantalizing drawcard that not many international destinations can match.
Both beaches have amazing soft sand which you can walk on with bare feet in the hot sun.
While the beaches around Destin tend to be private with limited public access, the Gulf Shores beaches are accessible to the public.
Gulf Shores Retains a smaller town feel, while Destin feels like a bigger city.
Each beach setting will appeal to different holiday situations. Generally, Gulf Shores slightly favors families, whereas the Destin beaches will appeal more to singles and families without children.
If you like the "party" atmosphere, the Destin beaches win, BUT, if you like the smaller town vibe without the chaos, the Gulf Shores may be just right for you.
How Far Apart Are Gulf Shores And Destin?
Gulf Shores beach is in Alabama, and Destin Beach is in the city of Destin in Florida. The total distance from Destin, FL, to Gulf Shores, AL, is 80 miles or 129 kilometers.
How Do The Beaches Compare Between Destin And Gulf Shores?
The beach offering between Destin and Gulf Shores is quite different.
Destin Beaches
While the area around Destin has limited public access, there are plenty of gems if you look a little further afield.
These beaches are not crowded and provide access to wonderful facilities with long white sand stretches leading into the warm gulf water.
The beach sand feels very soft and does not heat up excessively, so you can generally walk on it with bare feet.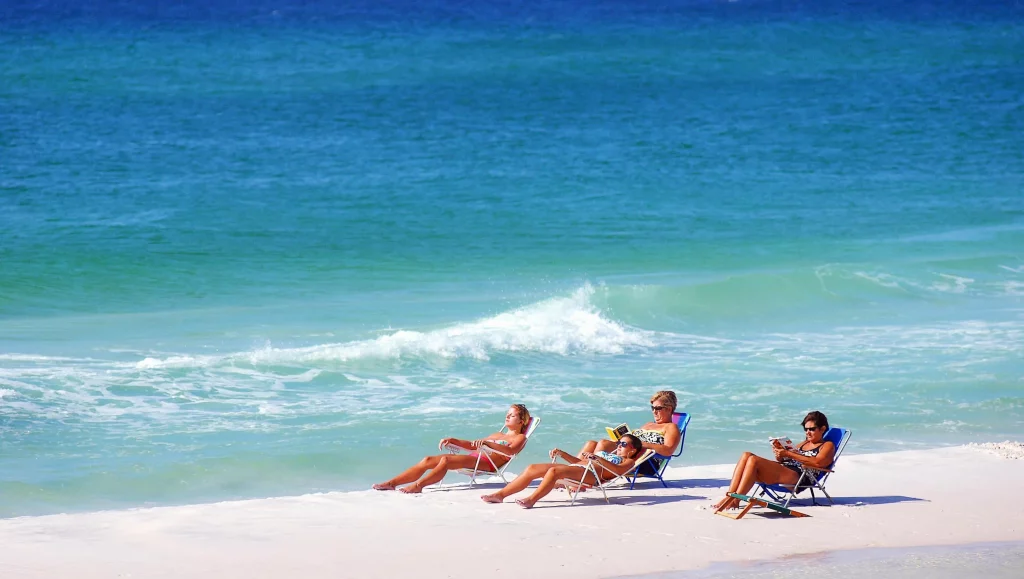 Gulf Shores Beaches
Alabama legislation makes 32 miles of Gulf Shore beaches available for public access – subject to visitors remaining below the high tide mark.
The beaches are described as being sugar white. The soft and fine sand originates from quartz that filtered down from the Appalachian Mountains chain.
It is famous for squeaking when it is walked upon.
Which Beaches Are More Crowded: Destin Or Gulf Shores?
The 1.4 km of public access beach at Destin is the most crowded.
Destin Population And Beach Access
Destin has a full-time residential population of 14,859 residents, and each year 4.5 million holidaymakers visit Destin.
The problem with Destin beaches is that many of the beaches are private and roped off. 
Almost the whole length of Destin's six miles of beach is "private" and cordoned off as belonging to private homeowners and the condos that line the beachfront roads on Henderson Beach State Park.
The issue is that only about 1.4 miles of Destin's beaches are open to the public.
While holidaymakers can access the seafront via the public access beaches, the result is that millions of public access visitors do not get to the beach. 
If you stay in a condo or private beachfront property, the beach will not be overcrowded. If you only have access to the 1.4km of public beach space, overcrowding will be an uncomfortable reality.
Gulf Shores Population And Beach Access
Gulf Shores and Orange Beach's population are approximately 19,000 residents, and nearly 7 million holidaymakers visit Gulf Shores annually.
Alabama has legislated private property ownership only extends to the beach's high tide marks. 
The area below this is held in public trust for the benefit of everyone. The public has access to 32 miles of Gulf Shores beaches.
While the 1st of July and other holidays draw massive crowds, Gulf Shores beaches are not overcrowded for the rest of the year.
Do Lifeguards Protect Gulf Shores And Destin Beaches?
Lifeguard services are provided for both Destin and Gulf Shore beaches.
Destin Lifeguards
Nineteen seasonal lifeguards are assigned to Destin public beaches between March and November. 
Gulf Shore Lifeguards
The city provides seasonal lifeguard services on Gulf Shore beaches between March and October and actively tries to persuade the public to only swim from beaches when lifeguards are present.
How Does The Weather Compare Between Destin And Gulf Shore?
Destin has a higher year-round temperature, more sunny days, and slightly fewer rain days than Gulf Shores Beaches.
The temperature at Destin reaches a maximum of 1000F as opposed to 1010F at the Gulf Shore beaches.
The result is that Destin has a better climate which is more suited for the holidaymaker.
| | | |
| --- | --- | --- |
| | Destin Beaches | Gulf Shore Beaches |
| Average high temperature | 78.10F (25.60C) | 750F (240C) |
| Average low temperature | 69.80F (21.00C) | 630F (170C) |
| Hottest Month | September 1000F (380C) | July 1010F (380C) |
| Average precipitation | 55.35 inches (1,406 mm) | 61.57 inches (1,564 mm) |
| Number of rainy days | 109.5 days | 112 days |
| Highest rainfall month | August 6.08 inches (154 mm) | August 7.19 inches (183 mm) |
| Number of sunny days | 226 days | 205 days |
| Remarks about climate | The month with the wettest days in Destin is August, with an average of 12.4 days with 0,01 inches or more precipitation. Precipitation is very common, though most storms blow by rather quickly. | The month with the wettest days in Gulf Shores is July, with 17.3 days with at least 0.04 inches of precipitation. Temperatures feel great for most of the year, excluding some hot weeks in the summer. |
What Entertainment Is Available At Destin and Gulf Shores?
Both beaches have access to entertainment; however, Destin has the greatest concentration of facilities.
Destin Entertainment
The Destin area is larger than Gulf Shores, and there are generally more entertainment activities available.
In Destin, the bars on the main strip are very close together.
You can have a great time at night in both destinations; however, the venues are closer together in Destin and more accessible.
Destin strictly enforces an intolerance for wild parties, including behavior that is perceived to interrupt the vacation of peace-seeking visitors or threaten the family image they try so hard to maintain.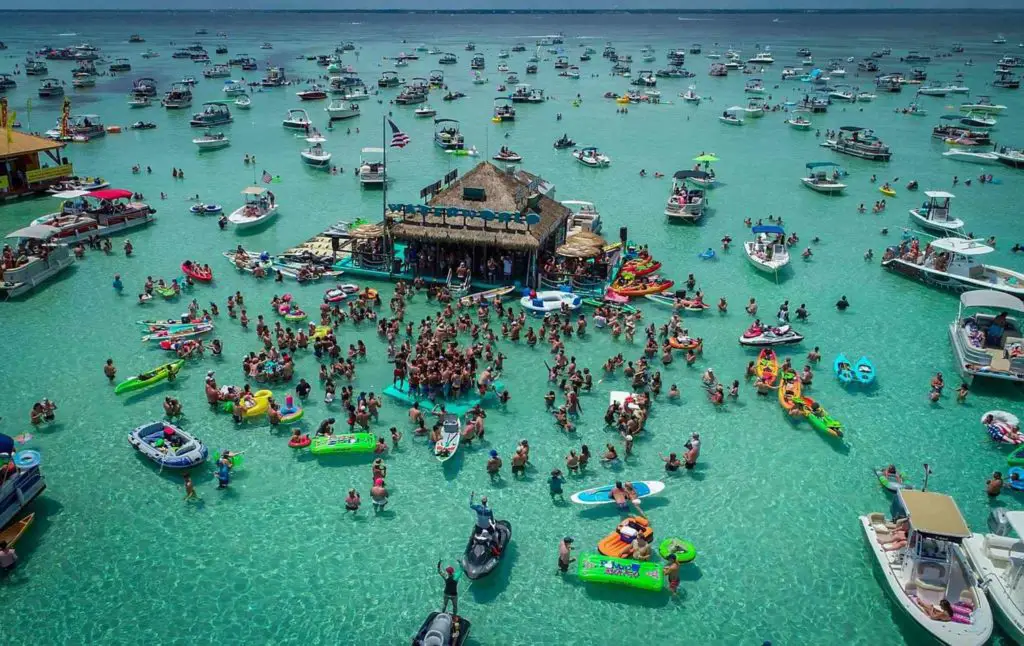 Available daytime entertainments include.
Gulfarium Marine Adventure Park

Henderson Beach State Park

Dolphin Sunset Cruise

Destin Harbor Boardwalk

Gator Beach Alligator Park

Crab Island is a perfect place to run your boat to

Maximum Magic Show

Sandcastle Lessons On The Beach

Golf Garden Of Destin

Destin History & Fishing Museum

Destin Helicopter Tours
Destin has many different venues for your pleasure, whether you are into clubs, sitting at a bar, or want a night out to eat at a nice restaurant.
Gulf Shores Entertainment
Gulf Shores has retained a small-town feel, and there are fewer crowds.
In Gulf Shores, there are fewer entertainment facilities, and they are further apart.
Gulf shores make the following daytime entertainment facilities.
Miniature golf

Dolphin cruises

Bowling

Ferry trips

Horseback riding

Arcades

A zoo

Amusement parks
At night there are more than 25 family-friendly restaurants and bars.
Comparison
It is not an easy task to pass judgment on whether Destin beaches are better or worse than Gulf Shores beaches.
Separated by a mere 80 miles (128 km), they both trace the beach sand back to the same Appalachian Mountains, and the sea reaching the sand is the same.
Climates are similar, with perhaps Destin winning by a small margin. Gulf Shores has retained a small-town feel, while Destin has a bigger city vibe.
We would opt for Gulf Shores; however, both can give you a memorable holiday.