Looking for the Best Restaurants Seaside FL? Well, it just so happens we live here and well, we eat here, so we may have some good input!
Seaside, Florida is a hidden gem located on the Western Coast along the Gulf of Mexico. The place has a very southern influence, which is reflected in the local food and people.
The town is beyond picturesque with stunning white beaches, and an ocean so blue that it makes you feel as if you're in the Caribbean, not Florida.
The architecture here is beyond stunning with most of the houses having porches with rocking chairs and a Southern Cottage vibe.
But Seaside is also a food lover's paradise, boasting a variety of top-notch restaurants.

If you're looking for a more casual bite, head to Airstream Row, which offers an assortment of options including Barefoot BBQ, Crepes de Soleil, Frost Bites, The Meltdown on 30A, and Wild Bill's Beach Dogs.
For cocktails, check out BFF At The Great Southern, which offers great cocktails and a great vibe.
In this guide, we'll share our top 10 picks for restaurants to try in Seaside, so you can savor the flavors of this beautiful beach town.
Don't have time to read? These are the Best:
Airstream Row (No Website)
Best Restaurants in Seaside Florida
As a local and someone who loves eating, I feel confident this list will deliver.
When it comes to traveling to a new place, experiencing the best cuisine is a must. That's why we've scoured Seaside, FL to bring you the best of the best when it comes to restaurants.
Our selection criteria included the quality of food and drinks based on hundreds of 5-star reviews from locals and tourists alike.
We also considered inviting atmospheres with jaw-dropping views and cozy cafes that are perfect for any occasion.
Variety is key, and that's why we've included restaurants with unique fare options for every meal, so you can experience the best of the local cuisine.
We've also made sure to include a variety of atmospheres to fit any mood or occasion. Whether you want to get dolled up for a fancy night out, relax in a laid-back setting, sample the local flavors, or find a healthy meal to start your day, we've got you covered.
Our top picks offer a range of dining experiences, from sit-down restaurants to quick bites on the go.
So, get ready to indulge in the culinary delights of Seaside, FL with our hand-picked selection of the best restaurants in town.
So, let's face it, we have chatted enough, lets's get to the best restaurants in Seaside, FL.
Great Southern Cafe
Great Southern Cafe is a must-visit restaurant in Seaside. This award-winning cafe serves up delicious, classic Southern cuisine with a twist.
We highly recommend trying their famous Grits à ya ya, made with smoked Gouda cheese and tender Gulf shrimp.
If you're in the mood for seafood, their Balsamic Salmon is a must-try, featuring a tangy glaze and served with a side of roasted vegetables.
And don't forget to sample one of their mojitos during their happy hour from 3:00 to 5:00. With flavors like peach, strawberry, classic, mango, and guava, you really can't go wrong.
Amici Italian Kitchen
If you're in the mood for delicious Italian cuisine, head to Amici Italian Kitchen. The restaurant specializes in authentic Neapolitan pizza pies made in a brick oven known for its crispier, brick-oven styled crust.
All made with locally-sourced ingredients, this eclectic family-friendly concept serves everything from belly-satisfying pastas and entrees perfect for one to delicious Italian small plates that can be shared.
During their happy hour from 3:00-6:00, you can enjoy discounted prices on pasta, pizza, beer, and cocktails.
With its cozy atmosphere and friendly staff, Amici Italian Kitchen is the perfect spot for a casual and satisfying meal.
The most famous dish on the menu is the Grits a Ya-Ya, a delicious mix of fresh spiced shrimp, smoked bacon, spinach, and Portobello mushrooms piled over smoked Gouda cheese grits that you can order for breakfast, lunch, or dinner.
The breakfast menu also includes southern favorites such as Chicken and Waffles, Biscuits and Gravy, and Beignets.
The lunch and dinner menu boasts The Carson, dubbed 'the best chicken sandwich you will ever have" and the famed Mac and Cheese with Bacon and Shrimp.
The menu also includes fresh seafood, steak, and burgers. They also offer vegetarian, vegan, and gluten-free options.
For drinks, The Great Southern Café knows how to do Mojitos, offering multiple flavors from coconut to guava pineapple.
The vibe is laid back, as the restaurant resembles a classic Seaside home complete with a charming porch to feel that Seaside breeze.
Bud and Alley's Waterfront Restaurants
You can't visit Seaside without visiting at least one of Bud and Alley's restaurants. The original and most famous one has a huge outdoor patio overlooking the Gulf of Mexico.
Bud and Alley's has been a Seaside icon since 1986 and for good reason.
This beloved beach-front restaurant and bar serves up classic Gulf Coast dishes paired with Southern-style cuisine.
You won't want to miss the stunning views of the Gulf from their open-air upstairs bar area. It's the perfect spot for lunch or dinner, or simply to sip on a cocktail while watching the sunset.
Plus, check out their other Roof Deck Bar where you can enjoy the sunset while sipping their specialty cocktails and indulging in their famous seafood.
This restaurant has won plenty of awards and is known for its crab cakes and key lime pie.
For drinks, try their famed Frose in cucumber mint, orange blossom, peach, or grapefruit rose.
Although beach towns are known for seafood, sometimes you just want a pizza.
Bud and Alley also delivers with their offshoot restaurant called Bud and Alley's Pizza Bar and Trattoria.
You can choose from red or white pies or enjoy other Italian favorites such as pasta and meatballs. Everything here is made by hand in a wood-fired oven to create an authentic Neapolitan experience.
For a low-key, colorful vibe and delicious Mexican-style tacos, you must try Bud ; Alley's Taco Bar.
Come right off the beach for homemade guacamole, top-shelf margaritas, and Baja fish tacos.
Nanbu Noodle Bar
If you're looking for a taste of Japan with a Southern flair, head to Nanbu Noodle Bar.
Their authentic Japanese ramen bowls are freshly made with handmade noodles and loaded with vegetables and protein.
Be sure to try their daily selection of dumplings, all prepared by hand and bursting with flavor. And the best part?
Nanbu is perfect for dine-in or take-out, with a menu that has something for everyone.
Airstream Row
If you are looking for something cheap and easy, but with a lot of variety, look no further than Airstream Row.
Right off Highway 30A lies a slew of vintage Airstreams outfitted to be gourmet food trucks.
Barefoot BBQ is Dad's answer to juicy BBQ. If Mom is craving something lighter she can delight in savory or sweet crepes from Crepes de Soleil.
The kids can choose between gourmet hot dogs ranging from grass-fed beef, family-farmed pork, pasture-raised turkey hot dogs from Wild Bill's Beach Dogs, or classic and new takes on grilled cheese sandwiches and roasted tomato soup from The Melt Down on 30A.
For something healthy, like a juice smoothie or black bean and avocado salad, you can try Raw and Juicy.
If you'd rather have something sugary like Hawaiian shaved ice and homemade frozen custard, you should check out Frost Bites.
No matter what you are in the mood for, Airstream Row will have something everyone can enjoy in a very casual, fun environment.
The Bay
Nestled along the Choctawhatchee Bay is one of 30A's best kept secrets – The Bay.
This family-friendly waterfront restaurant offers a stunning view of the bay along with its Southern gulf coast cuisine, sushi, and cocktails.
The menu is carefully crafted with fresh, local ingredients and a variety of options to suit any taste bud.
Whether you prefer table seating inside the cozy restaurant or bar seating outside on the deck overlooking the bay, The Bay has got you covered.
And while you're waiting for your food, take a stroll on the nearby sand beach and take in the breathtaking views.
Don't miss out on this hidden gem – The Bay is the perfect spot for a romantic dinner, a family outing, or even a casual lunch with friends.
Cafe 30A
Looking for a casual fine-dining experience on 30A? Look no further than Cafe 30A.
This restaurant features grilled and fire-roasted seafood, meats, and poultry, all cooked to perfection.
With a menu that changes daily according to the availability of ingredients, there's always something new and exciting to try.
But the real star of the show is the daily special – buy one entrée and get the second half off from 4:30 to 5:00.
This is the perfect opportunity to try out multiple dishes and truly experience the flavors of 30A.
The atmosphere at Cafe 30A is warm and inviting, making it the perfect spot for a romantic date night or a celebration with friends and family.
So grab a glass of wine and prepare to be wowed by the flavors of this exceptional restaurant.
Red Bar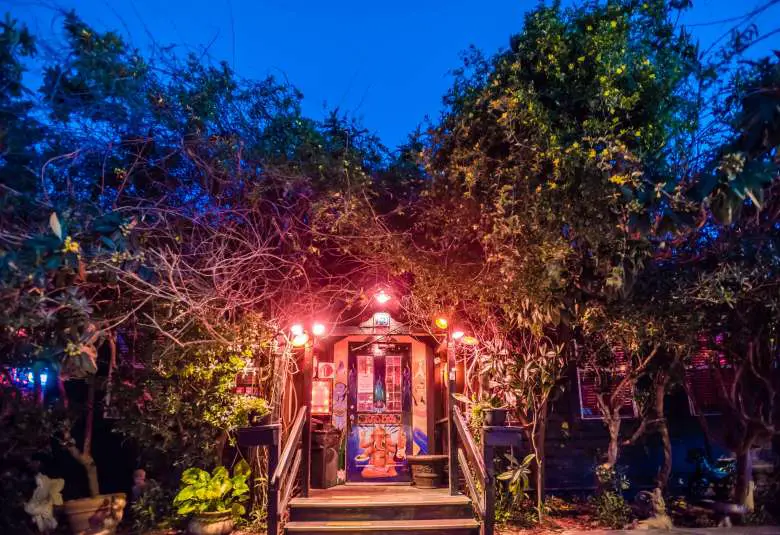 If you're looking for a quintessential 30A experience, look no further than Red Bar. This fun and funky beach shack boasts a unique atmosphere that perfectly captures the laid-back spirit of Seaside.
But it's not just the atmosphere that draws crowds – the food is exceptional as well. The crab cakes are a must-try and the menu features a variety of other dishes that will tantalize your taste buds.
And let's not forget about the cocktails – they're expertly crafted and perfect for sipping while enjoying live music (usually jazz or the popular Dread Clampitt).
So come for the atmosphere and stay for the food – Red Bar is a one-of-a-kind experience that you won't want to miss while visiting 30A.
Seagrove Village Market Cafe
For a taste of local flavor, head to Seagrove Village Market Cafe. This no-frills diner and souvenir shop has been a favorite among locals for years, and for good reason.
Their fried or grilled grouper sandwich has been named one of the "100 Things You Must Eat Before You Die" by Garden & Gun magazine, and it's consistently voted as one of 30A's hot spots for deep-fried seafood.
It's just a short bike or car ride from Seaside, making it the perfect spot for a quick bite to eat.
Amavida Coffee Roasters
People live for their morning coffee and have trouble replicating their favorite orders while on vacation. Luckily, Amavida has the answer in their organic Fair Trade roasts.
This quaint café right by the water is perfect for a quick bite or to sit, sip, and enjoy the cozy atmosphere. They make specialty coffees, teas, pastries, desserts, and bagels.
Try the iced caramel macchiato, frozen matcha, and almond croissant. They also have vegan options and various milk options.
FOOW Seaside
FOOW, or Fish Out Of Water, is a contemporary coastal cuisine restaurant located in the WaterColor Inn & Resort with Gulf views.
The restaurant offers a menu filled with a variety of fresh seafood dishes, sushi, and craft cocktails that are as visually stunning as they are delicious.
FOOW's upscale yet casual atmosphere makes it a perfect spot for a romantic dinner, a night out with friends, or even a family dinner with the kids.
One of our favorite dishes at FOOW is the Gulf Coast seafood linguine, which is a generous portion of perfectly cooked pasta with a medley of seafood including shrimp, scallops, and mussels in a flavorful tomato sauce.
Another must-try dish is their sushi rolls, like the FOOW Roll which is filled with crab, avocado, and topped with tuna, eel sauce, and crispy shallots.
Pair your meal with a refreshing craft cocktail like the Watermelon Margarita or the Pineapple Express, which are perfect for sipping while taking in the stunning Gulf views.
Mr. Gyro Hero and More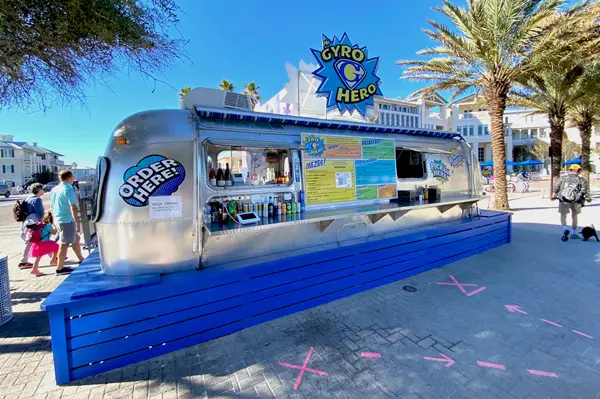 If you're in the mood for some Mediterranean and Greek cuisine, Mr. Gyro Hero and More is the perfect spot for a quick, casual meal.
Located in the heart of Seaside, this restaurant offers a variety of gyros, falafel, hummus, and other traditional dishes that are sure to satisfy your cravings.
The restaurant's simple yet cozy atmosphere and friendly staff make it a great spot for a casual lunch or dinner with friends.
One of our favorite dishes at Mr. Gyro Hero and More is their classic gyro, which is filled with tender meat, fresh veggies, and their signature tzatziki sauce.
We also love their falafel, which is crispy on the outside and fluffy on the inside, and their hummus which is served with warm pita bread.
For a refreshing drink, try their homemade lemonade or their iced tea which is brewed fresh daily.
Surfing Deer
Surfing Deer is a creative American fare restaurant located in the heart of Seagrove Beach.
The restaurant's menu features locally-sourced ingredients and seasonal dishes that are always fresh and flavorful.
Surfing Deer's outdoor seating area provides stunning views of the Gulf, making it the perfect spot for a romantic dinner or a night out with friends.
One of our favorite dishes at Surfing Deer is the blackened redfish, which is a perfectly cooked fillet served with creamy grits and a tangy remoulade sauce.
We also love their seasonal salads which are always bursting with fresh flavors and their creative small plates like the bacon-wrapped dates which are a perfect balance of sweet and salty.
Pair your meal with a glass of wine from their extensive wine list or try one of their craft cocktails like the signature Seagrove Sling, made with fresh squeezed orange and pineapple juice.
Nigel's Bananas
To complete this list, we must include something cold and sweet; however, this is more than just your usual beachside ice cream bar.
This is Nigel's Bananas, where they dip a frozen banana into dairy-free, semi-sweet chocolate and then slather it in the topping of your choice.
Open from 9 to 9, this delicious treat could be an after-dinner dessert or a cheeky afternoon snack.
If you aren't a banana fan, you can choose a vanilla or chocolate ice cream bar dipped in chocolate and your topping.
Toppings can be as simple as rainbow sprinkles or as extravagant as Party Time, which includes pretzels, peanuts, Oreos, Reese's Pieces, and a Biscoff Drizzle.
The menu also includes key lime pie, ice cream floats, craft soda, and a boozy, bubbly sorbet float for adults.
Final Word
If you're looking for a fantastic meal and some incredible views, look no further than the best restaurants in seaside Florida.
From fresh seafood to classic American dishes, these establishments have something for everyone.
And don't forget to enjoy the stunning emerald coast while you eat – it would be a shame not to! Have you visited any of these amazing restaurants? What was your favorite dish?