Along Florida's famous 30A beaches, Destin is one of the nicest places to visit near the Panhandle!
If you're looking for a nice vacation, you'll need the answer to the question: where should I stay in Destin?
Destin, Florida is home to resorts, beachfront hotels, and vacation rentals for vacationers and tourists.
Many of these offer easy access to the beach and popular shopping destinations.
Deciding on which type of place to stay when vacationing is only the tip of the iceberg if you're beginning the planning process.
In this article, we'll not only go over the different options but the most popular places to stay in each category of Destin accommodations!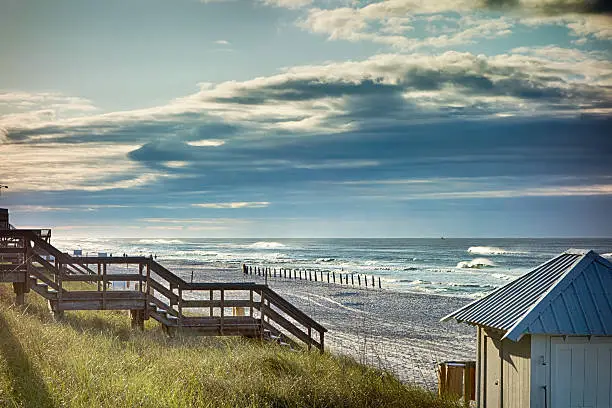 Resorts in Destin
A resort is a destination in and of itself! Destin, Florida is home to more than 100 beautiful resorts.
Below are the benefits and disadvantages of choosing a resort for your vacation, as well as three of our recommendations.
Benefits: Resorts often have not only amenities but shopping and restaurants on-property for easy access.

They also include on-property activities and entertainment so that you never have to leave the resort if you don't want to.

Disadvantages: Resorts are more expensive than hotels, topping out at $395 a night.
If you've decided that the resort's benefits outweigh its disadvantages for your personal preferences on vacation, check out the three recommendations for resorts in Destin, FL below!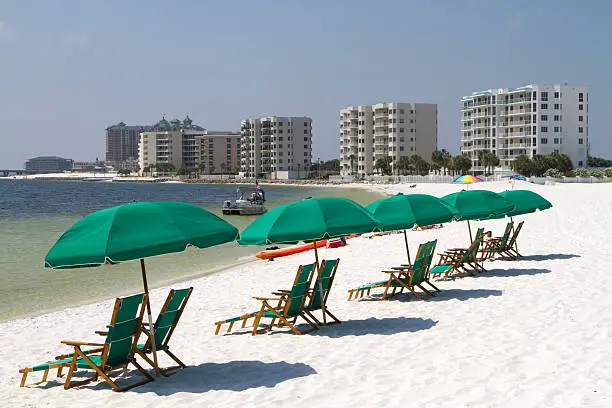 The Hilton Sandestin Beach Golf Resort and Spa
Located at 4000 S Sandestin Blvd, Miramar Beach, FL 32550, the Hilton Sandestin Beach Golf Resort and Spa offers not only a beautiful golf course and spa services but is situated right along the beach! 
The Henderson Beach Resort and Spa
Located at 200 Henderson Resort Way, Destin, FL 32541, this resort not only has beachfront property and a spa, but boasts a retro style of décor.
It is three miles from Big Kahuna's Water and Adventure Park, a great place to take the family for fun in the sun!
Emerald Grand at HarborWalk Village
Nestled at 10 Harbor Blvd, Destin, FL 32541, this resort is at the entrance of the Choctawhatchee Bay and is an all-condo resort with large 3-bedroom options.
It offers a free boat shuttle to other nearby beaches and includes an Italian restaurant, a coffee bar, and a saloon on-property.
Hotels in Destin
If a resort is a little too pricey for you, or your vacation is a stop on the way through to another destination, Destin offers great hotels!
Here are some of the benefits and disadvantages to be aware of before you pick from our recommendations.
Benefits: Hotels often offer easier check-in processes than vacation rentals because their lobbies are typically open during the day or night.

Hotels can also be cheaper than resorts or vacation homes.

Disadvantages: hotels offer less privacy when compared to vacation homes and there is no guarantee that other guests will not be noisy or rude.
If the benefits of a hotel match your vacation needs, check out our recommendations for hotels in Destin, FL:
Best Western Sugar Sands Inn Suites
Located at 4415 Commons Dr. E, Destin, FL 32541, Best Western Sugar Sands Inn; Suites offers quick access to popular chain eateries like Pizza Hut, Chick Fil A, and Waffle House.

It has free parking, and complimentary breakfast and is less than 5 miles from both Henderson Beach State Park and the Destin Harbor Boardwalk.
Henderson Park Inn
Located at 2700 Scenic Hwy 98, Destin, FL 32541, the Henderson Park Inn is an adult-only option for vacationing grownups.
It overlooks the beach and not only offers complimentary breakfasts but boxed lunches and afternoon teas, too. 
Summer Palace Inn
Located at 14047 Emerald Coast Pkwy, Destin, FL 32541, the Summer Palace Inn is right next door to a family recreation center offering go-karting and minigolf.
It also includes as well both indoor and outdoor pools and hot tubs.
Vacation Rentals in Destin
Vacation rentals can be even better than hotels or resorts simply because they offer a homey feeling to return to from your vacation adventures at the end of each day.
Check out our list of benefits, disadvantages, and recommendations below!
Benefits:

You not only have a home-like location to return to which affords privacy and stability.

But more freedom in the choice of location, whether or not you would like to cook your own meals.

Disadvantages:

Some vacation rentals will require large families to bring their own bedding and modes of transportation.

You will have to clean up after yourself without the advantage of on-site staff.
If you decide to move ahead in selecting a vacation rental, check out our recommendations for vacation rentals in Destin, FL below!
Casa del Sol
Located at 57 Siesta Bluff, Destin, FL, Casa Del Sol is a home in the Destiny East neighborhood featuring four bedrooms and three bathrooms.
It comes with a pool and a six-person gold cart to check the neighborhood out!
Amor del Mar 65 Crescent Cottages
Located at Monaco Miramar Beach, Armor del Mar 65 Crescent Cottages is a three-floor option with 5 bedrooms and 4 bathrooms.
It boasts three separate balconies to enjoy the view. It also offers a Seaz the Day Fun Pass, which can get you and your family access to free days at several adventure parks and golf courses.
Bay Walk Court #30
Located at Miramar Beach for a minimum of 60-day rental, Bay Walk Court #30 offers 4 bedrooms and 2 bathrooms, in a carefully selected quiet, peaceful neighborhood.
It comes with an outdoor pool and hot tub. Bay Walk Court #30 boasts access to a community dock if you'd like to fish and also provides a Seaz the Day Family Fun Pass.
Summary
Destin, Florida offers excellent options for those hoping to have a nice family vacation off of the Florida 30A!
If you're hoping for amenities and entertainment right at your fingertips, resorts such as the Henderson Beach Resort and Spa might be the way to go. 
If you prefer a less pricey alternative, a hotel like the Summer Palace Inn may be for you.
If privacy is important, check out one of Destin's great vacation homes, like the Casa del Sol.
Whether vacation home, resort or hotel, Destin, Florida boasts plenty of wonderful homes-away-from-home for vacationers.