Are you looking to find some amazing bike trails near 30A?
If so, we are going to look at some of the top options today, so you know where to go and what you're likely to see.
There are some fantastic trails near the 30A, with routes like the Saint Mark's Trail, Gayle's Trails, and Loggerhead Run Bike Path.
Whatever you are looking for, you should find it in this incredible part of the state.
In this article, we're going to look at bike trails on 30A (complete guide) so you have everything you need in order to have a great time biking in this area.
We'll touch on the top trails in the Florida panhandle, including Destin, Panama City, and more.
Cycling on 30A
There are lots of great trails in this area, and so many things to see as you cycle.
Cycling is one of the best ways to see the sights.
It lets you get off the roads, away from noisy cars and traffic jams, and into beautiful scenery and stunning beaches.
A bike is an invaluable tool in this part of the country.
Before you set off, however, you need to know:
What trails are available in which areas

What you are likely to see on those trails

How tricky the trail is to ride
We'll look at each of these things for all of the major biking areas around the Florida Panhandle area, leaving you well-equipped for a cycling trip here!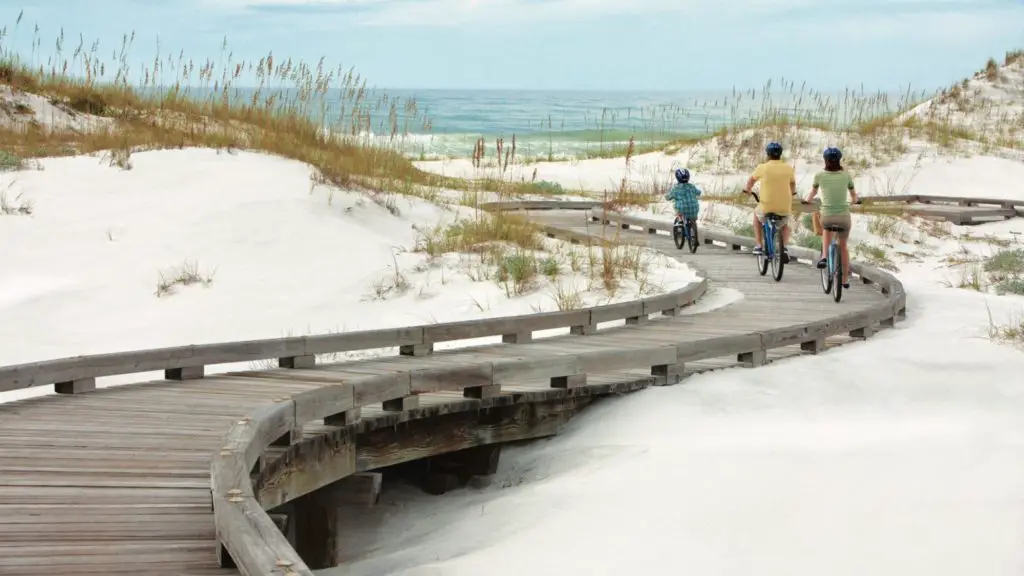 Trails In The Florida Panhandle Area
There are some great trails in the Florida Panhandle area, such as the Saint Mark's Trail.
This is a somewhat challenging trail that will get your muscles working, but it's worth it for the beautiful scenery.
The trail is paved to give you a smooth surface for riding, which is great if you are cycling with less experienced riders or children.
It even has restrooms along the route, and lots of shade to give you protection from the sun.
It's quite a long ride, however, being approximately 15 miles long.
Alternatively, try the JR Alford Greenway, which also has stunning views and lots of wildlife to see.
Look out for deer and birds, plus breathtaking sunsets.
You will also see horse riders, walkers, dogs, and children in the area.
The trail connects to the Piney Z Playground, which is ideal for children.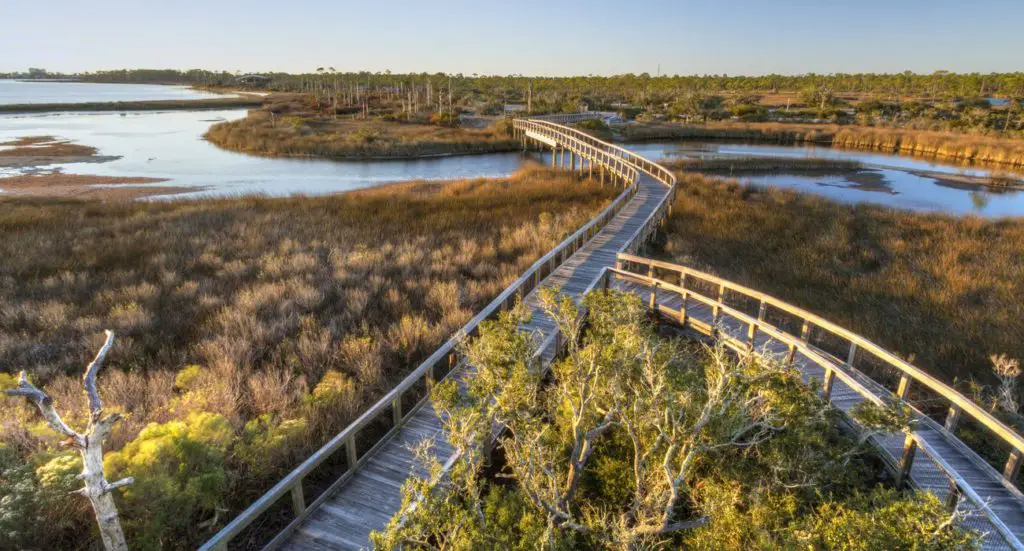 Trails In Destin
If you want to cycle near Destin instead, you could try the Grayton Beach State Park, which has 4 miles of trails that travel through pine flatwood trees.
You can get to the beach easily from the trails, and there are camping spots available, so if you want to spend some time near nature, this is a great way to do it.
The views are stunning, and there are lots of other activities available nearby, so you can switch the bike for a canoe or a kayak if you choose to.
Alternatively, hop onto the Timpoochee Trail, which follows Highway 30A and the Gulf of Mexico, spanning 19 miles of breathtaking scenery.
The trail is paved to make it a comfortable ride for everyone, and it's also a fairly flat path that families and beginners can enjoy.
You can rent bikes from Big Daddy's Bike Shop, Peddlers 30A, or 30A Bike Rentals, so if you don't have your own, it doesn't matter.
Trails Around Seaside
For those who want to bike at Seaside, you could check out Gayle's Trails, which is an ever-growing network that connects the Panama City Beach Conservation Park with Frank Brown Park.
You'll find trails that are ideal for mountain biking, trails that are suitable for casual riding, and a lot of amazing wildlife along the way.
This set of trails is dedicated to the mayor of Panama City Beach, who has put great energy into preserving the trails.
Alternatively, try the Navarre Beach Bike Path, which will let you explore the residential area of Navarre Beach, and travel through to the Navarre Beach Marine Park.
This is a particularly windy journey, so be aware of the weather before you attempt it. Your reward will be stunning ocean views and gorgeous scenery.
Trails In Panama City
If you're biking closer to Panama City, you should start by checking out the Blountstown Greenway Bike Path.
This winds directly through Blountstown and then heads off into the natural world.
You'll see wildlife galore as you cycle through the hills and swamps, and at the end of the trail is the Panhandle Pioneer Settlement. 
Here, you will find a fantastic museum in the form of several historic buildings, including a grist mill, a schoolhouse, and a blacksmith's.
For more history, you should check out the M; B Railroad Memorial Park en route.
If that doesn't suit you, try the Loggerhead Run Bike Path.
It is a hot route with minimal shade.
But if you start at Salinas Park, you'll have access to the beach and restrooms, and the trail has several restaurants and stores where you can pause for a break.
Trails In Pensacola
The Pensacola Beach Trail is a perfect spot for cyclists with some great views of the ocean at points.
It's only ever about 100 yards from the Gulf.
This trail can be more challenging, as bits are not marked, but these are pretty short and easy to deal with.
It's approximately 0.75 miles long.
Trails In The Surrounding Areas
For those who love history, the Blackwater Heritage State Trail is a must-see.
This trail traces the pathway taken by the Florida and Alabama Railroad, which was used to ship lumber when it was operational.
It also played a role during WWII, shipping aviation fuel.
There's a visitor center that will tell you about local attractions, and then you plunge into more rural surroundings, with the opportunity to spot rabbits and other local wildlife.
The trail runs all the way to the Naval Air Station Whiting Field, reaching almost 10 miles long.
Conclusion
There are some fantastic bike trails near the 30A, and if you want to see Florida's beaches from the seat of a bike, you will be in good company.
Most of these trails offer amenities like restaurants and restrooms, but you should always check what's available before starting your journey.