Are you planning your Florida vacation and are stuck between Rosemary Beach and Destin?
Not sure which will be the best place to relax and reset?
Between the two, Rosemary Beach boasts a more natural landscape, avoiding high-rise buildings and tourist traps.
You might have fewer options when it comes to accommodation, but your experience will be more private and enjoyable, from its crystal clear waters to its many outdoor activity options. 
Destin also has its perks, though, so let's learn more about the beaches, dining, attractions, and accommodation options in each place.
Rosemary Beach
Rosemary Beach is a family-friendly beach with long stretches of soft, white sand and crystal-clear waters.
The surf is wide, shallow, and calm.
If you have some snorkel gear, the water is clear enough to see the colorful marine life below. 
The shore is dotted with charming laidback beach houses with no high-rises in sight.
The houses are built in the European colonial style of the Dutch West Indies, resembling cute cottages and carriage houses.
There are quaint boardwalks, lush green spaces, and beach paths.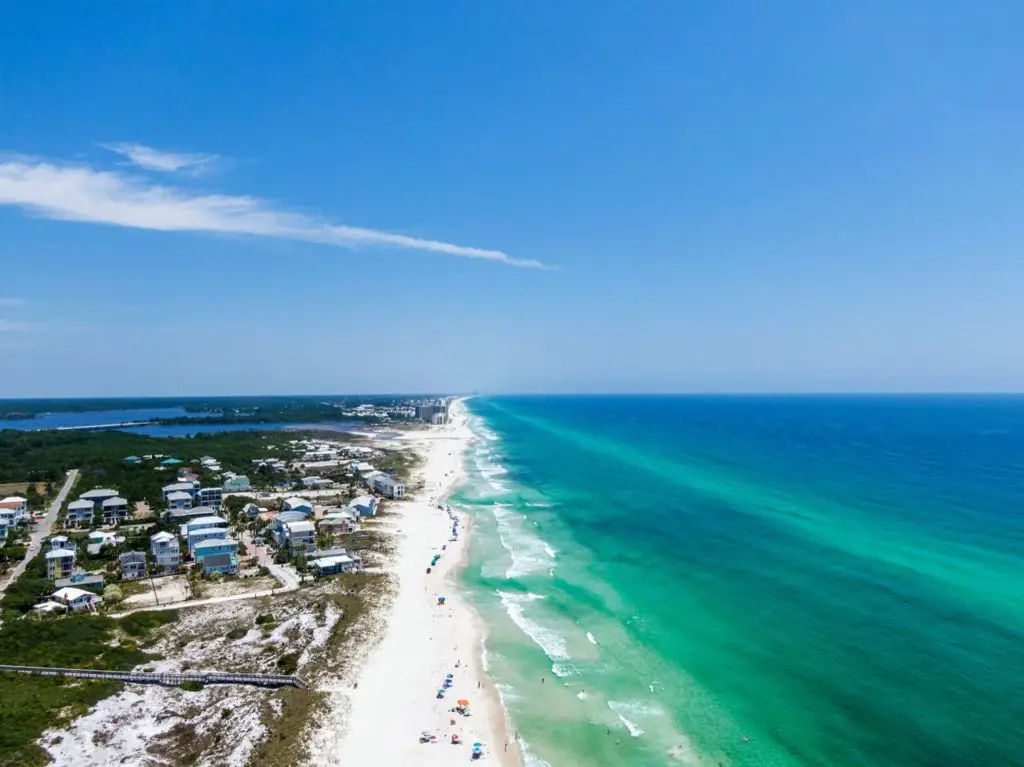 Destin Beach
Situated on the Gulf, Destin Beach also boasts soft, white sand and beautifully clear turquoise water.
Although there are more people on this beach than on Rosemary, it still isn't too crowded, with plenty of white sand for everyone.
Destin is more populous, as the shore is lined with hotels, resorts, and restaurants.
It also features the famed Destin Harbor Boardwalk with access to water activities, different dining options, and local fishing charter boats.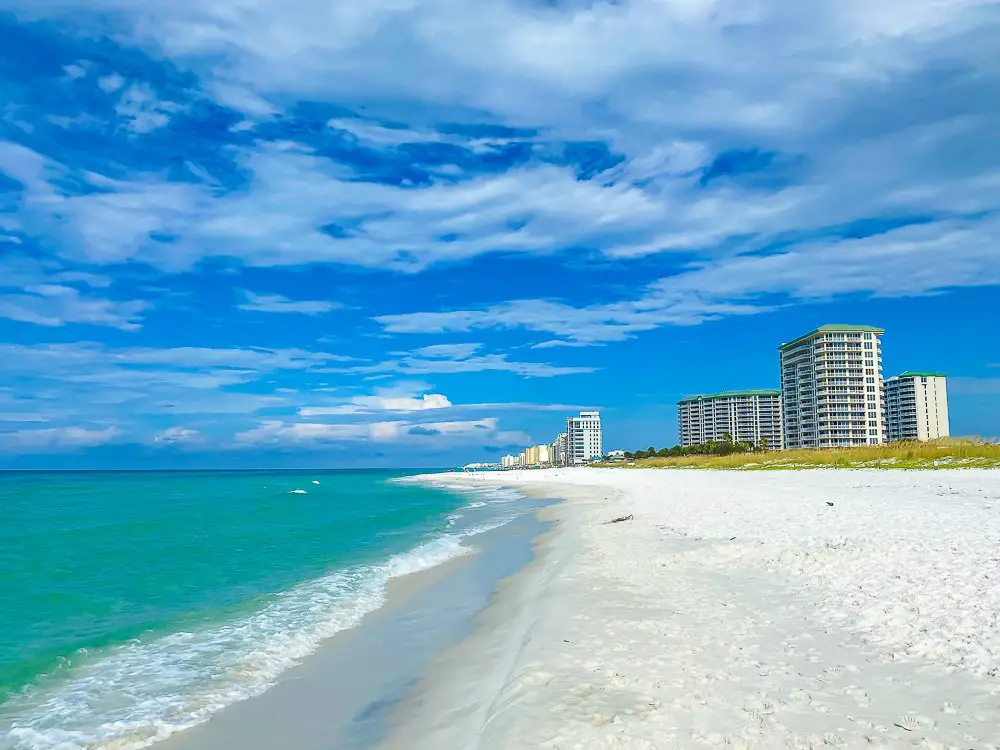 Rosemary Beach Dining
Rosemary Beach has a variety of local haunts to satisfy your upscale and grab-and-go needs.
Food and drink choices range from Italian, freshly-caught seafood, Spanish tapas, classic southern fare, tacos, and gourmet coffee. 
If you want to get dolled up for the night, you can enjoy lobster linguini in a gas-lantern decorated courtyard at Restaurant Paradis.
For a fine-dining Italian option, try Lola Coastal Italian.
For something quick and easy, you can grab dips and casseroles for a picnic at CK Feed and Supply or quick café items at Charlie's Café at Rosemary. 
To enjoy a beer garden vibe, you can find over 30 unique beers at Beach and Brew on 30A or order a cocktail at the rooftop bar of Havana Beach Bar and Grill in the Pearl Hotel. 
Destin Dining
Destin is nicknamed the "World's Luckiest Fishing Village," so the fare is overwhelmingly fresh-caught seafood. 
The most famous restaurant is Marina Café due to its amazing Destin Harbor views.
They serve seafood, sushi, wood-fired pizzas, and steaks in an upscale environment. 
Dewey Destin is another popular seafood joint, founded in 1835. It's got a more casual atmosphere and is known for its amazing food. 
A unique thing about Destin is their "bring-your-own-catch" restaurants.
After a day out fishing, you can bring your catch to one of these restaurants and they will clean and cook it for you. 
Other local favorites are Capriccio Café for a quick breakfast and coffee, Crackings for homestyle breakfasts, and Jackacuda's Seafood and Sushi.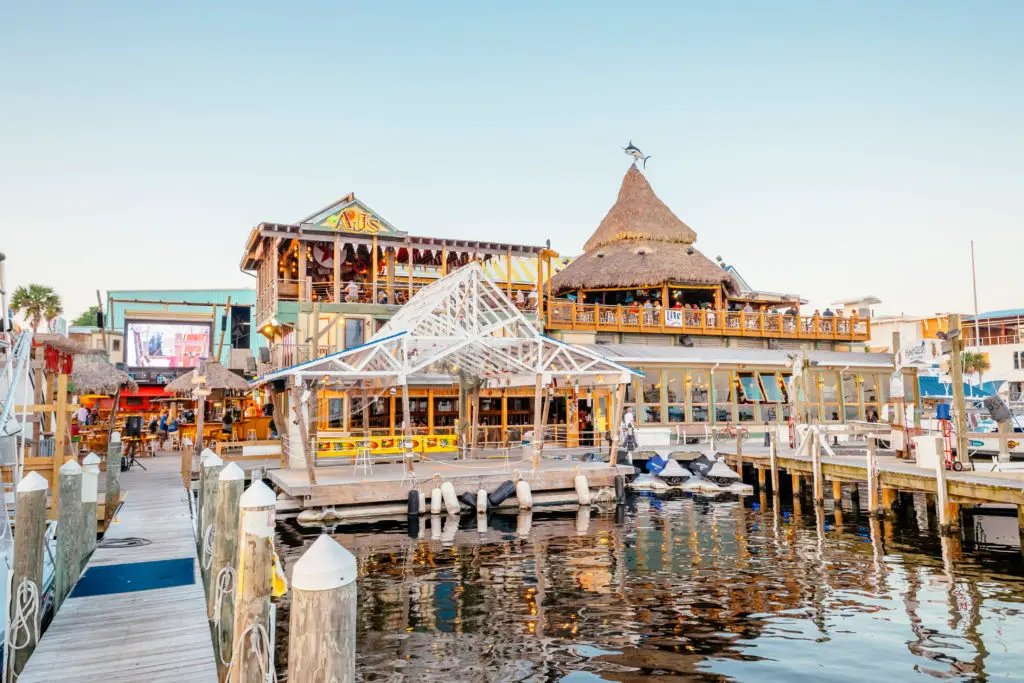 Rosemary Beach Attractions
Rosemary Beach has activities for the whole family in a laid-back, charming environment.
There are 3 nature parks where you can walk, bike, or picnic.
You can go to Edens Gardens State Park, Timpoochee Trail, and Deer Lake State Park, and Topsail Hill Preserve State Park. 
The obvious activity is to visit the stunning beaches, but you can also rent bikes, kayaks, and stand-up paddle boards in Rosemary.
While exploring the village, stop by the locally owned shops selling toys, beachwear, souvenirs, and home décor. 
You can also experience the local farmer's market every Sunday from 9 am to 1 pm and even enjoy a beach bonfire with friends.
For 10 people, you can buy a bonfire for $250 that includes chairs, tiki torches, and even s'mores. 
Rosemary Beach also offers golf clubs, racquet clubs, art galleries, and a pavilion. 
Attractions in Destin
Destin is packed with fun attractions for families and adults alike.
This includes theme parks, zoos, museums, fishing, golfing, diving, snorkeling, and an abundance of places to shop and explore. 
The biggest attraction in Destin is its fishing, due to its location at the edge of the Continental shelf.
At the "World's Luckiest Fishing Village" you can easily catch grouper, amberjack, king mackerel, and blackfish tuna just 20 miles offshore. 
Destin is also a golfer's heaven with 8 championship courses nearby.
Check out Kelly Plantation Golf Course, Regatta Bay Golf and Yacht Club, and Emerald Bay.  
For underwater lovers, you can snorkel at Norriego Point, Destin East Jetty, Destin West Jetty, Henderson Beach State Park, and John C. Beasley Park.
You can also scuba dive at The 100-Fathom Curve to see dolphins and tropical fish. 
If you are into shopping overfishing, check out Destin Commons, Harborwalk, and Boardwalk on Okaloosa.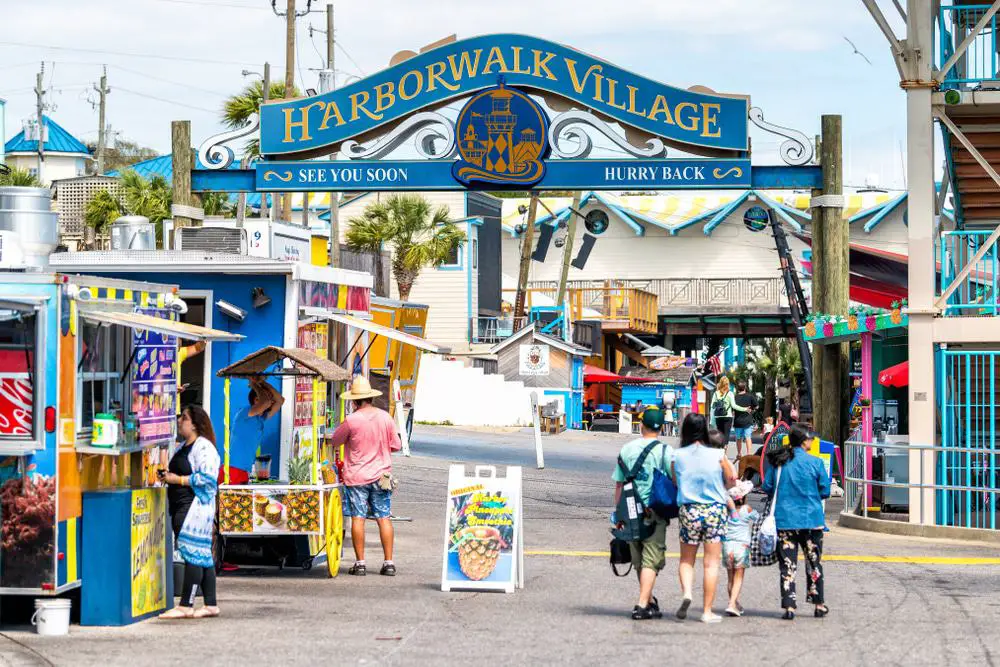 Places to Stay in Rosemary Beach
If you are looking for a 4-star award-winning hotel, stay at The Pearl.
This aesthetically-pleasing hotel was featured in Conde Nast Traveler, Travel; Leisure, and Southern Living as one of the best hotels in Florida and the U.S.
Apart from hotels, the most common thing to do in Rosemary is rent a beach cottage.
Each house is quainter than the next, with some even being featured in Southern Living magazine. You can book through this rental site. 
Places to Stay in Destin
Destin has a larger variety of places to stay ranging from hotels to vacation homes and camping. 
Popular hotels include the Holiday Inn Resort Fort Walton Beach, Residence Inn Fort Walton Beach, Henderson Beach Resort and Spa, Henderson Park Inn, Island Resort at Fort Walton Beach, and Hilton Garden Inn Fort Walton Beach.
Most of these hotels have a pool, lazy river, and tiki bar. 
If you'd rather rent a space, you can stay in a high-rise condo, beachfront villa, or cottage for all group sizes, even Bachelor parties.
Local rental agencies include Newman-Dailey Resort Properties, Destin West Vacations, and Compass Resorts. 
In Destin, you can also camp or park your RV at Henderson Beach State Park Campground and Destin West RV Resort. 
Comparing Prices
Overall, Rosemary Beach is more expensive than Destin Beach.
Rosemary beach boasts charming cottages with luxury price tags for accommodation, activities, and restaurants. 
Destin Beach, while not as luxurious, has a lot more rental options.
You can do camping and rent condos and more restaurant and activity options in a more economical price range. 
Comparing Reviews
According to Trip Advisor, Rosemary Beach landed 4.5 stars based on 477 reviews.
The consensus was it was unexpectedly beautiful with a nice community but overcrowded and overpriced. 
Destin Beach also received 4.5 stars out of 82 reviews with the overall consensus raving about the white sand beaches and clear blue water.
The downsides were overcrowding, heavy traffic, and "artificiality everywhere," referring to high-rises, chairs, and beach areas that were roped off. 
Which Is Better?
The best choice for your travel destination will be determined by your budget and what you're looking to do while on vacation.
Overall, however, the clear winner for Florida is Rosemary Beach.
It is due to its architectural charm, lack of high-rises and tacky tourist traps, an abundance of white sand and clear water.
You can also find a lot of interesting activities, such as the beach bonfires and state parks.