NW Florida's scenic Highway 30A winds along the Gulf Coast through charming beach towns full of unique architecture, coastal forests, wildlife, art galleries, shops, and restaurants.
While 30A is best known as a road trip destination, the area also offers spectacular opportunities for biking amongst the natural beauty.
In this guide, we'll cover the top bike trails, paths, and low-traffic routes to explore the 30A region and nearby coastal communities on two wheels.
Whether you bring your own bike or rent one locally, a bike ride along 30A provides an active, enjoyable way to experience this lovely stretch of Northwest Florida coastline.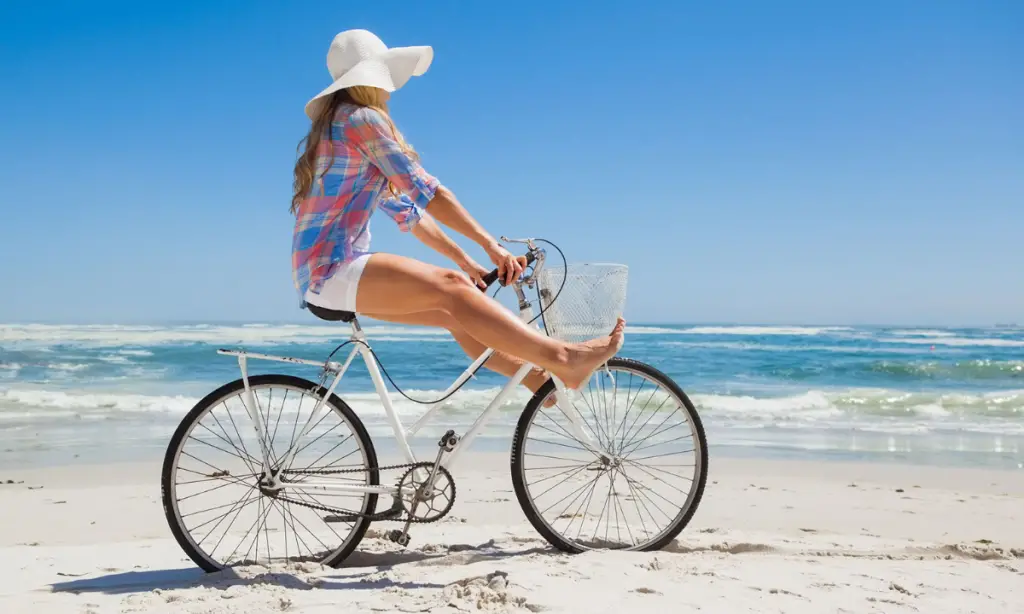 Multi-Use Paved Bike Paths
From paved bike paths to challenging off-road mountain bike trails, I'll recommend the best places to cycle through lush state forests, coastal lakes, dune ecosystems, quaint beach villages and more. Let's hit the trails to fully appreciate the beauty of the 30A area by bike!
For leisurely, family-friendly cycling on paved surfaces, these designated paths offer scenic exercise:
30A Bike Path
This paved multi-use path spans 12+ miles immediately alongside Highway 30A. The path connects Inlet Beach, Seacrest, Alys Beach, Rosemary Beach, Seagrove and Grayton Beach with parking access points along the way.
Deer Lake State Park Bike Trail
Ride along the shoreline of Deer Lake within this state park located just north of 30A off Highway 83. The paved path circles the lake for one mile.
Timpoochee Trail
This flat, paved biking and walking trail runs 5.5 miles between Santa Rosa Beach and Niceville, following an old rail line corridor with views of Boggy Bayou.
Hollywood Boulevard Trail
Located in Ft. Walton Beach just west of Highway 30A, this new 3.8 mile ribbon of paved path has exercise stations and connects to the city's downtown district.
With their smooth surfaces and scenic routes, these bike paths let you enjoy time on two wheels away from cars while also accessing beaches and communities off 30A.
Off-Road Mountain Bike Trails
For a more challenging and adventurous ride on unpaved surfaces, head to these dedicated mountain bike trail systems:
Point Washington State Forest Trails
Miles of color-coded stacked loop mountain bike trails cut through this sprawling 17,000 acre forest north of 30A. Ride through pine flatwoods and rolling terrain.
Nokuse Plantation Natural Bike Trails
The Croom and Ward Creek loops at this 50,000 acre preserve near 30A and DeFuniak Springs offer over 20 miles of pine forest single-track along creeks and ridges.
Grayton Beach State Park Trails
Ride through coastal scrub, marshes, and pine woods on these unpaved loops and paths around Western Lake in this scenic beachfront state park.
Walton County Park at Choctaw Beach Trails
This park along Choctawhatchee Bay outside Ft. Walton Beach boasts swooping mountain bike trails from beginner to advanced.
Leave the pavement behind to dirt jump, tackle cross-country circuits, grind climbs and rip downhill runs on this collection of dedicated riding trails near 30A.
Scenic Road Cycling Routes
Sticking to the area's quieter backroads and scenic highways makes for splendid road cycling routes:
30A Scenic Byway
Early mornings and evenings provide the best windows to cycle the full 19+ mile length of Highway 30A itself between Inlet Beach and Dune Allen.
Grayton Beach Loop
Link quiet roads encircling Grayton Beach off 30A, including North Orange Street, North Holly Street, Hotz Avenue and North Lakewood Drive.
Highway 98 Coastal Route
Ride along the coast on Highway 98 with views of the Gulf Islands National Seashore and adjacent beaches.
DeFuniak Springs Brick Road
Cruise this quaint one mile red brick road circling the historic Chautauqua Hall of Brotherhood in downtown DeFuniak Springs.
Sticking to lower-speed roads and beachside byways lets you experience more of the area's charm.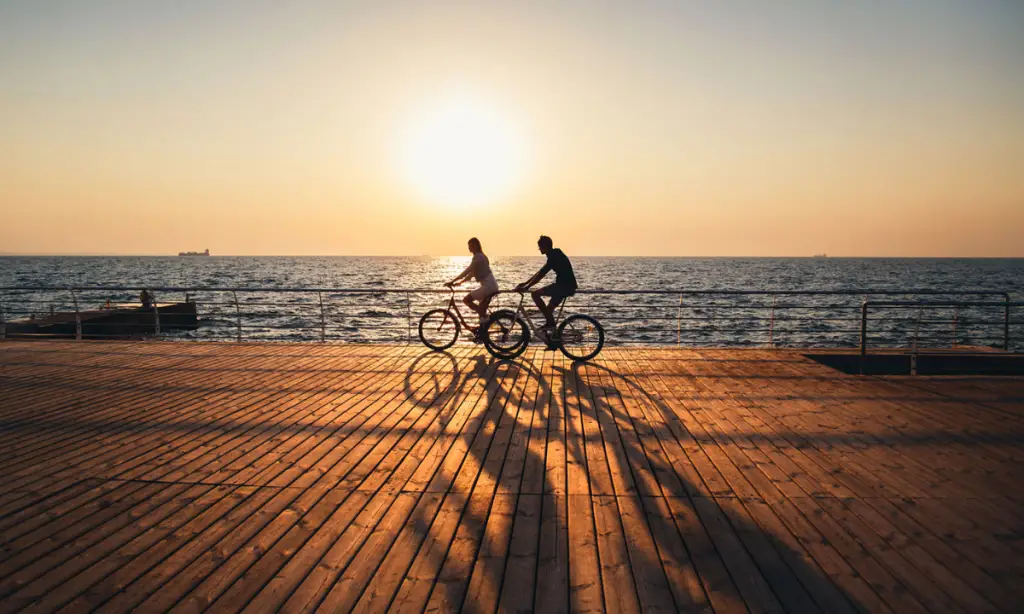 Best Bike Rides to 30A Area Hot Spots
Cycling offers a fun way to access many popular attractions and beach communities in the 30A vicinity:
Ride to Grayton Beach's iconic Red Bar restaurant and beach access points.
Bike through WaterColor and Seaside's pastel beach cottages.
Cycle to Eden Gardens State Park's preserved 19th-century estate.
Ride out to scenic Gulf Place and Santa Rosa Beach.
Pedal along 30A to the shops and eateries of Alys Beach.
Cruise through Blue Mountain Beach down to 30Avenue beach access.
Tour the coastal lakes of South Walton like Draper Lake, Alligator Lake and Little Redfish Lake.
Enjoy an ice cream break at famous see Florida spots like The Donut Hole restaurant.
Biking enables you to take in more of 30A's coastal personality and sights at a leisurely pace.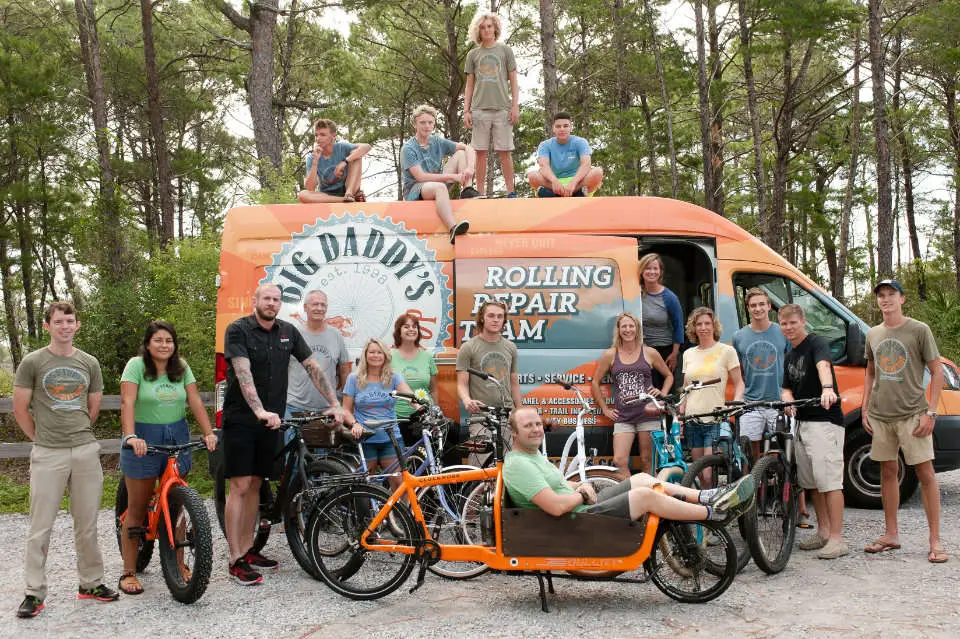 Bike Rentals and Tours on 30A
For visitors without their own bikes, 30A area shops rent out a variety of bicycles and gear:
Big Daddy's Bike Shop – Rents beach cruisers, hybrid bikes, adult trikes, tandem bikes, kids bikes and bike trailers from locations in Santa Rosa Beach, Blue Mountain Beach and Inlet Beach.
30A Bike Rentals – Offers delivery and pickup of beach cruiser bikes, trail bikes, kids bikes and bike trailers to your 30A lodging. Provides toddler seats and bike trailers too.
Electric Bike 30A – Specializes in electric bike rentals delivering to any 30A address. Luxury road bike rentals also available.
Don't have a bike with you? No problem – 30A's bike shops have you covered for leisurely tools to explore the area on two wheels. Guided bike tours are also a great option.
Biking Safety Tips for the 30A Area
Obey all traffic laws and stop signs when riding on roadways.
Wear a properly fitted helmet and use bike lights, especially at dawn/dusk.
Keep right and ride single-file on roads whenever possible.
Make your presence known audibly when passing pedestrians on mixed-use paths.
Watch for sandy patches that can cause loss of traction on beach paths and roads.
Carry water, snacks, ID, cash, and a charged phone in case of emergencies.
Check trail conditions and avoid riding after heavy rains create muddy conditions.
By following basic safety precautions, you can minimize risks and focus on the joy of biking 30A.
Frequently Asked Questions About Biking on 30A
What is the 30A bike trail?
The 30A bike trail is a dedicated paved multi-use path running immediately alongside Scenic Highway 30A for over 12 miles, connecting Inlet Beach to Dune Allen Beach.
Is biking on 30A itself safe?
30A has a wide shoulder but cycling on the road should be done cautiously. Areas like Grayton Beach are best biked early morning or evening when traffic is light. Popular bike path avoids the highway.
Where can I rent bikes in 30A?
Shops like Big Daddy's, 30A Bike Rentals, Motorini Pedalers and Electric Bike 30A all rent bikes delivering directly to accommodations along 30A.
What is the best bike for riding 30A trails?
For paved paths, a classic beach cruiser is perfect. Hybrid bikes also work well. Mountain bikes or trail bikes are best for hitting the bumpier singletrack trails at Point Washington or Nokuse Plantation.
How strenuous are the bike trails around 30A?
Most trails and paved paths are relatively flat and suitable for all levels. Select paths at Point Washington offer more challenging elevation changes and technical features for experienced mountain bikers.
Where can I bike to for ice cream on 30A?
Popular ice cream and sweet shops accessible by bike include La Dolce Vita in Inlet Beach, Amazing Treats in Seagrove, Blue Mountain Creamery in Blue Mountain Beach, and The Donut Hole restaurant in Santa Rosa Beach.
Can I bike from 30A to Grayton Beach State Park?
Yes, Grayton Beach State Park is easily accessible by bike from several spots along 30A including the Western Lake trail that connects to 30A's main bike path.
Is it safe to bike across the highway 30A bridges?
Yes, bridges along 30A have space for bikers but use proper precautions like crossing with the traffic flow and being visible to cars at all times. Pedestrian paths on bridges are also an option.
Can I bike alongside 30A at night?
Biking 30A at night is not recommended due to low visibility and traffic picking up at night, especially on weekends. Paths like the Timpoochee Trail are better night options.
Conclusion
However you choose to explore on two wheels, the communities, forests, dune lakes and beachscapes along Scenic Highway 30A provide wonderful settings for cycling adventures. Ride along the Gulf, journey through emerald pine forests, or simply cruise down small coastal roads on a beach cruiser—creating your own journey by bike lets you truly soak up the beauty and charm that makes this region so beloved. Just be sure to stop for plenty of breaks for ice cream and photo ops!
So bring your bicycle down or rent one once in the 30A area. The open roads, dedicated bike paths, and scenic trails make it easy to appreciate this coastal slice of paradise by bike at your own pace. You'll return home with a greater appreciation for the natural wonders, nostalgic beach towns, and local culture that define life along scenic 30A.