If you're planning a trip, there are plenty of destinations to consider and activities that might occupy your time.
Some travelers enjoy bringing along family members and friends for a busy day in a big city.
Others might prefer an action-packed trek through rugged terrain.
For those who just want to get away from it all for a while, however, there's always the allure of a secluded beach.
Anyone who falls into that last category should consider checking out one of the quiet FL beaches located on that state's beautiful panhandle.
We've researched some of the least crowded spots in the region for you to consider as you finalize your vacation plans.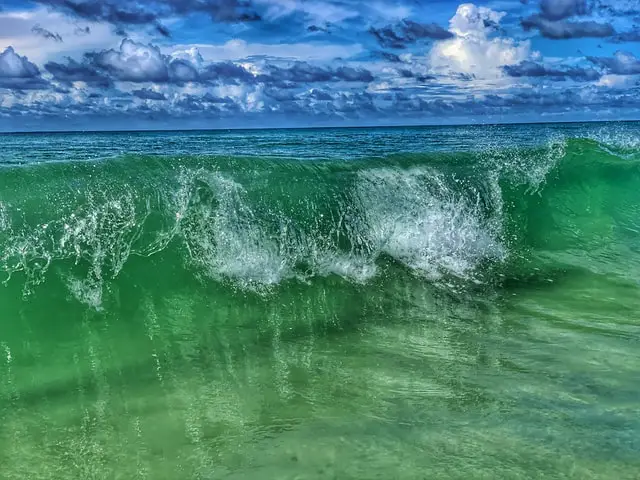 Get to Know the Florida Panhandle
Many people haven't spent a lot of time in the Sunshine State, so they might not have a clear idea of what the panhandle area actually is.
In broad terms, this region consists of Florida's northwesternmost cities and offers several great benefits for its many visitors.
For starters, its access to the Emerald Coast makes it a unique retreat for travelers who don't want the typical Atlantic Ocean experience.
In addition to an interior portion of the panhandle without direct access to the beach, there are two primary coastlines in this area: the Emerald Coast and the Forgotten Coast.
Since the Florida panhandle is not as far south as some of the more crowded areas of the state, vacationers can expect cooler temperatures and less traffic than tourist destinations such as Miami, Orlando, or Tampa.
The biggest city located within the panhandle region is the state capital of Tallahassee.
Least Crowded Beaches on the Flordia Panhandle
Beachcombers who want to stay away from urban landscapes, however, need to drive just a short distance toward the Gulf of Mexico to land on one of the least crowded beaches in the Florida panhandle.
Keep reading for our selection of some of the best-hidden spots to enjoy the sand and surf without all of the crowds.
St. George Island
Anyone looking for a remote location to observe wildlife and get away from the masses should seriously consider this little slice of heaven.
The island offers 28 miles of beachfront real estate, and there are times when it feels as if the only other living creatures around are the sharks and dolphins that frequently swim around in the pristine water.
There's not a lot of artificial light and commercial distractions to take away from the natural beauty.
When the sun goes down, it's clear just how far this beach is from the beaten path.
Enjoy the stars overhead without the light pollution that is so common across much of Florida and around the world.
Are you looking for a quiet place to enjoy a good book?
Do you want to take your significant other to a cozy spot that neither of you will soon forget?
Does the thought of witnessing nature up close and personal appeal to you?
If you answered yes to any of these questions, you'll find plenty to love on St. George Island.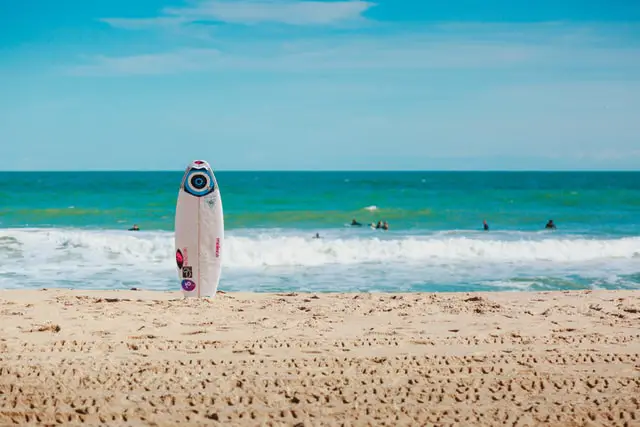 Seagrove Beach
There's a lot to do along the shores of this quiet Florida beach, but that doesn't mean that you'll have to fight your way through any crowds to have a great time.
Instead of automobiles polluting the environment with noise and exhaust, the most common form of transportation on Seagrove Beach is a bicycle.
Visiting this destination might feel almost as if you are taking a step back in time to a period when you could travel to a small town and immediately feel at home.
The area is a bit more upscale than some of the other spots on our list, but you won't feel out of place if you're not a member of society's upper crust.
Instead, visitors from all walks of life can discover a place that encourages rest and relaxation.
The unspoiled beaches boast convenient access points, and once you make your way onto the soft sand, it won't be long before the stress and anxiety of daily life seem to fade away.
Santa Rosa Beach
Pristine white sand and crystal clear water set the stage for one of the remotest beaches in the Florida panhandle.
What sets this location apart from other quiet coastlines, however, is that there are some helpful resources available in convenient spots throughout the area. 
Even though it's quite small in terms of overall space, it's laid out in a thoughtful manner.
You'll find restrooms, easy beach access, and plenty of showers spread out across the beach.
Because it's pretty easy to find what you need once you reach your destination, this is a great option for families with young children in tow.
Although lounging on the beach is always a popular option, you can also enjoy a short hike or check out the water for an occasional stingray sighting.
Perhaps the only amenity this place is missing is ample parking, so be prepared for a bit of a trek after you find a spot for your car.
Cape San Blas
There aren't many places in the panhandle, or anywhere else in America, that boast the impressive scenery of this unspoiled beach.
As with other destinations on our list, there aren't huge hotels and sprawling shopping destinations to detract from the natural state of the pristine coastline. Instead, you're apt to find a few people out fishing or lying out on the sand.
Other than that, you're probably going to feel as if you have the whole place to yourself.
If you're feeling energetic, you can use the opportunity to enjoy some of the popular local activities, such as horseback riding or heading out to the water for a trip in a kayak.
There's also evidence of a shipwreck nearby, so there's no shortage of adventure if that's what you're hoping to find.
In the end, however, most folks are satisfied with just soaking up the sun's rays and breathing in that sweet ocean air.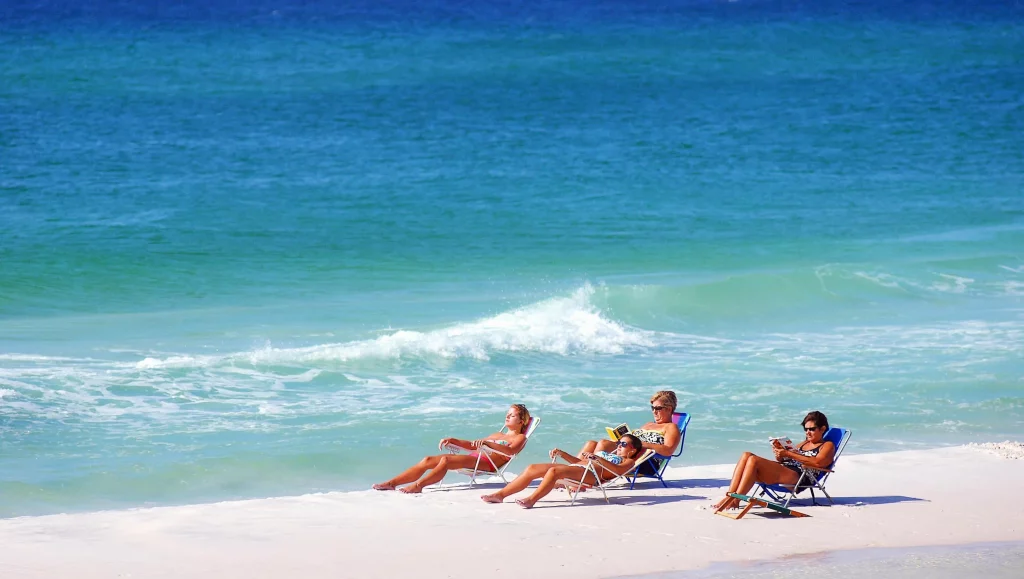 Navarre Beach
There's a great opportunity to relax and unwind on any of the secluded beaches that made our list.
If you're really in the mood to destress, though, you'll probably want to check out Navarre Beach.
One reason this beautiful locale is largely unaffected by crowds is that it's closely connected to the United States military.
Nevertheless, you don't have to be enlisted to pay this place a visit.
In fact, the beach is totally accessible to the public even if most folks outside of the region don't know much about it.
Despite its remote location and low rate of foot traffic, there are some resources available.
Most notably, the beaches have lifeguards on duty to keep an eye on everyone's safety.
A nice pier is available to anyone who wants to bring a fishing pole.
There are also some great local places to get a bite to eat while you're there.
If you're an animal lover or just want to get a little closer to nature, be sure to visit the nearby Turtle Rescue Sanctuary.
There's plenty to enjoy during your trip without the need to fight your way through a crowd of people.
Honorable Mentions
While we're confident that these are some of the best-hidden gems along the coast of Florida's panhandle, this isn't a comprehensive list.
A number of other spots in the area might also make the relatively few people who choose to visit them feel as though they are at a private beach.
Miramar Beach does attract more visitors than some of the other smaller beaches, but it also offers some additional activities and opportunities.
There's shopping, lots of restaurants and bars, and fun activities such as parasailing and jet skiing.
Shell Island, on the other hand, might be the quietest beach on the list.
That's because any visitor must travel roughly a half hour by boat or shuttle to arrive at the remote location.
Once you arrive, be sure to take advantage of the sprawling area of sand beckoning you to set up a chair or lay out a beach towel.
Given its lack of accessibility and the prevalence of bugs, however, you might not find the outing quite as relaxing as a visit to some of the other options.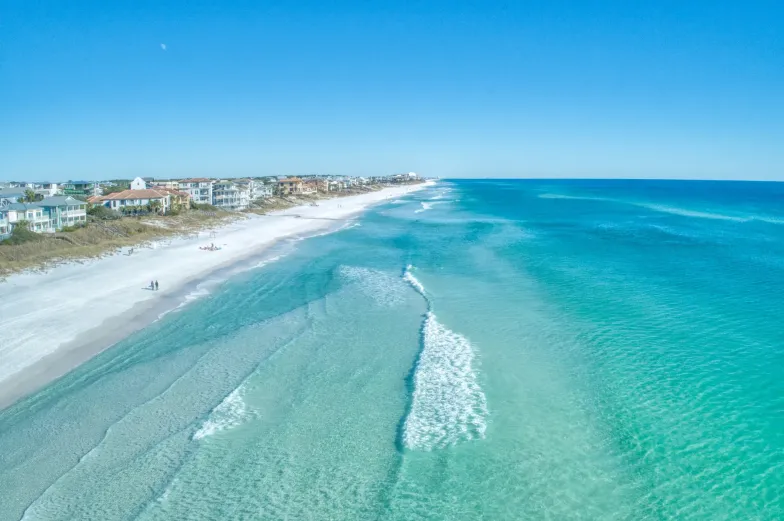 Travel Tips to Remember
Anyone can feel the need to get away from it all for a while.
There's nowhere that can provide such an escape quite as effectively as a beach that hasn't been corrupted by swarms of tourists.
While there are such locations tucked away in countries around the world, you don't have to travel any further than the Florida panhandle to find your personal seaside oasis.
You can't go wrong with any of the options on our list, but if you really want to plan the perfect getaway, you might not want to stop at just one.
Since these destinations are all situated within a relatively compact area in northwestern Florida, you can easily travel to several secluded beaches during a vacation.
Visiting a few of the entries listed above will help you figure out which locale best suits your preferences.