Vacationers are deciding to take their dogs with them more than ever before.
This is great news for your pet, as long as you're able to take him along for all your beach activities.
So choosing the right beach for your family and your pet is important.
The 30A area has grown in popularity for people looking for a more boutique-style beach vacation.
There are plenty of beach towns in this stretch (some just a few hundred yards apart) that make for an unforgettable beach trip.  
Rosemary Beach is a laid-back, beautiful beach town that has become one of the more popular 30A vacation destinations for singles, couples, and families.
But are your four-legged family members allowed?
Dogs are welcome on Rosemary Beach with a permit.
There are a few specific requirements to obtain an annual permit, which we'll discuss in a moment.
Bringing a dog onto Rosemary Beach without a permit could earn you a fine of $500. 
Of course, there are a few things you need to know before you pack up your 4-legged friend for a trip to Rosemary Beach.
Below is the complete guide for carrying your dog along.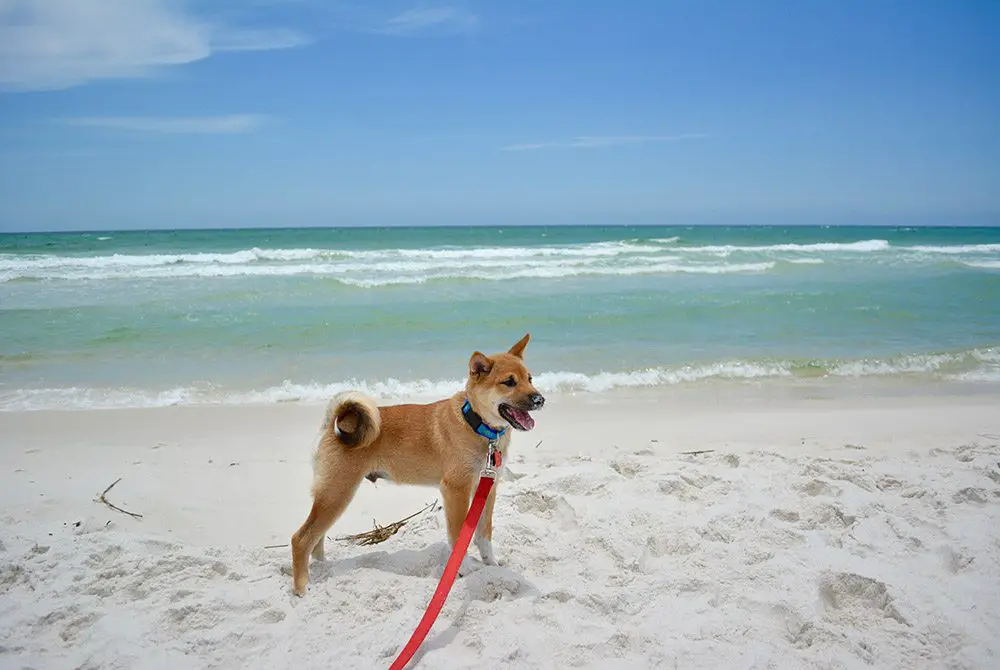 Are Dogs Allowed on Rosemary Beach? 
Walton County beaches allow pets on the beach during off-peak hours.
So, you'll see dogs on Rosemary Beach in the afternoons and early mornings from 3:30 p.m. to 8:30 a.m. throughout the year.
This can be misleading, seeing other people with their dogs on the beach.
Visitors might get the impression that it's ok to have dogs on the beach at any time, with no prerequisites.
But that's not the case.
To take a dog with you to Rosemary Beach, you need a permit.
These permits are obtained through the Walton County government, in much the same way you would apply for a beach driving or charter fishing permit.
But before you head over to their website to fill out an online application, there are a few things you should know.
You Will Need A Walton County Permit
Below are the requirements for a dog permit in Rosemary Beach:
A $40 fee – This fee is paid at the time of application. There is a $10 charge for each replacement tag in the event that one is lost.
Proof of vaccination for rabies – This ensures that every dog (and human) on the beach is safe.
Not too bad, right? Well, there's one more stipulation…
Proof of local property ownership or proof of residency – This can be in the form of a property deed, driver's license, utility bill, or property tax receipt.

Even those whose properties are owned by an LLC can obtain a dog permit for the beach as long as they can show that they have a 51% controlling interest in the property or get written consent from the LLC.
So, as you probably already figured out, the privilege of having dogs on Rosemary Beach is one reserved for locals.
While this may be disappointing for people visiting for a week, it's a nice perk for residents.
Truly, one of the things that make this beach so quaint and attractive for long-term living.
A permit must be obtained for each dog, not one per owner, since proof of vaccination is required.
Each dog will be given a tag that can easily be checked on the beach so owners don't have to carry any documentation.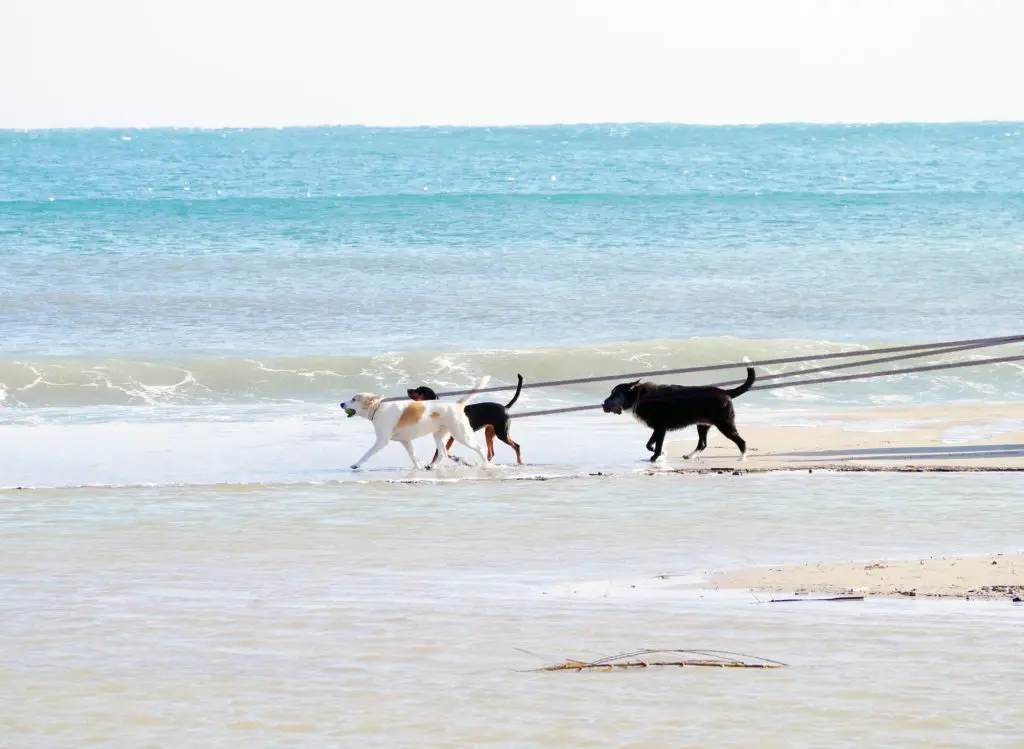 How to obtain a permit 
If you live in the Rosemary Beach vicinity and would like to get a dog permit, you can apply online here.
These permits must be renewed by August 1st each year, and they cannot be shared between different owners.
You can pick up your permit at the Walton County Coad Compliance office once your application is received.
Another option is to wait for it to be mailed to you, which may take 2-3 weeks.
Where are Dogs Allowed on 30A?
While you may be disappointed to learn that your dog can't go to the beach with you, that's not to say you can't take your dog along with you on vacation.
There are plenty of pet-friendly accommodations in Rosemary Beach and the surrounding area.
This would make you hang out with your dog, and family while you grill out, watch television, read and relax.
When it's time to go to the beach, you can crate your dog for a few hours.
Then come back and take them with you to get a bite to eat or explore one of the beachside amenities that welcome leashed dogs.
This is a common daily schedule for a lot of beach visitors who choose to take pets since the middle of the day is often too hot for most pets.
They'd probably prefer to be indoors napping during these times, anyway.
What is 30A? 
If you are visiting Rosemary Beach, you're on the east end of 30A.
This somewhat famous highway in South Walton County spans between Destin and Panama City, Florida.
This stretch of beach is home to many small communities that have distinct personalities: unique stores and restaurants, and very few chain stores or condos.
Rosemary Beach is just one of these communities. Others include Santa Rosa, Seaside, and Alys Beach (pronounced "Alice").
Loyal 30A visitors cite the area's lack of touristy attractions, the abundance of unique shopping, and, of course, the food, as reasons they come back time and again.
Another reason people gravitate to 30A is the feeling of comfort and belonging.
The ability to bring your pets along is one factor that contributes to this homey atmosphere.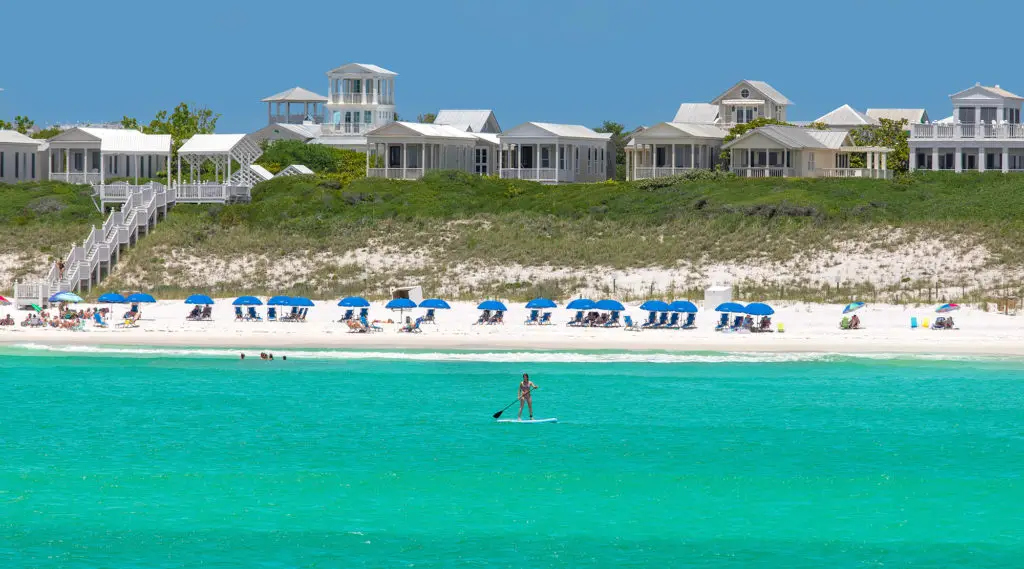 Types of Establishments that Allow Pets 
When you and your dog hit the town in Rosemary Beach, there are plenty of places you'll be welcome. Here are a few of them:
Vets and Groomers
Of course, your dog can go inside these places.
We merely mention them because there are several reputable vets and dog grooming services in the area, should you need them while on vacation.
Dog parks and non-beach hiking trails
Some local points of interest include Point Washington State Forest, Topsail Hill Preserve State Park, and Alaqua Unleashed Dog Park in Santa Rosa just 25 minutes away.
The outdoor activities closest to Rosemary Beach include the following:
Alys Beach Nature Trail
Timpoochee Trail
Public access to Point Washington State Forest
Pet-friendly stores 
If you'd like to buy your dog a new toy, treat, or accessory while in Rosemary Beach, there are several places you can go:
Pet Supplies Plus
Huck and Harlowe
CK Feed ; Supply
Several others
Your pet is also welcome to visit the 30A Farmers' Market and Pier Park, both in nearby Panama City.
Leashes are required, and each store may have different rules about whether pets are allowed inside.
30A Pet-Friendly Restaurants 
Pets are allowed in several Rosemary Beach restaurants, mostly for patio dining. Many of these restaurants put out water bowls for dogs as a courtesy. A few of them include:
Paradis
Cowgirl Kitchen
Wild Olives
Amavida Coffee
Our lists are not comprehensive, but rather a starting point for people wishing to take their dogs to Rosemary Beach.
Feel free to do your own research, and ask the locals about the best places to visit with pets!
The Takeaway
If you were hoping to find the answer to, "Are dogs allowed on Rosemary Beach?" we have answered that question, but probably not with the answer you were hoping for.
Dogs are allowed on Rosemary Beach, but not just anyone can bring their pet for a day of sun and sand.
This privilege is reserved for residents of the area.
It is illegal to share dog permits.
So, even if you know someone local who'd be willing to share for a few days, it could get you and them in trouble.  
Borrowing someone else's dog tag could result in a huge fine, and the permit may even be revoked. In the meantime, you'd be asked to leave the beach with your pet.
So unless you live in the Rosemary Beach vicinity, you will have to be content visiting other pet-friendly venues (besides the beach) when you and your dog vacation there.