The Emerald Coast offers a diverse range of camping and RVing opportunities, making it an ideal destination for outdoor enthusiasts.
With its pristine beaches, lush forests, and vibrant wildlife, there's no better way to immerse yourself in nature than by setting up camp or parking your RV for a memorable adventure.
In this guide, we will explore the best campgrounds and RV parks, discuss the unique features of each, and offer suggestions for enjoying your camping or RVing experience to the fullest.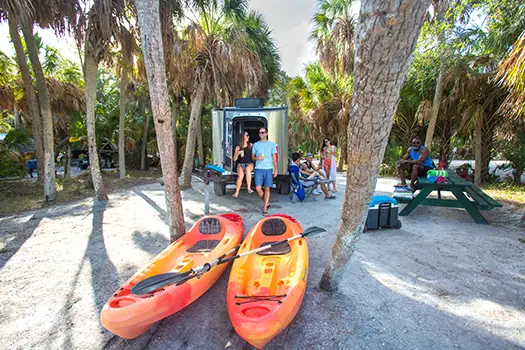 Camping Floridas Emerald Coast
There are numerous campgrounds along the Emerald Coast that cater to a wide range of preferences:
Topsail Hill Preserve State Park: Located in Santa Rosa Beach, this campground offers shaded sites surrounded by towering pines and proximity to pristine beaches. Amenities include water and electric hookups, restrooms, and a tram service to the beach.
Henderson Beach State Park: Situated in Destin, this campground boasts beachfront access, nature trails, and 60 campsites with water, electric, and sewer hookups. Amenities include restrooms, showers, and a playground.
St. Andrews State Park: Nestled in Panama City Beach, this campground offers both waterfront and forested sites, with access to beaches, fishing piers, and nature trails. Amenities include electric hookups, restrooms, and laundry facilities.
To make the most of your camping experience, plan activities such as hiking, bird-watching, or beachcombing, and enjoy evenings around the campfire roasting marshmallows and sharing stories.
RV'ing Floridas Emerald Coastline
The Emerald Coast is home to several popular RV parks with unique features and amenities:
Camp Gulf RV Park: Located in Destin, Camp Gulf offers beachfront RV sites, as well as additional sites with views of the beach or a short walk away. Amenities include full hookups, cable TV, Wi-Fi, pools, and a hot tub.
Navarre Beach Camping Resort: We stayed here for a few weeks, it was GREAT! Situated on Navarre Beach, this RV park boasts waterfront and shaded sites, with a fishing pier, private beach access, and pool. Amenities include full hookups, cable TV, Wi-Fi, and a clubhouse.
Emerald Coast RV Beach Resort: Nestled in Panama City Beach, this RV park features landscaped sites, two pools, a fitness center, and a dog park. Amenities include full hookups, cable TV, Wi-Fi, and a playground.
To enhance your RVing experience, consider socializing with fellow travelers at communal areas such as the pool, clubhouse, or during organized activities.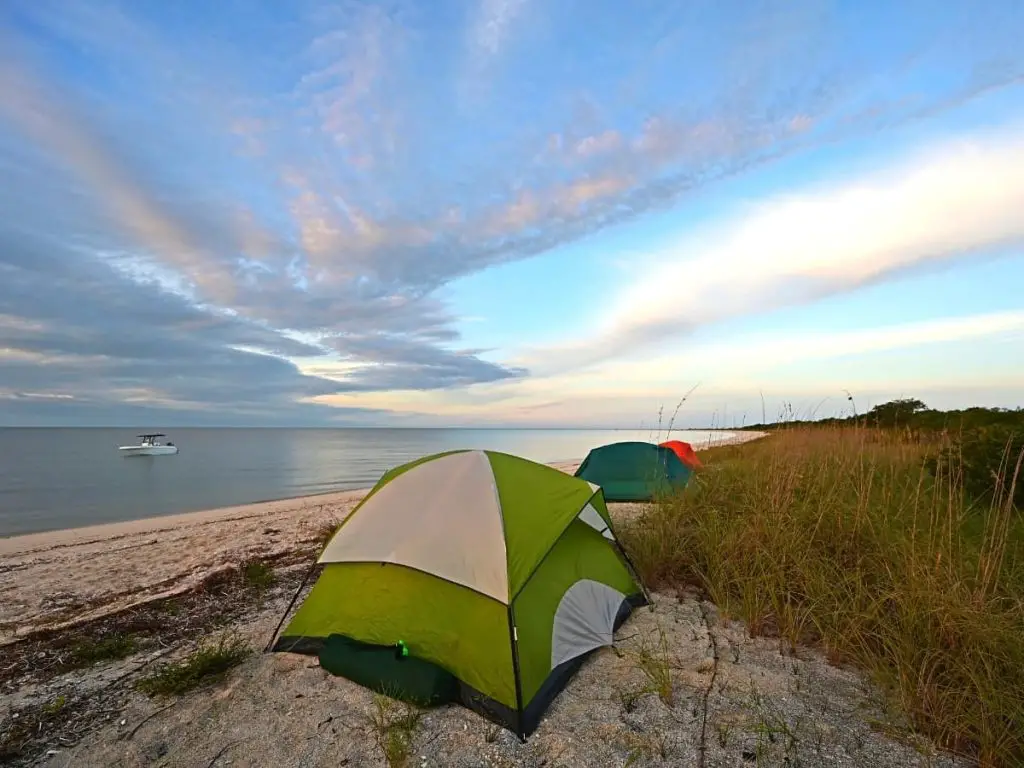 Camping and RV'ing Tips for Floridas Emerald Coast
Camping and RVing are popular ways to experience Florida's Emerald Coast, especially during peak season when temperatures rise and bugs become more active.
For newcomers to the area, it's important to be aware of the potential challenges and how to prepare for them.
First and foremost, the Florida sun can be intense, so it's essential to pack plenty of sunscreen and protective clothing to guard against UV exposure.
Mosquitoes and other biting insects are also prevalent during the warmer months, so bringing insect repellent is a must.
Additionally, it's a good idea to camp in areas with screened-in shelters to protect against bugs.
When choosing a campsite or RV park, look for options with amenities such as shaded areas, swimming pools, and air-conditioned facilities to provide relief from the heat.
Many RV parks also offer full hookups, including water, sewer, and electrical connections, to make the camping experience more comfortable.
It's also important to be aware of any wildlife in the area, particularly alligators and snakes, which are common in the marshes and wetlands.
Stay away from any wild animals and be sure to follow all posted warnings and regulations.
Overall, with proper preparation and awareness, camping and RVing on Florida's Emerald Coast can be a rewarding and memorable experience.
Take advantage of the area's natural beauty and explore the diverse range of outdoor activities and attractions available.
Preparing for Your Adventure: What to Bring and What to Expect
Before you hit the road, it's important to be prepared for your camping adventure on the Emerald Coast.
The climate is subtropical, with hot summers and mild winters, so you'll want to pack accordingly.
Be sure to bring plenty of sunscreen, bug spray, and a hat to protect yourself from the sun. It's also a good idea to bring a cooler filled with food and drinks, as well as a camping stove and cooking supplies.
And don't forget to pack a tent, sleeping bags, and all the other gear you'll need for a comfortable camping trip.
Tent Camping Checklist:
Tent (with stakes, guylines, and rainfly)
Sleeping bag and sleeping pad
Camp stove and fuel
Cooler and ice
Food and snacks (including cooking utensils, plates, cups, and cutlery)
Water bottles or hydration system
Headlamp or flashlight (with extra batteries)
First aid kit
Insect repellent and sunscreen
Personal hygiene items (toothbrush, toothpaste, wet wipes, hand sanitizer, etc.)
Clothing appropriate for the weather (including rain gear)
Map and compass (or GPS device)
Camp chairs or portable seating
Portable power bank or solar charger
Trash bags
RV Park Camping Florida Checklist:
RV (with power cords, hoses, and adapters)
Leveling blocks
Water filter
Sewer hose and attachments
Propane tanks (filled)
Camp chairs or portable seating
Portable grill or BBQ
Cooler and ice
Food and snacks
Bedding (sheets, blankets, and pillows)
Toiletries (toilet paper, soap, shampoo, etc.)
Towels
Cleaning supplies (dish soap, sponges, broom, etc.)
First aid kit
Map and compass (or GPS device)
It's gonna be great!
When camping on the Emerald Coast, you can expect to be surrounded by stunning natural beauty.
Many of the campsites are situated right on the beach, so you'll fall asleep to the sound of the waves crashing on the shore.
You'll also have access to a wide range of outdoor activities, from hiking and biking to swimming and surfing.
And of course, you'll want to spend some time exploring the many state parks and forests that are located throughout the area.
Exploring the Great Outdoors: Activities to Make Your Trip Unforgettable
There is no shortage of outdoor activities to enjoy when camping on the Emerald Coast.
You can spend your days swimming, surfing, and sunbathing on the beach, or take a kayak or paddleboard out on the water.
Hiking and biking trails are also plentiful, with opportunities to explore the unique flora and fauna of the region.
And for those looking to learn more about the local history and culture, there are many museums and cultural centers to visit, such as the Gulf Breeze Zoo and the Pensacola Naval Air Museum.
Conclusion
The Emerald Coast offers a wealth of camping and RVing opportunities, allowing you to fully appreciate its natural beauty and create lasting memories.
Whether you prefer the simplicity of camping or the comfort and convenience of RVing, there is a perfect spot waiting for you.
As you embark on your next adventure, consider trying out the suggested campgrounds and RV parks to make the most of your time on the stunning Emerald Coast.
Camping on the Emerald Coast is a truly unforgettable experience, with endless opportunities to explore the great outdoors and make lasting memories. Whether you're a seasoned camper or a first-timer, the Emerald Coast is the perfect destination for an outdoor adventure. By following the tips and recommendations in this ultimate guide, you'll be well on your way to planning the trip of a lifetime. So pack your bags and get ready to discover the natural beauty and serenity of the Emerald Coast!