Christmas in Destin is a wonderful experience. Meeting Santa and his entourage, special brunches, dinners on the beach, Christmas shows, and parades, Destin has it all.
Let's discuss everything you will need to know when celebrating Christmas in Destin. Christmas in Destin never disappoints.
From the moment Santa arrives and lights up a 50-foot Christmas tree or when you watch the Christmas parade moving through Main Street (not to mention the Destin Boat Parade). Destin is geared for Christmas, and there are so many things to do, ensuring that the festive season will be one to remember.
When celebrating Christmas in Destin, you need to know a couple of things. When can my kids meet Santa, where are the best restaurants to have a Christmas meal, and where to stay?
This article will answer most of these questions and more.
Christmas In Destin: Everything You Need To Know
Christmas in Destin is magical. Whether you're a permanent resident or on the Christmas holiday, there's so much to do in Destin when Santa Claus comes to visit. 
While some of the establishments have not confirmed their Christmas plans as yet, let's focus on the ones who have and revisit what happened last year regarding Christmas celebrations in Destin.
First, we have to make sure that you arrange proper accommodation for your family.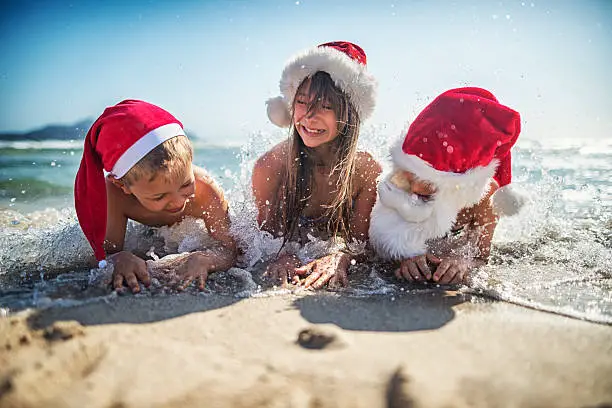 Christmas Accommodation In Destin
If you don't have any relatives staying in Destin, you'll have to book accommodation somewhere.
Luckily, you won't have to look very hard, as Destin has some of the most luxurious resorts to make your Christmas stay special.
The 4-star Emerald Grande located at HarborWalk Village has just what you need for a fantastic vacation. Beach access and complimentary beach chairs are available on-site.
There are a full-service spa, outdoor and indoor heated swimming pools and hot tubs, a well-equipped fitness facility, and a convenient gift store. 
A few options are available, ranging from one to four bedrooms, all with spacious balconies and spectacular views.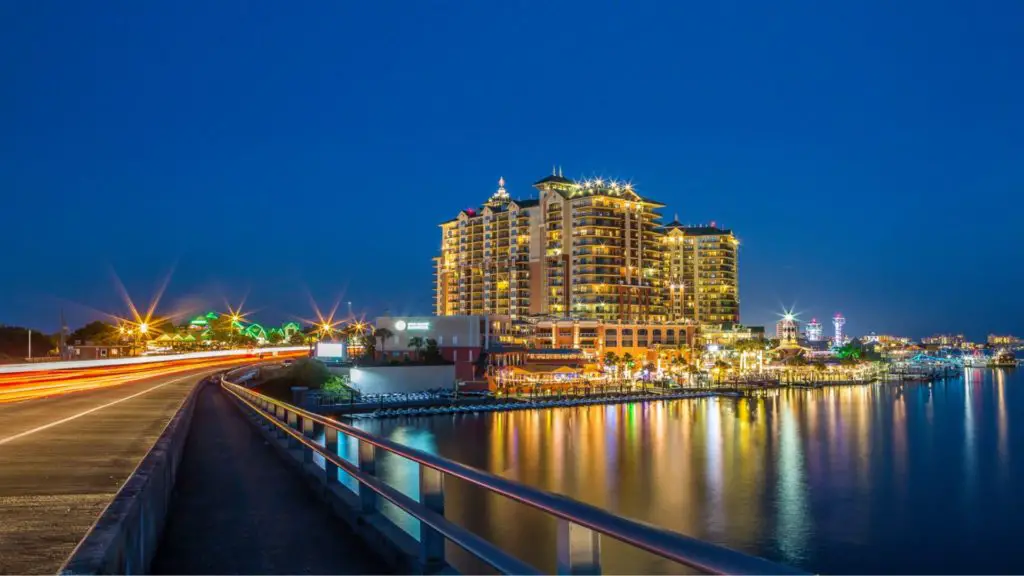 Some of the larger units have kitchens, laundry facilities, and garden hot tubs and may easily accommodate ten people.
The food is excellent, and the main restaurant, the Grande Vista Bar & Grill, is popular with visitors and residents.
Look into the in-room dining alternatives for an outstanding dining experience; better yet, go all out and hire your own personal chef for the night. 
Address: 10 Harbor Blvd, Destin, Florida – 32541 
Phone: (800) 676 – 0091 (Toll-Free)
Website: Click Here 
The Henderson provides a touch of sophistication to any Destin vacation.
The Henderson, which overlooks the Gulf, is inspired by famous coastal resorts of the past, not only in terms of presentation and style but also in the complete guest experience.
This exceptional 3-star resort is named after the lovely nature preserve that resides next door to the property, the Henderson Beach Preserve.
It gives visitors direct beach access and a world-class spa and fitness facility.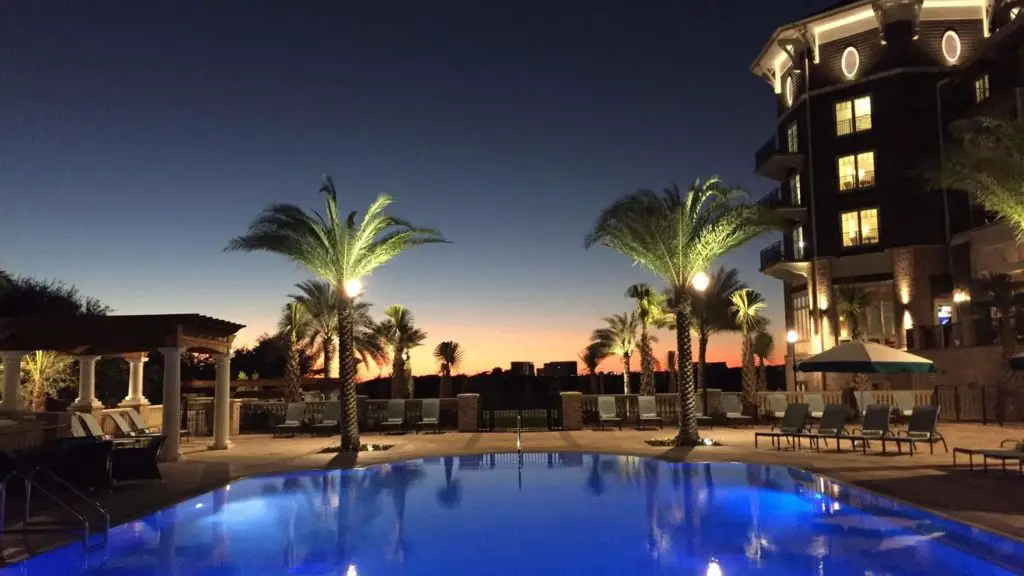 The resort has 170 beautiful rooms and suites, and guests can choose from various lodging alternatives to suit their needs, ranging from practical to romantic.
While all rooms have balconies with views of the Gulf or the nature reserve, the spa suites are significantly larger and have access to a private elevator.
The Henderson has you covered when it comes to on-site eating. The gourmet cuisine at the sophisticated Primrose restaurant is worth splurging on.
The seasonal seaside barbecue also serves casual fare and light snacks. Room service is also provided.
Location: 200 Henderson Resort Way, Destin, Florida – 32541 
Telephone: (855) 741 – 2777 
Website: Click Here
If your budget is a bit limited at this time of the year, then look at a more affordable option located in the heart of Destin; TripAdvisor's 2021 Travelers' Choice the Best Western Sugar Sands Inn & Suites.
This establishment has an indoor gym, an outdoor heated pool, a hot tub, and a complimentary breakfast included with your stay. Children 18 and under stay for free with one paying adult. 
Location: 4415 Commons Drive, Destin, Florida – 32541 
Phone: (850) 650 – 9191 
Website: Click Here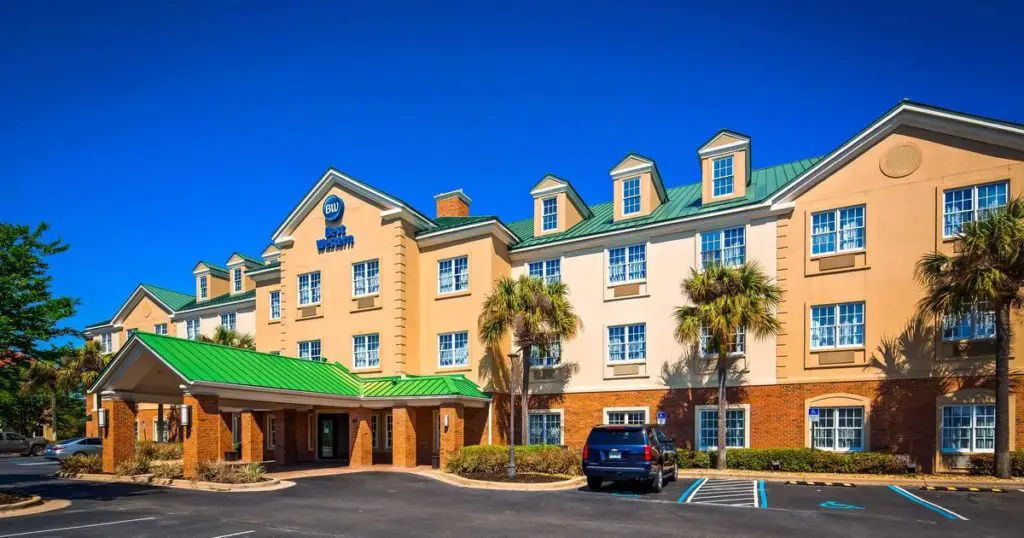 Christmas in Destin: What To Expect
Although many regular Christmas celebrating establishments have not yet released their plans for the upcoming Christmas season, you can be sure that there will be a Santa or two in Destin come December. 
Here are some Christmas celebrations that you can expect to happen when visiting Destin in the festive season:
Last year Santa arrived on November 19 at 6:00 pm, and the party lasted until 8:00 pm. Children enjoyed free photos with Santa, Rudolph the Red Nose Reindeer, and his friend Frosty.
There was free face painting and a holiday photo booth, with festive tunes jamming in the background. 
The main parade arrived on Main Street at 7:00, where Santa proceeded to light up a 50-foot (2.5 ton) Christmas tree, whereafter a magical display of fireworks went off.
Santa's Arrival & Tree Lighting dates have not been released yet, but it will be held in November sometime.
Location: Destin Commons Shopping Centre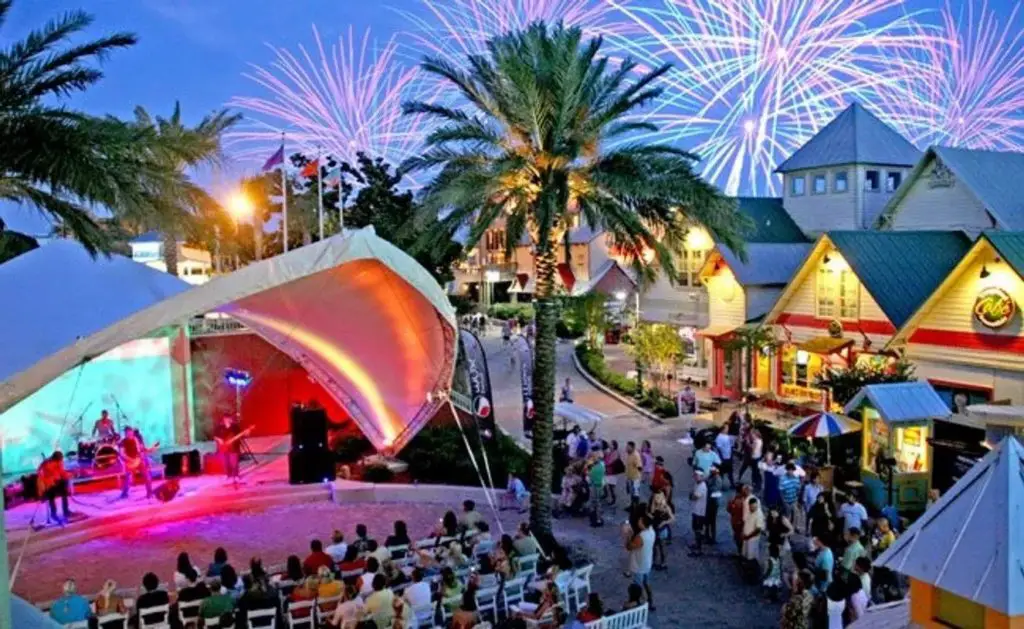 Each year, the Destin Community Center hosts a few Christmas events that everyone can enjoy. This year you can enjoy the following events:
November 18 & 19: Holiday Craft Show
November 21 & 22: Holiday Baking Class
December 1: Christmas Tree Lighting
Date TBA: A Jolly Christmas Drive-Thru
The center also presents a citywide outdoor decorating contest from 13 to December 14. On December 10, make sure to take the kids to watch the Christmas Parade on Highway 98 from Main Street to Stahlman Avenue.
Located within Henderson Beach Park Inn, Beach Walk Café is situated directly on the beach, with a perfect view of the Gulf of Mexico. It's the perfect place to enjoy a lavish four-course gourmet Christmas Eve dinner. 
You will have to make a reservation, irrespective of the time of year, and no children under 13 are allowed.
Location: 2700 Scenic Highway 98 E, Destin, Florida – 32541 
Reservations: (850) 650-7100
Website: Click Here 
The Henderson Beach Resort is a beautiful place to stay while celebrating Christmas in Destin. The resort offers a wide variety of activities and also participates in celebrating Christmas.
Last year they hosted the following Christmas events at the luxurious resort:
Gingerbread House Unveiling
A Dickens Christmas 
Christmas Day Brunch
Location: 200 Henderson Resort Way, Destin, Florida – 32541 
Phone: (855) 741 – 2777 
Website: Click Here 
The movie-inspired saloon Coyote Ugly (Destin) annually hosts an event around Christmas. Last year they had a Christmas Eve party called the "Nightmare Before Christmas." 
There's no word for what the party's theme will be for the upcoming festive season, but you can expect that it will be a messy affair.
Not your typical Christmas experience, yet the younger generation seems to love it.
Location: 100 Harbor Blvd, Destin, Florida – 32541 
Phone: (850) 460 – 7065 
Website: Click Here 
Enjoy Christmas Eve On The Beach
Christmas is a special occasion, even more so when celebrated on the beautiful God-given beaches of Destin.
Last year you could enjoy Christmas Eve on the beach if you booked at the following eateries. The upcoming Christmas Eve will be more of the same.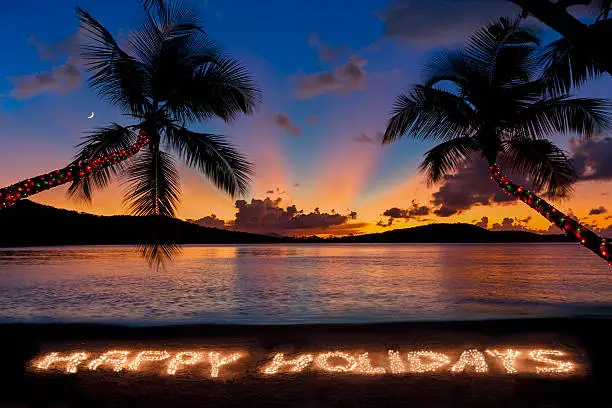 There will be church services held on the beach during December 2022 at the Crap Trap. 
Location: 3500 Highway 98 E, Destin, Florida – 32541 
Phone: (850) 654 – 2722 
Website: Click Here 
Location: 551 Scenic Gulf Dr, Destin, Florida – 32550 
Phone: (850) 460 – 7750 
Website: Click Here 
Celebrate Christmas With A Bonfire On The Beach
After you and the family enjoy a nice Christmas lunch or dinner at any eateries that offer Christmas specials, we highly suggest that you experience a different way of celebrating Christmas by hiring a bonfire.
The company to contact is the Bonfire Guy. 
They will set you up with the following:
Bonfire
Table
Chairs
Smores
Coolers
Bluetooth Speakers
Location: 311 Primrose Place, Destin, Florida – 32550 
Phone: (850) 797 – 5358
Website: Click Here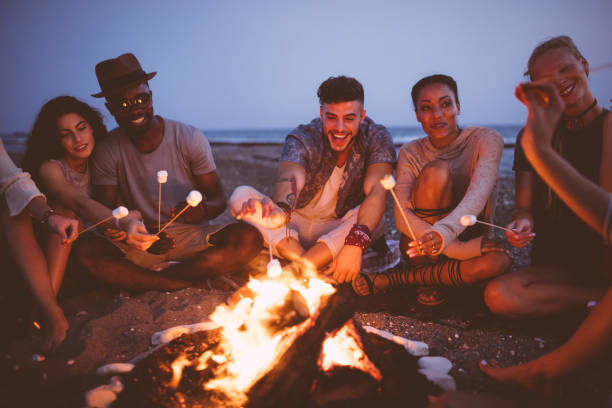 Have Breakfast With Santa
How does having breakfast with the man from the North Pole sound? Help create memorable memories for the young ones by taking them to the Emerald Grande at 8:00 am on selected days in December.
Santa's Send-Off At Harbour Walk
There was a big deal made when Santa arrived in Destin, and it's only right that Santa gets a proper send-off before he starts to deliver his Christmas presents. 
The send-off date should fall on December 18, 2022, at 01:00 pm, happening at HarborWalk. Don't be late, as this could result in no Christmas presents. Santa has an excellent memory!
Photos With Elf On The Shelf
If your child is mad about "Elf on the Shelf," then take him to Grand Boulevard for some photos with the sneaky little elf.
Watch The Nutcracker
Watch out for the December showcase of The Nutcracker at Studio6Twenty5. 
Location: 625 Harbor Blvd, Destin, Florida – 32550 
Website: Click Here 
Celebrate Christmas On Ice
Don't expect any snow on Christmas day when holidaying in Destin. It's not going to happen, but if you want to add some ice to your celebration, you can head off to Baytown On Ice to get in your dose of "snow." 
Location: 9300 Emerald Coast Parkway, West Miramar Beach, Florida – 32550 
Phone: (800) 622 – 1038 
Website: Click Here 
Christmas Worshipping
If you prefer spending Christmas Eve attending a church service, then you are more than welcome to attend some of the following churches for a worshipping event:
Enjoy 12 Nights Of Lights
What is the festive season without beautiful light displays? Not very festive. Head off to Sandestin Golf And Beach Resort every Wednesday, Friday, and Saturday during December, and witness a sparkling light display show that will brighten up your Christmas holiday.
Location: 9300 Emerald Coast Parkway, Miramar Beach, Florida – 32550 
Phone: 1 – 800 – 622 – 1038 
Website: Click Here 
Take The Kids Out On A Pirate Cruise
Most kids love pirates almost as much as they love Santa. On Christmas Eve at HarborWalk, there's a Buccaneer Pirate Cruise on a real-life pirate ship.
The kids will love you for it, and most adults enjoy the cruise just as much as their little ones.  
Experience A Horse-Drawn Carriage Ride
Get in touch with the animals while in Destin, and take your family out on a horse-drawn carriage ride available on numerous days in December. You will locate this activity at the Grand Boulevard.
Christmas Shopping In Destin
Some folks get their Christmas shopping done early. The other 90% of us do it on December 24. Should you fall into the last-minute shopper category, don't stress.
Destin has more than enough shopping centers and retail stores to finalize some last-minute Christmas shopping.
Destin Commons is the place to shop for last-minute Christmas gifts. With over 80+ stores, you are bound to find the perfect gift.
The center also offers enough entertainment to keep the children busy. Look out for the bowling alley, AMC Movie Theater, and the renovated play area. 
Here are some of the specialist store categories that make Destin Commons the Emerald Coast's best outdoor shopping center and your best Christmas shopping destination: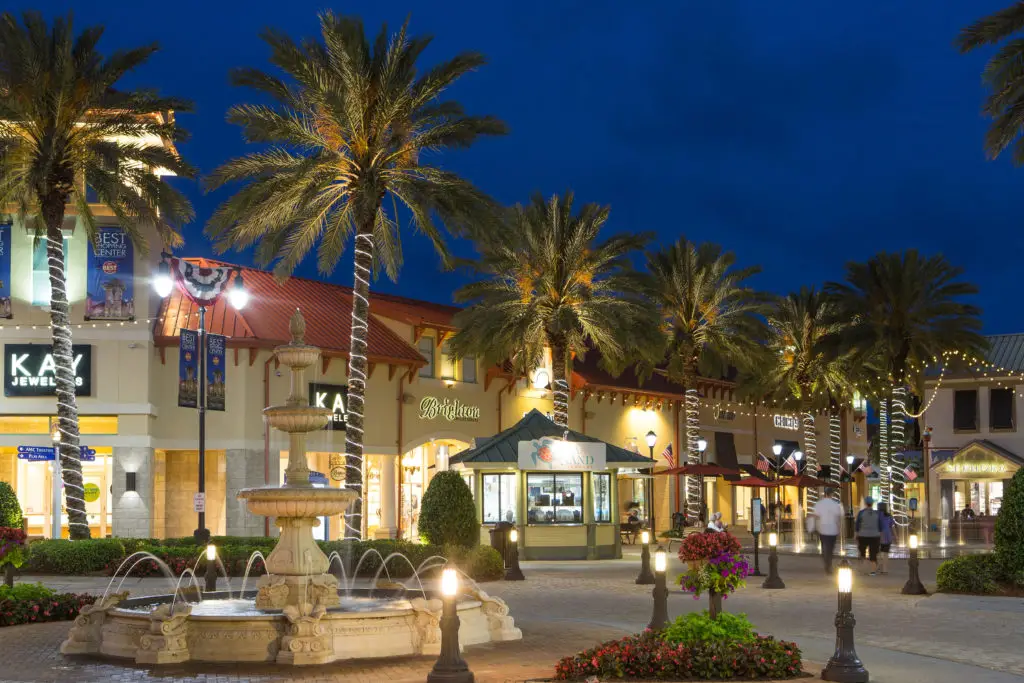 Also, check out this list of stores always running specials, like free burgers for kids, beer tasting specials, and many incredible food deals. 
Location: 4100 Legendary Drive, Destin, Florida – 32541 
Phone: (850) 337 – 8700 
Website: Click Here
Operating Hours (Retail): 10:00 am to 8:00 pm (Monday to Saturday) & 11:00 am to 7:00 pm on Sundays.
Operating Hours (Restaurants): May operate later hours. 
HarborWalk Village is a high-end tourist attraction, no matter the season. This renowned tourist location offers many interesting and intriguing things to do and see. 
Eateries, stores, paddleboard rentals, kayak rentals, jet ski rentals, boat rentals, fishing charters, dolphin cruises, various shopping boutiques, amazing seafood, and many other restaurants, live music, and weekly firework displays can all be found at HarborWalk Village.
If you want to buy personalized Christmas ornaments, visit the following store:
A Christmas To Remember – The store specializes in Christmas ornaments and will even personalize ornaments free of charge.
Location: 10 Harbor Blvd, Destin, Fl – 32541 
Phone: (850) 424 – 0600 
Website: Click Here
Operating Hours (Retail): 10:00 am to 6:00 pm 
Operating Hours (Restaurants): 11:00 am to 09:00 pm
Conclusion
Destin goes out of its way to ensure that residents and visitors experience a magical time when spending the Christmas holiday in Florida.
Hopefully, after reading the above article, you'll have enough activities to add to your Christmas in Destin itinerary.