Seaside is a bit of a hidden gem in the Florida panhandle but offers a wonderful vacation for those who want to relax at a slower pace.
One of the ways to get around this scenic village is with a golf cart. 
Golf carts have been customized to travel off golf courses and onto city streets.
They give travelers an easy way to move around an area without the trouble or expense of getting in and out of a car.  
There are many places to rent a golf cart in Forida and it pays to compare.
Here's a look at four of the best places to rent a golf cart in Seaside Florida. 
Southwinds Beach Golf Carts
This facility rents golf cars in Grayton Beach and surrounding areas. They have excellent ratings and offer many deals. 
Southwinds offers one type of golf cart for rent. It's a gas-powered six-seater EZ Go golf cart so it's big enough for the family.
Those who need more than a golf cart will find Southwinds helpful because they also have beach chair rentals and bike rentals.
Their bike rentals include both the beach cruiser bicycle and the Yolo electric bike. 
Street Legal Golf Cart Rentals 
Street Legal Golf Cart Rentals is another company in Seaside that rents strictly golf carts.
They have a bigger selection that ranges from a four-seat rental to an 8-seat premium rental.
Their golf carts are electric powered but there are charging stations where you can get a boost and Street Legal Golf Cart Rental can tell you where those are. 
Weekly rates for a golf cart with this company depend on when you plan to visit Seaside as some months are peak season.
A seven-day rental of a four-seater in January will cost $395 while the same rental in the summer will cost $650.
The eight-seater car ranges from $550 to $850, depending on when you are traveling to Florida.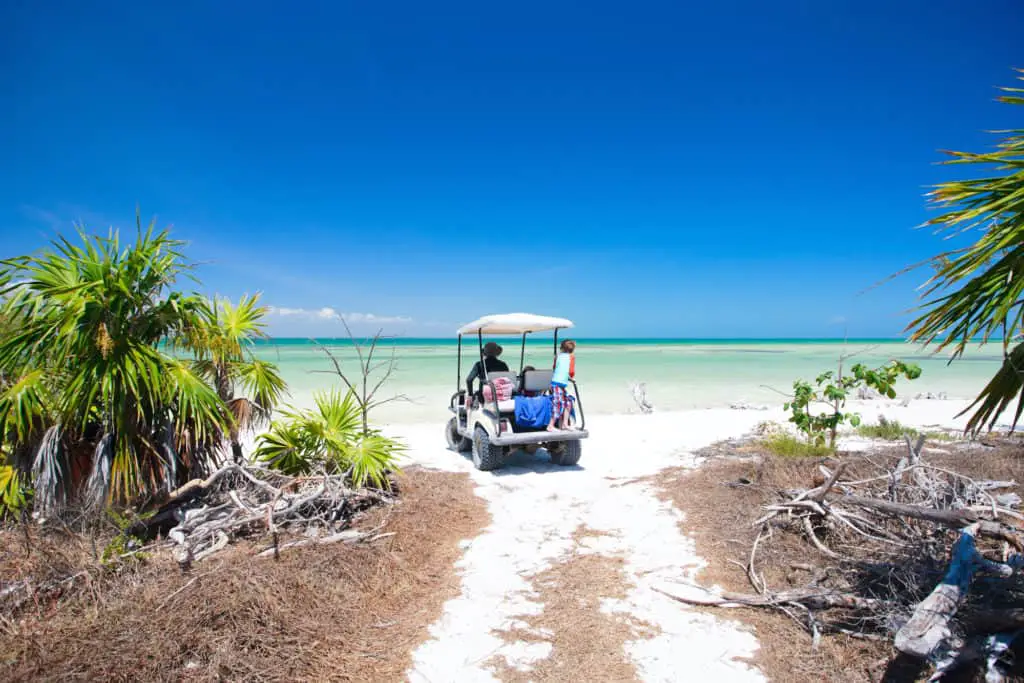 30A Golf Cart Rentals
One key factor in this golf cart rental company is they are open 24 hours a day.
That means you don't have to hurry to return your rental before the traditional 5 or 6 p.m. closing time. 
30A Golf Cart Rentals serves Santa Rosa Beach. One thing to remember is to book your golf cart early because this company books out well before summer starts.
They are one of the few companies that post their weekly rates. 
A 4-passenger cart with 30A Golf Cart Rentals is $575 a week and a 6-passenger runs around $675 and both prices are without tax included.
Their price includes delivery and pickup.
Boss Golf Cart Rentals 30A
The couple at Boss Golf Cart Rentals 30A is known to have the nicest golf carts in the area.
They got new golf cars in the fall of 2020 so their stock is kept new and upgraded.
This dealer not only rents out golf carts but will sell to those who want a permanent one in Seaside. 
Testimonials state the shop's couple is easy to work with and the golf cart was easy to drive.
Boss has other services including boat rentals so it's a good place to know when you are staying in Seaside.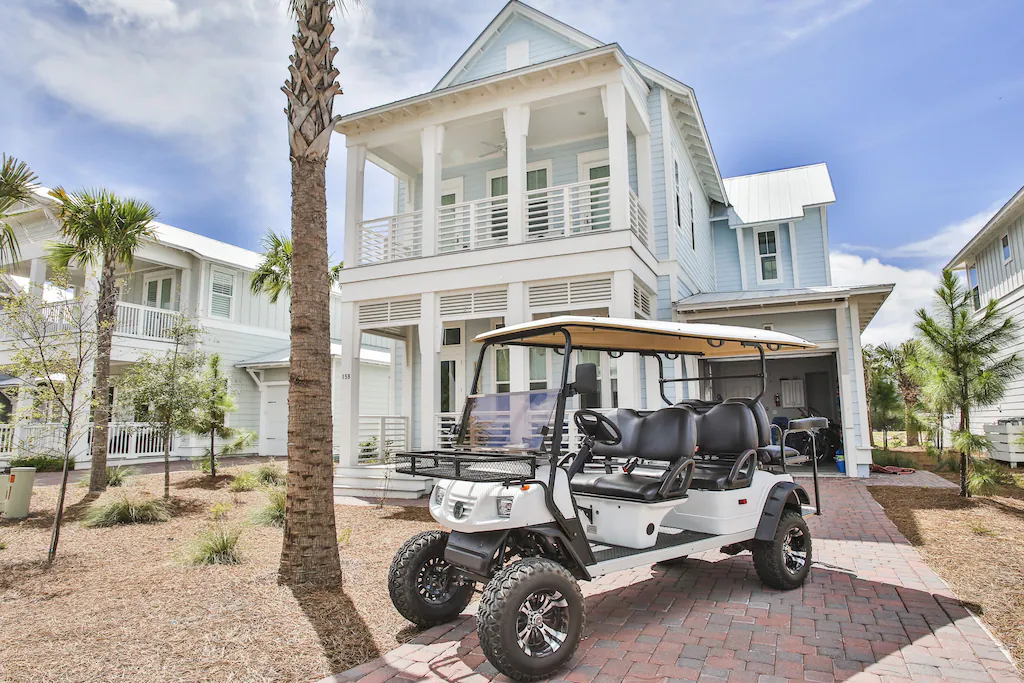 Tips About Golf Cart Rental
There are several things you should do if you want to rent a golf cart in Seaside, Fla.
Book early

Ask a lot of questions about the vehicle

Find out if it's street legal and where you can drive it

Ask about insurance
Golf Cart Regulations in Seaside
It pays to know the rules of golf cart use in Seaside so you don't ruin your vacation with a fine.
First, understand what the word "golf cart" means in the law.
While they come as both gas and electric-powered vehicles, the city defines golf carts and vehicles that aren't street legal.
Vacationers are not allowed to use golf cart rentals in residential areas around Seaside and you will get a fine if you park in these areas.
However, those with physical disabilities or other documented medical needs are allowed to rent a golf cart to tour around Seaside. 
That doesn't mean you can't use a golf cart.
You can be set free of most regulations by making sure you get a golf cart that is considered street legal, where it can be driven on major roads.
Street legal golf carts can be driven on County Highway 30A and you can park along Semolian Circle or Quincy Circle.
You can drive to Seaside's Town Center in a street-legal cart.
Street legal golf carts are allowed in both Watercolor and Seagrove communities. You can drive them anywhere the carts are allowed.
Some other communities, including Rosemary Beach, Watersound, Alys Beach, and Seaside, banned golf cart rentals altogether.
There are beach points of access that allow you to park street-legal golf carts. The 30A highway has more than 50 accesses to beaches and lakes.
You can drive to many spots to fish, kayak, paddleboard, or sit in the sun. 
Types of Golf Carts
There are golf carts in many sizes, and styles and with different engines. Most of the street-legal varieties are gas-powered but some may be electric.
Most traditional golf carts are electric-powered. Being gas or electric-powered has nothing to do with being street legal.
Golf carts can seat four or up to eight people so you will need to ask about size when you book if you are confused by the model names.
One item to make sure of is whether your auto insurance covers golf cart use or whether you should buy additional insurance to cover rentals.
Some companies offer additional insurance to cover rental damage so be sure to ask any rental company you talk to if they offer it.
Final Thoughts
A golf cart is a convenient way to get around and will help you enjoy the Seaside and the beaches.
However, you should be aware of what you are getting and where you can drive it so you can avoid conflicts with the local law enforcement.
You don't want your vacation to become a hassle.