Updated: 07/2023
Florida is renowned for its stunning beaches, crystal-clear waters, and vibrant marine life. But there's a hidden gem that has been attracting locals and tourists alike for years – Crab Island.
Nestled in the heart of Destin, this submerged sandbar offers a unique blend of relaxation, adventure, and fun-filled activities.
This guide will take you through everything you need to know about Crab Island and why it should be on your Florida travel bucket list.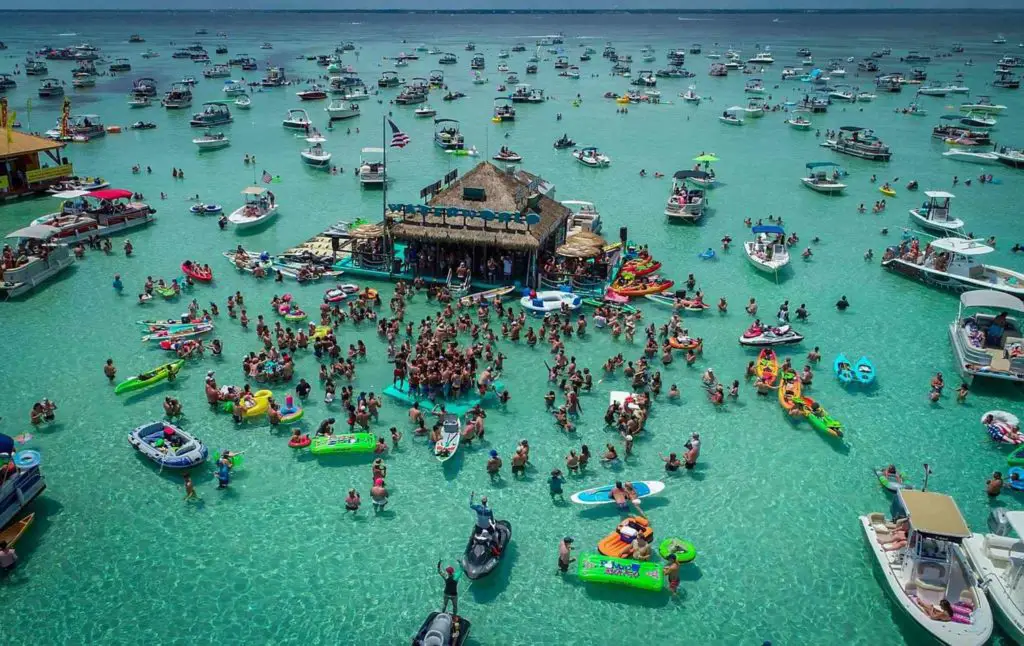 What is Crab Island?
Crab Island, despite its name, is not an actual island but a unique and ever-changing sandbar situated just north of the Destin Bridge in the beautiful Choctawhatchee Bay.
This natural phenomenon has become one of Florida's most popular attractions, drawing both locals and tourists to its shallow, emerald-green waters.
Formation and Evolution:
The formation of Crab Island can be attributed to the shifting sands and currents of the Choctawhatchee Bay.
Over time, these forces have sculpted the sandbar into its current form, creating a shallow and expansive area perfect for wading, swimming, and lounging.
The sandbar's size and shape can vary depending on weather conditions, tidal movements, and human activity, making each visit to Crab Island a unique experience.
Low Tide Wonders:
At low tide, the water level recedes, revealing a vast expanse of soft, white sand, which provides an ideal environment for beach lovers to relax, sunbathe, and play.
The shallow waters surrounding Crab Island are typically waist-deep, making it safe for both adults and children to enjoy.
Moreover, the clear waters allow for excellent visibility, giving visitors the opportunity to observe the vibrant marine life that inhabits the area.
The Perfect Gathering Spot:
Crab Island's distinctive characteristics have made it a popular gathering spot for boaters, families, and adventure-seekers alike.
On any given day, you'll find a lively atmosphere, with people enjoying various water activities, socializing, and soaking up the Florida sun.
Crab Island's reputation as a premier destination for fun and relaxation continues to grow, solidifying its status as a must-see attraction along the Emerald Coast.
Preserving the Environment:
As Crab Island's popularity increases, so does the responsibility to preserve its natural beauty and delicate ecosystem.
Visitors are encouraged to respect the environment by refraining from littering, disturbing the marine life, and adhering to local regulations.
By doing so, we can ensure that Crab Island remains a cherished destination for generations to come.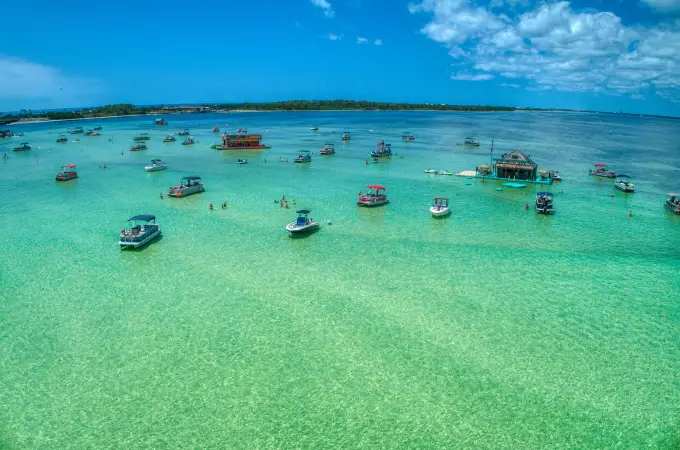 How to Get to Crab Island: Exploring Your Options
Crab Island's boat-only access adds a sense of adventure and exclusivity to this popular destination.
There are several ways to reach the sandbar, each offering a different experience. In this section, we'll dive deeper into the various options for reaching Crab Island, as well as some tips to help you plan your trip.
Renting a Pontoon Boat at Crab Island
Pontoon boats are a popular choice for reaching Crab Island, thanks to their stability, spaciousness, and ease of navigation.
Many local marinas in Destin offer pontoon boat rentals, ranging from half-day to full-day options.
This choice allows you to set your own schedule and explore Crab Island at your leisure. Most pontoon boats can accommodate up to 12 passengers, making them perfect for group outings with family and friends.
Jet Skiing
For thrill-seekers, renting a jet ski provides a fun and exciting way to reach Crab Island. Jet skis can be rented from various vendors in Destin, with hourly and daily rates available.
Be sure to follow safety guidelines, wear a life jacket, and maintain a safe distance from other watercraft.
Kayaking or Paddleboarding on Crab Island
For those seeking a more active and eco-friendly approach, kayaking or paddleboarding to Crab Island is an excellent option.
Rent a kayak or paddleboard from one of Destin's many rental shops and enjoy a leisurely paddle to the sandbar.
This method provides an opportunity to explore the surrounding waters, observe marine life, and get some exercise along the way.
Guided Tours and Water Taxis
If you prefer a more structured experience, consider joining a guided tour or taking a water taxi to Crab Island.
Guided tours typically include knowledgeable guides who can share information about the area's history, wildlife, and points of interest.
Water taxis provide a convenient and affordable option for those who don't want to rent their own watercraft. Both services usually offer multiple departure times throughout the day.
Plan Around Tides and Weather
Before embarking on your journey to Crab Island, it's crucial to check the tide schedules and weather conditions.
Low tide is the best time to visit, as the sandbar is more visible and the waters are shallower. Be aware of the weather forecast, as strong winds and storms can make the journey to Crab Island difficult and potentially unsafe.
In conclusion, there are several ways to reach Crab Island, each offering a unique experience. Whether you prefer the freedom of a pontoon boat, the thrill of a jet ski, or the serenity of a kayak, there's an option to suit your preferences.
Remember to plan your trip around the tides and weather conditions to ensure a safe and enjoyable visit to this iconic Florida destination.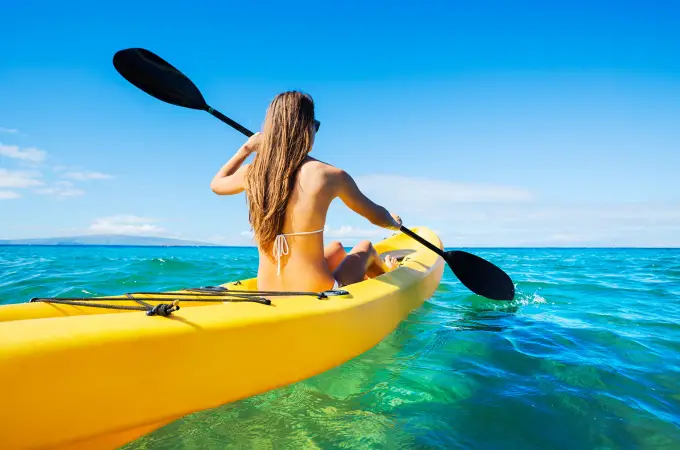 Activities at Crab Island: Exploring Destin's Playground
Crab Island is a treasure trove of activities that cater to every traveler's preferences.
From adrenaline-pumping adventures to leisurely pastimes, there's something for everyone at this Florida hotspot.
Here, we provide a more in-depth look at some popular activities and local companies that can help you make the most of your visit to Crab Island.
Swimming and Snorkeling
The crystal-clear waters and abundant marine life at Crab Island make swimming and snorkeling irresistible.
Don a mask and fins from a rental company like Destin Snorkel (www.destinsnorkel.com) and explore the underwater world teeming with fish, crabs, and other sea creatures.
Be sure to bring an underwater camera to capture your encounters with marine life.
Floating Water Park
Crab Island Water Park (www.crabislandwaterpark.com) offers adrenaline-pumping fun with its inflatable slides, trampolines, and obstacle courses.
Perfect for kids and adults alike, this floating water park provides hours of entertainment. Purchase a day pass and bounce, slide, and splash to your heart's content.
Paddleboarding and Kayaking
Rent a paddleboard or kayak from a local vendor like Wet Inc. (www.wetdestin.com) and explore the surrounding waters at your own pace.
Paddleboarding and kayaking allow you to venture further, discovering hidden coves and observing the area's diverse wildlife. Both activities offer a fantastic workout and a unique perspective of Crab Island.
Beach Volleyball
Challenge your friends and family to a game of beach volleyball on the soft sands of Crab Island. Set up a portable net or join an impromptu game with fellow beachgoers. Volleyball is a fun way to stay active, socialize, and soak up the Florida sun.
Dining and Shopping
Satisfy your hunger and quench your thirst at one of Crab Island's floating food vendors.
Grab a bite to eat from establishments like Crab Island Cantina (www.crabislandcantina.com), which offers tasty treats like fish tacos and ice-cold beverages. For dessert, check out Island Ice Cream Boat (www.facebook.com/islandicecreamboat) for a refreshing scoop of your favorite flavor.
Pick up souvenirs from the small boutiques and vendors that dot the sandbar. From beachwear and accessories to unique trinkets, you'll find the perfect memento to remember your Crab Island adventure.
With its stunning surroundings, vibrant marine life, and lively atmosphere, it's no wonder that Crab Island has become a must-visit destination for travelers exploring Florida's Emerald Coast.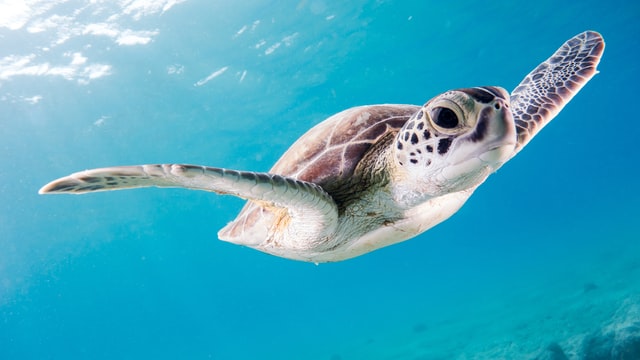 Wildlife Encounters: Marvel at all the Crab Island Underwater Wonders
Crab Island's thriving ecosystem supports a wide array of marine life, creating ample opportunities for unforgettable wildlife encounters.
From playful dolphins to majestic sea turtles, you'll be amazed at the incredible species that call this sandbar home.
Be sure to bring an underwater camera to capture these awe-inspiring moments. To enhance your wildlife experience at Crab Island, we recommend reading two of our informative articles that detail the captivating marine life in the area.
Jellyfish on Crab Island
Yes, you will see Jellyfish in Destin, even Crab Island alothough due to the large crowds that take over Crab Island you may not see many, but they are definitely in the area.
In the article linked below, we explore the fascinating world of jellyfish that inhabit the waters around Crab Island.
You'll learn about the different species you might encounter, such as the Moon Jellyfish and the Cannonball Jellyfish.
We also provide valuable information on how to safely observe these creatures and what to do in case of a jellyfish sting.
With a deeper understanding of these gelatinous beauties, you'll appreciate their presence in the underwater world even more. [read more]
Sharks in Crab Island
While shark sightings at Crab Island are relatively rare, it's essential to be aware of these magnificent predators that occasionally visit the area.
This article delves into the different shark species found near Crab Island, such as the Nurse Shark and the Blacktip Reef Shark.
We provide guidance on how to safely observe these creatures from a distance and tips on what to do if you happen to encounter a shark.
Gaining knowledge and respect for these apex predators will enrich your experience at Crab Island and contribute to the conservation of these essential marine animals. [Link to article]
By immersing yourself in the diverse marine life that Crab Island has to offer, you'll gain a deeper appreciation for the wonders of nature and the importance of preserving these delicate ecosystems.
Whether you're snorkeling, paddleboarding, or simply watching from the shore, you're sure to have unforgettable wildlife encounters that will make your visit to Crab Island truly extraordinary.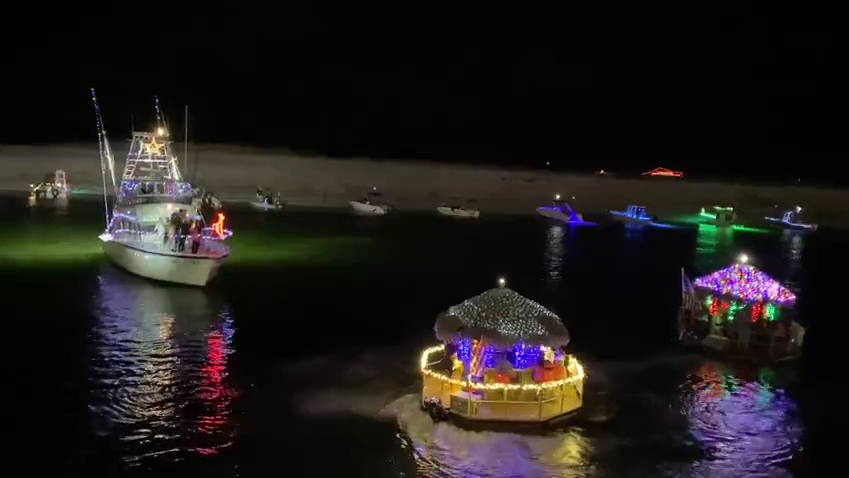 Special Events: Experience the Crab Island Festive Atmosphere
Crab Island's vibrant atmosphere is further amplified by the numerous special events and celebrations that take place throughout the year.
From the bustling spring break season to the dazzling holiday events, there's always something exciting happening at this Florida hotspot.
If you're new to Crab Island, here's a rundown of the annual events and what you can expect during your visit.
Spring Break Influx
As a popular destination for college students and families alike, Crab Island experiences a significant influx of visitors during the spring break season (typically from late February to early April).
The sandbar comes alive with beachgoers eager to soak up the sun, socialize, and enjoy various water activities.
While the atmosphere is undoubtedly lively, it's essential to be prepared for larger crowds and limited availability of rental equipment and watercraft.
Summer Crowds
During the summer months (June to August), Crab Island's popularity continues to soar. Boaters, swimmers, and adventure-seekers flock to the sandbar to enjoy the warm waters and sunny skies.
The summer season also brings a host of live concerts, featuring local and regional musicians, as well as themed parties that add to the festive atmosphere.
Be sure to book your accommodations, watercraft rentals, and tours well in advance to secure your spot.
Holiday Events and Fireworks Displays
Crab Island takes on a magical glow during the holiday season, with special events and fireworks displays that light up the night sky.
One of the most anticipated events is the annual Crab Island Fireworks Show, which takes place on Independence Day (July 4th).
Spectators gather on boats and along the shores to witness a spectacular pyrotechnic display that illuminates the bay.
Other holiday events include themed parties and Halloween, Christmas, and New Year's Eve celebrations.
Annual Special Events
In addition to the seasonal festivities, Crab Island hosts several annual special events that draw crowds from near and far. Some popular events include the Crab Island Regatta, where participants race on kayaks, paddleboards, and other human-powered watercraft, and the Crab Island Music Festival, showcasing talented musicians and bands from around the region.
What to Expect for First-Timers at Crab Island Destin
If you're new to Crab Island, be prepared for a lively and bustling atmosphere, especially during peak seasons and special events.
Arrive early to secure a good spot and bring essentials like sunscreen, water, and snacks. Be mindful of local regulations and respect the environment by not littering or disturbing marine life.
Lastly, immerse yourself in the festive spirit, make new friends, and create lasting memories at this iconic Florida destination.
By checking the local events calendar and planning your visit accordingly, you'll be able to fully experience the lively and festive atmosphere that makes Crab Island truly unforgettable.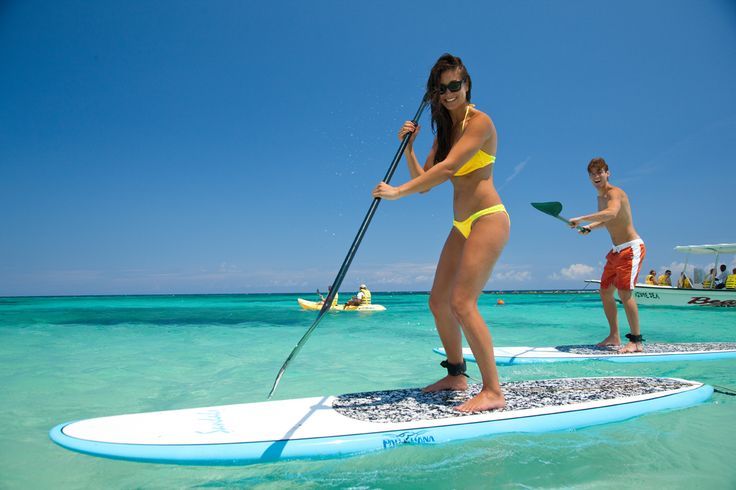 Tips for Visiting Crab Island: Make the Most of Your Experience
A visit to Crab Island is an unforgettable experience, but it's essential to come prepared to ensure a safe and enjoyable time.
Here, we provide a comprehensive list of tips to help you make the most of your visit to this iconic Florida destination.
Sun Protection
The Florida sun can be intense, so it's crucial to apply and reapply sunscreen with a high SPF throughout the day.
Don't forget to protect your face, ears, and neck, as well as the tops of your feet. Wear a wide-brimmed hat and sunglasses for added protection. Seek shade when possible, especially during the hottest hours of the day.
Hydration and Snacks
Bring a cooler with plenty of drinks, such as water and sports beverages, to stay hydrated in the heat.
Pack some snacks, like fruit, granola bars, and sandwiches, to keep your energy levels up. Remember that alcohol and the sun can be a dangerous combination, so drink responsibly and be mindful of your limits.
Secure Your Belongings
Crab Island can get crowded, particularly during peak season and special events. Keep an eye on your belongings and consider using a waterproof bag or dry box for your valuables, such as your phone, wallet, and keys.
If you're renting a boat or watercraft, store your items securely and avoid leaving them unattended.
Respect the Environment and Wildlife
It's essential to be mindful of the delicate ecosystem and marine life at Crab Island. Refrain from littering and use a trash bag or container to dispose of your garbage properly.
Do not feed or disturb the marine life, and be cautious when snorkeling or swimming to avoid harming the coral or other aquatic habitats.
Be Prepared for Changing Conditions
Weather conditions can change rapidly in Florida, so be prepared for sudden rain showers or storms. Check the weather forecast before your visit and pack a lightweight rain jacket or poncho, just in case.
Water Safety
Always follow water safety guidelines and wear a life jacket when participating in water activities.
If you're not a strong swimmer, consider using a flotation device or staying close to the shore. Be aware of the tide schedules and water depths, as well as any potential hazards like strong currents or marine life.
Plan Ahead
Crab Island is a popular destination, so it's wise to plan your visit in advance. Book your accommodations, watercraft rentals, and tours early to secure your spot.
Research local events and festivities to ensure you don't miss out on any special experiences during your stay.
By following these tips, you'll be well-prepared for your visit to Crab Island, allowing you to fully enjoy the sandbar's natural beauty, vibrant atmosphere, and unforgettable experiences.
Conclusion
Crab Island is a must-visit destination for anyone exploring the beauty of Florida's Emerald Coast.
Whether you're seeking relaxation, adventure, or a fun-filled day with friends and family, Crab Island offers something for everyone.
So, pack your swimsuits, sunscreen, and sense of adventure, and get ready to discover this incredible sandbar experience in the heart of Destin, Florida.