Looking for the Casinos near Destin? Well, Destin may not immediately come to mind as a gambling destination, but, it has some of the BEST Casinos in the nation just a short drive away from Destin.
With several full scale casino resorts located just over state lines in Alabama and Mississippi, casino gaming options are easily within reach for visitors and residents.
In this guide, we'll cover everything you need to know about finding casino gambling, slot machines, table games, poker rooms, and more near Destin.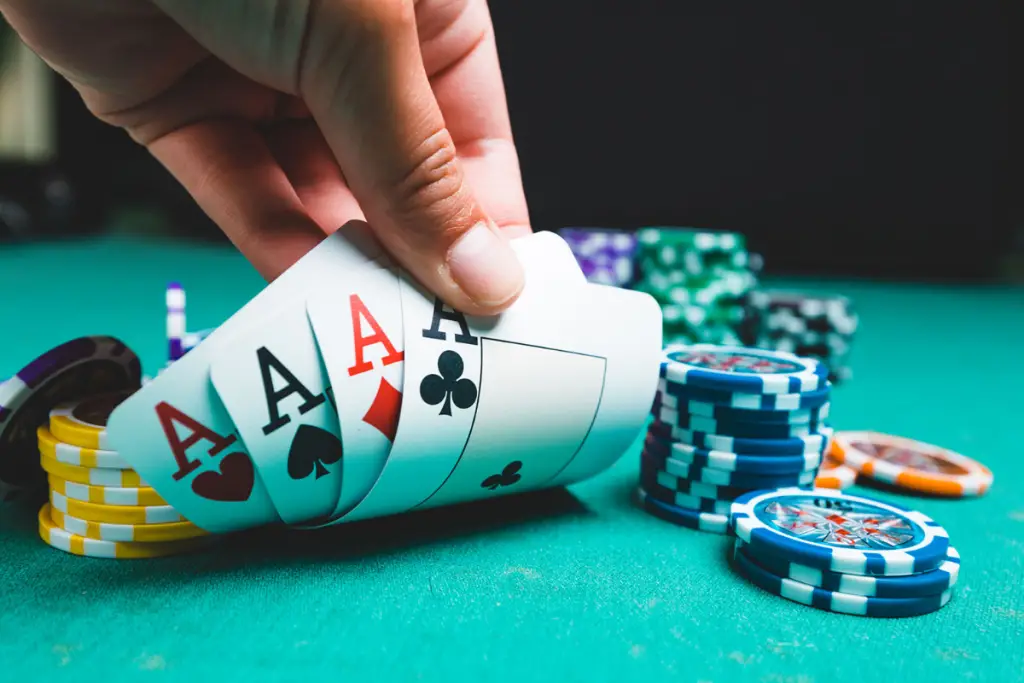 Casinos in Destin, FL
To answer the question outright – there are currently no full casinos actually located within the city limits of Destin, FL.
However, casino cruises, racinos, and tribal gaming facilities that offer certain casino-style games can be found in the greater North Florida and Florida panhandle area.
Closest Casino Resorts near Destin, FL
By taking a short 1-2 hour drive west from Destin, you can access several extravagant casino resort complexes boasting hundreds of table games, thousands of slot machines, premier poker rooms, on-site sportsbooks, luxury spas, headline concerts and shows, and much more Vegas-style amenities.
Here are the nearest full-scale casino resorts to Destin, FL:
1 hour 15 minute drive from Destin
Over 2,300 slot machines
90 table games – blackjack, craps, roulette, baccarat
High-limit rooms for elite players
Spa, restaurants, entertainment venue
2 hour drive from Destin
1,100+ slot machines
Over 60 table games
18-table non-smoking poker room
Infinity Pool, spa, back bay cruises
2 hour drive from Destin
1,500+ slots, 90 table games
Southern US Poker Championship held here
Luxury lodging, spa, 7 on-site restaurants
2 hour drive from Destin
1,300+ slots, 50+ tables
Live music and entertainment
Unique rock memorabilia displays
As you can see, world-class gambling and entertainment experiences are easily accessible to Destin visitors who don't mind a bit of drive time.
Next, let's dive deeper and highlight what each casino resort offers in terms of gaming, amenities, lodging, dining and more. This will help you choose which makes for the ideal casino getaway from Destin.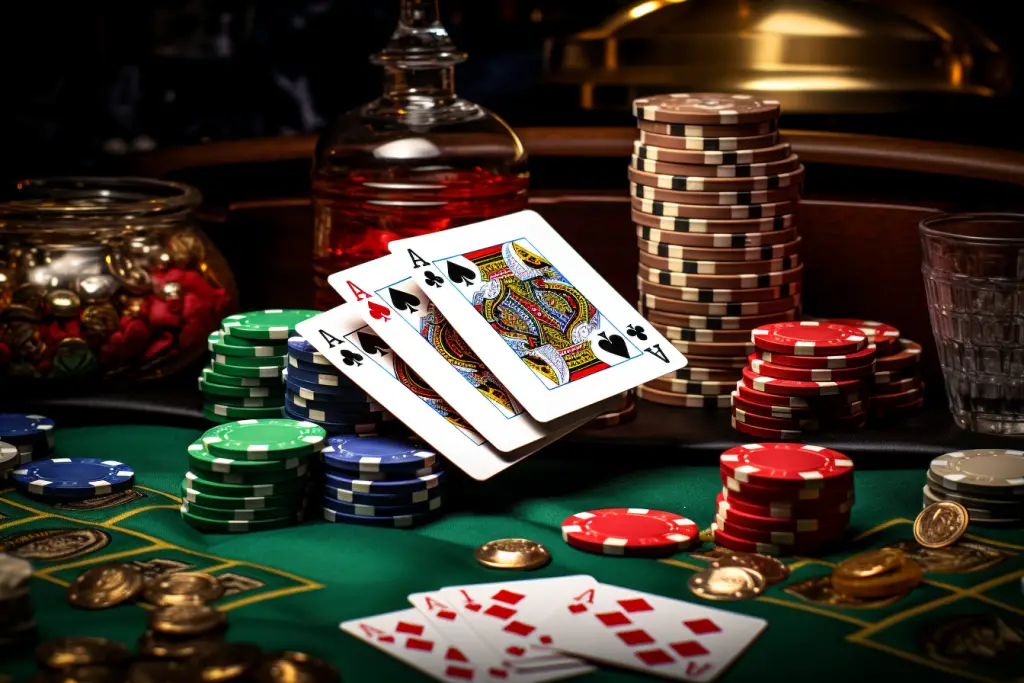 Major Casinos and Resorts Near Destin
Wind Creek Atmore, AL
The flagship property of the Wind Creek hospitality brand owned by the Poarch Band of Creek Indians, this lavish casino complex offers the most convenient access from Destin, at just 75 miles and 1 hour 15 minute drive northwest.
Gaming at Wind Creek
Boasting over 2,300 of the newest and hottest slot machines, Wind Creek Atmore satiates even hardcore slot aficionados. You'll find all denominations from pennies to $25 machines, including popular video themes and progressive jackpots frequently paying out $100k+ prizes.
Their expansive casino floor also hosts 90 action-packed table games like blackjack, Mississippi stud, Ultimate Texas Hold'em, roulette, craps and baccarat. Fan favorites have minimum bets as low as $5 per hand, appealing to beginners. Their trendy high-limit rooms cater to elite players through exclusive VIP services.
Amenities Beyond Gaming
Wind Creek Atmore's stunning 23-story tower houses luxury accommodations to extend your retreat. The spa offers soothing treatments like massages and facials to unwind between casino sessions. Plus you've got the Center Bar stage rocking with live bands and comedy acts on weekends.
Dining
With 7 restaurants and bars, Wind Creek's dining choices range from upscale steakhouse fare at P.B.R. to the lively Harvest Buffet and quick bites at PRC – Poarch Rec Center. The first floor food court provides convenient access without wandering far when hunger strikes in the middle of your lucky streak.
Biloxi, MS Casinos
Heading 2 hours west from Destin, a trio of world-renowned casino megaresorts awaits in Biloxi. These properties saw $1.2 billion in gaming revenue in 2022, an increase of over 15% from prior years, signaling a major gambling hotspot.
Let's dig into how the IP Casino Resort, Beau Rivage, and Hard Rock each provide stellar gaming getaways.
IP Casino Resort Spa
Often considered the most locally popular casino in Biloxi, the IP Casino Resort spans an enormous 560,000 square feet right off Back Bay.
Gaming
Their action-packed casino features over 1,100 slot machines with denominations starting at just 1-cent allowing casual players to stretch their bankroll. IP also offers 60+ table games with $10 minimums, appealing to beginners. For serious poker players, IP's beautiful 18-table poker room stays open 24 hours on weekends.
Amenities Beyond Gaming
Amenities include the Infinity luxury pool with cabanas and hot tubs, world-class 32nd-floor spa, and access to Back Bay for boating and fishing. Their event center hosts A-list concerts and comedians in an intimate theater setting.
Dining
With 10 distinct restaurants and bars, IP's dining scene ranges from sports bar staples at Champion's to upscale cuisine at Infusion. The 24-hour Le Café is perfect for grabbing coffees and pastries to fuel marathon gambling sessions into the dawn.
Beau Rivage Resort & Casino Boasting the tallest structure in Mississippi at 32-stories tall, the opulent Beau Rivage casino resort evokes Vegas luxury.
Gaming
Beau's massive 100,000 square foot casino floor houses 1,500+ of the newest slots and 90 table games like Three Card Poker, Let It Ride, Casino War and mississippi stud. Serious poker players are drawn to Beau's hosting of the Southern United States Poker Championship every year.
Amenities
Lodging ranges from comfortable standard rooms to lavish suites with whirlpool tubs and views of the Gulf coastline. Their world-class spa and salon offers indulgent body treatments, massages and facials. An outdoor pool with cabanas and hot tubs provides tropical relaxation.
Dining
From fine dining at Jia to pub fare at the Draft House, Beau Rivage covers all tastes across its 7 on-site restaurants. Their gourmet buffet FIN showcases fresh seafood like snow crab legs and crawfish.
Hard Rock Hotel & Casino
Bringing Vegas vibes to Biloxi, the lively Hard Rock is a must visit for gaming and entertainment.
Gaming
The expansive smoke-free casino floor houses over 1,300 of the hottest slot machines and 50+ gaming tables – blackjack, mini-baccarat, Let it Ride and more. High-limit slots indulge high rollers with bets up to $500. A stylish WSOP Poker Room stays open 24 hours on weekends.
Amenities
Hard Rock's modern hotel towers place you in the heart of the action. Rock Spa offers treatments focused on rhythm and music like the Drumstruck massage. Outdoor pool parties take full advantage of mild Gulf coast weather.
Dining
From The Thirty-Two steakhouse to Fenian's Irish Pub, the Hard Rock's dining choices hit all the right notes. Their Beach Bar & Grill provides a scenic spot for cocktails and pub fare poolside. Memorabilia exhibits make meals a multimedia experience.
With so many world-class gaming and entertainment options just 1-2 hours from Destin, an exciting casino getaway can easily enhance any trip.
Popular Table Games Found at Casinos Near Destin
Now that you're familiar with the top casinos, let's explore some of the common table games on offer to experience the thrills of casino gambling close to Destin.
Blackjack
Far and away the most popular casino game, blackjack pits you against the dealer in a contest to get closest to 21 without going over. Newer variations like Spanish 21 and Blackjack Switch add twists.
Craps
Bet on the outcome of dice rolls on this lively game surrounded by hooting and hollering players at an elongated table. Approachable with simple yes/no wagers like Pass/Don't Pass.
Roulette
Wager on where a ball will land after spinning a wheel marked 1-36 plus 0 and 00. Play inside bets on specific numbers or outside bets on groupings of numbers for bigger payouts.
Three Card Poker
A simpler poker variant using just three cards dealt to you and the dealer. Make initial ante bet, then Play or Fold based on your cards. Side bonus bets spice things up.
Baccarat
Banker vs Player game aiming to get closer to a point total of 9. Pull a third card or "stand" based on strict draw rules. Very popular among high rollers.
Pai Gow Poker
Seven card game where you split your hand into a 2 card and 5 card poker hand. Goal is to outscore the dealer in both hands. Originated in Asia.
Caribbean Stud Poker
Table game version of 5-card stud poker against the dealer only. Must beat dealer's hand to win based on standard poker hand rankings. Side jackpot bets available.
Let It Ride
Get 3 cards and 2 community cards. Opt to withdraw bet portions or "Let It Ride" once you see the community cards for bigger payouts in this variation of five-card stud.
Big Six Wheel
Huge spinning wheel marked 1-6 that lands on a number. Payouts vary based on the number you wagered on. Similar to roulette.
Mississippi Stud
5-card poker game where you bet against pay tables, not other players. Wager on ante and any of 3 additional betting rounds. No folding.
So whether you crave the action around crowded craps and blackjack tables or prefer lower key poker variants like Three Card and Caribbean Stud, the tables offer something for everyone!
Typical Poker Room Games and Tournaments
Poker has exploded in popularity the past decades, and the poker rooms at nearby Biloxi casinos cater to serious local players and amateurs alike.
Here is an overview of typical poker games and tournaments run most evenings and weekends:
Cash Games
You can join a table at any time and cash out your chips at will in popular games like:
Texas Hold 'Em
Omaha
7-Card Stud
Mixed Games
Daily Tournaments
Structured poker tournaments offer payouts to top finishers. Buy-ins range from $50-$500 for events like:
Nooners and Night Owls – Only run early afternoon or late night.
Deep Stack – Start with more chips for longer play.
Bounty – Earn extra payouts for knocking out players.
Turbo – Faster structure for quick decisive play.
Major Tournaments
Larger marquee poker tournaments hosted include:
Main Event Series – Major annual tournament festival akin to WSOP.
WPT Tour Events – Stops on the World Poker Tour bring out pros.
WSOP Circuit Events – Official WSOP ring events held annually.
Call the poker room at your selected casinos to get details on upcoming daily tournaments, guarantees, and series on the calendar.
Typical Slot Machine Types and How They Work
Beyond table games, slot machines make up the bulk of gaming at any major casino. Let's look at some popular slot variations you'll encounter:
Video Slots
These are the visibly flashy slots with favorite TV, movie, and pop culture themes that draw you in. Offering 5+ reels, animated bonus rounds, and progressive jackpots.
Classic Slots
Feature mechanical reels and lever arms reminiscent of vintage Vegas-style slots. Usually just 3 reels and simple functions. Old school vibe.
Progressive Slots
These machines are linked in a network, allowing the jackpot to grow across multiple slots. Top prizes can climb into the millions before hitting.
Penny Slots
Played by betting just $0.01 per line, allowing casual gamblers to stretch bankrolls. Flashy graphics and features rival video slots. Great low risk options.
Hybrid Slots
Combine attributes like the large top monitors of video slots with physical spinning reels below. Newest iteration.
In general, how slots function involves:
Inserting Money – Bills, Tickets, or Mobile Wallets
Selecting Bet – # of lines and bet per line
Spinning Reels – Symbols determine payouts
Bonus Features – Free spins, mini games, and more
With machines ranging from retro classics to high-tech video slots, the casino floor provides endless slot action.
Tips and Etiquette for Casino Beginners
If you're new to casino gambling, here are some tips and etiquette advice to ensure you have the best experience:
When sitting down at a table, place cash on the felt to "buy in" rather than exchanging for chips at the cashier cage.
Wait for dice to hit the back wall when shooting at craps. Never throw them off the table.
In blackjack, don't touch your cards. Just use hand motions. Players must only touch their chips.
Let dealers handle all cards and chips on the table. Don't reach over to collect winnings until paid.
Only sit at a slot machine with a "chair" symbol lit. Don't play occupied units right next to other players.
Tip cocktail waitresses bringing free drinks around $1-2 per drink.
Most table games require minimum bets. Check signs before sitting down. Move tables if below your comfort range.
Play games you already know, read tutorials, or take lessons before trying unfamiliar tables.
Set a gambling budget and stop loss limit before entering the casino and strictly stick to it.
Keep drinks to a minimum when gambling to keep your head clear for best results.
By being respectful of other players, casino games operate smoothly. Brush up on game rules beforehand or take lessons so as not to impede the action once seated. With the right etiquette, casinos offer thrilling entertainment.
Getting to Biloxi or Atmore Casinos from Destin
One final consideration when planning your casino getaway from Destin is making the drive and navigating to whichever destination you select.
Here are quick driving directions and tips for reaching the major casino options:
Wind Creek Atmore, AL
Take I-10 West to exit 44 for AL-21 North
Follow AL-21 North 75 miles to Atmore, AL
Total drive time approximately 1 hour 15 minutes
Beau Rivage Biloxi, MS
Take I-10 West over the AL state line to exit 50 for I-110 South
Take I-10 South 7 miles, exit at Caillavet St.
Total drive time approximately 2 hours
IP Casino Biloxi, MS
Take I-10 West to exit 50 for I-110 South to Biloxi
Take exit 1A from I-110, stay straight on IP Blvd
Total drive time approximately 2 hours
Hard Rock Biloxi, MS
Take I-10 West to MS state line to exit 50 for I-110 South
Take Exit 46 from I-110, turn left on US-90
Total drive time approximately 2 hours
Pro Tip: Use WAZE app for real-time route and traffic updates. Friday evenings can be heavy traffic toward Biloxi.
Don't forget your valid ID! Casinos require adult guests to show government issued photo identification upon entry and for alcohol purchases.
Final Bet
Now that you know the closest casino options and what they offer, an exciting Gulf Coast gambling getaway can easily enhance your next Destin vacation. Just a short drive away, you have access to all the action-packed gaming you could want from slots and tables to poker tournaments and more!