Crab Island is a unique sandbar located in Destin, Florida that has become a wildly popular party destination, especially during spring break and summer.
Thousands of boats anchor around the shallow sandbar to relax, socialize, and enjoy the festive atmosphere.
But is Crab Island really all it's cracked up to be? Here's what you need to know before heading out to this famous Florida spot.
What Exactly is Crab Island?
Crab Island is technically not an island at all, but rather a large, shallow sandbar located in the Choctawhatchee Bay, just east of Destin Harbor.
It sits between the north side of the East Pass and Henderson Beach State Park. The sandbar is accessible only by boat since water surrounds it.
The sandbar emerged from the bay in the 1930s after a channel was cut to connect the harbor to the Gulf of Mexico. This caused currents to shift, resulting in the natural deposition of sand that formed the sandbar.
Crab Island gets its name from the thousands of blue crabs that inhabit its waters during summer months.
The sandbar is about 4 feet deep throughout, which allows boats to anchor and partygoers to jump out and enjoy the water and events.
When is Crab Islands Peak Season?
Crab Island really comes alive during spring break and summer. The peak seasons are March through April for spring breakers and May through early September for summer vacationers.
The sandbar may be accessible year-round if weather permits. But it's not always a full-on party atmosphere like during the peak seasons. Cooler months see lighter crowds and more locals than tourists.
Keep in mind that tropical weather can impact conditions. After storms or hurricanes, currents may shift sand around, requiring dredging to restore the sandbar. And major storms can wash away sections of sand entirely.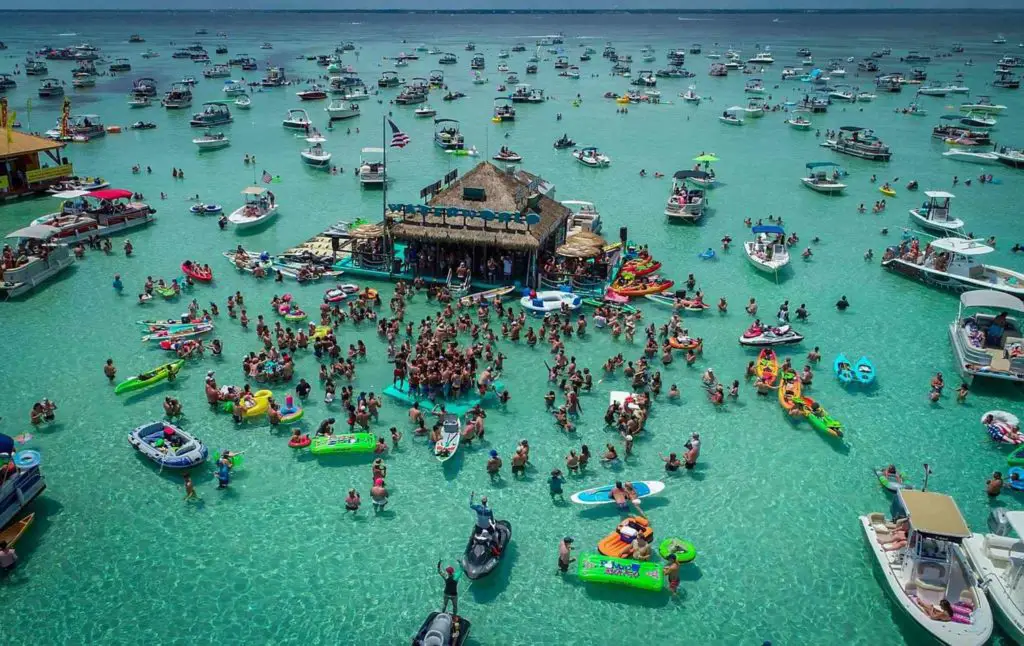 What Really Happens at Crab Island?
Crab Island has a reputation as a nonstop party scene, which is accurate during the peak spring and summer months. It's essentially a massive, floating beach bash involving thousands of boats anchored closely together blasting music as people relax, dance, and socialize in the water.
The vibe is lively and fun-loving, with people jumping from boat to boat mingling and checking out music.
Floats with water slides, climbing walls, and water toys provide entertainment. Pop-up bars serve tropical drinks and beer from pontoons. Other boats offer food like barbecue, snacks, and fruit.
Various amateur DJ's blast music from boats, everything from Top 40 hits to country to hip hop. Some anchor elaborate sound systems to host mini-parties around their boat.
You'll see people dancing on boats, playing football and cornhole on the sandbar, floating around with pool toys, and generally having a great time celebrating warm weather and freedom from school or work.
What Should You Bring to Crab Island?
The main things you'll need for a day at Crab Island are:
Boat
Since Crab Island is only accessible by boat, you'll need to rent or arrive by boat. Anchors are essential to keep your boat secured in the shallow waters.
Food and Drinks
Most boats bring coolers stocked with snacks, sandwiches, fruits, and plenty of beverages.
Having your own helps you avoid constantly going onshore for expensive food and drinks. Bring a Yeti-type cooler if possible to keep drinks cold in the heat.
Water Toys
Bring fun inflatables like pool floats, rafts, snorkel gear, water guns, etc. These make playing in the water even more enjoyable.
Portable Speaker
For boating around and anchoring to enjoy music. Waterproof bluetooth speakers work great.
Sun Protection
Don't forget sunscreen, hats, sunglasses, and other sun protection. The reflection off the water makes it easier to get burned.
Having food, drinks, music, and toys gives you instant fun without needing to join the crowds onshore or at the most crowded boats. A self-contained party boat is key.
What are the Pros of Visiting Crab Island?
Here are some of the best parts that make Crab Island a unique Florida experience:
Festive, carefree atmosphere – The party vibe is contagious. Everyone is relaxing, having fun, and there to enjoy the moment.
Great people watching – The diversity of boats, clothing styles, music, and activities make for intriguing people watching.
Water recreation – Jumping off boats into the shallow waters or floating around with pool toys is a blast. The sandbar offers a giant "beach" to relax on.
Boat parties – Anchoring with boats of friends – or making new friends – to hang out adds to the experience.
Sunshine and warmth – Soaking up the Florida sun and warmth feels amazing after a long winter up north.
Scenic setting – The turquoise waters and white sand provide postcard views with Destin's beaches and the Gulf as a backdrop.
Affordable fun – Compared to official boat charters or tickets to water parks, partying at Crab Island is a more affordable way to enjoy water fun with a group.
What are the Cons of Visiting Crab Island?
However, Crab Island certainly has some drawbacks to consider as well:
Crowds – The crowds, congestion, and lack of privacy aren't for everyone. It can feel claustrophobic with hundreds of boats crammed together.
Safety – Intoxication levels, the crowded environment, and people diving into shallow water raises safety concerns. Injuries and accidents do occur.
Cleanliness – Trash from parties can accumulate on the sandbar and in the water, creating an eyesore and harming the ecosystem.
Noise – With countless competing sound systems blasting at max volumes, the noise levels get extreme and may leave your ears ringing.
Debauchery – Public intoxication, drug use, lewd behavior, and fighting unfortunately occur, especially later in the evenings when inhibition levels drop. Families may feel uncomfortable.
Access challenges – Getting to Crab Island requires owning or renting a boat, which isn't easy for all visitors. Parking and boat launching fill up early at Destin harbor.
Weather risks – Storms roll in quickly in Florida. You can get stuck for hours in thunderstorms since anchors get tangled up with hundreds of boats unable to move.
Tips for Visiting Crab Island
If you decide Crab Island sounds like your type of scene, here are some handy tips to ensure you have the best experience:
Arrive Early: Get to Destin Harbor before 9 a.m. – ideally before 8 a.m on weekends. This lets you get parked and launched before capacity is reached. The earlier you stake out a spot, the better.
Be Boat Prepared: Have an anchor, preferably with an anchor ball buoy. Bring plenty of sun protection on board. Make sure you have at least one sober skipper who doesn't drink alcohol.
Watch the Weather: Check forecasts leading up to your planned day and the morning of to see if any storms may impact your time on the water.
Hydrate & Refuel: Bring more water and food than you think you'll need, especially on hot days. Dehydration and drunkenness cause most medical issues on Crab Island.
Exercise Caution: Take it slow while boating to avoid crashing with so many anchored boats around. Be careful diving into the shallow water. Keep an eye on children.
Coordinate Meeting Spots: Pick landmarks to meet up with other boats in your group so you don't lose each other in the chaos.
Pack Out Trash: Help keep Crab Island clean by containing and properly disposing of your trash onshore. Leave no trace.
Know When to Call It: Don't stay past sunset – boating back in the dark risks accidents. Leave before you become too intoxicated or exhausted from the sun and partying.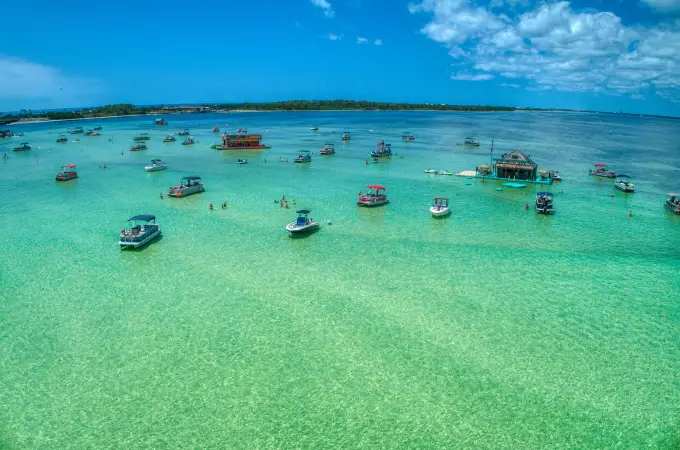 Is Crab Island Worth Visiting?
Whether you'll enjoy Crab Island largely depends on what you hope to get out of the experience.
If you crave party boats, blasting music, drinking games, and dancing in the water surrounded by lively crowds, then Crab Island is likely worth a visit – just be safe about it.
But if you prefer a more low-key beach scene or private boating experience, then the madness of Crab Island might not be for you.
Families with younger kids may also wish to avoid some of the rowdier behavior present.
Regardless, visiting Crab Island is undoubtedly an only-in-Florida experience worth seeing at least once, especially for college students and party-loving tourists.
Just know what you're getting into beforehand since the festive chaos certainly isn't for everyone. Use your best judgment on whether Crab Island fits your style.
When visiting the Florida Panhandle, be sure to explore more of the area's amazing natural scenery, hiking trails, snorkeling spots, and white sand beaches in addition to checking out the one-of-a-kind Crab Island sandbar scene.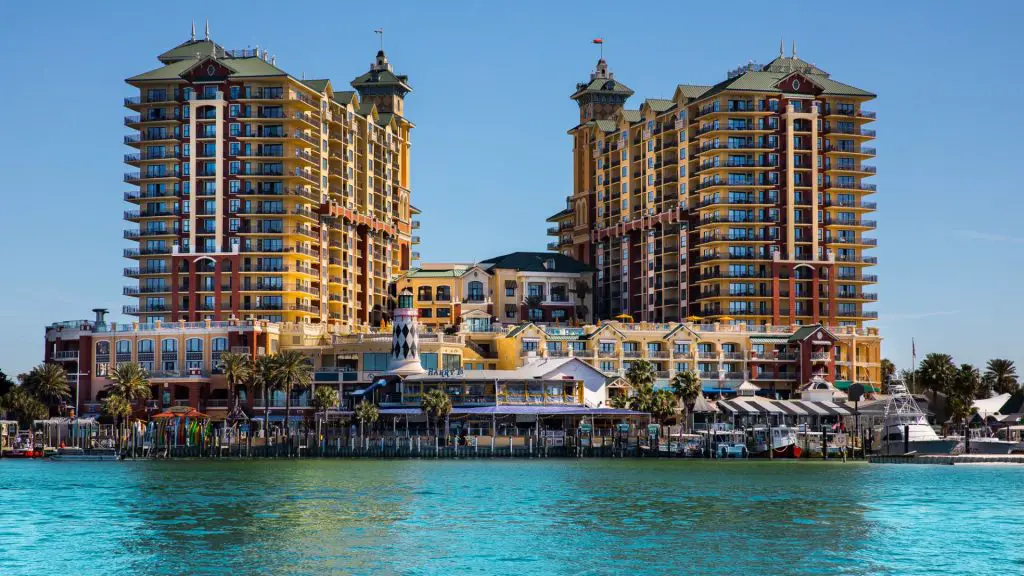 Other Destin Area Attractions
Don't miss out on other top attractions the Destin area has to offer:
Henderson Beach State Park – serene nature trails and pristine beaches
Big Kahuna's Water & Adventure Park – family-friendly water slides and miniature golf
The Track Family Recreation Center – go karts, mini golf, bumper boats
Gulfarium Marine Adventure Park – turtle and dolphin encounters
Destin Snorkel – snorkeling trips to the Gulf's best reefs
Indian Bayou Golf Club – scenic 18-hole championship course
Gulfside City Park – picnic pavilions, playground, and basketball courts
Emerald Coast Science Center – hands-on exhibits on local wildlife
AJ's Seafood and Oyster Bar – fresh regional seafood with harbor views
Dewey Destin's Seafood Restaurant – local favorite for fried seafood platters
Uncle Buck's Fishbowl and Grill – bowling, billiards, darts, and drinks
HarborWalk Village – waterfront boardwalk with restaurants and entertainment
So don't forget to fully experience the variety of things to do on land as well as the water during your Florida Panhandle getaway!