Miramar Beach vs. Destin is a common tough choice for planning a trip to Floridas panhandle.
As you plan your upcoming vacation to Florida's beautiful Emerald Coast, you'll inevitably have to decide between staying in the popular beach towns of Destin or Miramar Beach.
Both offer stunning stretches of white sand and emerald green waters, an array of beach activities, oceanfront accommodation options, and access to all the allure of the Gulf Coast region.
However, there are some key differences when it comes to the setting, attractions, dining, and traveler vibe in each locale.
Read on for an in-depth comparison of Destin vs. Miramar Beach to help you determine which is the better match for the beach retreat you envision.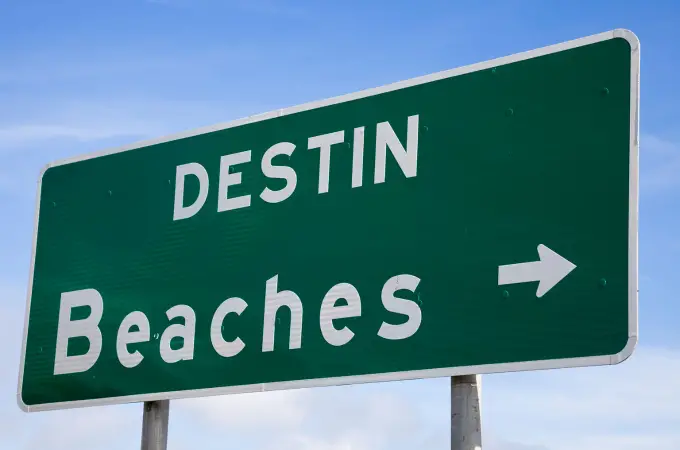 Destin: The Established Tourism Hub
Destin established itself as a fishing village in the early 1800s and has since flourished into the busiest tourist destination on the Emerald Coast.
Its location on a sandy peninsula jutting into the Gulf of Mexico provides easy access to beaches along both the Gulf and Choctawhatchee Bay. Destin offers the following highlights:
Developed boardwalk & harbor – Destin Harbor Boardwalk has restaurants, entertainment, fishing charters.
Range of accommodation – Everything from budget motels to luxury beach resorts within walking distance of the sand.
Major family attractions – Big Kahuna's Water Park, Gulfarium, amusement centers, and more.
Plentiful dining options – Over 100 restaurants ranging from seafood shacks to upscale dining rooms.
Abundant shopping – Big brand stores and smaller boutiques selling beach apparel, gifts, accessories.
Active nightlife – Bars with live music, bowling alley, movie theater, escape rooms.
Fishing charters – Easy access to deep sea fishing excursions in the Gulf of Mexico.
The well-established tourism infrastructure and family-friendly attractions make Destin a popular choice. However, the crowds and busier vibe don't appeal to all.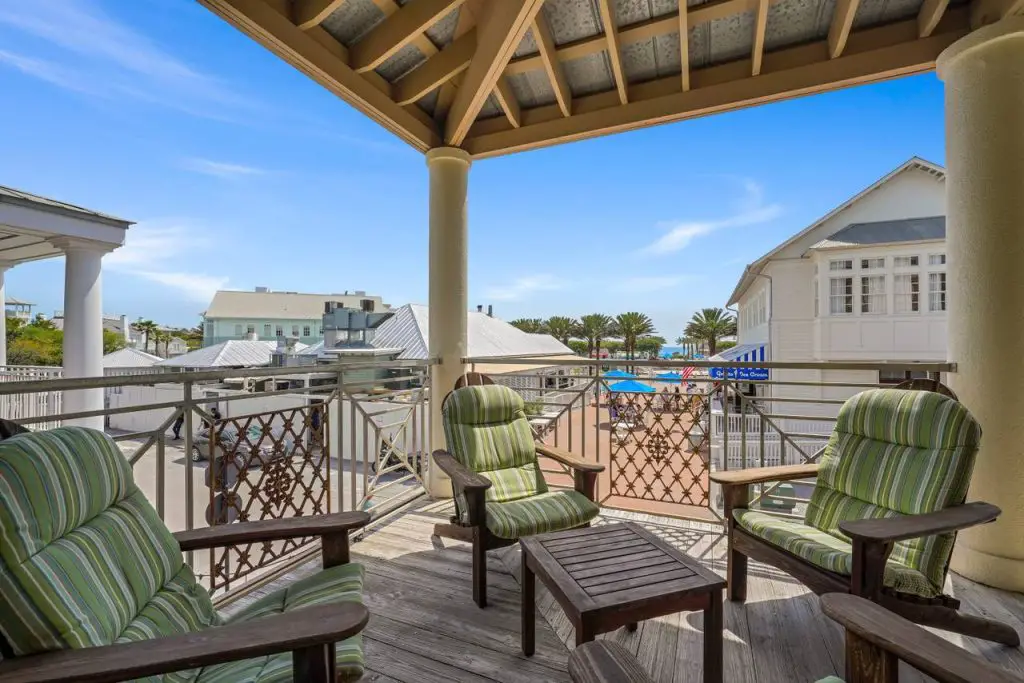 Miramar Beach: The Peaceful Neighborhood Feel
Immediately east of Destin, Miramar Beach has a more relaxed, peaceful vibe.
Its appeal lies in its less crowded beaches, community feel, and proximity to both the bustle of Destin and the natural beauty of Grayton Beach State Park. Highlights include:
Less crowded beaches – More room to spread out on the sand without the crowds.
Retains neighborhood vibe – Feels like an actual beach community, not just a tourist center.
Vacation rentals – Numerous house and condo rentals allow peaceful accommodation right on the sand.
Scenic beach parks – Gulfview Heights Park and Moonlight Beach Park offer beach access with picnic facilities.
Sandestin Golf & Beach Resort – 2,400 acre resort in Miramar Beach provides accommodations, restaurants, entertainment.
Shopping & Dining at Grand Boulevard – Stylish outlet shops and upscale dining in an Italian-inspired piazza.
Close to destinations – Just minutes from Destin's attractions and Grayton Beach's unspoiled scenery.
For travelers desiring a peaceful retreat with fewer crowds but conveniences nearby, Miramar Beach offers the best of both worlds.
Comparing the Beaches
One of the biggest considerations is of course the quality and vibe of the beaches. Here's how they differ:
Beach Scenery
Destin's beaches showcase stunning emerald green waters and snow-white sand, though the views feature abundant beach condos and hotels.
Miramar Beach has higher dunes and natural vegetation framing the beach for more seclusion.
Crowds
Being a major tourist draw, Destin beaches see high volumes of visitors, especially in summer. Miramar's beaches have lighter crowds, providing more breathing room.
Amenities
As a bustling tourist area, Destin beaches offer plentiful amenities – umbrella rentals, chair rentals, food vendors, showers, restrooms, lifeguards.
Miramar beaches have basic amenities, but the lesser crowds make them seem less commercialized.
Kid Friendliness
Destin excels in kid-friendly beaches. Calm, shallow waters and frequent lifeguard presence create a safe environment well-suited to families. Miramar also offers delightful family beaches but with fewer kid amenities.
Pet Friendliness
Dogs are allowed on beaches in both towns, but Destin tends to see more pets since it caters heavily to vacationers. Miramar's less crowded beaches are a better fit for visitors who prefer fewer dogs.
In summary, families traveling with kids may gravitate toward Destin for its lively, amenity-packed beaches.
But Miramar Beach's more scenic stretches offer a beachgoing experience with fewer disruptions for couples, seniors or those seeking relaxation.
Top Area Attractions
Beyond the beaches, there are some major attractions to experience around both destinations:
Destin Attractions
Big Kahuna's Water & Adventure Park – Huge water park with slides and rides for all ages.
Gulfarium Marine Adventure Park – Marine animal shows and exhibits focused on education.
Indian Temple Mound Museum – Exhibits on native American history and archaeological finds.
The Track Family Fun & Recreation Center – Indoor kart racing, arcade games, laser tag and more.
HarborWalk Village – Waterfront boardwalk district with restaurants, bars, shopping.
Henderson Beach State Park – Scenic public beach and nature trails.
Okaloosa Island Pier – Extensive fishing pier with equipment rentals and views.
Miramar Beach Attractions
Beach Marine Park – Snorkeling spot teeming with colorful fish and even turtles.
Grayton Beach State Park – Over 2,000 acres of unspoiled beaches, sand dunes, trails.
Point Washington State Forest – Trails for hiking, biking, horseback riding through pine forests.
Adrenaline ZIPLINE – Guided zipline canopy tours reaching speeds of over 30 mph.
Gulfarium Marine Adventure Park – Rescue programs, behind-the-scenes marine tours.
Sandestin Golf & Beach Resort – Baytowne Wharf village with shops, dining and kids' adventure zone.
As expected, water parks and family entertainment shine in the popular tourism area of Destin. But nature lovers and adventure seekers find rewarding attractions in laid-back Miramar Beach as well.
Accommodation Options
Where you stay plays a major role in shaping your beach vacation experience. Here's an overview of main lodging choices in each town:
Destin Accommodations
High-rise resort towers – Large resorts directly on the beach offering full amenities and gulf views.
Beachside condos – Condo towers and communities along the beach providing multi-bedroom rentals.
Beachfront motels – Moderate motels situated right on the sand within walking distance of attractions.
Budget-friendly chains – Affordable chain hotel options like Hampton Inn, Holiday Inn Express, Fairfield Inn.
VRBO & Airbnb rentals – Private home and condo rentals of varying sizes and amenities.
Miramar Beach Accommodations
Grand Sandestin – Luxury hotel-style suites and multi-bedroom condos at the grand Sandestin resort.
Private beach houses – Secluded multi-story homes entirely outfitted for large gatherings right on the sand.
Beach condos – Mid-size condo communities on the beach or minutes away.
Dune Allen Realty rentals – Property management firm offering houses and condos of all sizes.
Vacation rentals – Private Miramar Beach homes and condos for rent through VRBO, Airbnb, etc.
Both offer extensive accommodation choices for any preference. Destin has more options clustered right on its busiest beaches. Miramar Beach provides more secluded multi-bedroom rental choices perfect for reunions or extended stays.
Key Differences in Dining Scenes
One major contributor to each town's vibe is the style and diversity of its dining options:
Destin Dining Scene
Over 100 restaurants within city limits.
Clustered around harbor and beaches for easy access.
Heavy on seafood restaurants like AJ's, The Crab Trap, Dewey Destin's.
Has all major fast food chains.
Upscale dining at restaurants like Sebastians, Ocean Club, Marina Cafe.
Family-friendly spots like Margaritaville, Rockin' Tacos, Poppy's Crazy Lobster.
Plenty of bar & grills, steakhouses, and familiar chains.
Miramar Beach Dining
Around 40 restaurants total
Most located in pockets like Grand Boulevard or Sandestin.
Upscale options at restaurants like Mitchell's Fish Market, Marlins Grill.
Laid-back beach places like The Beach House, Pompano Joe's.
Farm-to-table eateries like George's and La Paz.
Sweet options like Bruster's Ice Cream, Fudge Shoppe.
Limited fast food compared to Destin.
Destin unsurprisingly offers the widest variety to satisfy all tastes. Miramar Beach rewards those seeking quality over quantity – less crowded, more intimate dining experiences in peaceful settings.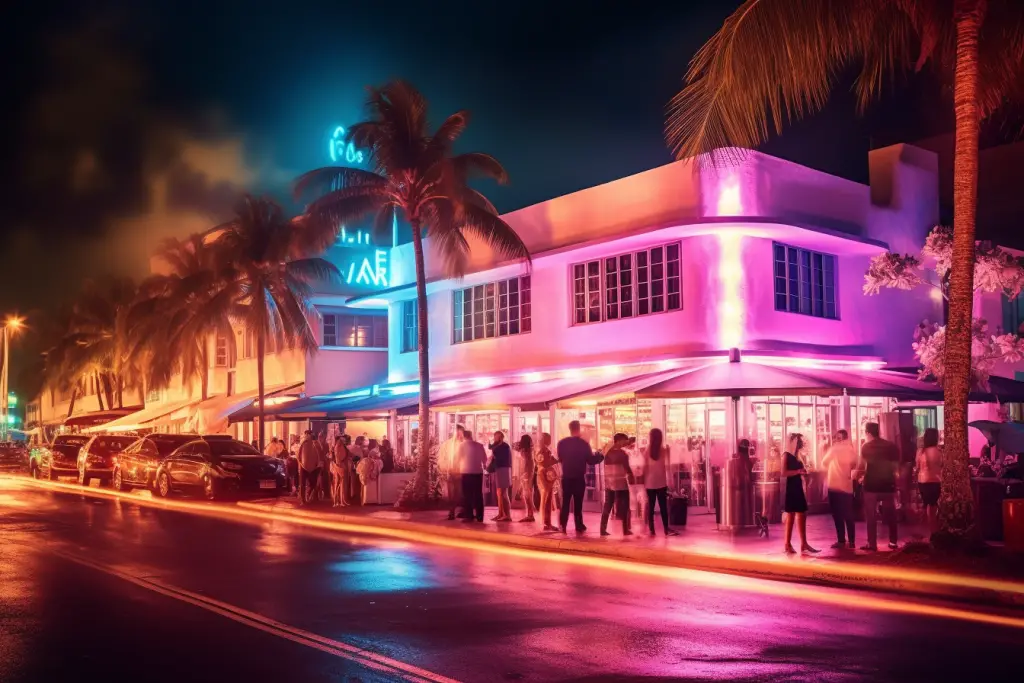 Nightlife & Entertainment Contrast
The bar, evening, and entertainment scenes showcase more differences:
Destin Nightlife & Entertainment
Live music venues feature local bands & national acts.
Upscale rooftop bars at high-rise beach resorts.
Sports bars showing games and hosting trivia.
Bowling alley, movie theater, mini-golf, arcade centers.
Escape rooms, live performance theaters, comedy clubs.
Events like free concerts, fireworks shows, fishing tournaments.
HarborWalk Village for evening strolls through shops, restaurants and bars.
Miramar Beach Nightlife & Entertainment
More laid-back bars like Frangista Beach Bar, Boat Bar.
Sandestin's Baytowne Wharf has bars, restaurants, shows and events.
Grand Boulevard's upscale wine bar and pubs.
Periodic live music acts at restaurants and resorts.
Sandestin movie theater shows indie films.
Events like wine tastings, craft fairs, runs through Point Washington forest.
In a nutshell, Destin equals guaranteed after-hours excitement with regular live music and amusement. Miramar Beach emphasizes a relaxing evening ambiance – catch an indie movie or stroll through an outdoor shopping village before retiring early.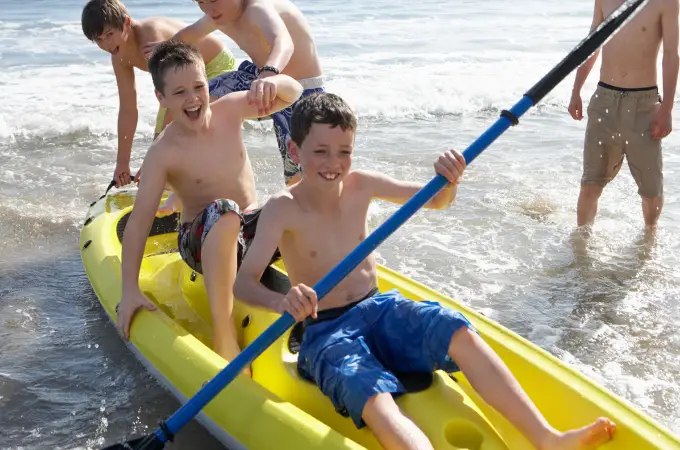 Traveler Vibes: Families vs. Couples
The two towns tend to attract slightly different traveler demographics:
Destin Visitors
Majority families, often multi-generational.
Younger kids and teens.
Visitors from southeast U.S. states like Alabama, Georgia, Mississippi.
RV campers.
Spring breakers and group trips.
Fans of water sports, fishing charters, active excursions.
Miramar Beach Visitors
More couples, both young and retirement age.
Families with teens vs. little kids.
Visitors from all over U.S. and Canada.
Travelers seeking peace, nature, escape from crowds.
Relaxation-focused couples and girlfriend getaways.
Patrons of arts, music, culture.
Food and wine connoisseurs.
So in summary, Destin attracts high-energy families seeking fun in the sun. Miramar Beach draws lower key travelers wanting to unwind, de-stress and enjoy some culture. Both offer southern beach charm, but of different flavor profiles.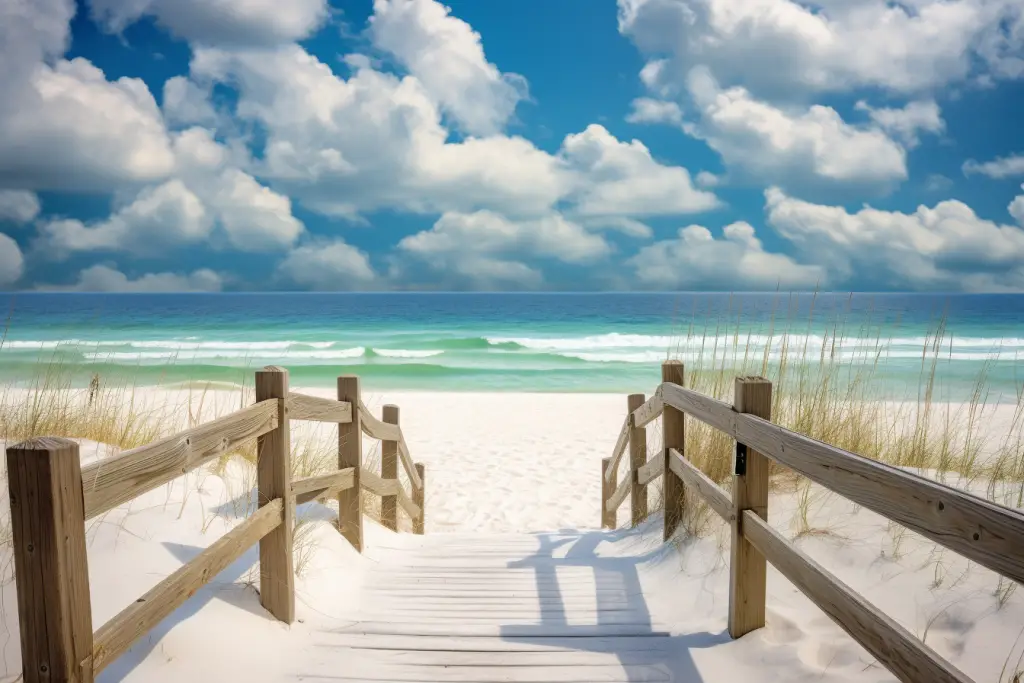 Which Destination Suits You Best?
Now that you've gotten an in-depth overview of both Destin and Miramar Beach, how do you determine which is better suited for the Emerald Coast getaway you envision? Start by asking yourself these questions:
Are you traveling with kids or as a couple?
Is an exciting atmosphere or laid-back ambiance more appealing?
What specific activities do you want to enjoy most while in town?
Will you spend more time beachgoing or exploring attractions?
Does nightlife, dining and entertainment diversity matter greatly?
Are you prioritizing luxury amenities or budget savings?
Do crowds attract or deter you?
Once you establish your trip priorities, the better destination choice becomes clear. Both offer gorgeous stretches of the same pristine shoreline and warm Gulf waters, but in settings catered to slightly different tastes.
Whether you seek family fun or peaceful escape, Destin and Miramar Beach both deliver classic Florida Emerald Coast experiences. Watching a sunset over the same glistening waves, you can't go wrong.
Destin vs. Miramar Beach FAQ:
Q: Which Emerald Coast town has better beaches – Destin or Miramar?
A: Destin's beaches feature scenic emerald waters but attract larger crowds. Miramar's beaches see fewer visitors, offering more personal space and seclusion.
Q: What are the top attractions and activities in Destin vs. Miramar?
A: Destin offers major family fun parks, marine exhibits, harbor boardwalk. Miramar highlights nature parks, ziplining, fishing charters, arts and culture.
Q: Which town has more dining and nightlife options?
A: As a tourist hub, Destin has over 100 restaurants and plentiful evening attractions like live music venues. Miramar has fewer but quality dining and entertainment.
Q: What type of travelers frequent Destin vs. Miramar Beach?
A: Destin caters to high-energy families seeking fun and action. Miramar appeals more to couples and groups wanting a relaxed, peaceful retreat.
Q: Which town is better for luxury stays vs budget savings?
A: Destin has lavish beach resorts but also affordable chain hotels. Miramar focuses more on house rentals, ideal for large gatherings looking to save.
I hope this comparison offers useful perspective as you decide where to base your upcoming Emerald Coast vacation. Let me know if you need any other insight on making the perfect destination choice for the beach retreat you desire.