Hello, fellow beach lovers and wanderlust warriors! Are you ready to explore a slice of paradise tucked away in the Sunshine State?
If so, let me introduce you to Miramar Beach—a picture-perfect destination that'll have you reaching for your flip-flops and packing your sunhat faster than you can say "margarita"!
Fast Miramar Beach Overview: Located along the breathtaking Emerald Coast in Florida, Miramar Beach is the ideal fusion of soft white sand, emerald-hued waters, and pure relaxation. But don't let the tranquil shoreline fool you. This vibrant beach town has something for everyone—thrilling water sports, mouthwatering cuisine, and a shopping scene that'll make your wallet do a happy dance!
Why Miramar beach for your Next Vacation?
If you're wondering why Miramar Beach should be at the top of your travel bucket list, let me drop some beachy wisdom on you.
With its award-winning beaches, an array of outdoor activities, and a thriving nightlife, Miramar Beach has a magnetic pull that keeps visitors coming back year after year. The best part? I've got all the inside scoop on what makes this beach town so special.
So, grab your sunglasses and sunblock, and get ready to uncover the hidden gems and must-visit attractions that make Miramar Beach the vacation hotspot of your dreams. Trust me, after reading this ultimate guide, you'll be a Miramar Beach aficionado in no time!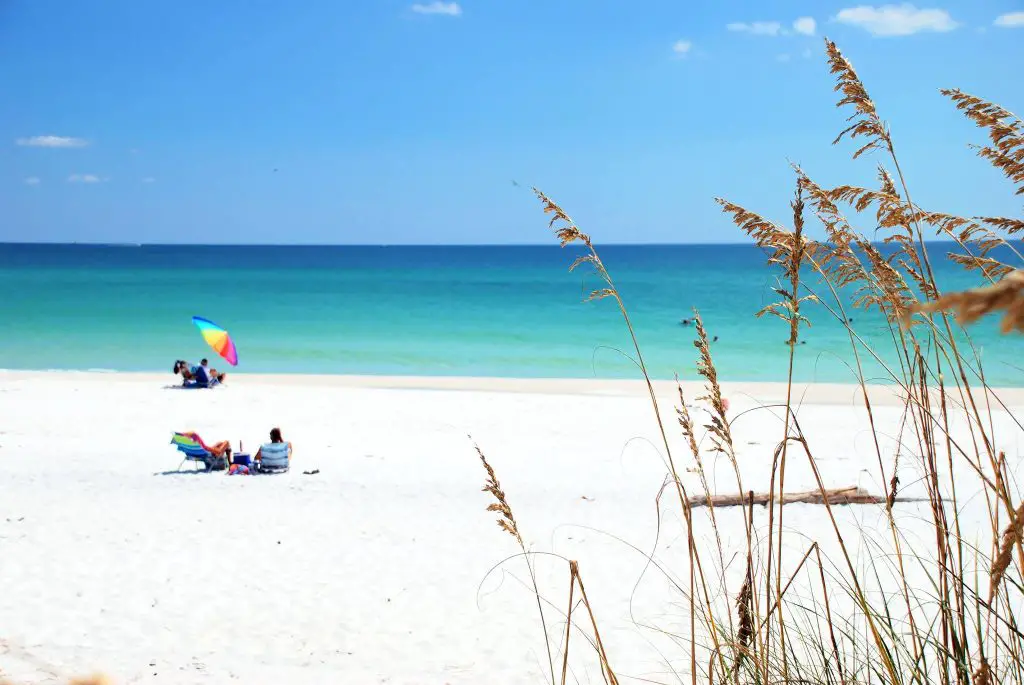 Best Time to Visit Miramar Beach
So, you're all set to plan your dream vacation to Miramar Beach. But, hold on a minute, when should you visit to make the most of your time?
Worry not, my soon-to-be beach bum friends! Let's dive into the best times to hit this sandy oasis and why timing your trip just right can make all the difference.
The benefits of visiting during off-peak months
Off-peak season (typically November to February) has its own set of perks that might just make you reconsider when you book those flights.
First off, say hello to fewer crowds and more room to spread out your beach towel! There's nothing like having the shoreline almost to yourself for those long walks or impromptu games of beach volleyball.
Another off-peak advantage? Lower prices on accommodations and attractions. Yep, you heard me right!
That oceanfront condo you've been eyeing might just be within your budget after all. Plus, with the pleasant weather hovering between 60 to 70°F, you can still enjoy all that Miramar Beach has to offer without breaking a sweat. Just remember to pack a light jacket for those cooler evenings!
A guide to peak season, including events and festivals
If you're all about that vibrant beach atmosphere, then peak season (March to October) might be more your style.
With sunny days and temperatures ranging from 75 to 90°F, this is when Miramar Beach truly comes alive.
Peak season in Miramar Beach also means an abundance of events and festivals to keep your itinerary jam-packed.
The annual Sandestin Wine Festival, held in April, is a must for all you wine connoisseurs. Or if you're into the arts, don't miss out on the ArtsQuest Fine Arts & Music Festival in May.
Love seafood? The Destin Seafood Festival in October will have you feasting on the freshest catch and dancing to live music along the picturesque HarborWalk Village.
Be sure to mark your calendars and book your accommodations early, as these events tend to draw quite the crowd.
Whether you're a fan of the laid-back off-peak vibe or the energetic buzz of peak season, Miramar Beach has something to offer all year round. Just make sure to pack your sense of adventure and an appetite for fun!
Exceptional Accommodations
A cozy nest can make all the difference in turning a good vacation into an unforgettable one. Miramar Beach has got you covered, no matter what type of traveler you are. Here's the scoop on the best places to rest your sun-kissed head.
An overview of luxurious beachfront resorts
For those who enjoy the finer things in life, Miramar Beach's luxurious resorts will have you swooning.
Wake up to the sound of crashing waves and sip on mimosas at the poolside bar. Some of the top-notch resorts you can't go wrong with include the Sandestin Golf and Beach Resort or the Hilton Sandestin Beach Golf Resort & Spa.
With their pristine locations, impeccable service, and world-class amenities, you'll never want to leave.
Highlighting unique vacation rentals and boutique hotels
For a more intimate and personalized experience, vacation rentals and boutique hotels are your best bet. Places like the Beach House Condominiums or Frangista Beach Inn offer a charming retreat with a touch of local flavor.
Imagine sipping coffee on your private balcony or snuggling up in a beautifully decorated room, feeling right at home. These hidden gems are perfect for creating unforgettable memories.
Comparing budget-friendly lodging options
Traveling on a shoestring? No problem! Miramar Beach has got plenty of affordable options to keep your wallet happy.
Consider cozy motels like the Miramar Beach Inn or popular chain hotels like Best Western or Holiday Inn Express. You'll still enjoy a comfortable stay and won't have to break the bank to experience everything Miramar Beach has to offer.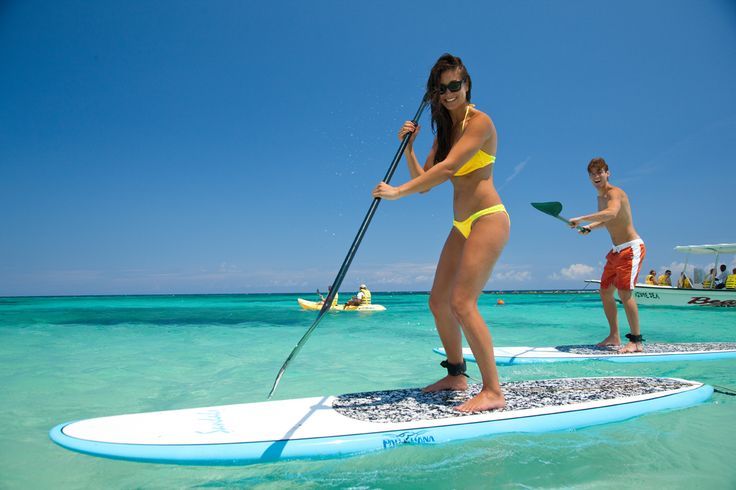 Outdoor Activities and Adventure
Ready for some fun in the sun? Miramar Beach is a treasure trove of outdoor activities, catering to thrill-seekers, families, and everyone in between.
Water Sports at Miramar Beach: Jet Skiing, Parasailing, and Paddleboarding
From jet skiing to parasailing, the crystal-clear waters of Miramar Beach provide endless aquatic adventures.
Rent a jet ski and zip across the waves, or challenge yourself with a paddleboarding session. And for the ultimate bird's-eye view, try parasailing to see the shoreline from a whole new perspective!
Recommendations for golf courses and tennis clubs
Tee up at some of the area's finest golf courses, like the Raven Golf Club or The Links Golf Club. These well-manicured greens and stunning views are sure to please any golf enthusiast.
Tennis buffs can also find top-notch clubs, such as the Sandestin Tennis Center or the Hidden Dunes Beach & Tennis Resort, where you can perfect your backhand in style.
Uncovering hidden nature trails and eco-friendly experiences
Nature lovers, rejoice! Miramar Beach is home to serene nature trails, perfect for a leisurely hike or a scenic bike ride. Visit the Topsail Hill Preserve State Park, where you can meander through miles of untouched beauty.
If you're looking for a more immersive eco-friendly experience, join a guided eco-tour or explore the fascinating coastal dune lakes.
Emphasizing family-friendly attractions and parks
Miramar Beach is a haven for families, too! Check out the Village of Baytowne Wharf for shopping, dining, and entertainment, all in one picturesque spot.
Take the little ones to Jolee Island Nature Park for a fun-filled day of play or visit Big Kahuna's Water & Adventure Park for a splash-tastic time. There's no shortage of memory-making moments waiting for you in Miramar Beach!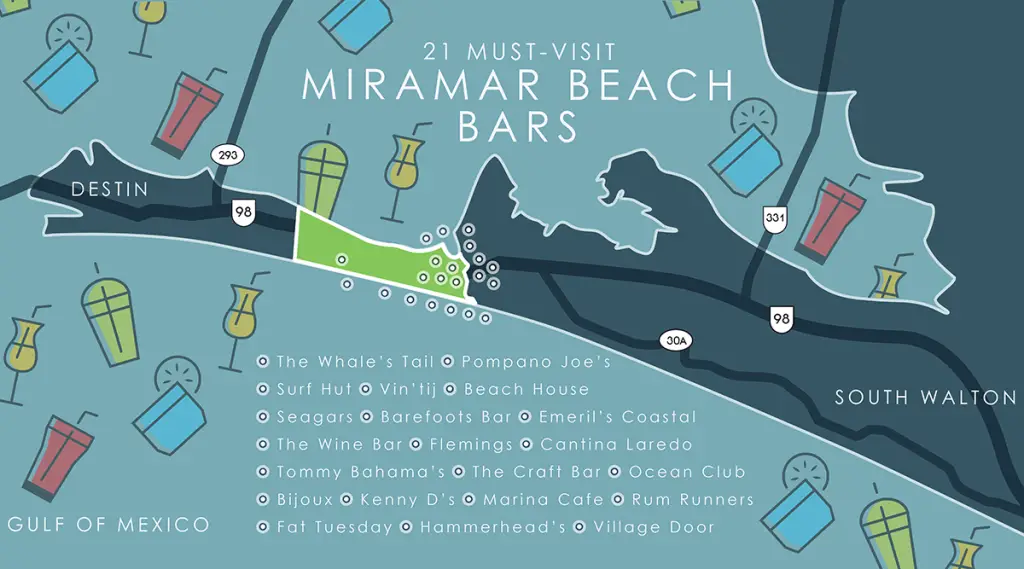 Miramar Beach's Culinary Scene
Calling all foodies! Miramar Beach's dining scene is a delightful mix of casual eateries, upscale dining, and everything in between. Get ready to tantalize your taste buds with these delectable dining options.
A curated list of top-rated restaurants for every palate
No matter what you're craving, Miramar Beach has got you covered. For fresh seafood, head over to Slick Lips Seafood & Oyster House or Boshamps Seafood & Oyster House.
Those looking for Southern comfort food will love The Surf Hut or The Bay. And if you fancy a bit of fine dining, try Seagar's Prime Steaks & Seafood or Vin'tij Food and Wine.
Beachfront dining and unique eats in Miramar Beach
There's nothing like enjoying a scrumptious meal with the soothing sound of waves in the background. For a memorable beachfront dining experience, check out The Beach House or Pompano Joe's.
For something a little out of the ordinary, take a dinner cruise with Solaris or dine under the stars at Bijoux's al fresco patio.
A spotlight on local food trucks and cafes
If you're after a quick bite or a laid-back meal, Miramar Beach's food trucks and cafes are here to delight. Check out places like Gypsea Crepes or Pazzo Italiano for some lip-smacking food truck goodness.
For a cozy café atmosphere, try the locally-loved Donut Hole Bakery Cafe or Bad Ass Coffee, where you'll find comfort food and handcrafted beverages in a charming setting.
Shopping Extravaganza in Miramar Beach
Shop 'til you drop in Miramar Beach! From designer brands to one-of-a-kind treasures, there's something for everyone at these popular shopping destinations.
Silver Sands Premium Outlets
Ready to score some major deals? Silver Sands Premium Outlets is a shopper's paradise, boasting over 100 designer and name-brand stores.
With fantastic deals on brands like Coach, Michael Kors, and Nike, you might need an extra suitcase to take home all your fabulous finds!
Grand Boulevard
Grand Boulevard is the ultimate destination for upscale shopping and dining in a picturesque, open-air setting.
Browse through high-end boutiques like Lululemon and Anthropologie, then grab a bite to eat at one of their fine dining restaurants. This luxurious shopping experience will leave you feeling like a VIP.
Local artisan shops and boutiques
For a more personalized shopping experience, Miramar Beach is home to numerous local artisan shops and boutiques.
Places like The Shard Shop or The Market Shops showcase a variety of handcrafted treasures, from unique home décor to stylish clothing. Support local businesses and discover truly unique items that you won't find anywhere else!
Nightlife and Entertainment in Miramar Beach
When the sun goes down, Miramar Beach comes alive with vibrant nightlife and entertainment options.
Whether you're looking for live music, beachside bars, or family-friendly fun, this beach town has something for everyone.
Live music venues and beachside bars
Get ready to dance the night away at some of Miramar Beach's live music hotspots. Check out spots like AJ's Seafood & Oyster Bar or The Village Door for a mix of local and national acts.
If you prefer a laid-back beachside bar atmosphere, don't miss The Whale's Tail or The Beach House for drinks with a view.
Local events and Festivals for all ages in Miramar Beach
Miramar Beach hosts a variety of events and festivals throughout the year, catering to all interests and ages.
Don't miss the Sandestin Wine Festival, Baytowne Art Walk, or the Emerald Coast Blue Marlin Classic for some memorable experiences. Keep an eye on local event calendars for the latest happenings during your stay.
Family-friendly evening activities
For those traveling with kids, Miramar Beach offers plenty of family-friendly evening activities.
Catch a movie under the stars at the outdoor theater in Baytowne Wharf or enjoy a fun game of mini-golf at The Golf Garden. For a more immersive experience, consider a family sunset cruise or a beach bonfire complete with marshmallow roasting!
A Local's Perspective
No one knows a place better than the locals. Gain insider knowledge and uncover hidden gems with these tips and experiences shared by Miramar Beach residents.
Insider tips and hidden gems according to locals
Locals know where the best spots are, so don't be shy to ask for recommendations. Some local favorites include the serene Topsail Hill Preserve State Park, the hidden gem that is Vintij Food & Wine, or the picturesque sunset views at Jolee Island Nature Park.
Community events and local experiences
To truly experience Miramar Beach like a local, be sure to attend community events and immerse yourself in unique experiences.
Check out the weekly farmers' market at Grand Boulevard, join a beach yoga session, or participate in a local art workshop. You'll not only have a fantastic time but also create lasting memories of your Miramar Beach vacation.
Planning Your Trip to Miramar Beach
Organizing a vacation to Miramar Beach can be an exciting endeavor. Here are some tips to help you navigate transportation, budgeting, and finding helpful resources.
Tips for transportation and getting around
When planning your trip, consider flying into the Destin-Fort Walton Beach Airport (VPS) or the Northwest Florida Beaches International Airport (ECP), both of which are within an hour's drive of Miramar Beach.
Renting a car is recommended for getting around, but there are also rideshare services and bike rentals available for shorter distances.
Also, keep in mind, you may not even need a car. Between the mentioned bike paths and rideshare platforms, you can get most places in the really popular option of renting golf carts!
Budgeting and making the most of your vacation
To make the most of your vacation, create a budget that includes accommodations, dining, activities, and any extra expenses.
Consider visiting during the off-peak season for better deals on lodging and flights. Prioritize which experiences are most important to you and look for discounts or package deals for activities and attractions.
Additional Booking Resources
Utilize websites like Visit South Walton and the Destin Area Chamber of Commerce for up-to-date information on events, attractions, and lodging options.
Many accommodations and tour companies offer online booking, but don't hesitate to call for personalized assistance and possible deals not advertised online.
Conclusion
Miramar Beach offers something for everyone, from luxurious resorts to outdoor adventures and a thriving culinary scene. It's time to pack your bags and create unforgettable memories in this enchanting beach destination.
After you've experienced the magic of Miramar Beach, we'd love to hear about your adventures!
Share your favorite spots, hidden gems, and memorable moments in the comments below or on social media. Inspire others to discover the beauty and charm of Miramar Beach for themselves!