If you're looking for an adventure in Pensacola, Florida, then parasailing might just be the activity for you.
This coastal city is renowned for its stunning beaches and sparkling waters, making it the perfect backdrop for an exhilarating parasailing experience.
Picture this: you'll be strapped into a harness and attached to a colorful parachute that will be lifted high into the sky by a powerful speedboat. As you ascend, the wind will whip through your hair and you'll feel the thrill of being suspended above the water. You'll have an unobstructed view of the coastline and ocean below, and you might even spot some sea creatures swimming in the turquoise waters.
Pensacola's Best Parasailing
KeySail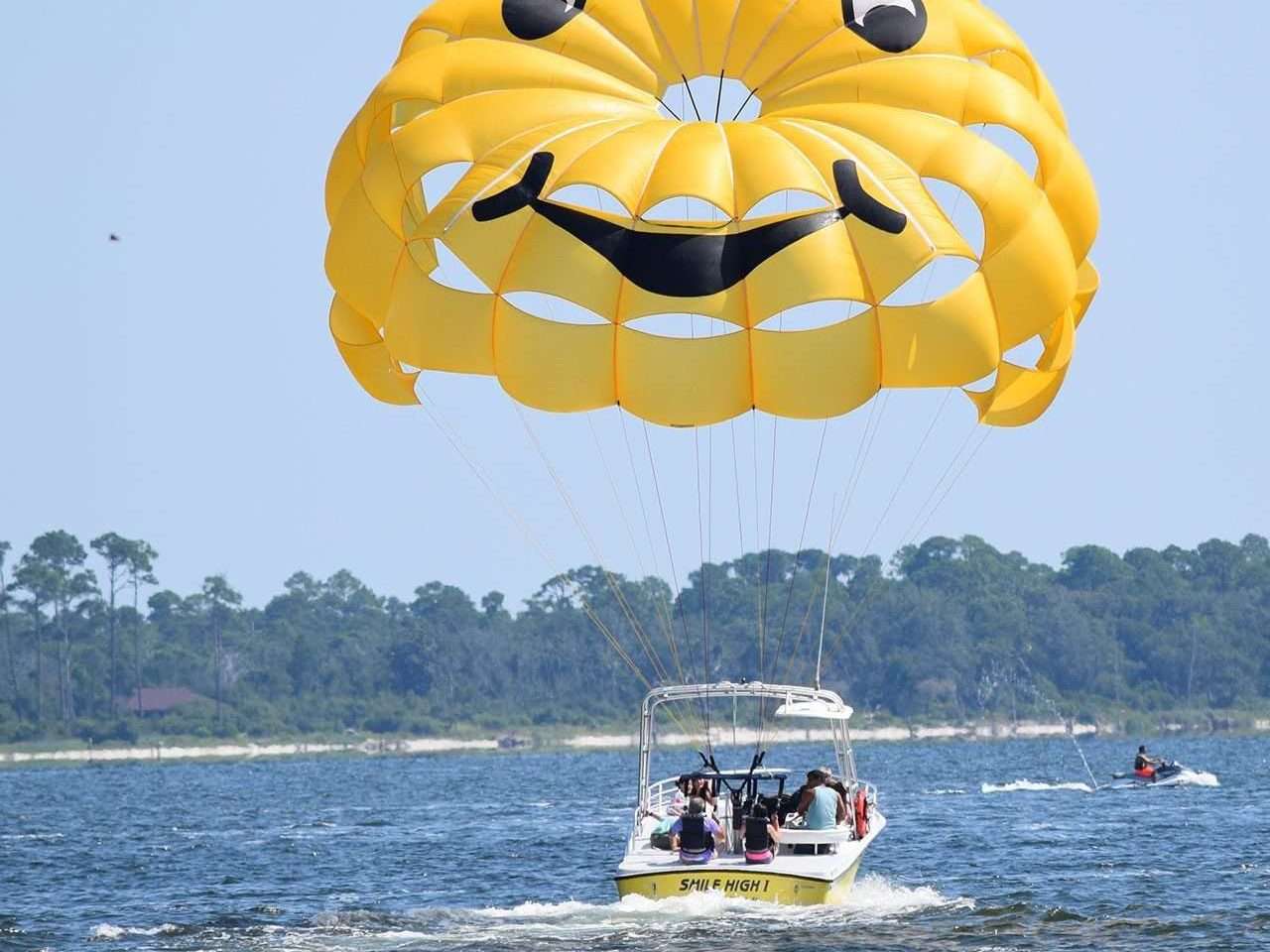 Pensacola's Historic Parasailing Vendor!
---
Oldest and safest parasail service on Pensacola Beach
Uses CWS Parasail Boats specifically for parasailing
All flights have a USCG-licensed captain and crew.
Radical Rides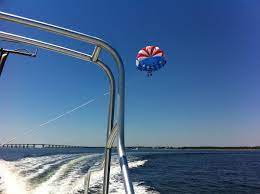 Single, Doubles or even Triples!
---
NEW Ocean Pro 31 Parasail Boats – USCG inspected
Captains with USCG 100 Ton Master License. CPR Certified.
Meets or exceeds all industry safety standards and receives rigorous annual inspections
Sun Dogs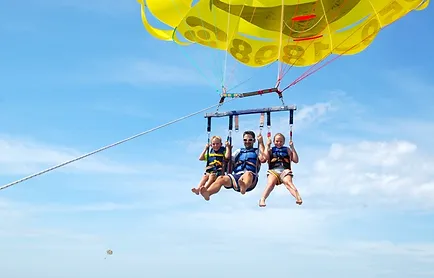 Its in Destin but Highly Rated.
---
FLY Destin by Parasail or watch your Family Parasail at AJ's Seafood & Oyster Bar!!
Parasail Rides are approximately 10-12+ minutes.
Ages from 6 years old and up.
The experience is both awe-inspiring and peaceful. You'll feel weightless as you soar through the air, taking in the stunning sights and sounds of Pensacola's natural beauty. Plus, with the help of an experienced parasailing operator, you'll be safe and secure throughout the entire ride.
If you're planning a trip to Pensacola, be sure to add parasailing to your itinerary. It's a must-do activity that will create memories to last a lifetime.
Safety Considerations for Parasailing
Parasailing can be an exciting and memorable experience, but it's important to prioritize safety. Here are some key considerations to keep in mind:
Safety measures
Parasailing operators in Pensacola typically follow strict safety guidelines to ensure that participants are protected at all times.
This can include measures such as regular equipment maintenance, pre-flight safety briefings, and emergency protocols in case of unexpected weather or equipment failure.
Choosing a reputable operator
To minimize the risk of accidents or injuries, it's important to choose a parasailing operator that has a strong safety record and a reputation for professionalism.
Look for operators that are licensed, insured, and experienced in the field. You can check online reviews and ask for referrals from locals or other tourists to find a reliable operator.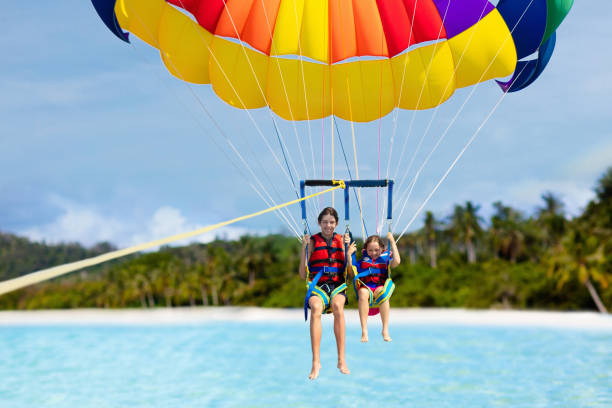 Personal safety guidelines
Even with a reputable operator, there are some things you can do to ensure your own safety during the parasailing experience.
For example, be sure to follow all instructions from the operator and stay alert to any safety warnings or signals.
You should also be aware of your physical limitations, such as any medical conditions or injuries that might make parasailing unsafe for you. If you have any concerns about your safety, don't hesitate to ask questions or voice your concerns to the operator.
By keeping these safety considerations in mind, you can enjoy the thrill of parasailing in Pensacola while also ensuring that you're protected at all times. Remember, safety is the key to a successful and enjoyable parasailing experience!
Why You MUST Go Parasailing at Pensacola Beach
There is no denying that Pensacola Beach is one of the most popular tourist destinations in Florida, especially in the Panhandle region.
Sure, there is South Beach, Miami, but the attractions there are entirely different and the beach is nowhere near as breathtaking. 
Pensacola Beach is the consumer hub of the city of Pensacola.
It's a frequent destination for residents throughout the year and the tourism trade is always open and booming in Pensacola, especially throughout the summer months. 
Parasailing is a unique experience that you will certainly find at other beaches throughout the country.
The exhilaration is the same elsewhere but you just won't find a view like this anywhere else.
The sand is sugar white and so squeaky clean that it literally squeaks between your toes as you walk. 
The water is often clear and a myriad of shades of blue and green.
Sometimes, especially during sunset, it can turn into deep indigo that still seems to retain the effervescent glow of high noon.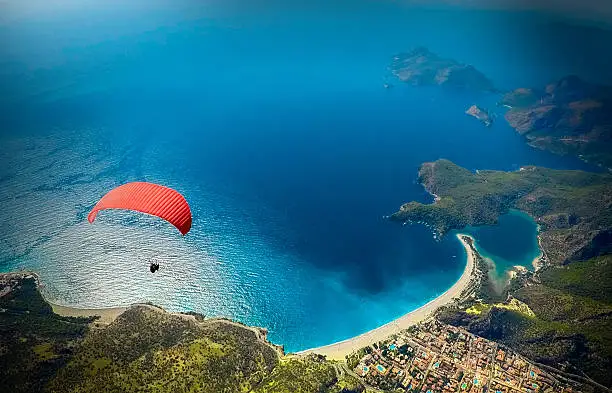 The VIEWS!
Pensacola is home to a variety of fish and birds. Schools of Pompano frequent the area, as well as dolphins and porpoises.
Massive schools of whiting shift as one through the deepest blues and lightest green of the water.It sends up sparkling strobe lights as its scales catch the noonday sun. 
It's just not the same as catching it from the beachfront. Up in the air, the wildlife that mingles with the swimmer is simply stunning.
The beach itself is white enough to make your eyes a little sore, just like the sun striking the snow can create snow blindness. So it's highly recommended that you wear some sunglasses. 
From the sky, the beach is covered in colors, people, and birds, with large packs of seagulls roaming the sky, seeking a snack. Pelicans, with their large, drooping underbills and their huge bodies have no fear of parasailers and will sometimes glide the drafts right along with you. 
Like it or not, sharks live here too.
While they generally stay well apart from people, you can catch their shifting, ominous shadows beneath the waves, perhaps in pursuit of a school of whiting. 
The point is, that parasailing at Pensacola Beach is like looking down on paradise from the heavens, where every color is perfectly matched to the next.
It's the purest embodiment of all that is summer vacation and the sights, sounds, and even smells are unforgettable.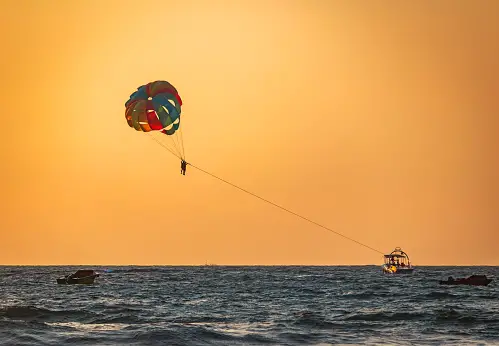 The Feeling of Flight
It's not like an airplane, of course, and even at 600', you're never so far up that the drafts are inconsistent, knocking you around in surprising ways.
It's mostly as smooth as when you watch the pelicans, wings aloft and completely still, riding the currents along the shoreline. 
It's the thrill of flight without the effort and expense you usually have to go through to ascend above our usual haunts on our own two feet.
Parasailing is a genuinely smooth experience from the moment your sail catches that first draft.
It sends you aloft, to the moment the boat crew slows to allow you a steady descent. 
Prepare for a Surprisingly Silent Journey
One of the best and often unspoken thrills of parasailing is the quiet and solitude that it offers as well.
Of course, you can always go up in pairs or even more but it is a surprisingly quiet journey.
When you are 600' up, the crashing of the waves on the shore cover the noise of humanity and the roar of the boat's engine with a fine, woolen layer of silence.
If you don't look directly at the boat, it would be easy to believe you are alone in the universe, experiencing the life of a bird, all on your own. 
This is the moment when you can allow your fear of heights to slide off your shoulders and simply enjoy the experience.
A simple, sensory overload of everything that is Pensacola Beach.
Price for Parasailing on Pensacola Beach
The cost of parasailing in Pensacola can vary depending on a number of factors, such as the operator you choose, the length of the experience, and the location.
Generally, you can expect to pay anywhere from $50 to $100 per person for a parasailing experience that lasts around 10-15 minutes. Some operators offer longer or more comprehensive experiences, such as tandem or group parasailing, which can cost more.
It's important to note that some operators may offer discounts or special deals for certain groups or during certain times of the year, so it's worth doing some research and comparing prices before booking your parasailing experience.
Additionally, some operators may have additional fees for things like photos or videos of your experience, so be sure to ask about any additional costs upfront.
While the cost of parasailing in Pensacola may seem relatively high, many people find the experience to be well worth the investment as those memories truly are priceless!
KeySailing Parasail
KeySailing has been here in Pensacola with us for a long time, since the early 1970s, in fact.
We locals, happen to know that it is a good and dependable business with affordable rates that are comparable with the rest of the industry.
Plus, they have a good location in terms of being able to get you out and hooked up in no time.
Their beach access is perfectly suited, especially if you're impatient to take to the skies. 
All of the KeySailing Captains are certified by the United States Coast Guard.
KeySailing offers the Smile High Club, which is for members who want to return for discounts in the future. 
Radical Rides
Radical Rides is the premier destination for parasailing in Pensacola Beach. Their state-of-the-art winch boats are United States Coast Guard inspected and can carry up to 12 passengers.
With a rigorous annual inspection and certification process, as well as daily maintenance checks, you can trust that their equipment is of the highest quality and safety standards.
Their captains, with over 30 years of combined experience and a USCG 100 Ton Master License, are CPR/First Aid certified and have flown hundreds of thousands of flights.
Additionally, they are members of the American Professional Captains Association (APCA) Drug Consortium and have received training from top professionals in the industry. You can rest assured that you're in the best hands at Radical Rides!
Sun Dogs Parasailing (Destin)
Yes, I know, its Destin and NOT Pensacola, but, Sun Dogs Parasail is a top-rated family-owned parasail company in Destin, Florida that has been in business for 24 years.
They have a 100% parasail safety record and have earned TripAdvisor's coveted "Hall of Fame Award" for their exceptional service.
Unlike other parasail companies that pack 12-15 people onto a boat, Sun Dogs Parasail only takes six passengers to ensure a more enjoyable experience. Their parasail rides last 10-12 minutes and offer 1000ft. of line to get you up as high as possible.
The company is located in the best spot in Destin to parasail, right next to AJ's Seafood & Oyster Bar, which has a third-story café/bar with a covered deck and gorgeous views of the Gulf of Mexico.
While you wait to get on the boat, you can enjoy the largest stadium-quality Jumbotron TV on the Emerald Coast or grab a cold drink at one of the two full-service outdoor bars. With Sun Dogs Parasail, you can be confident that your safety and satisfaction are their top priorities.
There are also a number of other highly respectable businesses that offer parasailing adventures for you and your family.
While some of these companies may have their primary listings in Orange Beach, Alabama, they also have services at Pensacola Beach.
After all, Orange Beach, Alabama, and Pensacola Beach, Florida are on the same shoreline and a mere hour apart.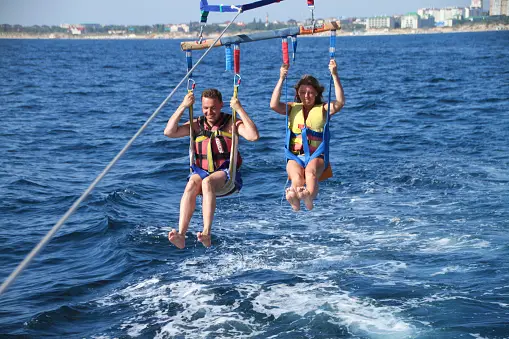 All Things Considered
There are a ton of well-known beaches in the Pensacola area but you will be hard-pressed to find a better location for parasailing.
Not only will you get a stunning view of some of the most pristine and unique shorelines in America.
But you will also have loads of fun, whether you are alone in the sky or in a group.