If you're looking for the best surfing spots in Seaside, Florida, you've come to the right place. The Panhandle of Florida is an excellent destination for surfers both experienced and new to the sport.
No matter your skill level, Seaside has plenty of great spots to surf, with amazing waves and endless sunshine—you'll find yourself wanting to stay here for weeks longer than you initially planned.
From the pros to the amateurs, the best surfing spots in Seaside Florida have something for everyone. The warm, crystal clear waters of the Gulf of Mexico are perfect for getting up on your board, and no matter the time of day you'll be able to find a spot or two to catch some excellent waves.
The Best Surfing Spots in Seaside
As you plan your surf trip, here are some of the top spots in Seaside.
We've included conditions, best times to visit, rental and lesson locations, and tips for first-time surfers. Whether you're looking for beginner waves that can help you learn the sport or more advanced waves that let you test your skills, you're sure to have a great time surfing in Seaside.
1. Grayton Beach – Recognized as one of America's top beaches, Grayton Beach is a stunning stretch of paradise on the western coast of the Panhandle in scenic Walton County. It's known for its crystal clear waters, brilliant sand dunes, and perfect swells, making it a favorite spot for boarders both novice and advanced.The beach is lined with sand dunes, providing an insulated environment to catch the waves. The waves crash in over sandbars that are within reach for experienced surfers, but if you are a beginner, there are some super fun rides to be had in the shallows just beyond the dunes. Grayton Beach also offers some of the top professional surfing competitions in the Southeast, making it a great location for testing your skills.
2. Miramar Beach – Just east of Grayton Beach lies Miramar Beach, another excellent spot for catching some incredible waves in the Panhandle. Miramar Beach features some of the best beach breaks in the state, with rolling swells that can provide hours of fun. In one of the most picturesque locations on the Gulf Coast, Miramar Beach is a great spot for a day of surfing and other beach activities.The beach is lined with some of the most beautiful sand dunes in the state, making it a popular spot for beachgoers and surfers. The sandy bottom provides an ideal base for catching waves, and the dropping tides ensure conditions that are perfect for both beginners and advanced surfers. It is also an excellent spot for bodyboarding, so if you're looking for a more laid-back experience, this is the spot for you!
3. Seagrove Beach – Set along the tranquil coastline of in the Panhandle, Seagrove Beach is a favorite for both seasoned locals and visiting surfers alike. Nested between exquisite white-sand beaches and the tranquil waters of the Gulf of Mexico, this spot provides some of the best waves for experienced surfers. Some say the waves here rival some of the best surfing spots in the Caribbean!It's not just the awesome waves that make Seagrove Beach so popular; the beach is clean and beautiful, with miles of sparkling shorelines.
Whether you're looking to surf or just have a relaxing beach day, this is the spot for you. It's a great spot for beginners to learn the basics, as the waves provide an ideal combination of size and power, but the area is renowned for its fantastic tube riding.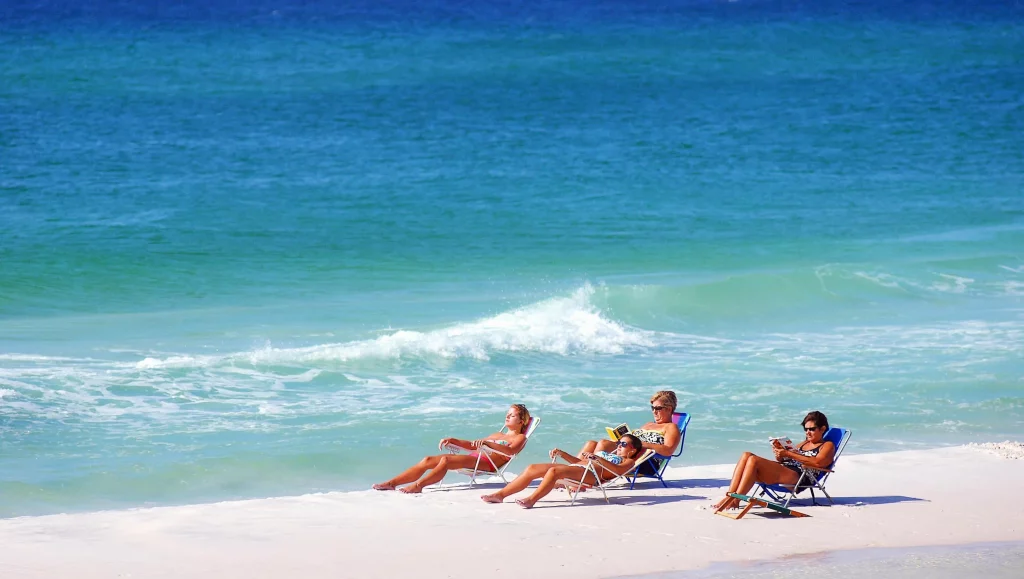 Surfing Conditions & Best Times to Visit
When it comes to surfing in the Panhandle of Florida, there are a few factors to consider. The area typically experiences mild, warm temperatures throughout the year, but the waves can be unpredictable.
The height and force of the waves are determined by a combination of factors, including weather and tides.
The key things to look for when it comes to surfing conditions in the Panhandle are: wind speed and direction, tide, and swell size.If you're a surfer looking for some of the best waves, the fall and spring are the ideal times to visit Seaside.
As the wind usually shifts from east to west from summer to fall, it brings with it some of the biggest swells. Similarly, when the northeast wind is strong in late winter and early spring, you'll find some of the best waves.Rentals and Lessons Available in SeasideWhether you're a seasoned pro or just starting out, there are plenty of rental and lesson options available in the area.
Rentals and lessons are a great way to get yourself out on the water, and you can find all the gear and instruction you need at some of the great shops and outfitters in Seaside.
Some of the most popular shops that provide rentals and lessons include Calypso Surf School, the Sand Crab Surf Shop, and the Endless Summer Surf Shop. All these stores provide knowledgeable instructors who can get you up and riding with confidence.
The instructors at these shops will assess your skill level and teach you the basics as well as more advanced techniques.
Tips for New Surfers
If you're new to surfing, it's a good idea to start by taking a few lessons. The instructors at the shops in Seaside will teach you the basic techniques and provide some great tips to get you comfortable out on your board.
They will discuss things like paddling out, positioning your board, and catching waves. Once you have the basics down, you'll be ready to start catching waves on your own.When you're just getting started, it's a good idea to look for waves with less power and structure.
Don't try to take on too big of a wave right away; you want to find something that will give you enough time to catch your balance and get your bearings before it crashes down.
Waves that are further out from shore are usually easier to catch and pose less risk for accidents.It's also important to be mindful of the currents. Before getting in the water, spend some time watching the waves and the people out there. Make sure to check the rag or flags at the beach to see if there are any signs of rip currents or other hazards.
You want to make sure that you're always able to get back in safely.
The Final Word
So, if you're looking for the best spots to surf in Seaside, Florida, you've come to the right place. From Grayton Beach to Miramar Beach and Seagrove Beach, this area has something for everyone. Consider when the best surfing conditions are and be sure to take advantage of the rental and lesson options available.
No matter your skill level, a trip to Seaside is sure to supply you with some perfect waves, stunning scenery, and a great time. There's no better way to experience Florida than by taking on some awesome surf conditions in the Panhandle. So grab your board and get out in the sun for a surf session in Seaside like no other.