Looking for the best restaurants in Panama City Beach? You're in the right place!
Panama City Beach is a waterfront town known for its sugar-white sand beaches along the Gulf of Mexico.
But it's also home to an array of delicious dining options for visitors. From fresh seafood spots to family-friendly casual eateries, Panama City Beach restaurants cater to all tastes and occasions.
This guide covers the must-try restaurants that both tourists and locals love in Panama City Beach.
It provides an overview of the Panama City Beach dining scene, highlights the area's best seafood restaurants, and dives into details on over 25 of the top restaurants representing all types of cuisines.
An Overview of Dining in Panama City Beach
Panama City Beach offers diverse restaurant choices from fast food chains to high-end dining. Here's an overview of the Panama City Beach dining scene:
Types of Cuisine: Seafood is king with freshly caught Gulf fish, oysters, shrimp and more on menus across town. But you'll also find excellent barbecue joints, steakhouses, Mexican restaurants and family dining options.
Locations: Many restaurants congregate around the Pier Park area, while others scatter along the beach roads like Front Beach Road and Thomas Drive. Dine right on the sand at beachfront restaurants or head inland for even more variety.
Price Range: Panama City Beach dining ranges from cheap eats under $10 to upscale restaurants with $30+ entrees. But most places offer moderate prices with dinner entrees from $15 to $25.
Top Local Ingredients: The Gulf of Mexico provides an abundance of seafood. Local produce also ends up in coastal Southern cuisine. And restaurants source ingredients from regional purveyors.
Reservations: Reservations are not always needed but recommended during spring and summer peak seasons, especially for upscale dining rooms and waterfront spots.
From breathtaking beach views to mouthwatering menus, Panama City Beach offers diverse dining experiences to satisfy every palate. Keep reading for the best Panama City Beach restaurants to try during your visit.
Best Seafood Restaurants in Panama City Beach
Seafood freshly caught from the Gulf of Mexico shines in Panama City Beach. You'll find seafood on menus across town, but these restaurants stand out for their wide selections, local sourcing and waterfront settings to enjoy the catch of the day.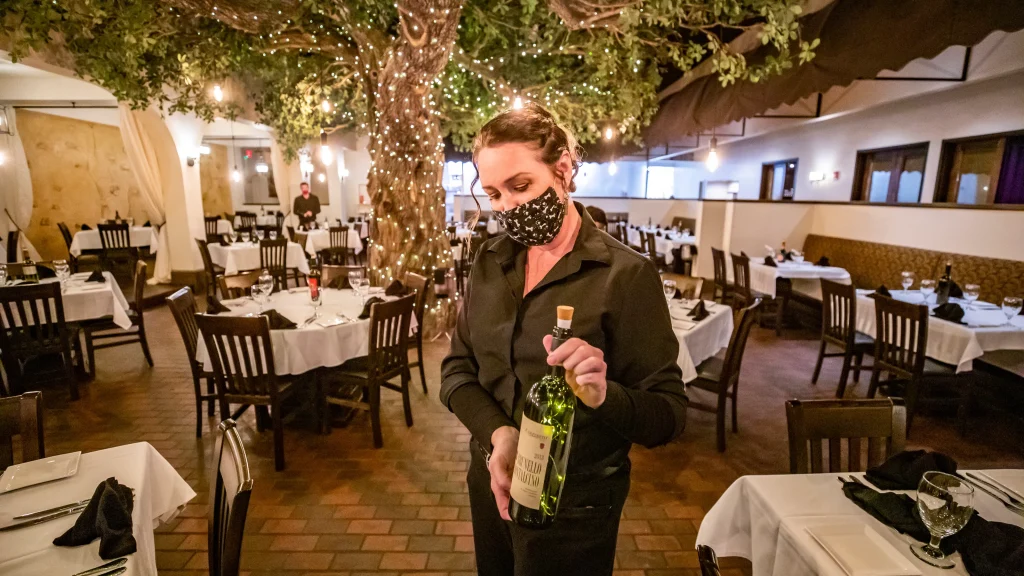 Firefly
Firefly's, an upscale restaurant that overlooks St. Andrews Bay serving top-quality seafood alongside steaks. The extensive menu includes raw Gulf oysters, seared tuna and sea bass, fried oyster rolls, and popular butter-poached lobster tails. Fine dining service and gorgeous waterfront views create a romantic atmosphere. The wine list also impresses with 400+ labels.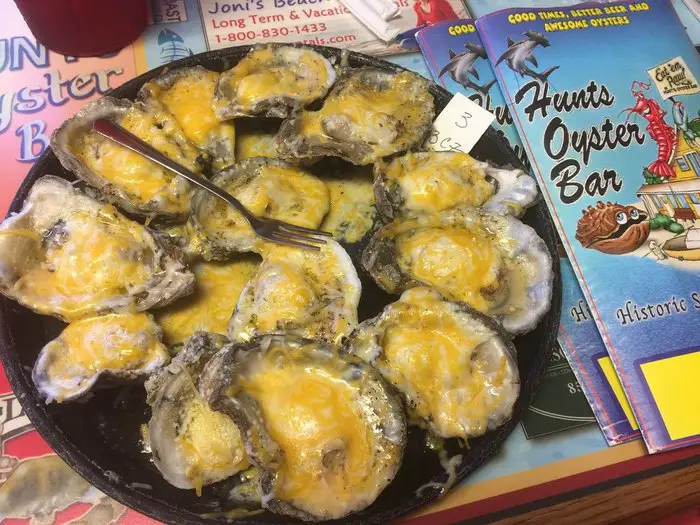 Hunt's Oyster Bar & Seafood Restaurant
For excellent raw and fried oysters, head to this local favorite. Hunt's shucks fresh Gulf oysters daily and serves them raw, steamed, or as part of seafood platters brimming with shrimp, fish, clams and more. Other specialties include oyster po' boys, seafood gumbo, and crab cakes, all at reasonable prices.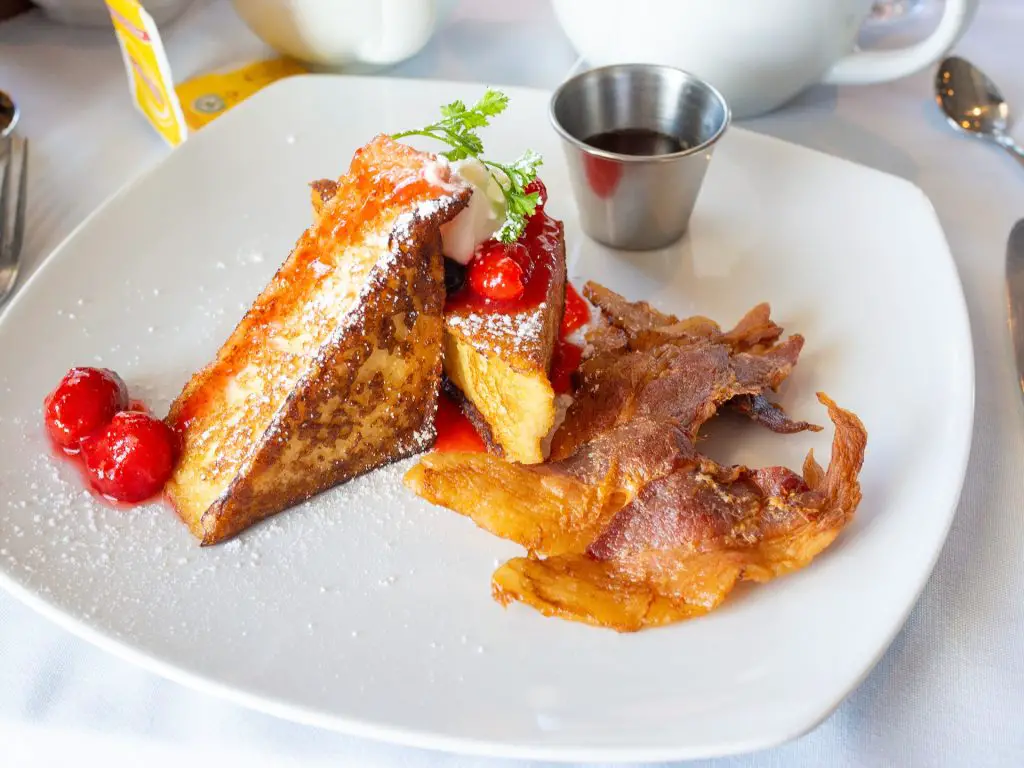 Andy's Flour Power Cafe & Bakery
This breakfast and lunch spot excels at baked goods but also plates stellar crab cakes. Andy's serves lump blue crab cakes with minimal breading to let the sweet crab flavor shine. Pair them with eggs or sandwich them between pastries baked fresh daily. Andy's scratch-made desserts like Key lime pie are also worth saving room for.
Sharky's Beachfront Restaurant
For beachfront dining right on the sand, Sharky's can't be beat. Stunning pier views complement dishes like crunchy fried shrimp, fish tacos, crab stuffed shrimp, and beachside classics like baskets of fish and chips or fried oysters. Their raw, steamed and char-grilled oysters are a highlight.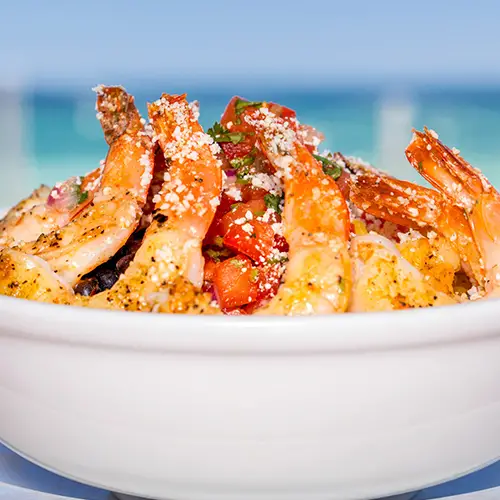 Schooners
Schooners is a legendary Panama City Beach restaurant known for huge seafood platters and beachfront seating. Their Last Bite menu lets you create custom platters piled high with fried and grilled Gulf shrimp, oysters, fish and more. Enjoy sunset dinners on the sand while digging into mounds of fresh seafood.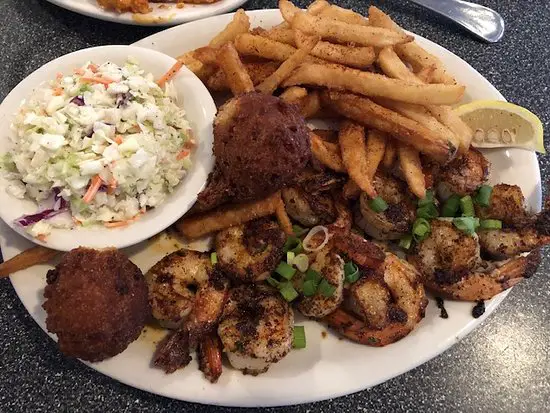 Bayou on the Beach
Cajun flavors inspire menu items at this laid-back spot just steps from the beach. Try blackened, fried or pecan crusted fish or opt for shrimp and grits, gumbo and jambalaya. Of course they serve raw and steamed Gulf oysters alongside po' boys, seafood baskets and other Louisiana-inspired dishes.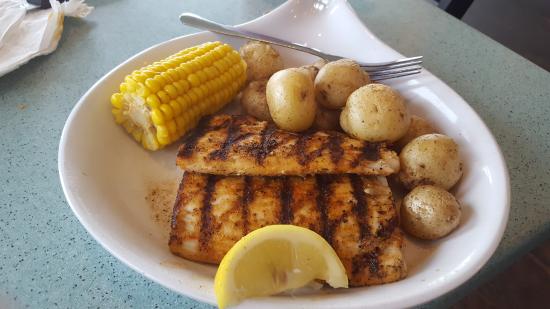 Pineapple Willy's
Pineapple Willy's has been a Panama City Beach icon since the 1980s, known for tropical drinks and crab legs. Their all-you-can-eat crab legs, plus burgers, fish sandwiches and ribs keep the restaurant bustling. The bar dishes out fruity cocktails and beer perfect for enjoying waterfront views from their marina setting.
Runaway Island
Head to Runaway Island for killer beachfront views and Hawaiian fusion seafood. Located on Shell Island, this restaurant only accessible by boat features dishes like macadamia nut mahi mahi, seared ahi tuna and sushi rolls along with burgers, flatbreads and island cocktails.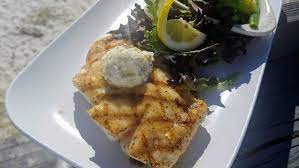 Harpoon Harry's Beachfront Restaurant
Harpoon Harry's is ideal for soaking up beach vibes with seafood. Outdoor areas overlook the sand where you can dig into baskets of fried shrimp, grouper sandwiches, crab and lobster mac and cheese, coconut shrimp, and raw oysters on the half shell.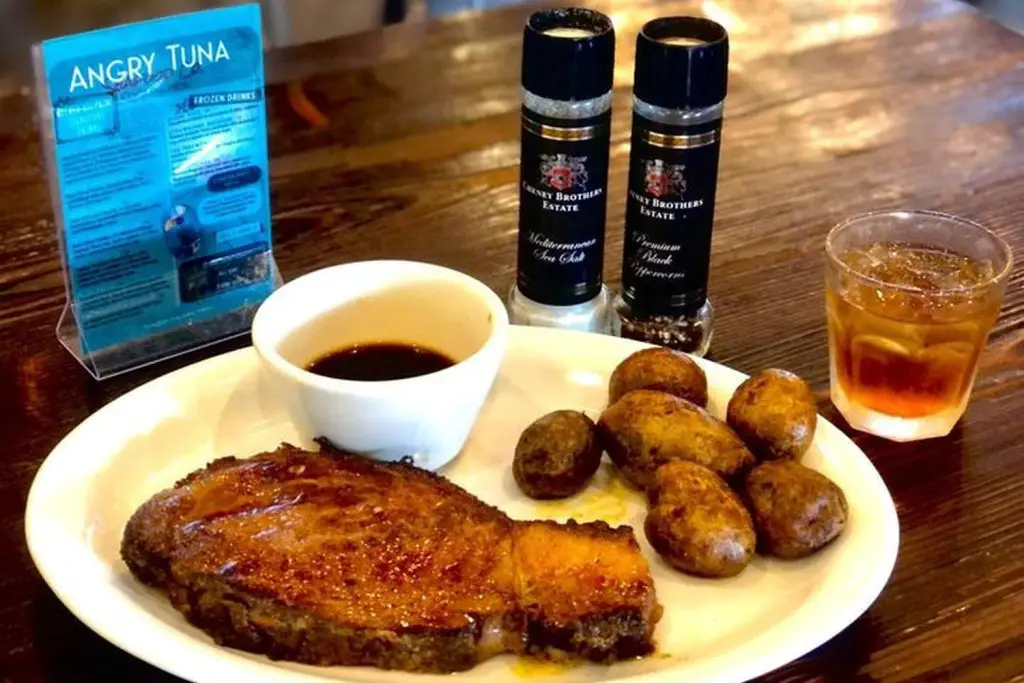 Angry Tuna Seafood Restaurant
For Gulf Coast seafood with Greek influences, Angry Tuna shines. Their Grilled Octopus Appetizer marinated in olive oil and lemon is a must-try. Follow it up with Greek seafood pasta, seafood risotto, grilled mahi tacos and more diverse seafood plates.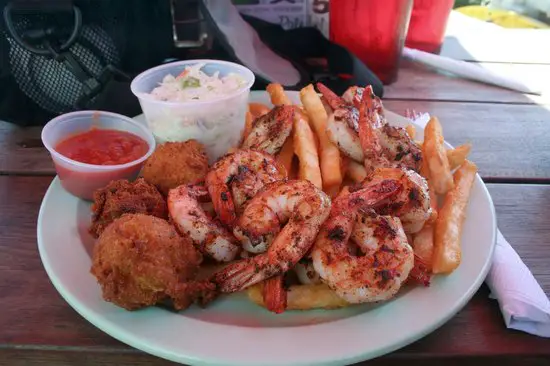 Hook's
End your meal on a sweet note with the key lime pie from Hook'd. But first, order Gulf oysters or creative seafood like their crab cake BLT sandwich. Hookd's blends Southern coastal cuisine with fresh takes like shrimp and lobster mac and cheese or blackened mahi with pineapple salsa in a prime Pier Park location.
More of the Best Restaurants in Panama City Beach
Beyond its famous seafood houses, Panama City Beach offers tasty restaurants representing all types of cuisine. Here are more must-try spots spanning steakhouse dinners to barbecue lunches:
Firefly Restaurant
Upscale Firefly already earned a mention for seafood, but their menu extends to aged steaks, martinis and an extensive wine list best savored on the open-air patio. Highlights like pistachio crusted grouper and pan seared scallops make this an ideal fine dining choice for special occasions.
Another Broken Egg Cafe
For brunch and breakfast done right, Another Broken Egg Cafe hits the spot. Literally broken and whisked eggs cooked to order pair with Southern specialties like shrimp and grits, fried green tomatoes, and crabcake benedicts. Expect a wait during peak times at this popular local chain.
Dat Cajun Place Cafe
Transport your tastebuds to Louisiana without leaving Florida at Dat Cajun Place. Taste authentic Creole and Cajun flavors in jambalaya, gumbo, crawfish etouffee, po' boys, and muffulettas. And don't skip the beignets drizzled in powdered sugar for dessert.
Liza's Kitchen
Liza's Kitchen serves up no-fuss diner food and Southern comfort favorites. Belly up to the counter for fried green tomatoes, pot roast dinners, chicken fried chicken, meatloaf, and shrimp and grits. Daily specials, all-day breakfast, sandwiches, burgers and desserts like key lime pie also hit the spot.
The Saltwater Grill
Fresh Gulf seafood takes center stage at The Saltwater Grill inside the Wyndham Garden Resort. Specialties range from fried, blackened or grilled fish to creative plates like pistachio crusted snapper. Upscale yet relaxed, it's among the best beachfront restaurants for locally sourced seafood.
Runaway Island
In addition to killer island vibes and seafood, Runaway Island also offers exceptional views and creative cuisine more broadly. The beachfront setting encourages sandy feet while you enjoy poke bowls, seared duck breast salad, fish tacos, and tropical cocktails from their island-inspired menu.
Chanticleer Eatery
Food made from scratch stands out at Chanticleer Eatery. Expect health-conscious dishes, many vegetarian and vegan, using organic ingredients. Highlights include quinoa power bowls loaded with vegetables and scratch-made soups, salads and sandwiches served in a casual setting.
Lucky Snapper
For fresh, simple seafood on an outdoor deck, Lucky Snapper is a great choice. Their shrimp and grits, mahi mahi fish tacos, sesame seared ahi tuna salad and daily fish specials capture local flavors. The restaurant sources fish from local fisherman and crafts unfussy preparations to let quality shine.
Sweet Basil Pizza and Italian Restaurant
Sweet Basil offers exactly what its name promises: delicious pizza and Italian fare. Create your own pie with over 20 toppings or opt for classics like meat lovers, Hawaiian, or barbeque chicken. Pasta, subs, salads and calzones satisfy all your Italian cravings.
Dave's Oyster Bar
Located near the marina, Dave's Oyster Bar plates up fresh raw Gulf oysters alongside hearty sandwiches perfect after a day on the boat. Their Grouper Sandwich grilled or fried is a house specialty, but you can't go wrong with oyster po' boys, crab cakes, shrimp baskets or their oyster buckets to slurp down briny bivalves.
Montego Bay Seafood House
Montego Bay Seafood House immerses you in Jamaica without leaving Florida. Jerk chicken, conch fritters, island-spiced fish and Oxtail stew offer a taste of the Caribbean. Live music and tropical cocktails like rum runners complement dishes bursting with flavor. The oceanfront deck makes a perfect perch.
Dusty's Oyster Bar
Another must for raw oyster aficionados, Dusty's shucks and serves Gulf oysters by the bucket or dozen alongside po' boys, shrimp platters and more. Locals love the laidback vibe, allowing you to focus on briny bivalves served over ice with hot sauce and lemon.
Shrimp Boat Restaurant
No-frills and affordable, Shrimp Boat Restaurant lives up to its name with fried shrimp as the star. Huge butterfly and bay shrimp are the restaurant's claim to fame, served by the pound or on sandwiches and platters. Seafood baskets with sides like fries and coleslaw are sure to satisfy.
Capt. Anderson's Restaurant & Waterfront Market
Since the 1960s, Capt. Anderson's has drawn guests to its sprawling waterfront location. They're known for fresh caught seafood, grilled to order, and creative daily specials alongside Southern hospitality. Save room for desserts like key lime pie and 'Beach Bar Cake' with layers of pudding and cake.
Grand Marlin Restaurant & Oyster Bar
Owned by the same group as Capt. Anderson's, the Grand Marlin also impresses with beachfront dining and skillfully prepared seafood. Menus change based on the fresh catch but often include specialties like pistachio encrusted red snapper and bacon wrapped scallops in white wine sauce.
Saltwater Grill Restaurant & Oyster Bar
Another well-established restaurant for fine dining, Saltwater Grill creates upscale plates bursting with flavor. Seared ahi tuna, seafood cioppino, bacon-wrapped scallops, and their "Fisherman's Feast" with an array of seafood selections stand out in a relaxed, upscale environment.
Tally-Ho Drive-In
When craving diner-style comfort food, head to this Panama City Beach institution. Tally-Ho masters the basics with juicy burgers, hand-breaded chicken tender baskets, hot dogs, malts and shakes since 1954, along with breakfast served all day.
Hawk's Gourmet Beachside Cafe
For breakfast with a gourmet twist, visit Hawk's Beachside Cafe. Dishes like eggs benedict over crab cakes, stuffed French toast, and skillet complexes with eggs served atop potatoes or sausage satisfy foodies. Locals also love the lunch menu of unique sandwiches and salads.
Charlie Coram's Place
Charlie Coram's Place fires up excellent Texas-style barbecue in Panama City Beach. Low and slow smoked brisket, pulled pork, ribs, sausage, and chicken ooze flavor and tenderness after hours in the smoker. Don't skip sides like mac and cheese and baked beans.
Tom's Hot Dogs
This unassuming roadside stand sells some of the best hot dogs in town. Tom's serves all-beef Sabrett dogs loaded with chili, cheese, kraut, slaw and any toppings you desire. Their fries, onion rings, burgers and shakes also make the perfect quick, inexpensive meal.
David's New Orleans Style Cafe & Sno-Balls
For authentic Cajun and Creole cooking, David's delivers with jambalaya, gumbo, crawfish etouffee and Louisiana po' boys. But the New Orleans-style sno-balls with mounds of shaved ice and flavored syrups are the real showstoppers during humid Florida summers.
La Famigilia Pizza & Restaurant
La Famigilia prepares excellent wood-fired pizzas, pastas, salads, subs and Italian specialties with house-made ingredients. Create your own pie or opt for menu favorites like lasagna, chicken parmesan, spaghetti and meatballs, and tiramisu to satisfy family-friendly cravings.
Panama City Beach Dining Guide by Meal
In addition to cuisine type, Panama City Beach restaurants also cater to different dining occasions whether it's breakfast on the beach, lunch between activities or dinner with drinks and sunset views. Here are top restaurant recommendations for breakfast, lunch, dinner and brunch in Panama City Beach:
Breakfast
Another Broken Egg Cafe
Andy's Flour Power Cafe & Bakery
Hawk's Beachside Cafe
Liza's Kitchen
Tally-Ho Drive-In
Lunch
Andy's Flour Power Cafe & Bakery
Chanticleer Eatery
Dat Cajun Place Cafe
Lucky Snapper
Pineapple Willy's
Runaway Island
Sharky's Beachfront Restaurant
Schooners
Dinner
Capt. Anderson's Restaurant & Waterfront Market
Firefly
Grand Marlin Restaurant & Oyster Bar
Harpoon Harry's Beachfront Restaurant
Hook's
Montego Bay Seafood House
Runaway Island
Saltwater Grill
Sharky's Beachfront Restaurant
Schooners
Brunch
Another Broken Egg Cafe
Andy's Flour Power Cafe & Bakery
Firefly
Hawk's Beachside Cafe
Hook's
Lucky Snapper
Runaway Island
Conclusion
From fresh Gulf seafood to family-friendly cafes and waterfront fine dining, Panama City Beach offers incredible variety when it comes to dining options. By knowing the best restaurants based on food genre, prices and ambiance, you're sure to find eateries to please every palate and fit all occasions.
Use this guide to discover the top-rated restaurants worth trying in Panama City Beach. And don't forget to make reservations at popular spots during weekends and peak seasons. Then get ready to soak up stunning beach views and incredible food at Panama City Beach's must-try local dining establishments.