Navarre, FL weather, you cant plan a trip without keeping the weather in Navarre Florida in mind. So, let's sort out what to expect weather-wise when planning a trip to Navarre Florida.
Navarre, Florida is a picturesque beach town located in the Florida Panhandle along the Gulf of Mexico. With its sugar-white sand beaches, Navarre offers year-round sunny weather and warm ocean temperatures perfect for beachgoers.
However, as a coastal town, Navarre, FL weather radar can show incoming storms, particularly during hurricane season. By understanding Navarre, FL weather patterns, you can plan vacations and prepare for typical conditions throughout the year.
BTW: If you arte not sure where tyo begin with Navarre, FL, definitely check out our Guide to Navarre Beach!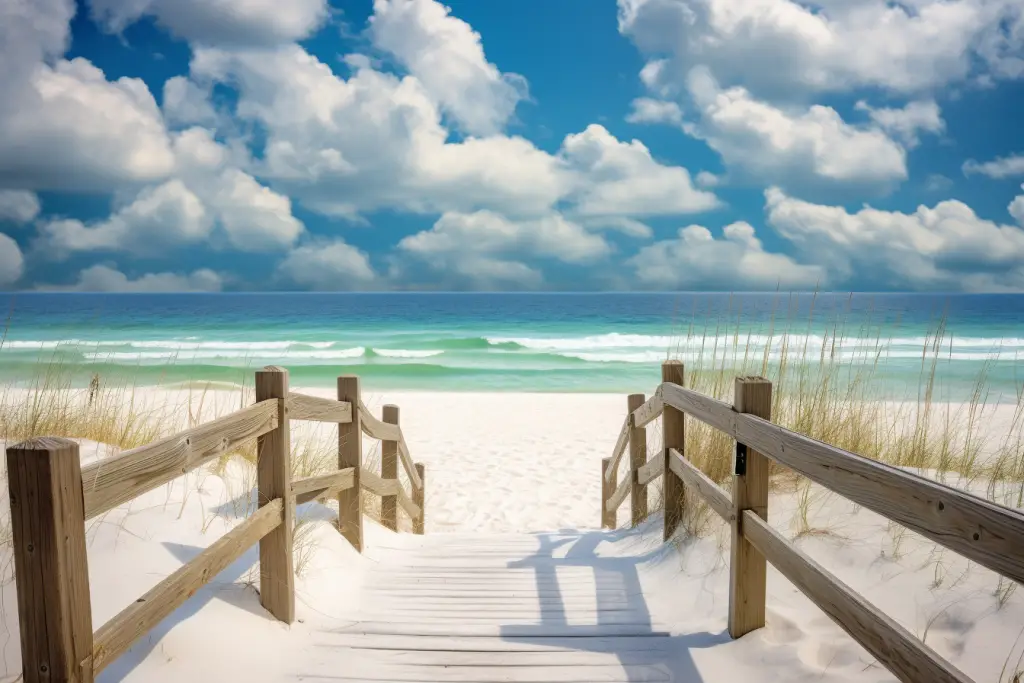 Navarre, FL Weather: Overview
Navarre, Florida weather follows a subtropical climate typical of the northern Gulf Coast. Summers are hot and humid while winters are mild and drier.
The warmest weather in Navarre Beach, FL occurs between May and October. Afternoon highs reach into the 80s and 90s Fahrenheit during these months. The hottest weather is usually in July and August with average highs of 90 Fahrenheit.
Winter weather in Navarre, FL brings cooler temperatures ranging from the 50s to 70s Fahrenheit. Some days may reach 80 Fahrenheit during winter warm spells. Overnight lows can dip into the 40s Fahrenheit from December to February.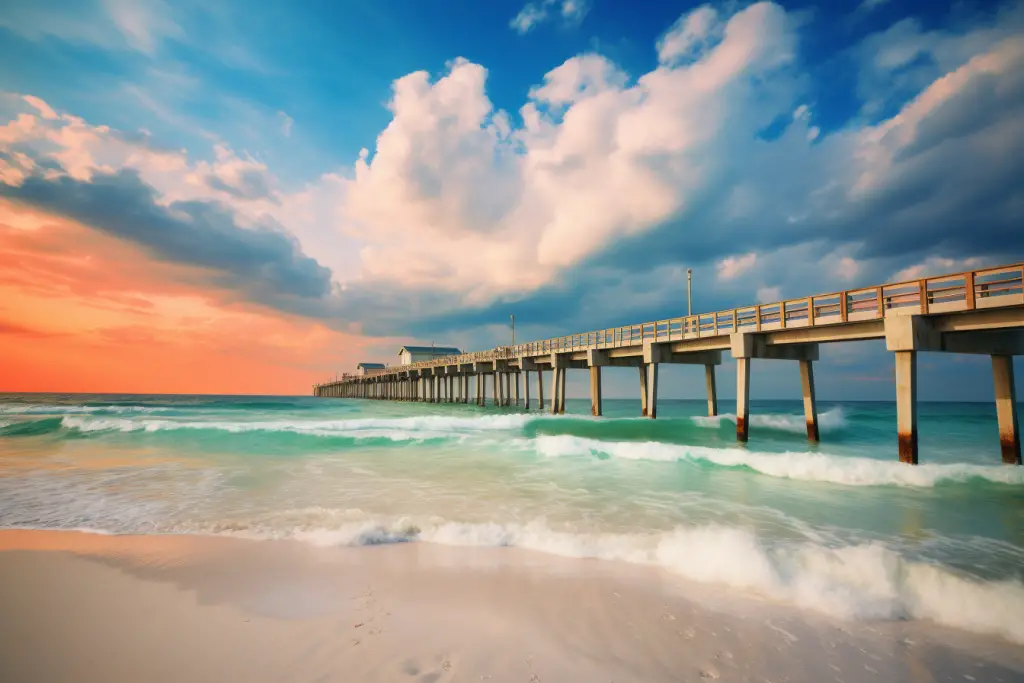 Spring Weather in Navarre
As spring approaches, temperatures in Navarre, FL begin to warm though the weather stays mild through March. By April, highs reach into the 70s and 80s Fahrenheit with warmer weather expected going into May.
The rainy season starts in spring with shower chances increasing through March then peaking in June and July. Spring thunderstorms help wildflowers flourish across Navarre later in the season.
March
March sees the beginning of warmer weather in Navarre, FL. Average high temperatures are in the 60s and 70s Fahrenheit while overnight lows stay in the 40s and 50s.
This month brings increased rain chances, though significant storms are still infrequent. As the Gulf of Mexico warms, ocean temperatures are cool but swimmable on warmer days.
April
April in Navarre, Florida averages high temperatures around 75 Fahrenheit. Overnight lows may dip into the 50s, though it usually stays mild.
Rain chances continue rising in April. Brief passing showers are likely and thunderstorms become more common. April showers help bring blooms to local flora, though rains rarely last all day.
Keep in mind, March and April tend to bring Spring Break crowds to local areas, specifically Panama City Beach.
May
May is when consistently warm weather takes hold in Navarre, FL. Average highs are in the 80s Fahrenheit with cooler temperatures expected overnight.
This month sees the beginning of the daily rainy season. Brief but heavy downpours are common most days, though sunny skies return between showers. Outdoor plans may need adjusting for rain, especially in the afternoons.
Summer Weather in Navarre Beach, FL
The hottest weather in Navarre, Florida occurs during the summer months. High humidity adds to the heat factor from June through August. Afternoon thunderstorms are a near daily occurrence.
Ocean temperatures near Navarre Beach reach over 85 Fahrenheit on average during summer. The warm Gulf waters make summer an ideal time to swim, fish, and enjoy water sports.
June
June kicks off summer weather in Navarre, FL. Average highs are around 90 Fahrenheit with overnight lows near 70.
High humidity makes the heat feel oppressive at times. Heat index values may exceed 100 Fahrenheit on the hottest days. Staying hydrated and seeking shade midday is important.
The rainiest time of year begins in June. Almost daily thunderstorms drop heavy rain, though storms rarely last long. Lightning and gusty winds often accompany storms.
July
July is typically the hottest month in Navarre, FL. Average high temperatures peak at 91 Fahrenheit while lows stay balmy in the 70s.
With humidity factored in, afternoon heat index values range from 100 to 110 Fahrenheit. Avoid extended sun exposure during middays and take frequent breaks in the shade.
Thunderstorms occur most days, primarily during the afternoon and evening hours. Brief downpours provide heat relief though lightning can be a hazard.
August
August maintains the hot summer weather in Navarre, FL. High temperatures remain near 90 Fahrenheit for most of the month before gradually cooling late in August.
Humidity levels also lower slightly toward the end of the month, though heat indices still reach 100+ Fahrenheit on hotter days. Overnight lows are in the mid-70s providing little respite from daytime heat.
Frequent thunderstorms continue, primarily in the afternoon and early evening. Heavy rains can lead to localized flooding, especially in low-lying areas.
Fall Weather in Navarre Beach
Fall brings much needed relief from the summer heat and humidity. September is still quite warm in Navarre, Florida while cooler weather gradually filters in throughout October and November.
The rainy season winds down by late October. Drier weather in fall coincides with fewer mosquitoes and milder temperatures for enjoying outdoor activities again.
September
September is a transitional weather month in Navarre, FL. The beginning of the month maintains summer-like heat while temperatures gradually cool as fall approaches.
Average highs range from the upper 80s early in September to lower 80s by month's end. Heat indices are still elevated though the humidity gradually declines. Overnight lows fall back into the 60s.
Showers and thunderstorms remain common, especially early in the month. By late September, the rain chances diminish as the wet season ends.
October
October brings pleasant autumn weather to Navarre, Florida. Average high temperatures are around 80 Fahrenheit while lows drop into the 50s.
The decrease in humidity makes the milder temperatures feel comfortable. Rain chances also decrease dramatically by late October.
Tropical systems occasionally impact Navarre, FL in October. The tail end of hurricane season brings the chance for storms or hurricanes to affect the Florida Panhandle this month.
November
November continues the cool down in Navarre, Florida with average high temperatures in the 70s Fahrenheit. Lows drop into the 40s and 50s with cooler overnight temperatures expected.
This month sees the lowest rainfall averages of the year. Pleasant, sunny fall weather makes it a great time to visit Navarre Beach without high heat or humidity. Temperatures are ideal for outdoor recreation.
Winter Weather in Navarre, FL
Winter brings the coolest weather to Navarre, Florida. From December through February, temperatures are mild compared to most of the country but cool for the Florida standards.
Afternoon highs range from the 60s to lower 70s Fahrenheit for much of the winter. The cooler weather allows for enjoyable outdoor recreation and exploring the area without heat concerns. Overnight lows drop into the 40s and 50s.
While winter is the driest season, passing showers still occur. Rainy days are fewer and farther between compared to the rest of the year.
December
December starts the winter season in Navarre, FL. Average high temperatures are in the upper 60s Fahrenheit while lows drop to the upper 40s.
Humidity levels are lower compared to summer, making the cooler weather feel pleasant. Rain chances are still moderate in December, though wet weather is unlikely to last all day.
Cold fronts may occasionally lower temperatures to the 50s or lower. Brief cold snaps are also possible in December though snow is extremely rare in Navarre.
Also, if you arent aware, you can take just a short 15-minute drive down the road to see the Destin Boat Parade in Christmas!
January
January is typically one of the coolest months in Navarre, FL but still mild overall. Average highs are around 65 Fahrenheit with overnight lows near 45.
A few days per month may only top out in the 50s Fahrenheit. The cooler weather means some chilly mornings but afternoons remain comfortable.
Rain chances are at their lowest in January. When precipitation does occur, brief passing showers are most common. The winter weather is great for outdoor activities.
February
February continues the mild winter weather in Navarre, Florida. Average high temperatures are in the upper 60s Fahrenheit with lows in the 40s.
Dry air keeps rain chances low most days. When wet weather occurs, scattered showers are brief. Any wintry precipitation is very rare.
By late February, temperatures start to warm ahead of spring. While cool spells are still possible this month, mild conditions are the norm for Navarre, FL.
Navarre Weather by Season
Spring Weather in Navarre, FL
Warming temperatures with moderate rain chances. Thunderstorms increase by late spring. Highs from 60s to 80s Fahrenheit.
Summer Weather in Navarre, FL
Hot, humid weather with highs near 90 Fahrenheit. Frequent thunderstorms and tropical systems possible. Peak rainy season.
Fall Weather in Navarre, FL
Gradual cooldown continues with less humidity. Rain chances diminish by late fall. Highs from 70s to 80s Fahrenheit.
Winter Weather in Navarre, FL
Coolest weather of the year but still mild overall. Low chance of rain most days. Highs in the 60s Fahrenheit.
Planning Your Navarre, Florida Vacation Around the Weather
Best Times for Good Weather in Navarre, FL
Spring and fall offer the most comfortable weather for visiting Navarre, FL. Moderate temperatures in the 70s Fahrenheit and less frequent rain are ideal for the beach and outdoor activities.
Late fall from November through December sees the lowest precipitation averages combined with pleasant daytime warmth and cooler nights. Mild early spring weather in March and April is also excellent for Navarre vacations.
Best Times for Beach and Water Activities in Navarre, FL
Summer is peak beach season with warm ocean temperatures in the mid 80s Fahrenheit from June through August. Despite the heat, the summer weather entices crowds to Navarre Beach and waterparks.
For fewer crowds with warmer water, May and September are excellent shoulder season months for swimming, fishing, boating and other water sports. Just keep an eye on any tropical systems that could affect conditions.
Best Times for Saving Money in Navarre, FL
Lodging, attractions and activities usually offer discounted rates during the late fall and winter months after summer crowds leave but before snowbirds arrive.
For affordable rates coupled with comfortable weather, look to visit Navarre, FL in November or early December. Late February through March also offer savings before the busy spring break period.
Best Times for Spotting Wildlife in Navarre, FL
Mild weather and lower crowds in the late fall make November a prime time for seeing coastal birds and other animals along Navarre Beach. Late winter into early spring are also good months for wildlife viewing and birdwatching.
Key things to remember when planning a vacation around Navarre, Florida weather:
Spring and fall have the mildest temperatures with less frequent rain.
Late summer brings heat, humidity and thunderstorms.
Winters are the driest months but with cooler weather.
Hurricane risks peak in late summer and early fall.
Check forecasts for any storms that could affect your travel plans.
By understanding typical Navarre, FL weather patterns and the best times to visit, you can experience this picturesque beach town in ideal conditions during any season.
Check out the weather in Navarre for the 10-Day Navarre, FL forecast.