The Florida Panhandle sometimes referred to as the Emerald Coast, is famous for its crystal clear waters and soft white sand.
If you're down on the coast, you might be wondering which is better: Rosemary Beach or Santa Rosa.
Both Rosemary Beach and Santa Rosa are beautiful places to visit.
But Santa Rosa generally has better prices for rentals, more accessible entertainment, and better outdoor activity options.
If you're staying on 30A, Rosemary Beach and Santa Rosa have a lot of fun activities to enjoy besides just lounging on the beach.
The rest of this article will discuss the pros and cons of Rosemary Beach and Santa Rosa.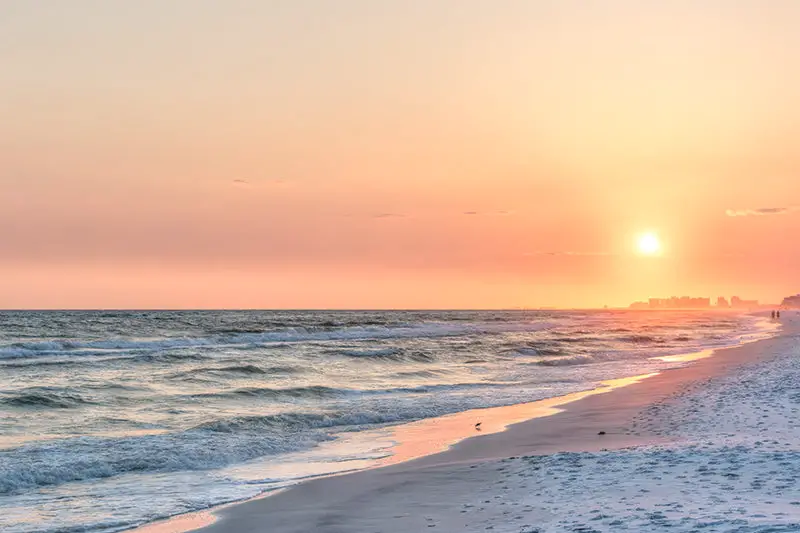 Overview of Santa Rosa and Rosemary Beach
Santa Rosa
Santa Rosa is the largest beach neighborhood in South Walton, stretching from Choctawhatchee Bay to the Gulf of Mexico.
This stretch along the 30A comes with incredible cultural diversity.
Whether you want to shop around the local boutiques, choose from a myriad of dining options, or just lounge on the beach, Santa Rosa is the place to relax.
Founded in 1910 along Hogtown Bayou, Santa Rosa Beach plays home to the historic Point Washington community, in which you'll find the 1890 Wesley Mansion.
Boasting cuisine from sushi to rustic Italian pizza, Santa Rosa is also home to two craft breweries, Grayton Beer Company and Idyll Hounds Brewing Company.
The beautiful Point Washington State Forest, comprising more than 15,000 acres consists of beautiful longleaf pine trees, meandering trails, and scenic sights to behold.
Santa Rosa is a beautiful and romantic place if you like sports activities like golf, fishing, biking, hiking, or water sports.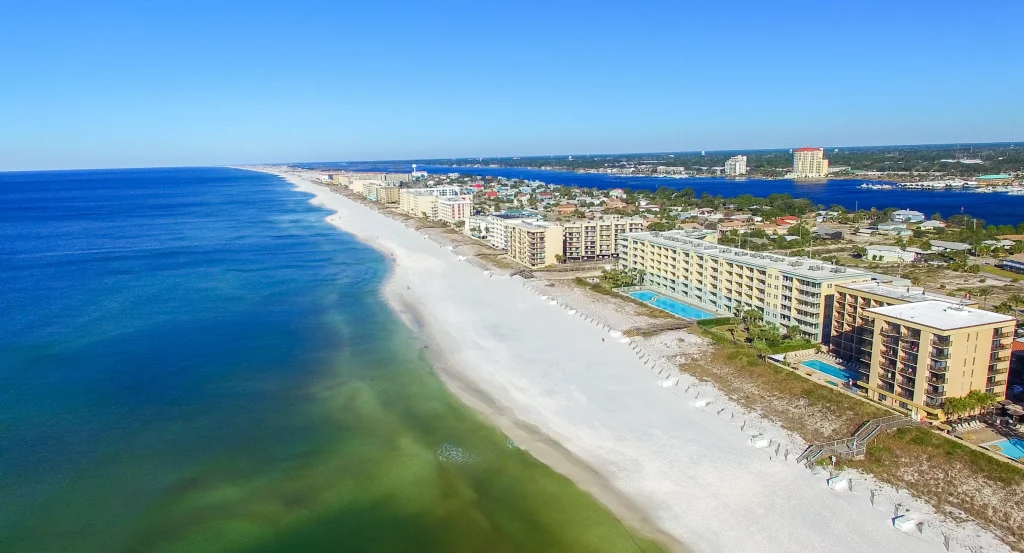 Rosemary Beach
Spread out among a tranquil and tight-knit community, there's no place like home in Rosemary Beach.
With a close community, gorgeous beaches, and local boutiques, this little beach village oasis boasts an atmosphere of true relaxation.
There's still plenty to do in Rosemary, though.
From the aesthetically pleasing architecture to the gorgeously fashioned pools and parks, Rosemary Beach is a place of historical significance and modern marvels.
Throughout the town center, you'll find lots of cute shops that sell fun, quirky products.
Independent merchants make this town center a treat to meander through.
With plenty of fine dining options to choose from, you'll always feel like royalty in Rosemary Beach.
Beaches
Both Santa Rosa and Rosemary have gorgeous beaches. Set along the Emerald coast, these beaches are both beautiful—just like most of the beaches in Florida.
Whether you want to relax in the sun, play in the surf, or build a sandcastle, Santa Rosa or Rosemary fit the ticket if you're just looking at the beach amenities.
Beautiful white sand and emerald-green clear water line both of these beach communities.
Both beaches have the option of chair rentals and public access beaches for you to enjoy.
Both beaches can get pretty busy from June through August when the tourism season hits.
Keep in mind for both beaches that you're not allowed to bring a dog on the beach without a permit.
To get a permit, you'll need to demonstrate proof of local residency, so for tourists, there are no dogs allowed on the beach.
Rentals and Dining
Santa Rosa Dining
Santa Rosa is very densely spaced with condos and rental houses for you to choose from.
Most of your entertainment options and dining will be very local to where you're staying.
Enjoy a pizza at Gio's, Mary's, or Mombo's.
Try some Indian cuisine at the local restaurants, or bring out your inner connoisseur at the numerous wineries and breweries located in this beach village.
Santa Rosa also boasts a wide selection of Italian, Mexican, Chinese, and Indian food.
Of course, being on the coast, pizza and seafood restaurants abound.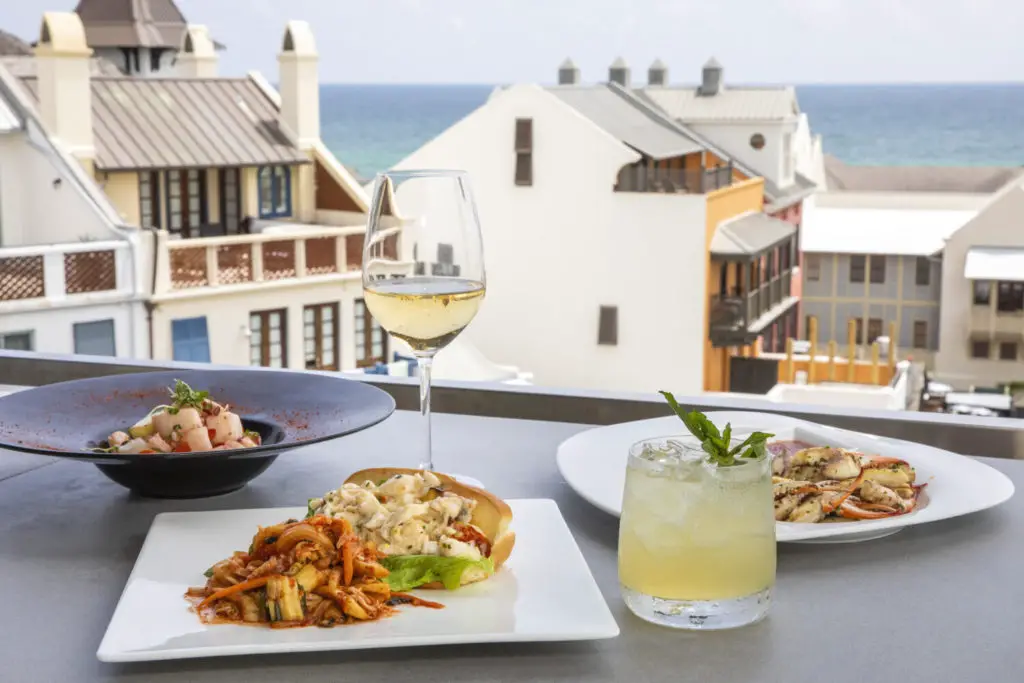 Rosemary Beach Dining
Rosemary Beach, on the other hand, has a lot more beach houses that are spread apart.
This privacy is reflected in the higher price tag on Rosemary Beach.
It's a gorgeous place, to be sure, but be prepared to pay a little more out of pocket at Rosemary.
From sweet shops to fine dining, Rosemary's beach community is very tight-knit and has a more dominant wine and fine dining culture.
Restaurant Paradis, for example, has a wide selection of wines and high-end meals ideal for special occasions, but their menu prices range from $25-55.
La Crema is another popular restaurant in Rosemary Beach that boasts wonderful meals and great service, boasting anything from Crab Rangoon to paella.
Keep in mind that regardless of where you choose to dine in Rosemary Beach or Santa Rosa, you'll be faced with very long wait times to be served.
The popularity of these dining choices continues to grow.
So if you're wanting to go to a proper old-fashioned restaurant and bar, then you might be waiting for up to two hours to be served.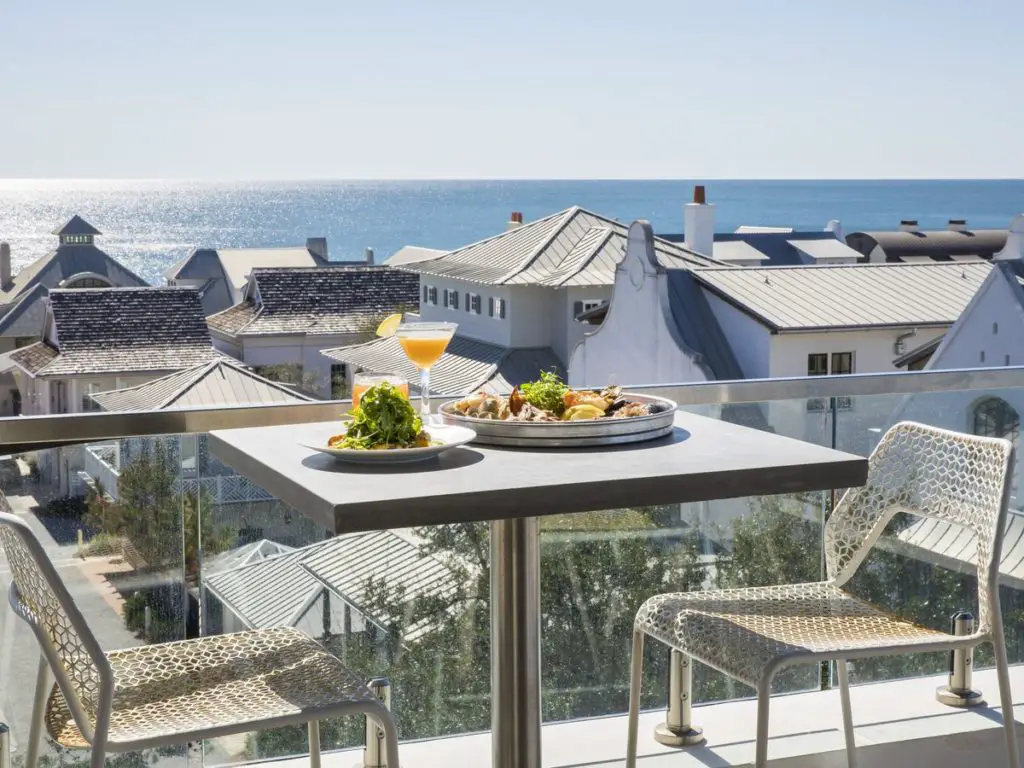 Entertainment Options
If you're in either Santa Rosa or Rosemary, then you'll want to complete the scenic 30A drive to see everything from art galleries to antique stores.
This 18.6-mile stretch lets you explore the estuaries and ecosystems of the Choctawhatchee River.
Along the way, you might see egrets, mullets, alligators, turtles, and bald eagles. Renting a bike is another great way to enjoy the scenic beauty of 30A.
When it comes to local entertainment options in Santa Rosa vs Rosemary Beach, both have some valuable historical and family-fun options.
But Santa Rosa wins out when it comes to the amount of versatility you have in your choices.
Rosemary Beach Entertainment
Rosemary Beach has a nice Farmers Market where you can pick up fresh ingredients, and the Blue Giraffe art gallery features works from several local artists.
For the family, Shipwreck Island Waterpark is a great place to visit to enjoy the gorgeous Florida sun as well as some wild rides.
Eden Gardens State Park is also a beautiful scenic location where you can have a nice picnic, enjoy some paddleboarding, or go kayaking.
The historic mansion and beautiful sloping grounds walk you right up to the water's edge, and the beautiful flowers complete the occasion.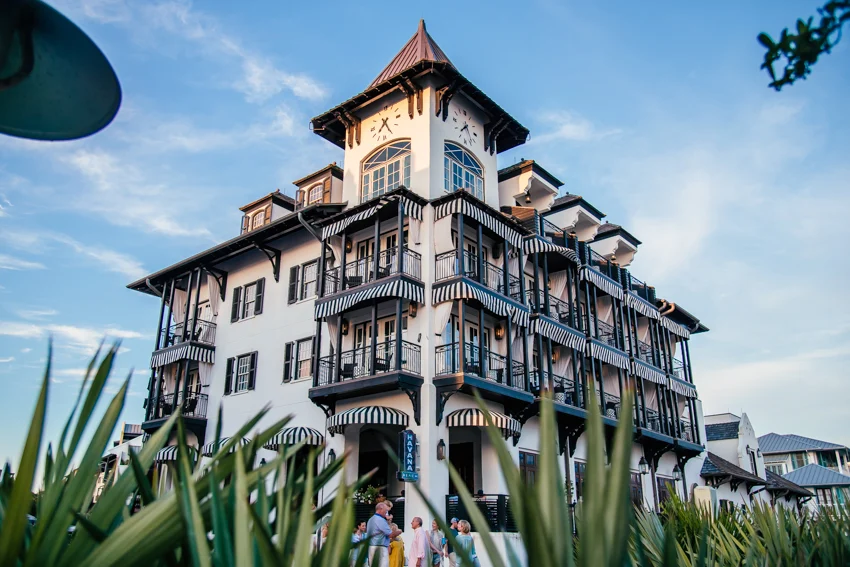 Santa Rosa Entertainment
Santa Rosa certainly wins out on entertainment due to the gorgeous historical destinations, a wide variety of foods, walking tours, and wine culture.
Head to Historic Railroad Square where you'll find one-of-a-kind coffee shops, restaurants, and antique stores.
Other options like the Sonoma Canopy Tours ziplining or the Safari West provides great entertainment choices for kids.
If you're interested in the local culture, Luther Burbank Center for the Performing Arts offers world-class shows for music, comedy, family entertainment, and theater.
Not only is Santa Rosa rich with cultural entertainment.
But you can also enjoy the natural beauty in the Armstrong Redwoods State Reserve or enjoy wine with a view at Paradise Ridge Winery.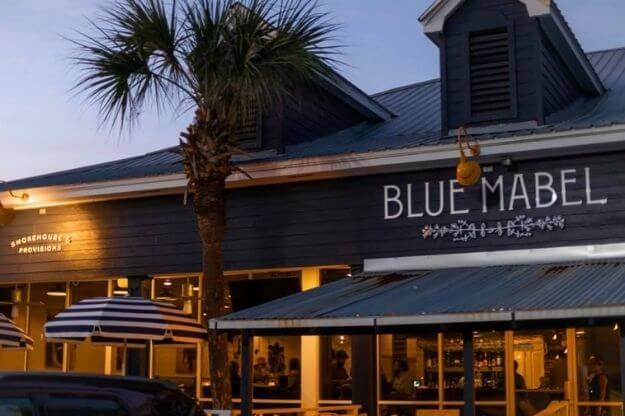 The Verdict
With all the data considered, Santa Rosa is our winner for its rich cultural scene, beautiful beaches, and dining options.
Both Santa Rosa and Rosemary Beach have gorgeous beaches that are unparalleled anywhere else in the world.
But Santa Rosa is a lot more budget-friendly.
It has better family entertainment options and a more vibrant cultural scene that attracts visitors to its crystal shores year after year.