There goes a saying that a bad day fishing is better than a good day at work.
While that may be true, those that enjoy a good day fishing flock to the white sands of Seaside Florida.
With public shore fishing and an abundance of offshore charters, you will have no problem casting a line in Seaside. 
Seaside Florida is located on the warm Gulf waters and is home to some of the best on-shore fishing and offshore charters the state of Florida has to offer.
As part of Florida's Emerald Coast, its white sands give way to the emerald green waters and unforgettable sport fishing. 
We will cover both on-shore and offshore options for anglers to land their dream catch and go home with more in their coolers than just a fishing story, the experience of a lifetime.
That's no fishing tale.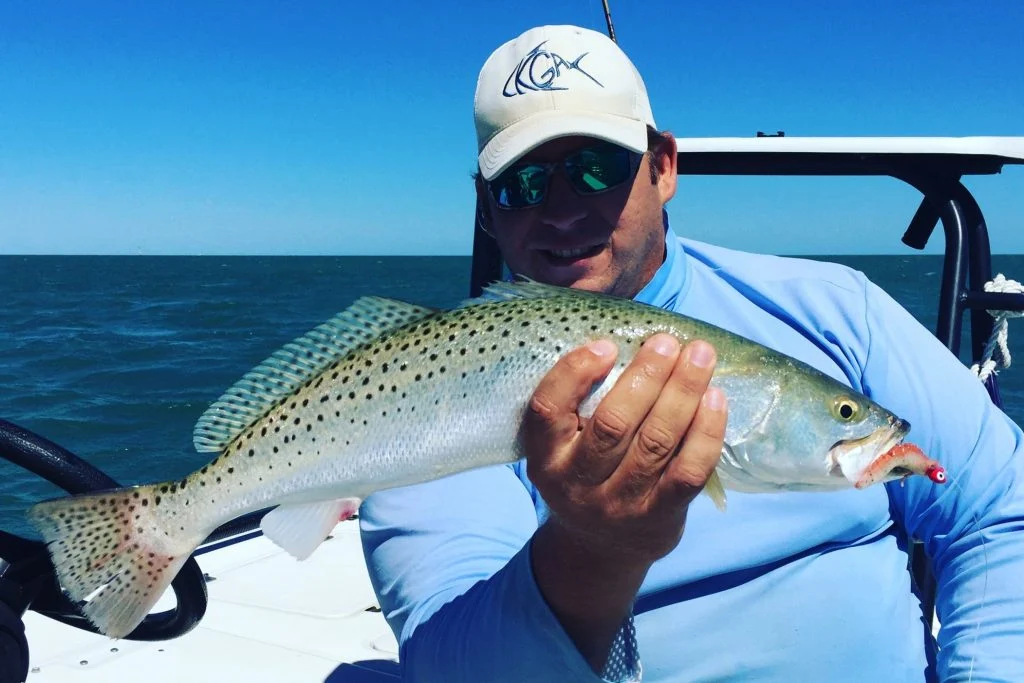 On-shore fishing locations
The plentiful white sands of the Emerald coast bring one thought to mind, beaches.
Nestled in those beaches are plenty of areas available for anglers to land their very own catch of the day.
From inland lakes to shore fishing there isn't a shortage of available on-shore fishing locations.
There is ample fishing available along any of the beaches of Seaside; finding a spot for saltwater fishing will be no problem if you have the right gear and know-how.
Below are a few of the best locations offering saltwater beach fishing and freshwater fishing in Seaside Florida.
Grayton Beach State Park
Grayton Beach State Park located on Main Park Road in Santa Rosa Beach offers saltwater fishing and swimming over its mile-long shoreline.
Freshwater fishing and a boat ramp are available at Western Lake giving the patrons of this park the best fishing in both worlds. 
There are also canoe rentals, hiking trails, and overnight cabins available.
The 365-acre park has RV hookups perfect for hosting its long-distance travelers.
Grayton Beach State Park is a wonderful choice for either a local day fishing trip or a full weekend getaway with the family.
Topsail Hill
Topsail Hill gets its name from the white sand dunes on its secluded 3-mile-long beaches.
Anglers trying their luck find the emerald green waters full of Pompano, Red Fish, and Mackerel.
The are also two freshwater inland lakes for fishing Bass, Pan Fish, or freshwater Catfish.  
This 1640-acre state park offers RV hookups, bungalows, and cabin rentals making staying here simple for the whole family.
With hiking, picnic areas, and even camping, there isn't a lot this park lacks when looking for a long weekend away or a destination for your next family vacation.
Port Washington Landing
If you are looking for a small out-of-the-way spot to launch your boat or a quiet area to fish in  Choctawhatchee Bay, Port Washington Landing is the perfect spot.
Located at the end of N CO Highway 305, away from the main beaches, it is the perfect getaway from the touristy areas.  
Choctawhatchee Bay is fresh water and saltwater mix.
Depending on the exchange of water, it could be home to the Speckled Trout and Stripped Bass, but also offers Redfish, Grouper, and Flounder.
It is a popular destination for swimming, paddleboarding, kayaking, and boating.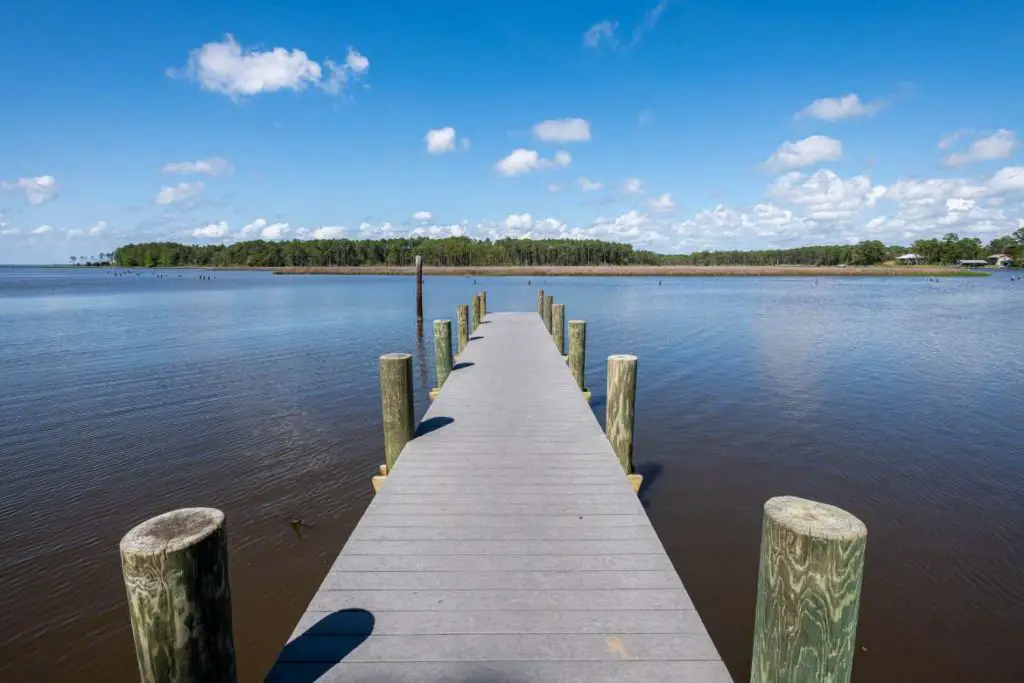 Offshore Charters
If you are looking to spend a few hours on the water at well-known fishing locations, reeling in fish, charters are the way to go.
There is no easier way to get offshore and fish in the best locations.
They offer an experienced guide to help lead you to land the fish you dream about. 
Charters cover all aspects of the trip from rods and reels, to the bait.
They even cover licensing, making them the best choice for out-of-state tourists. Below is a small sample of the most popular charters in the Seaside area.
There are even more available in and around the area.   
Capt. Phils Charters
Located on Grayton Beach, Capt. Phil is all about getting its anglers out on the water and its rods cast in the shortest time possible.
Capt. Phil has been fishing the Gulf waters for over 35 years and knows his way around the Gulf and will have his anglers fishing it in minutes. 
They provide rods and reels, bait, tackle, and even clean your catch for you.
If you are interested in bottom fishing, troll fishing, or even sight fishing for Cobia in early spring contact Captain Phil Charters!
Donna Hammond at 850-419-5937 or email captphilscharters@captphilscharters.com to book.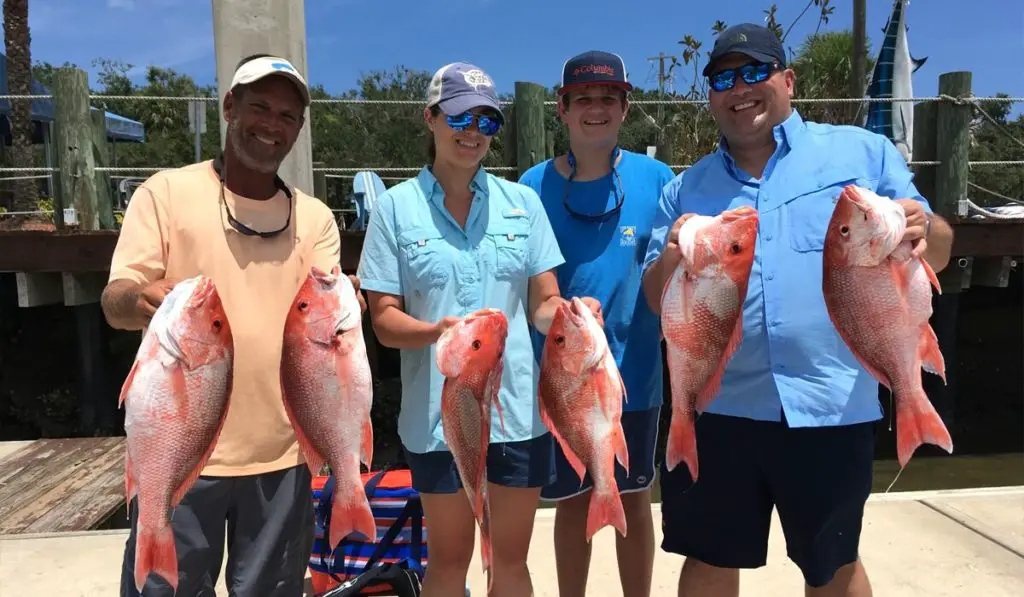 Dead Fish Charters
If you are looking to book the Diamond Award for Best Fishing Charter in South Walton 2020, Dead Fish Charters is the only option.
Capt. Larry will have you bottom fishing, surface fishing, or trolling in no time.
You can combine your time for all three and get the best mix of catches. 
Capt. Larry, a South Walton Native, has over forty years of experience fishing in these waters.
After owning a fish house, he decided to return to his roots as a charter boat captain.
Call Dead Fish Charters at 850-685-1092 or email info@DeadFishCharters.com to book your next trip. 
30A Light Tackle Charters
30A Light Tackle Charters is home to Destin Fishing Captain of the Year 2020, Captain Mark Hotze.
They offer inshore and off-shore charters complete with rods and reels, bait, and two fish boxes to keep your catches cold.
The only thing you need to get on the boat is a smile. 
Capt. Mark grew up in Virginia but has extensive experience fishing the Gulf of Mexico, Caribbean, South Pacific, and The Atlantic.
For a day of fishing with a smile on your face contact Capt. Mark at 804-363-7340 or email 30ALightTackle@gmail.com to book your trip.  
Grayton Girl Charters located on Grayton State Beach begins your trip by catching live bait specific to the fishing planned for that trip.
It then heads out to either natural bottom wrecks or natural and man-made reefs. They also offer trolling to catch a large variety of saltwater fish.  
Capt. Jody Wesley has been fishing the Gulf waters for over forty years, with twenty of those being strictly charter boat captains.
Contact Greyton Girl Charters at 850-978-5658 or email captainjody19@gmail.com to secure a fishing trip on the nineteen-foot Cape Horn charter boat.
Santa Rosa Charters
One of the most interesting charters you can book is Santa Rosa Beach Charters.
They offer services for every kind of angler, including bay and inshore fishing trips.
In addition, they offer two-hour kid-friendly fishing trips, fly, and sight fishing trips, and even guided duck hunts.
With multiple captains and boats in their fleet, booking with the family-friendly Santa Rosa Charters is quick and easy.
Email santarosacharters@gmail.com or call them at 850-865-4222 to secure your next fishing trip, sightseeing tour, or guided duck hunting experience. 
Conclusion
Seaside located on Florida's beautiful Emerald Coast has an overabundance of options for out-of-town anglers and locals alike to find shore fishing or book their next offshore charter.
No matter your experience or skill level, a guided charter fishing trip is essential in getting you to the right spot with the right gear to give you the best opportunity to land the fish of a lifetime.