Visiting the Emerald Coast and want to check out the crystal clear waters of a white sand beach like Rosemary Beach?
Luckily, we have all the specifics regarding public access to this Florida Panhandle beach destination.
Rosemary Beach is a highly restricted beach that's limited to paying overnight guests and local residents.
Beach visitors need to have codes to access the beach via the gated entry points.
To learn more about how you can access the beach if you aren't a resident, keep reading.
We'll be sharing insights on the beach's guidelines, curfew, parking rules, and the average cost of an overnight stay that grants beach access.
Stick around to the end to learn about some public access dining options and services available to beach visitors.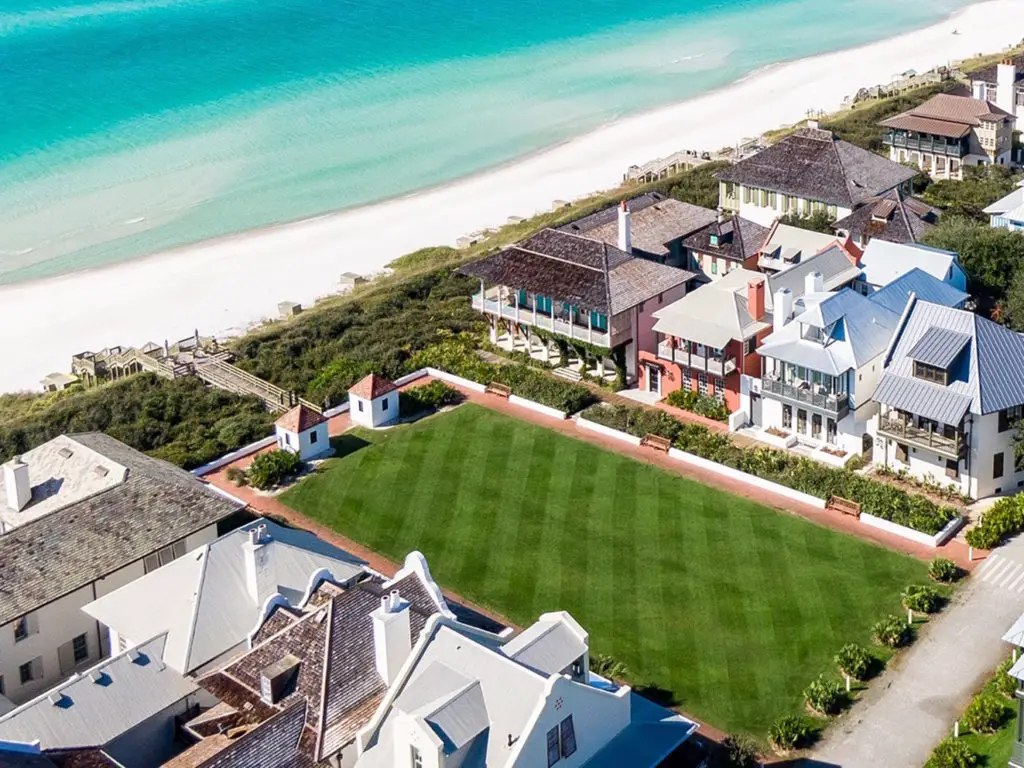 Public Access to Rosemary Beach?
Unfortunately, part of what makes Rosemary Beach such a coveted destination on the Panhandle is that it's exclusive.
There is no "public access" to the beach, as it's gated nearly all around so that only residents and people staying overnight at residences can get in. 
You need a code to get through the gates to the beach, which we'll discuss more below. 
Rosemary Beach Gate Access?
Rosemary Beach is known for its lack of crowded spaces and overall cleanliness compared to other beaches which may be public.
These qualities are maintained by mandated gated beach walkovers, which you'll find on every boardwalk and street in the Beach's domain. 
In order for travelers to get a seasonal code, which normally gives residents access through the gates and to the beach, there is a loophole.
Visitors who are staying overnight at residences whose owners have a code can get in. 
Your options are:
Stay with a friend who is a resident and use their code

Stay with a family member who is a resident and use their code

Stay overnight at an Airbnb residence, where the host can provide you with a code

Stay overnight at a private, rented residence, where the host can provide you with a code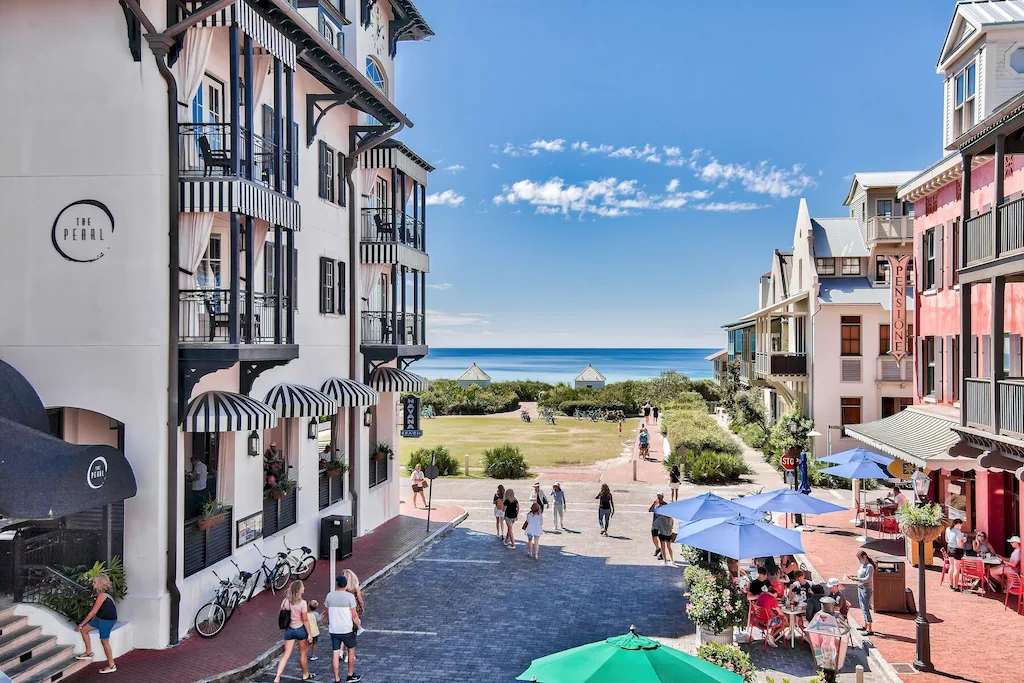 Average Cost to Stay Overnight
Below, consider the average cost of staying overnight as a visitor to Rosemary Beach.

Note that these price estimates are based on listings for mid-summer dates and account for 2 adult guests. 
| | | |
| --- | --- | --- |
| | Airbnb | Vrbo |
| Average Cost of One Night Stay | $175 after fees | $300 after fees |
We should also mention many of the cottages rented out by Rosemary Beach require visitors to stay a minimum of 7 nights, which could drastically increase the cost.
It is more cost-effective to stay overnight via a service like Airbnb.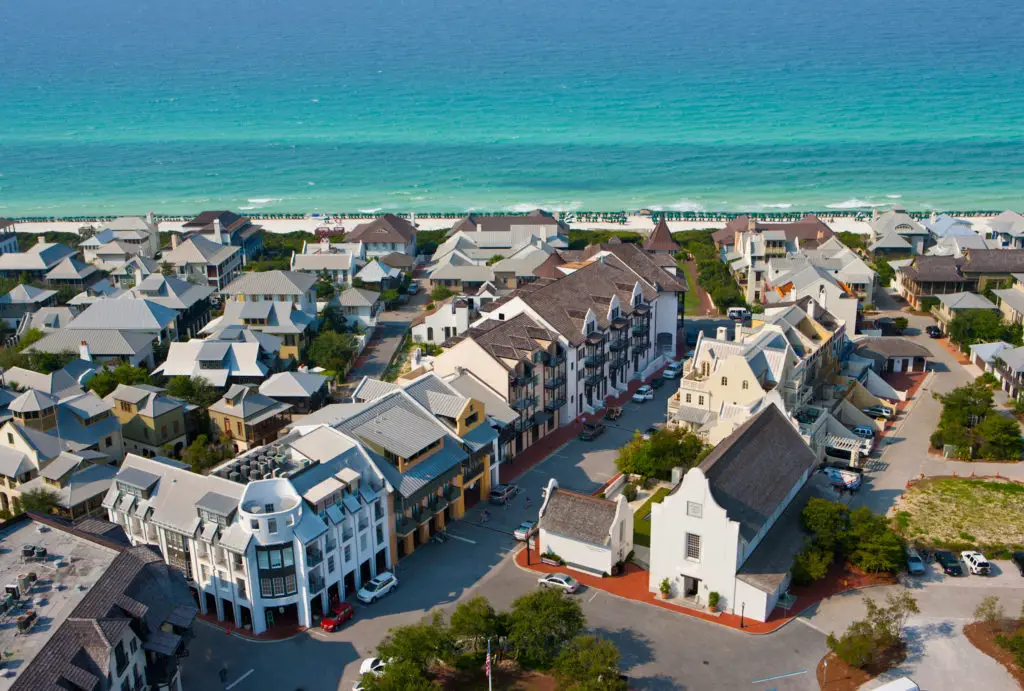 Public Parking at Rosemary Beach?
There are also some parking regulations you should be aware of if you intend to take your vehicle to Rosemary Beach.
According to the beach's POA, the Master Plan of the community states that residents and paying overnight guests can use off-street parking spots as well as on-street parking spots. 
If you're visiting as an overnight guest, you'll need to acquire the 2 temporary valid parking permits issued to visitors for on-street parking.
Note that visitors' permits are only good for 3 consecutive hours maximum (this is monitored by parking authorities). 
Additionally, the following rules apply:
No parking on sidewalks

No parking in restricted areas

No parking in travel lanes
No parking at private garages and driveways (unless you're given specific access by a rental)
Violations of parking guidelines at Rosemary Beach access points start with warning citations and parking citations, followed by fines and towing. 
If you just want to park at Rosemary Beach to access certain amenities (and not the beach itself), there are some public access parking lights on and near Highway 30A.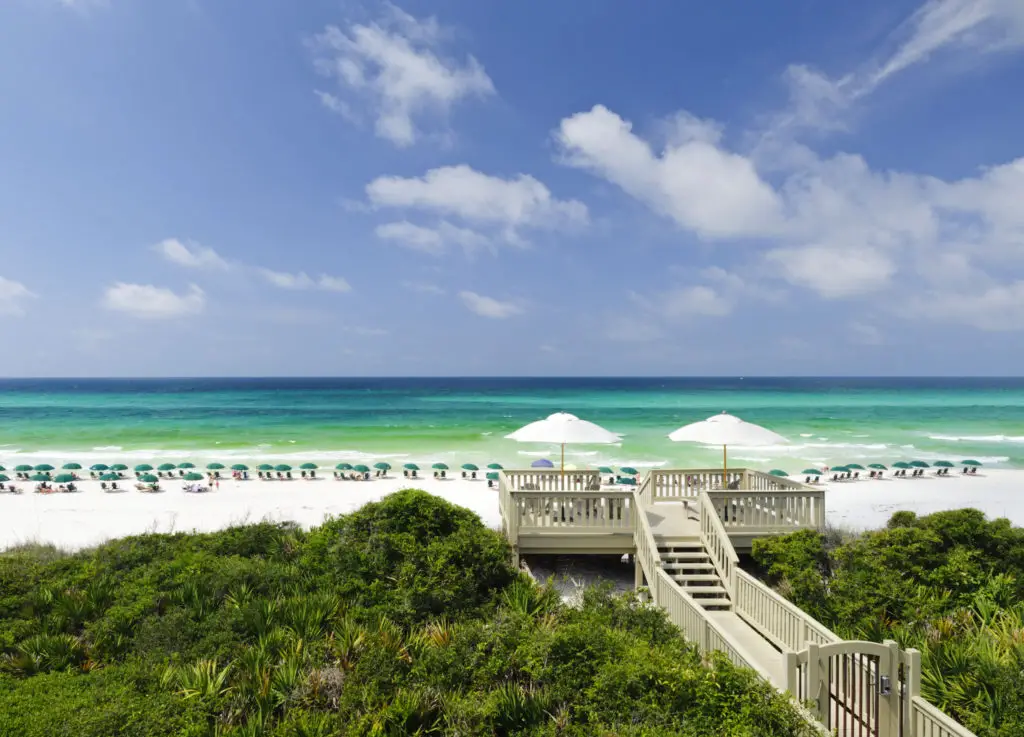 Rosemary Beach Curfew
You should also be aware of the beach's curfew rules.
Generally, the curfews are only enforced during "spring break" weeks and apply to individuals who are under 21 years old. 
In the past, this curfew has entailed a time frame of 8:00 PM – 9:00 PM. 
Rosemary Beach Services for Tourists
When staying at Rosemary Beach or nearby, you have access to an array of family-friendly events on different days of the week.
Some are offered by the beach itself, while other events and services are offered nearby in the Panhandle area. 
Rosemary Beach Events
Some Rosemary Beach events that go on seasonally include:
Magic shows at St. Augustine Green/Owners Center
Live theater at North Barrett Square 
Yoga at the Rosemary Beach Fitness Center
Face painting on the Green
Movie nights
Arts and crafts
Concert series at St. Augustine Green/Owners Center
Other Local Services and Events
Outside of Rosemary Beach's offerings, you can also find local activities and services, including:
Easy Access Dining at Rosemary Beach
Luckily, even though the beach is restricted, there are still easy ways to access delicious dining options at Rosemary Beach.
From fresh seafood options to grills and bars, there is something for everyone (even families).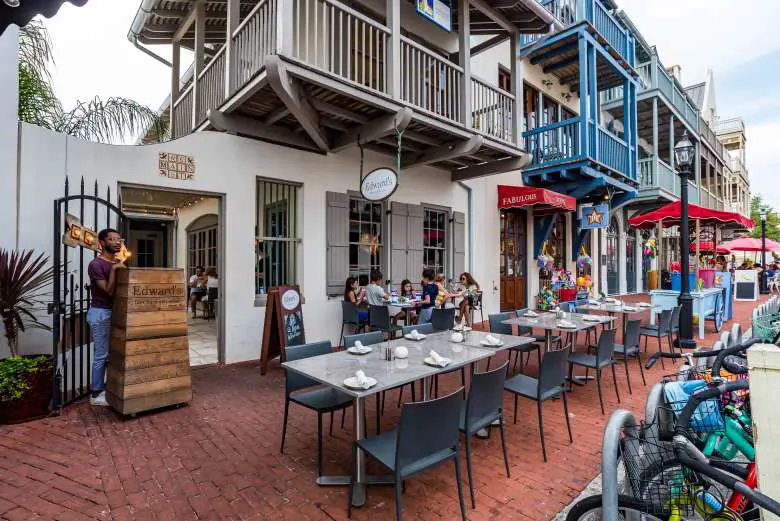 Seafood Dining
While you're visiting Rosemary Beach or exploring the nearby area, try one of the following for good seafood:
Pescado Seafood Grill; Rooftop Bar (has patio seating)
Crabby Steves Highpointe on Highway 30A (views of the water, sandwiches, cocktails, and casual seafood)
Havana Beach Bar: Grill in the Pearl Hotel (New American food meets seafood dishes, has a veranda and a bar)
Grill Dining 
Try out these grill-style restaurants for American fare and meat-heavy menus near Rosemary Beach:
Breakfast Dining 
For breakfast at Rosemary Beach or nearby, try the following:
Bars
Last but not least, consider some options more suited to the adults:
Final Thoughts
Unfortunately, access to this pristine, white sand beach is limited to local residents and overnight guests who have codes for the gated entry points.
Parking is available nearby on Highway 30A, or visitors can acquire temporary permits from their hosts. 
Since beach access is restricted, note that visitors to the area can still avail of plenty of great public-access dining options and local activities.