Great seafood, drinks, and other delicious foods are a trademark of a good beach vacation.
That's why we've created this guide for dining on or nearby Highway 30A of the Florida panhandle.
You can see here the options stretching from Panama City Beach to Pensacola, Grayton Beach, Destin, and Seaside.
You absolutely must try these restaurants, including The Grand Marlin, Jackacuda's, and The Red Bar, among others before you finish your stay in the panhandle. 
Below, we'll be highlighting our pick of the top seven restaurants in the area, with details regarding their specials, where they're located, and the price ranges you can expect.
Explore these options, and see how they could enhance your beach vacation considerably. 
30A Restaurants: 7 Spots You MUST Try on Your Stay in the Florida Panhandle
Some of the most notable restaurants in and near the Florida panhandle cater to seafood, bar settings, and grills.
The following seven restaurants are must-try options if you're going to visit the cities dotted around the beautiful white sand beaches of this part of Florida.
Jackacuda's Seafood and Sushi (Destin, FL)

The Magnolia (Pensacola, FL)

The Grand Marlin (Panama City, FL)

The Red Bar (Seaside/Grayton Beach, FL)

Pickle's Beachside Grill (Seaside, FL)

McGuire's Irish Pub of Destin (Destin, FL)

The Fish House (Pensacola, FL)
1. Jackacuda's Seafood and Sushi
Located in beautiful Destin, Jackacuda's has thousands of positive reviews for its combination of seafood, sushi, cocktails, local cuisine, and vegetarian/vegan meals.
They have a great lunch special during the week (11:30 AM – 4:00 PM) with all-you-can-eat sushi for a modest price of $29.95, as well as happy hour drinks every day from 2:00 PM – 6:00 PM. 
If you stay in Destin, you absolutely have to experience some seafood at some point, given that this city is known as the "world's luckiest fishing village". 
Prices are in the $$-$$$ range, and you'll find the spot located on the Emerald Coast Parkway.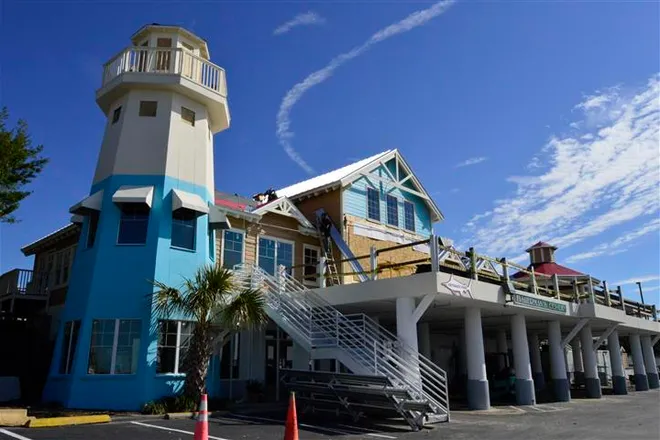 2. The Magnolia
The Magnolia, located in beautiful Pensacola, is a must-try if you're looking for great American fare that the whole family will love.
They have a complete bar full of craft beer and wine, and a menu full of burgers, sandwiches, salads, charcuterie boards, and more. 
Prices are modest and in the $$ range – perfect if you just want a quick lunch bite without compromising taste.
Florida panhandle travelers love this Wednesday-Saturday spot located at Fairnie Hill Place which is a great casual stop-in.
And while you're there, check out the historic neighborhood and all that it has to offer!
3. The Grand Marlin
Panama City, FL is a vibrant city blending culture, beaches, and great dining.
While there, you should make it a priority to dine at The Grand Marlin ($$), where you can take in waterfront views while enjoying the restaurant and fresh oyster bar 
They are known for their brunch, as well as the fact that they make all their meals from scratch, constantly adding new specials to the menu, and serving up exciting cocktails.
Try their seafood specials if you get the chance, as they're cooked by award-winning chef Gregg McCarthy. 
4. The Red Bar 
Serving up delicious cocktails, American grub, and seafood every day of the week, The Red Bar ($$) is a favorite among visitors to the Seaside area of Florida.
They're known for classics such as Bloody Marys and crab cakes. 
And it's a great dining choice if you want to take in the area's nightlife before sitting down to eat, as they're open until midnight. 
The Red Bar is highly rated among hundreds of diners, and it's for good reasons.
The restaurant is just several blocks from Grayton Beach, making it the perfect stop at the end of a day on the ocean.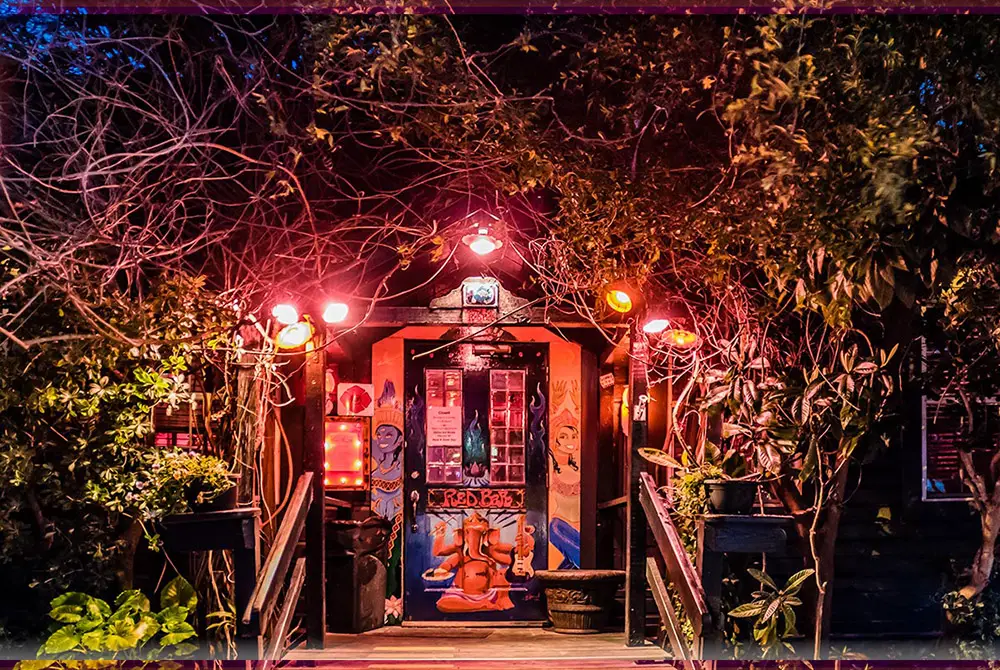 5. Pickle's Beachside Grill
Pickle's Beachside Grill ($-$$) is great for travelers of all ages, making it a great family destination at the end of a hot, sweaty day on the beach.
With classic fare at affordable prices, such as burgers, beer, fries, hot dogs, fried grouper sandwiches, and of course their noteworthy fried pickles, you don't want to miss this Highway 30A stop.
Be aware that it's a fairly small restaurant space, but you can grab your food and take it on the go, as you're just steps from the ocean.
6. McGuire's Irish Pub of Destin
The beaches of Destin, FL might not be the first place you would expect to go and get a great Irish pub meal, but this is all possible at McGuire's ($$). 
As an Irish pub/steak house, this joint is located in Pensacola's original 1927 Old Firehouse – a unique dining environment for the whole family.
But Destin visitors will also be able to enjoy the second location in Destin Harbor. 
McGuire's features live pub entertainment and classic meals such as Shepherd's pie, bangers and mash, Irish boxty, lamb chops, and steak.
And the bar is a must-try with draft beers, wine, martinis, and cocktails to go around.
7. The Fish House 
Last but not least, if you find yourself in Pensacola and ISO seafood, you have to check out The Fish House ($$).
They're walk-in only, with a menu blending Southern and seafood tastes. Sunday brunch is a unique experience at The Fish House, too. 
They're open every day from 11:00 AM till closing time, serving up fresh, daily seafood options, sushi, steak, wine, and cocktails. There is even a deck bar to enjoy!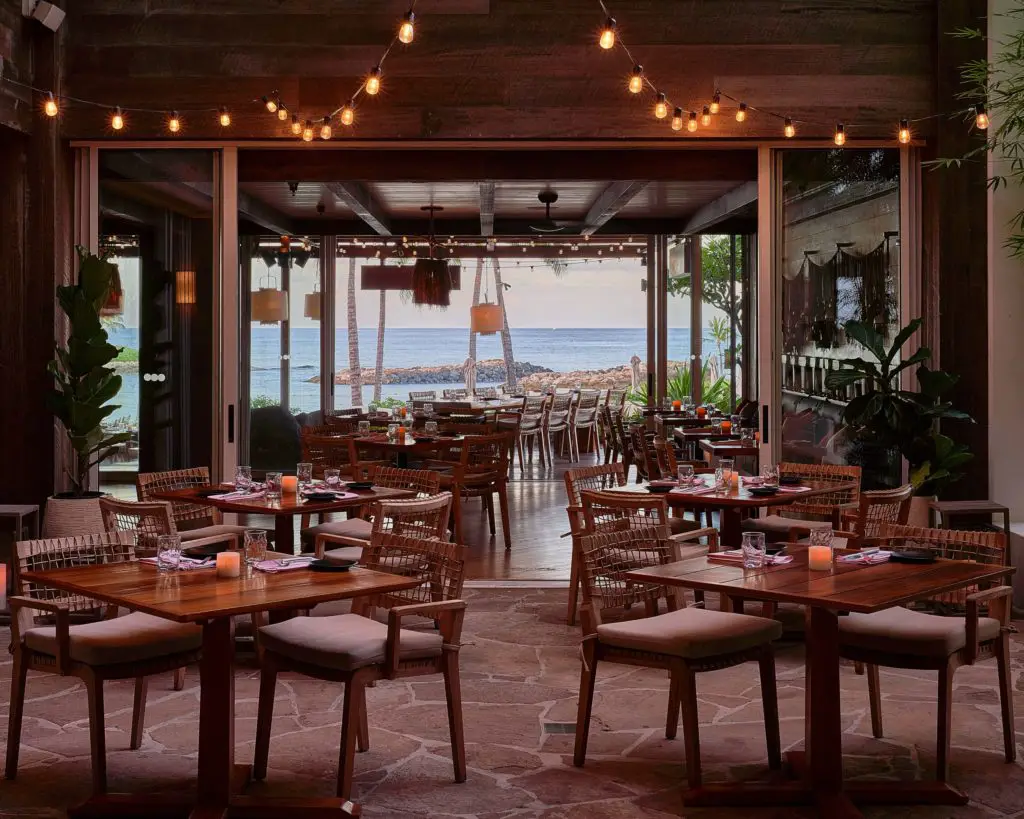 Final Thoughts
When staying in the Florida panhandle area and enjoying the best beaches you'll find in the state, be sure to try out one of these 7 great restaurants.
From seafood to steak, sushi, burgers, cocktails, sandwiches, and more, the beautiful beach towns of Pensacola, Seaside, Destin, and others have all you could ever need in terms of dining. 
Whether you're keeping your purse strings tight or want to dress up for a less casual dining experience, you can find something to suit your fancy on or near 30A Highway.