The sugar-white sand beaches and emerald green waters of the Gulf of Mexico attract millions of visitors to the northwest Florida coastline every year.
Two beach towns consistently ranked among the best in the region are Destin and Gulf Shores, located just 50 miles apart along the Panhandle.
Both destinations boast beautiful stretches of beach lined with beach resorts, vacation rentals, restaurants, and attractions. But Destin and Gulf Shores each provide a unique beachgoing experience.
So how do you decide which town has the better beaches for your vacation?
Fast Facts: The good news is you can't go wrong visiting the world-class beaches in either Destin or Gulf Shores. With insider tips and advice from local experts, we'll ensure an awesome vacation enjoying the beautiful beaches, attractions, dining, and scenery of Destin and the Florida Panhandle!
By comparing across factors like sand and water quality, amenities, family-friendliness, activities, crowds, access, and surrounding scenery, you can determine which destination truly claims bragging rights for beaches.
Destin vs. Gulf Shores
Here's a breakdown of Destin vs Gulf Shores for the title of best beaches: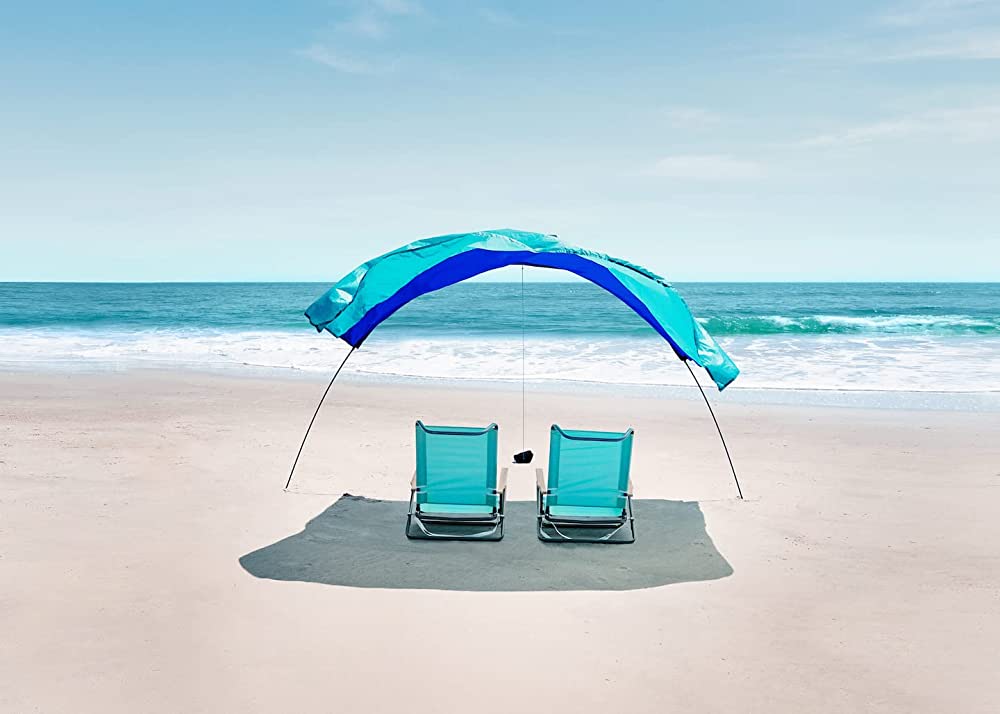 Beach Sand
One of the most important features of any world-class beach is the sand itself. Both Destin and Gulf Shores are blessed with stunning white quartz crystal sand containing little silt, clay, or organic debris. The sand squeaks beneath your feet thanks to its high quartz content.
The key difference lies in the sand grains. Destin's sand tilts finer and softer, almost powdery as it runs through your toes. Meanwhile, Gulf Shores sand feels grainier with a bit more texture between the grains.
Of course, people may prefer the feel of one over the other. Those who like smoother, more delicate sand give the nod to Destin, while people who enjoy scratchier, grittier texture favor Gulf Shores. But overall, sand quality and beauty shine equally in both towns.
Water Quality & Visibility
Moving from the beach to the water, the next point of comparison is the ocean itself. Here Gulf Shores pulls ahead as its waters trend clearer and calmer.
Destin beaches face Choctawhatchee Bay, which connects to the Gulf of Mexico through the East Pass.
This constant flow of currents stirs up sediment that reduces visibility, especially after storms. Destin seas stay a vibrant emerald green but achieve lower clarity levels.
The Gulf Shores coastline directly fronts the open Gulf waters away from strong currents. Its offshore waters boast world-class clarity, ranging from green to torquois blue and reaching up to 25 feet of underwater visibility on calm days. Snorkelers and scuba divers praise Gulf Shores' excellent visibility.
For pristine, clear Gulf waters, Gulf Shores wins out over Destin. But keep in mind, storm impacts can briefly muddy any region's normally clear waters.
Width of Beach
Beach width plays a role in perceived crowding and water access. Wider beaches with more space between water and amenities feel less congested.
Destin beaches maintain a decent width of 50-100 feet between the surf and the towering resorts and condo buildings lining Highway 98. Certain access points have narrower beach segments.
But Gulf Shores boasts a wide 100 foot span all along its 6 miles of contiguous beachfront. Even at high tide during peak summer, plenty of sand remains for visitors to spread out.
From resort towers to vacation homes, structures sit farther back from the water as well.
The extra breathing room and sprawling sands of Gulf Shores earn a clear advantage over Destin's moderately wide beach fronts.
Beach Amenities
Both towns offer ample amenities for a full beach day including chair and umbrella rentals, restrooms, showers, food and drink concessions, and lifeguards during summer months.
But delve deeper and Gulf Shores again edges out Destin. Public beach pavilions with restrooms appear more frequently, allowing bathroom access from any beach spot.
More boardwalks and paths facilitate walking the shoreline. And Gulf Shores provides more parking areas and beach entrances all along the coast rather than centralizing amenities in resort zones.
While Destin lacks no shortage of amenities, Gulf Shores' superior distribution means less walking and hassle to access essentials when spending all day on the sand.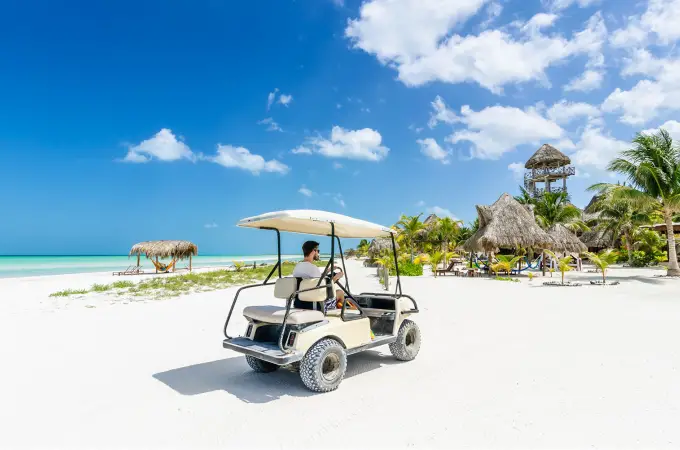 Family-Friendliness
When it comes to catering to families, Gulf Shores also pulls ahead as the most kid-friendly option. Its beaches feature more child entertainment options, better facilities, and calmer waters.
Weekly summer events like Sand Sculpture Contests, a Beach Bonanza with free games and crafts, Movies on the Beach, and parties at the Gulf State Park Pier give kids memorable experiences. Young ones delight in the Gulf State Park Splash Pad's fountains and slides.
Rough waves and currents occasionally stir in Destin's East Pass, while Gulf Shores always promises gently sloping seabeds. Parents rightfully feel at ease with their little ones playing in the tame waters.
Gulf Shores gives families more ways to make beach vacations fun and safe for toddlers to teens. Destin still provides family amenities but targets wider age ranges.
Beach Activities
Boundless fun awaits on the beaches of both towns. However, Destin edges out Gulf Shores slightly when it comes to the variety of activities right from the beach.
Destin options include parasailing with amazing aerial views, kids' banana boat tows for thrills, charter fishing boats departing right from shore, copious Jet Ski and pontoon rentals, and party cruises to Crab Island. Luxury yachts and fishing vessels fill Destin's East Pass Harbor.
Gulf Shores provides parasailing, kayak, stand-up paddleboard and Jet Ski rentals, fishing charters, sailing cruises, and wildlife boat tours. But volume of options favor Destin's action-packed beaches.
For low-key beach relaxation, Gulf Shores satisfies. But adrenaline junkies lean towards the endless activities pulsating from Destin shores.
Surrounding Scenery
A final beach experience element is the beauty of the surrounding scenery. Here Gulf Shores clearly triumphs thanks to its adjacent natural habitats.
The beaches transition into the protected Bon Secour National Wildlife Refuge, where osprey, sea turtles, monarch butterflies, and more wildlife thrive. The crystal lakes, freshwater wetlands, and maritime forests offer an incredible backdrop.
Destin landscape feels more commercialized and manmade, transitioning directly from condo towers and restaurants to the bustling harbor and fishing fleets. Natural vistas get replaced with human development.
For beaches bordered by raw natural beauty rather than extensive development, Gulf Shores wins as the more scenic backdrop. But convenience and amenities remain excellent in easy access Destin.
Crowd Levels
One final consideration is the crowd levels and busyness of these two popular beach destinations.
As neighboring cities along the same coastline, Destin and Gulf Shores both pack in visitors during spring break and summer. Families swarm the shores during school holidays while couples and groups keep the party going into September.
However Gulf Shores enjoys a slight advantage in avoiding crowds thanks to its longer 6 miles of shoreline and greater lodging capacity. Destin crams more people into a smaller area, resulting in busier beach density.
But visiting either beach destination off-season in fall and winter promises plenty of elbow room. For the least crowds, target April or October for pleasant weather with thinner tourist numbers.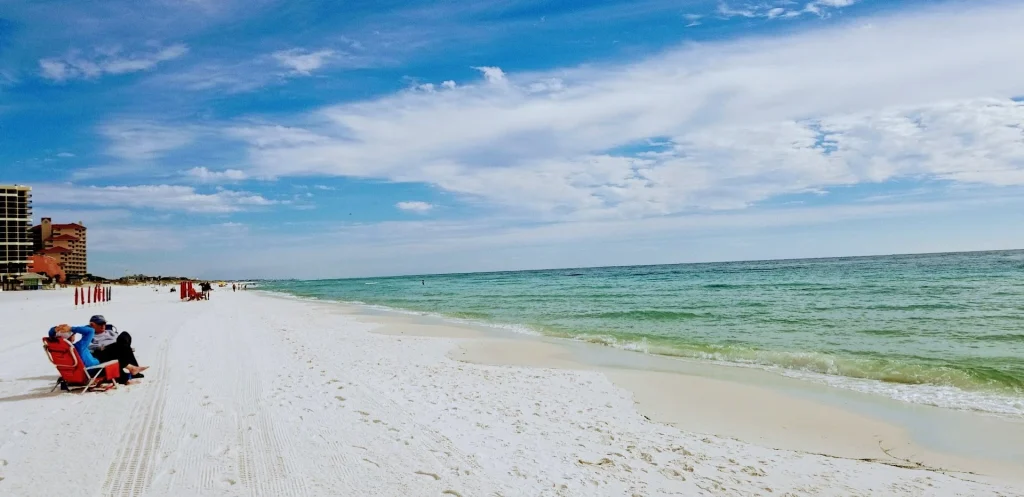 Accessibility
In terms of convenience and accessibility, Destin holds a huge edge over Gulf Shores. The Destin-Fort Walton Beach Airport lies only 10 minutes from Destin's beaches, offering easy regional connections. Multiple highways lead directly to Destin as well.
Reaching Gulf Shores requires flying into Mobile or Pensacola and driving at least 1.5 hours. Limited highway access hinders Gulf Shores, which lacks a proximate airport. So sheer logistics favor Destin overall.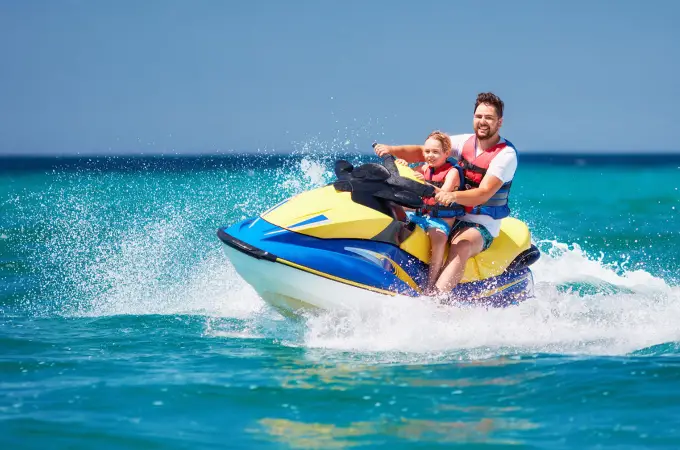 Destin vs. Gulf Shores: Which Beach is Right for You?
In summary, while both Destin and Gulf Shores offer stunning white sand beaches and emerald green waters, some key differences emerge:
Destin delivers beautiful beaches bursting with action, activities, amenities, and accessibility. The lively atmosphere thrills families and high-energy travelers.
Gulf Shores promises wider beaches, calmer waters, outstanding scenic backdrops, and a laidback ambiance perfect for relaxation. Visitors feel immersed in nature's beauty.
Finding the "better" beach comes down to the vibe, qualities, and experience you desire.
Destin works well for visitors who want:
Full-service amenities with rental chairs, umbrellas, restrooms every few blocks
Quick airport access and simplified logistics
Lots of beachfront activities like parasailing, party boats, fishing
Energetic crowds and an upbeat party vibe
Quick access to restaurants, resorts, entertainment
Gulf Shores shines for travelers who prefer:
Spacious beaches with room to spread out
Natural scenery and habitats enveloping the beach
Family-friendly amenities like splash pad, events, calmer water
Peaceful atmosphere relaxing and unwinding
Proximity to state parks and protected wildlife areas
Both allow you to experience that dreamy coastal lifestyle with beach sunsets, fresh seafood, warm breezes, and the rhythmic surf. Pick the destination that best matches the beach vacation you have in mind.
Destin vs Gulf Shores Beaches: FAQs
Still trying to decide between Destin or Gulf Shores for your next beach vacation? Here are answers to some frequently asked questions comparing these two leading Florida beach towns:
Which has better quality sand and water?
The powder-soft white sand is stunning in both Destin and Gulf Shores. Gulf Shores usually has clearer emerald-blue water thanks to facing the open Gulf. Destin waters can be murkier due to currents from the East Pass.
Which town has wider beaches?
Gulf Shores beaches average 100 feet wide, even at high tide, thanks to abundant shoreline and setbacks for structures. Destin beach widths vary from 50-100 feet on average.
Which is better for families with kids?
Gulf Shores ranks as the most family-friendly, with calmer water, more interactive events like sandcastle contests, and family amenities like splash pads. Destin also offers fun for kids but caters to more age groups.
Which has more beach activities to enjoy?
Destin is the undisputed king of beach action, with endless water sports, boat rentals, party cruises, harbor marinas, and chances for adventures right from shore. Gulf Shores offers activities too but focuses more on relaxation.
Which destination is easier to access?
Destin wins for sheer convenience, with an airport just 10 minutes away and direct highway access. Gulf Shores requires longer drives from regional airports like Mobile or Pensacola.
Which gets more crowded during peak season?
Both see summer crowds, but Destin crams more people onto its smaller beach areas. Gulf Shores' 6 miles of beach absorb crowds better. Shoulder season visits are lighter at both.
Which is better for couples or a romantic escape?
The peaceful vibes and scenic beaches of Gulf Shores create a more romantic backdrop for couples to unwind without kids and crowds. Destin offers family-fun more than romance.
Which has nicer scenery surrounding beaches?
Gulf Shores edges out Destin with adjacent protected wildlife habitats in Bon Secour National Wildlife Refuge next to beaches rather than dense development.
Ready to start planning that incredible beach vacation in the Florida Panhandle? Reach out and we'll help build the perfect itinerary in Destin or Gulf Shores tailored exactly to your family's wish list!