With its sugar-white sands and stunning ocean views, Rosemary Beach in Florida is a tropical paradise.
When preparing for fun and sun, you may consider bringing a tent or umbrella for UV protection. However, Rosemary Beach does have specific rules regarding tents and umbrellas on the beach.
Update 09/23: I recently received clarification on the current regulations from the Rosemary Beach Operations Manager. According to the beach officials, Rosemary Beach does not permit tents or tent-like structures of any kind on the sand. This policy has been in place for the past two years. Umbrellas and chairs can ONLY be rented through the authorized Rosemary Beach Property Owners Association or RBPOA.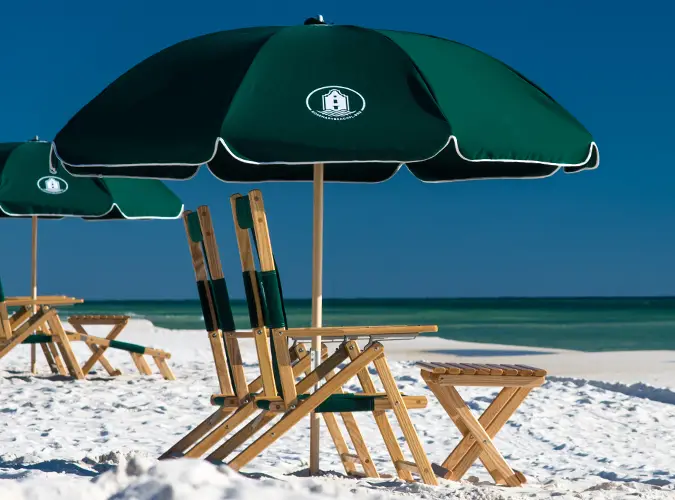 Umbrellas are allowed, but with some limitations. Read on for a full overview of Rosemary Beach and its guidelines for umbrellas on the sand so you can enjoy the shoreline without issue.
Rosemary Beach Umbrella Rules
While tents are not allowed, umbrellas are permitted with the following regulations:
No size limit – However, be considerate of neighbors when selecting an umbrella size.
Must be placed in upper third of the beach – Do not install near the waterline where waves can uproot and carry away.
Avoid dunes – Keep umbrellas off the sand dunes to allow vehicles to drive the shoreline. Dunes also protect against storms.
Secure firmly – Use augers or sand bags to anchor bases. Loose umbrellas become dangerous projectiles.
Remove nightly – Do not leave umbrellas on the beach after use as they could blow around.
Rentals only through RBPOA – More details below on renting from the Rosemary Beach Property Owners Association.
Following these simple rules allows all beachgoers to safely enjoy shade from the sun.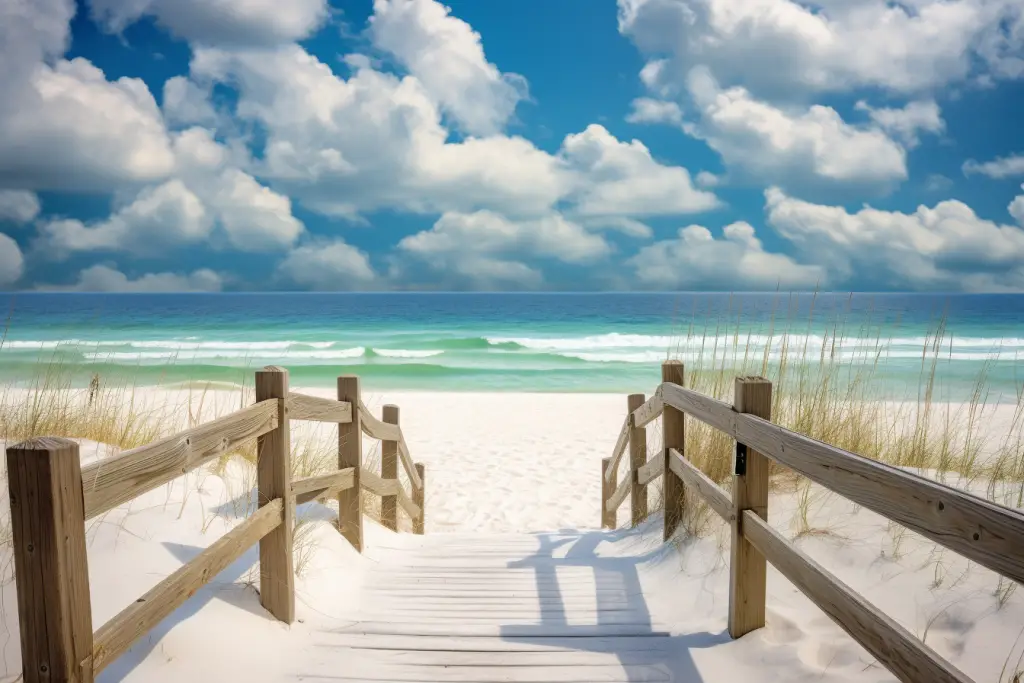 Where to Rent Umbrellas
I previously incorrectly stated that multiple companies rent umbrellas on Rosemary Beach. However, the Rosemary Beach Operations Manager clarified that only Rosemary Beach Property Owners Association (RBPOA) is permitted to rent chairs and umbrellas.
This exclusive arrangement helps the RBPOA maintain high quality gear while providing excellent customer service. Rentals can be arranged right on the sand.
RBPOA also offers beach cabanas for extra shade and comfort. Visitors strongly recommend reserving rentals in advance, as stock is limited.
Contact RBPOA at (850)-231-1860 or contact RBPOA to ask about pricing and reserve your beach umbrellas or cabanas today!
Reasons to Bring an Umbrella
While tents are prohibited, umbrellas can provide welcome respite from the hot Florida sun on Rosemary Beach. Here are some advantages of having an umbrella for your beach day:
Shade – Escape the intense UV rays while still enjoying ocean views.
Keep possessions dry – Protect bags, books, phones, etc. from blowing sand.
Privacy – Cocoon yourself away from crowds.
Landmark – Easily spot your base camp on the expansive beach.
Storm protection – Stay dry if an unexpected beach shower occurs.
Barrier from birds – Discourage seagulls from invading your space and food.
Just be sure your umbrella is well-anchored into the sand to prevent it from blowing away in ocean gusts.
About Rosemary Beach
Rosemary Beach is a planned residential community located along Scenic Highway 30A in Florida's Panhandle. Known for its picturesque architecture and charming pedestrian paths, the town exudes Old Florida elegance.
A major draw is the community's beach on the Gulf of Mexico maintained by the Rosemary Beach Property Owners Association.
During summer months, lifeguards oversee the pristine shoreline. This stretch of sand falls under jurisdiction of Walton County, so all beach rules align with county ordinances.
Enjoy Rosemary Beach the Right Way
I hope this updated article provides helpful information for properly using umbrellas on Rosemary Beach. Always follow local ordinances to keep the beach clean, safe, and enjoyable for everyone.
The Rosemary Beach managers work hard to preserve this coastal jewel. By being respectful beachgoers and heeding the regulations, we can protect our panhandle paradise.
Now that you're armed with the facts, get ready to soak up stunning Gulf views and pristine sands on your next Rosemary Beach vacation. Just don't forget the sunscreen and your beach umbrella!