Looking for some Florida Adventures? When it comes to visiting the Emerald Coast, most people immediately think of the pristine white sand beaches, sparkling emerald waters, and vibrant coastal cities like Destin, Panama City Beach, and Pensacola.
While these popular attractions are certainly worth a visit, there are countless lesser-known, hidden gems along this stretch of Florida's Gulf Coast that offer unique and unforgettable adventures.
This blog post will highlight 10 must-do activities to fully explore and appreciate the beauty and diversity of the Emerald Coast.
10 Hidden Adventures Along on the Emerald Coast
Are you looking for an adventure that takes you off the beaten path? Look no further than Florida's Emerald Coast!
This stretch of coastline is filled with hidden gems just waiting to be explored.
From secluded beaches to hidden waterfalls, there's no shortage of adventure to be had.
Here are 10 hidden gems that you won't want to miss on your next trip to the Emerald Coast.
Don't have time? Heres the fast facts:
| Name | Quick Info |
| --- | --- |
| Underwater Museum of Art | Snorkel among eco-friendly sculptures that serve as an artificial reef in Grayton Beach State Park. |
| Blackwater River State Park | Join a wildlife safari tour and explore the pure sand-bottom river. |
| Florida Trail in Eglin Air Force Base | Hike through an ancient forest of towering longleaf pines. |
| Historic Town of Milton | Immerse yourself in history while strolling through well-preserved antebellum homes and structures. |
| Dead Lakes of Gulf County | Kayak through hauntingly beautiful tree-studded waterways formed by merging rivers. |
| Aviation Museum at NAS Pensacola | Soar through history with over 150 beautifully restored aircraft from the Navy, Marine Corps, and Coast Guard. |
| Fort Pickens | Discover captivating stories of battles and military strategies as you explore historic fort ruins. |
| Morrison Springs | Swim in a crystal-clear spring surrounded by lush cypress trees and Spanish moss. |
| Carrabelle | Enjoy the best fishing and seafood while soaking up the laid-back atmosphere of this charming town. |
| Tarkiln Bayou Preserve State Park | Hike through diverse habitats and spot rare and endangered plants and birds. |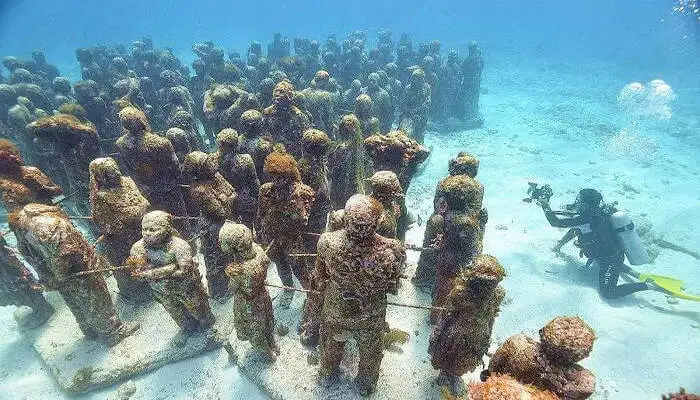 Snorkel at the Underwater Museum of Art
First on our list is the Underwater Museum of Art (UMA) located in Grayton Beach State Park, the first permanent underwater sculpture garden in the United States.
This fascinating museum combines art, marine science, and conservation, making it a perfect destination for art enthusiasts and snorkelers alike.
The UMA features more than a dozen submerged sculptures created by various artists, and it serves as an artificial reef, attracting an array of marine life.
Don your snorkeling gear and swim among the unique, eco-friendly sculptures while admiring the colorful fish and corals that now call the UMA home.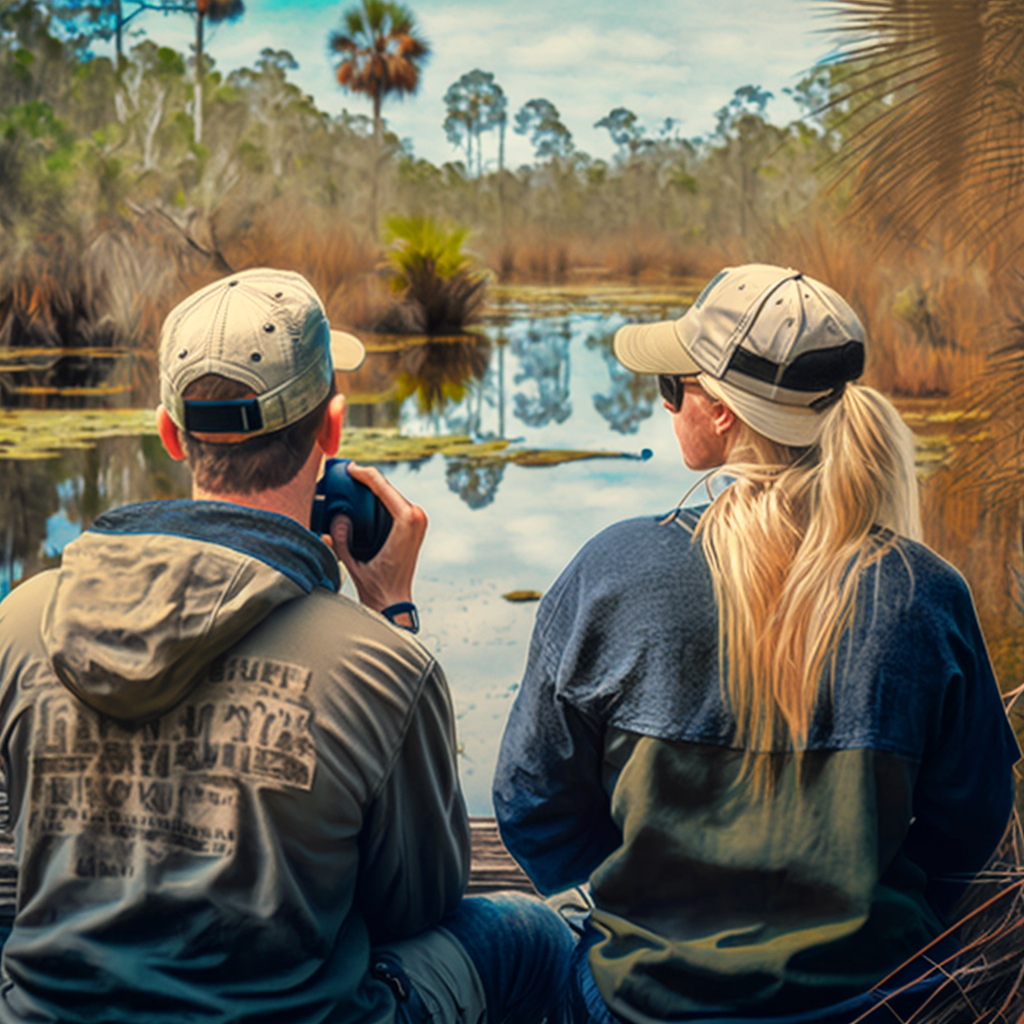 Take a Wildlife Safari at Blackwater River State Park
Blackwater River State Park, situated in northwest Florida, offers visitors the chance to explore the rich, biodiverse environment of the Blackwater River and its surrounding longleaf pine and wiregrass ecosystem.
To truly appreciate the natural wonders of the park, embark on a wildlife safari tour with experienced guides.
You may catch glimpses of deer, wild turkeys, rare bird species, and even the elusive Florida black bear.
Additionally, enjoy canoeing, kayaking, or tubing down the Blackwater River, one of the purest sand-bottom rivers in the world.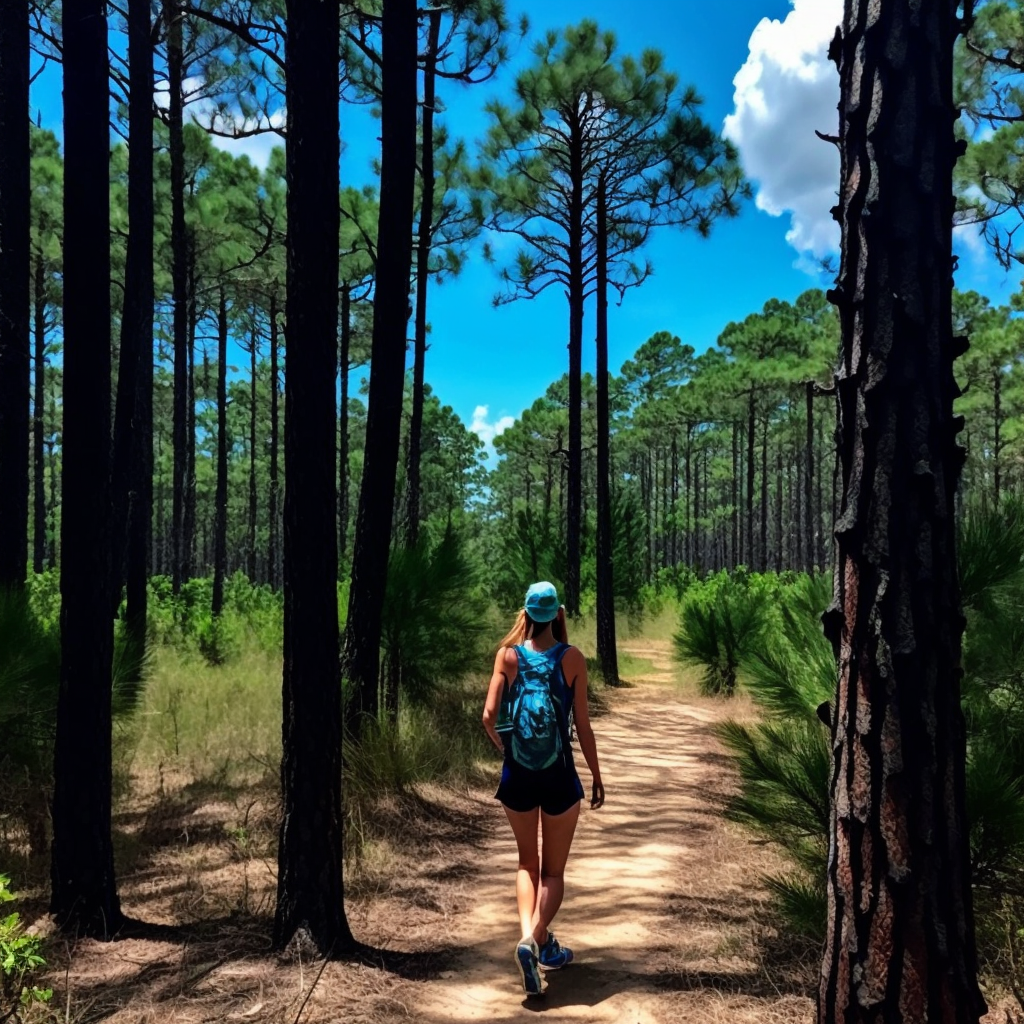 Discover Old-Growth Pines on the Florida Trail in Eglin Air Force Base
Tucked away within the sprawling Eglin Air Force Base, a segment of the Florida National Scenic Trail allows you to experience some of the oldest and largest longleaf pine trees in the Southeast.
These towering, majestic pines are a testament to the area's natural history, providing a serene and awe-inspiring atmosphere.
Hike the well-marked trails while spotting a variety of flora and fauna, and revel in the beauty of this ancient forest.
Explore the Historic Town of Milton
Step back in time as you wander through the charming streets of Milton, Florida.
Established in the early 19th century, this historic town offers a rich heritage, with its well-preserved antebellum homes and structures.
Visit the Imogene Theatre, originally built in 1912, which now hosts live music, theater productions, and events.
Stroll through the Blackwater Heritage State Trail and learn about the town's history as a bustling lumber and textile hub.
Be sure to sample the delicious Southern cuisine at local eateries, where you can taste a true slice of the South.
Kayak Through the Dead Lakes of Gulf County
One of the most hauntingly beautiful places on the Emerald Coast is the Dead Lakes in Gulf County.
This surreal, otherworldly landscape consists of a vast network of tree-studded waterways formed by the merging of the Chipola and Apalachicola Rivers.
The Dead Lakes are named for the numerous ancient cypress and tupelo trees that stand like ghostly sentinels amid the tranquil waters.
Rent a kayak or canoe and paddle through the eerie yet enchanting maze of channels, keeping an eye out for ospreys, bald eagles, and alligators. This unique experience is one you won't soon forget.
Visit the Aviation Museum at NAS Pensacola
For history buffs and aviation enthusiasts, the National Naval Aviation Museum at the Naval Air Station Pensacola is a must-visit destination.
As one of the largest and most comprehensive aviation museums in the world, it features over 150 beautifully restored aircraft from the Navy, Marine Corps, and Coast Guard.
Immerse yourself in the rich history of naval aviation as you explore exhibits covering World War I, World War II, the Korean War, the Vietnam War, and more.
The museum also offers guided tours, an IMAX theater, and various hands-on exhibits and simulators, providing an engaging experience for visitors of all ages.
Tour the Ruins of Fort Pickens
Located on the western tip of Santa Rosa Island, the historic Fort Pickens offers a glimpse into the area's military past.
Constructed in the 19th century, the fort was an essential coastal defense during the Civil War and both World Wars.
As you explore the ruins, you'll discover fascinating stories of battles, military strategies, and everyday life at the fort.
The surrounding Gulf Islands National Seashore provides picturesque vistas, pristine beaches, and ample opportunities for birdwatching, swimming, and picnicking, making Fort Pickens a perfect day trip destination.
Swim in the Crystal Clear Waters at Morrison Springs
One of the Emerald Coast's best-kept secrets is the breathtaking Morrison Springs.
This 250-acre park features a natural, crystal-clear spring that pumps 48 million gallons of water daily, making it an ideal spot for swimming, snorkeling, and scuba diving.
Surrounded by lush cypress trees and Spanish moss, Morrison Springs offers a refreshing, secluded escape from the bustling coastal cities.
The park also provides picnic areas, a nature trail, and a wheelchair-accessible boardwalk, ensuring a fun and memorable experience for everyone.
Enjoy the Fishing and Seafood at Carrabelle
Located along the "Forgotten Coast," the quaint town of Carrabelle offers some of the best fishing and seafood in the region.
Known for its laid-back atmosphere, Carrabelle's picturesque marina is a gateway to the Gulf of Mexico's bountiful waters.
Anglers can reel in a variety of fish species, including grouper, snapper, cobia, and tarpon.
Don't miss the chance to taste the deliciously fresh catch of the day at local seafood restaurants, where you can savor the flavors of the Gulf.
Hike the Trails of Tarkiln Bayou Preserve State Park
Last but not least, immerse yourself in the serenity of Tarkiln Bayou Preserve State Park.
This 4,290-acre park features several miles of trails winding through diverse habitats, including pine flatwoods, wet prairies, and the unique Tarkiln Bayou.
Home to a multitude of rare and endangered plants, the park is a haven for nature enthusiasts and birdwatchers.
Keep an eye out for the carnivorous white-top pitcher plant and the endangered red-cockaded woodpecker as you hike through this ecological treasure.
Conclusion
The Emerald Coast is so much more than its famous white sand beaches and bustling coastal cities.
These 10 hidden gems showcase the diverse natural beauty, rich history, and unique experiences that await those who venture off the beaten path.
So pack your bags, grab your sunscreen, and get ready to explore the lesser-known wonders of Florida's enchanting Emerald Coast.