Looking for the Best Florida Beaches? Well, your in luck!
Florida, known as the Sunshine State, boasts more than 1,300 miles of coastline, offering beach enthusiasts a plethora of sandy havens to explore.
From the powdery-white sands of the Panhandle to the tropical paradise of the Florida Keys, the state's diverse beaches cater to every visitor's desires.
With a unique blend of natural beauty, wildlife, recreational activities, and nearby attractions, Florida's beaches are perfect for family vacations, romantic getaways, or adventure-seeking solo travelers.
Importance of selecting the perfect beach for your vacation
Choosing the right beach for your vacation can make a significant difference in your overall experience.
Different beaches offer unique qualities and activities, so it's essential to consider what kind of beach experience you're seeking.
For example, some beaches are perfect for relaxation and sunbathing, while others may cater to water sports enthusiasts or wildlife lovers.
Considering factors such as crowd density, nearby attractions, accommodations, and available amenities will help ensure you have an unforgettable vacation tailored to your interests.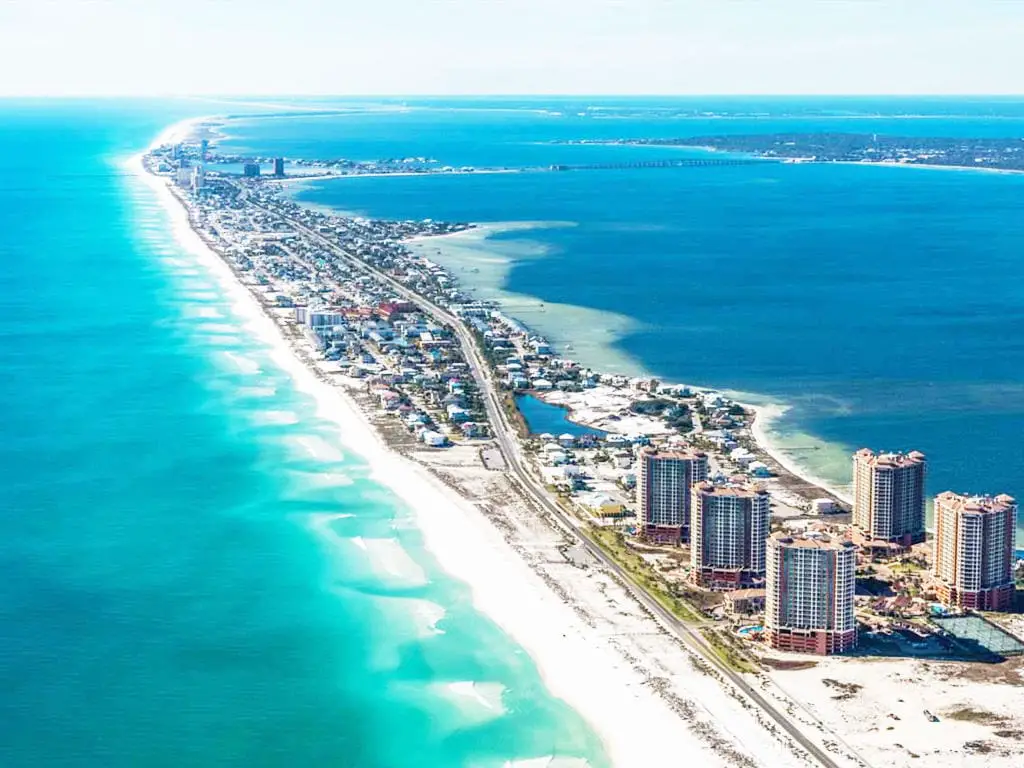 Criteria for ranking the best Florida beaches
To guide you in selecting the best Florida beach for your vacation, we've ranked them based on the following criteria:
Natural beauty: Pristine sands, clear waters, and stunning vistas make for an idyllic beach experience.
Amenities: Availability of facilities such as restrooms, showers, beach rentals, and parking can enhance your beach visit.
Recreational activities: A range of activities, from water sports to wildlife viewing, ensures there's something for everyone.
Nearby attractions: Proximity to shopping, dining, and entertainment options adds variety to your vacation experience.
Safety: Well-maintained beaches with lifeguard presence and adherence to safety regulations provide peace of mind for visitors.
Family-friendliness: Beaches with calm waters, playgrounds, and other child-friendly amenities are perfect for families with young children.
Crowd levels: Some travelers may prefer secluded beaches for a more peaceful experience, while others might enjoy the energy of busier beaches.
Keep these criteria in mind as we explore the best Florida beaches in various regions throughout the state.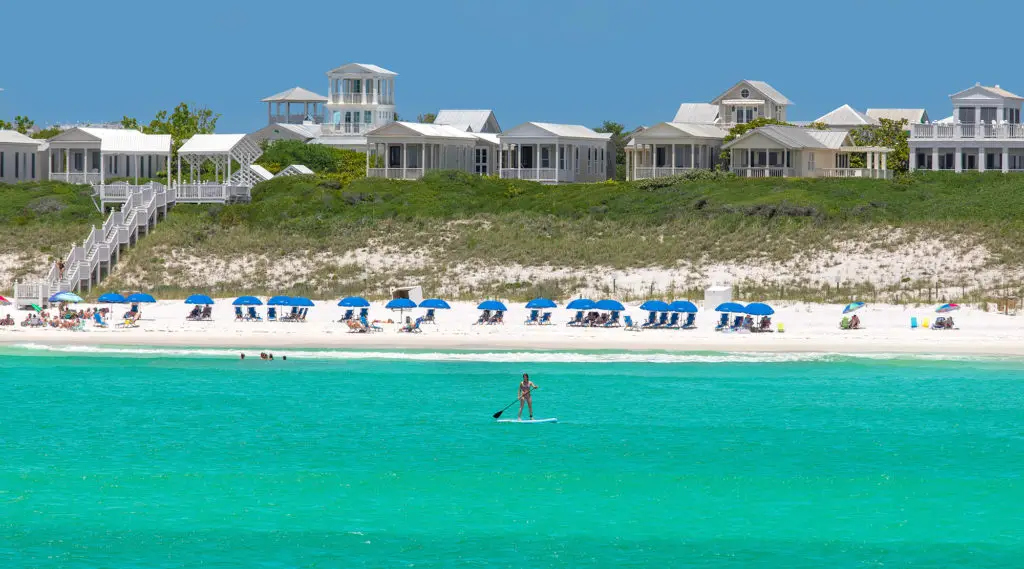 Top Beaches in the Florida Panhandle
Destin
Crystal-clear water
Destin is renowned for its emerald-green waters and incredible underwater visibility, making it a top destination for snorkeling and scuba diving enthusiasts.
The warm, calm waters of the Gulf of Mexico provide a perfect setting for swimming and other water activities, such as paddleboarding and kayaking.
Soft, white sand
The beautiful, powdery-white sands of Destin's beaches are composed of fine quartz, giving them an almost sugar-like texture.
The sand stays cool even on the hottest days, making it comfortable for beachgoers to stroll, sunbathe, or build sandcastles with ease.
Family-friendly attractions
Destin offers a wide range of family-friendly activities and attractions to keep everyone entertained.
The Destin Harbor Boardwalk is a bustling hub with restaurants, shops, and fishing charters.
Families can also enjoy Big Kahuna's Water & Adventure Park, The Track Family Fun Park, and the Gulfarium Marine Adventure Park, where you can witness marine life up close and personal.
Panama City Beach
27 miles of shoreline
Panama City Beach boasts an impressive 27 miles of sugar-white sandy beaches, offering visitors plenty of space to find their perfect spot in the sun. From the lively beachfront to the more tranquil, secluded areas, there's a stretch of shoreline to suit everyone's preferences.
Pier Park shopping and entertainment complex
Pier Park is a 900,000-square-foot shopping and entertainment complex located in the heart of Panama City Beach.
With over 120 stores, a wide variety of restaurants, an IMAX movie theater, amusement park rides, and live music events, it offers something for everyone to enjoy.
Ecotourism and outdoor activities
Panama City Beach is a haven for nature lovers and outdoor enthusiasts, with numerous state parks and nature preserves nearby.
St. Andrews State Park is a popular spot for snorkeling, hiking, and wildlife observation, while Camp Helen State Park offers a serene, coastal dune lake perfect for kayaking or paddleboarding.
Additionally, visitors can embark on dolphin-watching tours, go fishing, or explore the area's many scenic bike trails.
Navarre Beach
Undeveloped natural beauty
Navarre Beach is a hidden gem in the Florida Panhandle, offering a serene and pristine beach experience for those looking to escape the crowds.
With miles of undeveloped coastline and protected seashores, Navarre Beach allows visitors to enjoy the unspoiled natural beauty of Florida's Gulf Coast.
Unique marine sanctuary
The Navarre Beach Marine Sanctuary features a series of artificial reefs located just offshore, providing a unique snorkeling and diving experience.
These reefs are home to an abundant variety of marine life, making it a perfect destination for underwater exploration and wildlife observation.
Family-friendly activities
Navarre Beach offers a variety of family-friendly activities, such as kayaking, paddleboarding, and fishing from the Navarre Beach Fishing Pier, the longest pier on the Gulf of Mexico.
Additionally, the Navarre Beach Sea Turtle Conservation Center provides an educational experience for visitors of all ages to learn about the area's sea turtle population and marine ecosystem.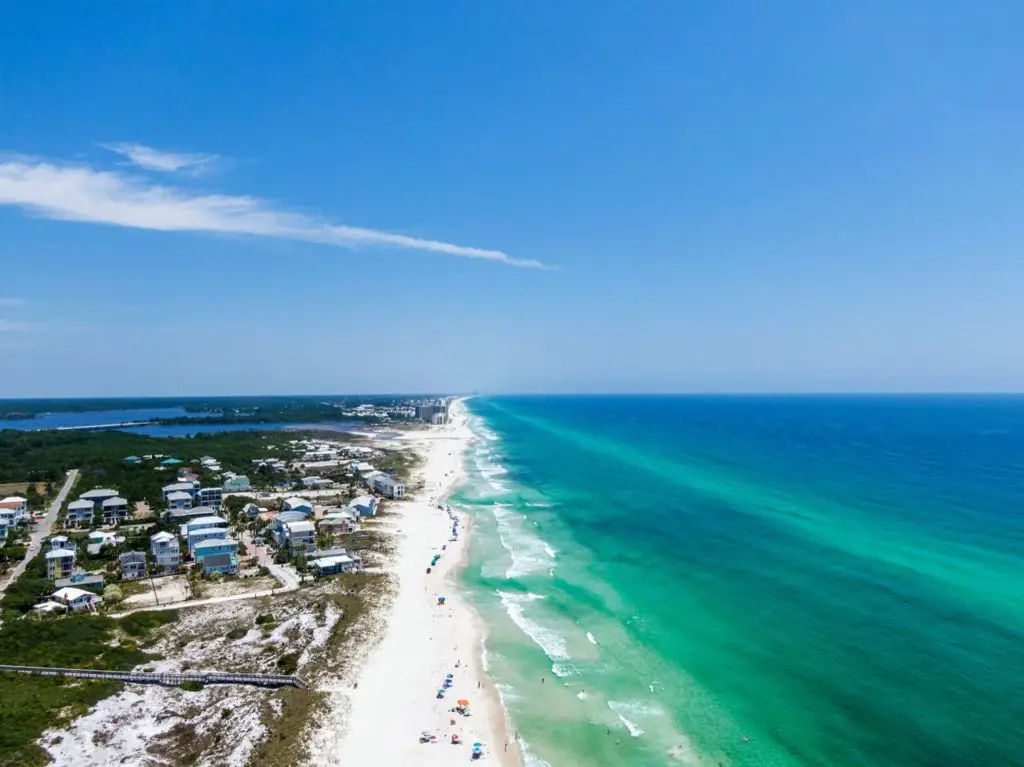 Best Beaches in Northeast Florida
St. Augustine Beach
Historic significance
St. Augustine Beach is situated near the nation's oldest city, St. Augustine, which was founded in 1565 by Spanish explorers.
The rich history of the area adds an extra layer of intrigue to your beach vacation. As you relax on the beautiful shoreline, you'll be surrounded by centuries of history waiting to be explored.
Wide, uncrowded beaches
St. Augustine Beach offers wide, expansive stretches of sand, providing ample space for visitors to spread out and enjoy the sun without feeling crowded. The soft, golden sand is perfect for sunbathing, beachcombing, and taking leisurely walks along the shoreline.
Proximity to St. Augustine attractions
In addition to its beautiful beach, St. Augustine Beach's close proximity to the historic city of St. Augustine makes it an excellent destination for those seeking a mix of relaxation and cultural exploration.
Key attractions include the Castillo de San Marcos, the St. Augustine Lighthouse & Maritime Museum, and the historic district with its charming cobblestone streets, unique shops, and delicious restaurants.
Amelia Island
Southern charm
Amelia Island is a barrier island located in Northeast Florida, known for its beautiful beaches, lush maritime forests, and quintessential Southern charm.
With live oak trees draped in Spanish moss and historic architecture, the island exudes a tranquil, picturesque atmosphere that invites visitors to slow down and savor the moment.
Fernandina Beach historic district
Fernandina Beach, the island's only city, features a charming historic district with well-preserved Victorian-era architecture.
Stroll along Centre Street, where you can browse boutiques, art galleries, and antique shops, or dine in one of the many restaurants and cafes offering Southern cuisine and fresh seafood.
Unique beach activities
Amelia Island offers a variety of unique beach activities to suit all interests. Horseback riding on the beach is a popular and memorable way to explore the island's stunning coastline.
Wildlife enthusiasts can embark on guided kayak tours through the island's marshes and estuaries, where they may spot manatees, dolphins, and a diverse array of bird species.
For history buffs, a visit to Fort Clinch State Park offers a fascinating look into the island's past, with a well-preserved 19th-century fort and beautiful nature trails.
Top Beaches on Florida's Atlantic Coast
Cocoa Beach
Cocoa Beach, known as the "Surf Capital of the East Coast," is a popular destination for both tourists and locals alike.
With miles of soft sand and a laid-back atmosphere, this beach offers a quintessential Florida experience.
Surfing hot spot
Famous for its consistent waves, Cocoa Beach is a surfer's paradise.
The Cocoa Beach Surf Company provides surf lessons and board rentals for all skill levels.
Annual events, such as the Easter Surf Festival and the Ron Jon Beach 'N Boards Fest, attract professional surfers from around the world.
Proximity to Kennedy Space Center
Located just 20 miles north of Cocoa Beach, the Kennedy Space Center offers an exciting day trip for all ages.
Visitors can explore interactive exhibits, witness live rocket launches, and meet astronauts.
The center also hosts educational programs and special events throughout the year.
Pier and beachside dining
Cocoa Beach Pier, a historic landmark, extends 800 feet over the Atlantic Ocean, offering stunning views and a variety of dining options.
Sample fresh seafood at Pelican's Bar & Grill or indulge in a tropical cocktail at Rikki Tiki Tavern.
Numerous beachside cafes and restaurants provide diverse menus and picturesque views.
West Palm Beach
West Palm Beach, nestled along Florida's Gold Coast, is a sophisticated destination known for its luxury resorts, upscale shopping, and rich cultural scene.
Visitors can enjoy a mix of relaxation and entertainment, making it the perfect beach vacation.
Luxury resorts and upscale shopping
High-end resorts, such as The Breakers and Eau Palm Beach, offer lavish accommodations and top-notch amenities.
CityPlace and Worth Avenue are two shopping districts that cater to luxury shoppers, featuring designer boutiques and high-end retailers.
For an exceptional dining experience, visitors can indulge in gourmet cuisine at award-winning restaurants like Café Boulud and Buccan.
Diverse beachfront parks
West Palm Beach boasts several beachfront parks, each with its own unique appeal.
John D. MacArthur Beach State Park is ideal for nature enthusiasts, offering pristine beaches, kayaking, and bird watching.
Peanut Island Park, accessible only by boat, features a snorkeling lagoon, camping facilities, and the historic Palm Beach Maritime Museum.
Rich cultural scene
Norton Museum of Art houses an extensive collection of American, European, and Chinese art, as well as contemporary works and photography.
The Kravis Center for the Performing Arts hosts a wide range of performances, including Broadway shows, ballet, opera, and concerts.
The annual SunFest, Florida's largest waterfront music and art festival, takes place in downtown West Palm Beach, attracting thousands of visitors each year.
Tip: Plan your visit to West Palm Beach around the cultural events and festivals that interest you most. Check local event calendars for details on upcoming performances, exhibits, and celebrations.
Unforgettable Beaches on Florida's Gulf Coast
Siesta Key
Award-winning sand quality
Recognized for its 99% quartz sand, Siesta Key's sand remains cool even on hot days.
Siesta Beach has been named the #1 beach in the US multiple times, including by Dr. Beach and TripAdvisor.
Perfect for sandcastle building, sunbathing, and beachcombing.
Calm, shallow waters
The Gulf of Mexico provides gentle waves, ideal for swimming and family-friendly water activities.
Opportunities for paddleboarding, kayaking, and snorkeling.
Vibrant village atmosphere
Siesta Key Village features a lively atmosphere with restaurants, bars, and shops.
Popular eateries include Siesta Key Oyster Bar, The Hub Baja Grill, and Daiquiri Deck.
Explore the Siesta Key Farmers Market, held every Sunday morning.
Clearwater Beach
Pristine shoreline
Clearwater Beach is known for its sugar-white sand and crystal-clear waters.
Beach amenities include cabana rentals, showers, restrooms, and beach volleyball courts.
Enjoy stunning sunsets over the Gulf of Mexico.
Family-friendly activities
Take a trip to Clearwater Marine Aquarium, home to Winter, the famous dolphin from the movie Dolphin Tale.
Embark on a pirate cruise aboard Captain Memo's Pirate Ship for a swashbuckling adventure.
Rent bikes, scooters, or Segways to explore the beach and surrounding areas.
Exciting nightlife
Clearwater Beach offers a vibrant nightlife scene with bars, clubs, and live music venues.
Check out Shephard's Tiki Bar & Grill for live music, tropical drinks, and waterfront views.
Visit Jimmy's Crow's Nest, a rooftop bar offering panoramic views of the beach and stunning sunsets.
Experience Pier 60's nightly Sunset Festival, featuring local artisans, street performers, and family-friendly activities.
By exploring the top beaches on Florida's Atlantic Coast and the unforgettable beaches on Florida's Gulf Coast, visitors are sure to find the perfect beach experience to suit their preferences.
From the surfing haven of Cocoa Beach to the award-winning sands of Siesta Key, Florida's coastal gems cater to every type of beach lover.
Caladesi Island State Park
Accessible only by boat
Reach Caladesi Island via a private boat or the Caladesi Island Ferry service from Honeymoon Island State Park.
Ferry tickets are limited, so arrive early to secure a spot, especially during peak season.
Ferry service typically runs from 10:00 AM to 4:00 PM (weather permitting).
Unspoiled natural beauty
Caladesi Island offers pristine, sugar-white sand beaches and crystal-clear waters.
Designated as a state park to preserve its natural state, the island remains largely undeveloped.
Find tranquility and seclusion away from crowded tourist hotspots.
Wildlife and nature trails
Explore the 3-mile nature trail through the island's maritime hammock and pine forest, ideal for birdwatching and wildlife viewing.
Encounter diverse species such as ospreys, gopher tortoises, and armadillos.
Enjoy kayaking or canoeing through the park's mangrove-covered waterways.
Bahia Honda State Park
Remote location in the Florida Keys
Situated on Big Pine Key, approximately 37 miles from Key West, Bahia Honda State Park offers a secluded getaway.
The park spans over 500 acres, encompassing several smaller keys and a variety of ecosystems.
Escape the hustle and bustle of popular Florida Keys destinations.
Snorkeling and marine life
Bahia Honda's crystal-clear waters and shallow reefs make it an ideal location for snorkeling.
Encounter a diverse array of marine life, including colorful fish, sea turtles, and various coral species.
Snorkel gear is available for rent, or join a guided snorkeling tour provided by the park's concessionaire.
Old Bahia Honda Bridge
The historic Old Bahia Honda Bridge offers panoramic views of the park, the ocean, and the surrounding keys.
Originally part of the Overseas Railroad, the bridge now serves as a scenic observation deck and fishing pier.
Take a leisurely walk on the bridge for stunning photo opportunities and a glimpse into the area's history.
These secluded Florida beaches are perfect for travelers seeking tranquility and unspoiled natural beauty. Both Caladesi Island State Park and Bahia Honda State Park offer unique experiences and breathtaking scenery, allowing visitors to fully immerse themselves in the wonders of Florida's coastal environment.
Beach Safety Tips
Swimming and water safety
Always swim near a lifeguard: Choose beaches with lifeguard stations and heed their warnings and advice.
Watch for rip currents: Learn to identify rip currents and know how to escape them by swimming parallel to the shore until free from the current, then swimming back to the beach.
Supervise children: Keep a close eye on children while swimming, even if lifeguards are present.
Use flotation devices: Utilize life jackets or other flotation devices when participating in water activities, especially for inexperienced swimmers.
B. Sun protection
Apply sunscreen: Use a broad-spectrum sunscreen with a minimum SPF of 30, and reapply every two hours or after swimming or sweating.
Wear protective clothing: Choose lightweight, long-sleeved shirts and wide-brimmed hats for additional sun protection.
Seek shade: Take breaks from the sun by resting under umbrellas or other shaded areas, especially during peak UV exposure hours (10 AM – 4 PM).
Stay hydrated: Drink plenty of water to stay hydrated and prevent heat exhaustion or heatstroke.
C. Beach etiquette and environmental preservation
Leave no trace: Collect and dispose of all trash properly, and consider participating in beach clean-up efforts.
Respect wildlife: Observe animals from a distance, avoid feeding them, and do not disturb nesting areas or habitats.
Follow local rules and regulations: Adhere to posted signs and guidelines regarding beach access, parking, and prohibited activities.
Preserve the dunes: Use designated walkways and avoid trampling on dunes, which serve as crucial barriers against coastal erosion and storm surges.
Conclusion
This article has explored the best beaches in Florida, spanning from the Panhandle to the Gulf Coast and Atlantic Coast, including hidden gems and secluded sanctuaries.
Each beach offers its unique allure, whether it's the soft sands of Siesta Key, the surfing opportunities in Cocoa Beach, or the unspoiled beauty of Caladesi Island State Park.
Encouragement to explore and find your perfect beach getaway With such an extensive and diverse selection of beaches to choose from, there's truly something for every beach lover in the Sunshine State.
Embark on your Florida beach adventure, armed with the knowledge and tips provided in this article, and discover your perfect coastal getaway. No matter your interests, the perfect beach experience awaits you in Florida.