Understanding the local regulations regarding dogs on Navarre Beach is crucial for both visitors and residents in Florida's Emerald Coast.
The rules can vary significantly between counties and even from beach to beach.
As such, it's essential to stay informed to ensure a hassle-free and enjoyable beach experience for you and your furry friend.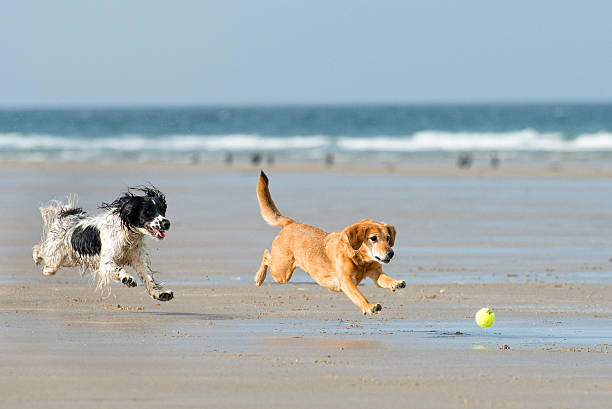 Is Navarre Beach Dog Friendly?
As of my last writing, dogs were not permitted on Navarre Beach in Santa Rosa County. I'm here to confirm that this regulation remains in place, meaning our canine friends are still not allowed to frolic freely on Navarre's sandy shores.
To avoid any potential inconveniences or legal issues, it's best to leave your four-legged pals at home when heading to Navarre Beach.
However, there has been a considerable change in the neighboring Walton County.
Unlike in Santa Rosa County, the authorities in Walton County have introduced a Dog on Beach permit system. This initiative allows you to bring your dogs to the beach under specific conditions.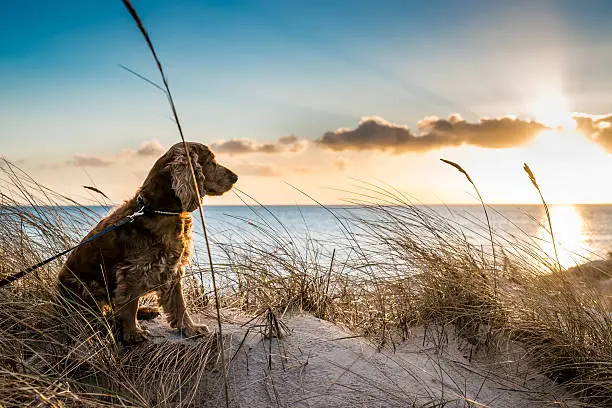 You Can Get A Dog Beach Permit For Walton County – Here's How
Before you can sit back and enjoy your slice of paradise with your 4-legged beach buddy, there's a bit of paperwork that needs to be done.
Yes, we're talking about permits, the necessary "evil" that helps keep our community safe and orderly.
Fear not, though! We're here to break down exactly what you need to get your permit sorted in no time.
Gather Your Docs
First things first, you're going to need to fill out the application. Make sure to fill it out completely – no blanks!
Now, let's get to the paperwork you'll need to pull together. Here's what Walton County is going to ask for:
Rabies Vaccination Certificate: If you're a pet owner, you're going to need to provide this certificate. The name on the document must match the name of the property owner or permanent resident, as listed in the application.
Proof of Residency or Property Ownership: This is where you prove you're a Walton resident or property owner. This could be a deed, driver's license, tax receipt, utility bill, lease agreement, or even your voter's registration. Just make sure your address is visible.
Proof of Controlling Interest or Consent: If your property is owned by a business entity, like an LLC or a company, you'll need to show that you hold at least 51% controlling interest. If you don't, no worries – just get written consent from the co-owners for the use of the property.
Getting Your Permit
After you've got your paperwork sorted, you'll need to decide how you want to receive your permit. Walton County gives you two options:
By Mail: If you choose to have your permit mailed, remember to factor in a 2-3 weeks delivery time.
In Person: If you prefer to pick up your permit, head over to Walton County Code Compliance at 46 Coastal Centre Blvd, Santa Rosa Beach, FL 32435. They're open Monday through Friday from 8:00 A.M. to 4:30 P.M.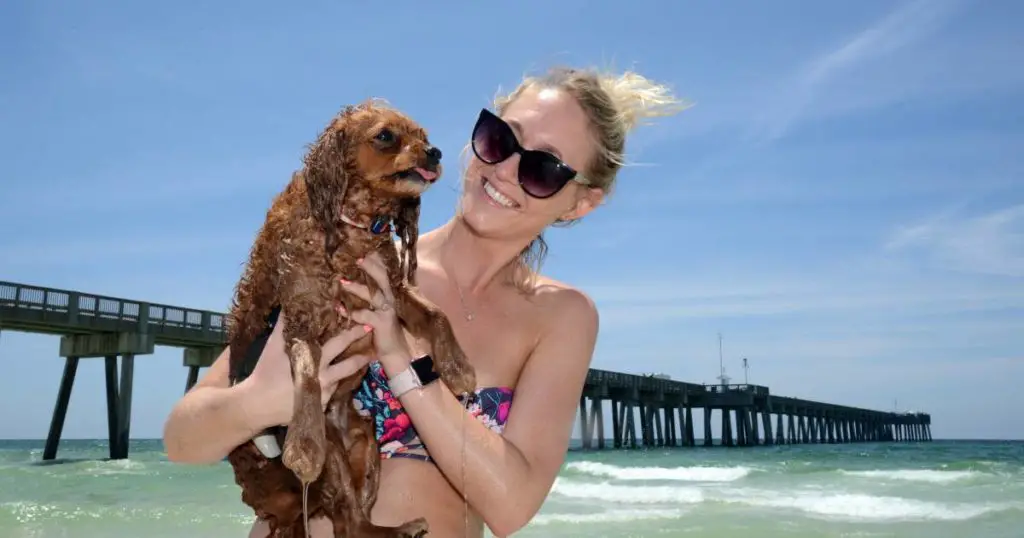 Rules For Taking Your Dog To Walton County Beaches
As of now, you need to acquire a Dog on Beach permit to take your dogs onto Walton County's beaches. The permits come into effect on August 1 each year and are valid through July 31 of the following year. 
This is regardless of when you purchase the permit during the year, but there is a grace period extending until August 15. This provides permit holders with a brief extra window to renew their permits without penalties.
Do take note that permitted dogs are only allowed on Walton County beaches between the times of 3:30 PM and 8:30 AM throughout the year.
This means your canine companion can enjoy the early mornings and cooler evenings on the beach while avoiding the most crowded and hottest parts of the day, ensuring a more enjoyable experience for everyone.
Now, if you're planning to head over to the beaches in Destin/Okaloosa County, be aware that dogs are not allowed. 
However, this does not mean there aren't any dog-friendly spots in this area. There is a fantastic dog-friendly park at 4100 Indian Bayou Trail in Destin that can be a wonderful alternative for your four-legged family members to stretch their legs, socialize, and enjoy the great outdoors.
Other Nearby Places to Navarre Beach That Are Dog Friendly
Although Navarre beach is not pet friendly, there are other spots that are available for you and your canine pal to visit and enjoy a sun-filled, surf chasing day.
You have two beautiful beaches on the Pensacola beach that dog owners and dogs can enjoy.
These beaches are reserved for dogs only, and even though it is small, about half the size of a football field, your dogs are welcome to frolic in the surf and enjoy some fun in the sun.
Parking lot 21.5 is the Pensacola beach west dog park situated on Fort Pickens road, just past the set of condos, 19 miles from Navarre Beach Fishing Pier, and should take about 35 minutes to reach.
A closer beach would be the Pensacola beach dog park east, located at the first parking lot past the Portofino Towers number 28.5 on Via de Luna.
This is about 12 miles from the Navarre Beach Fishing Pier and will take you roughly 25 minutes to reach.
Both these parks are dog friendly and offer doggie bags, disposable bins, and handy wipes to ensure that you can easily dispose of your dog's mess, but just in case, bring your own.
To avoid the dog box and any hefty fines, follow the same rules at either park.
Hours are from sunrise to sunset daily. During the turtle season months of May 1 to October 31, the park opens from 7 am to sunset daily.
Two big signs have been posted to designate the area that is open for your dog to explore.
Both beach parks are open to dogs only.
Dogs must at all times be on a leash.
An up-to-date rabies tag must be visible on the dog. This is as per Florida law.
All dog fecal waste must be picked up immediately and disposed of correctly by the owner.
Always bring water and a bowl for your pet to have fresh water.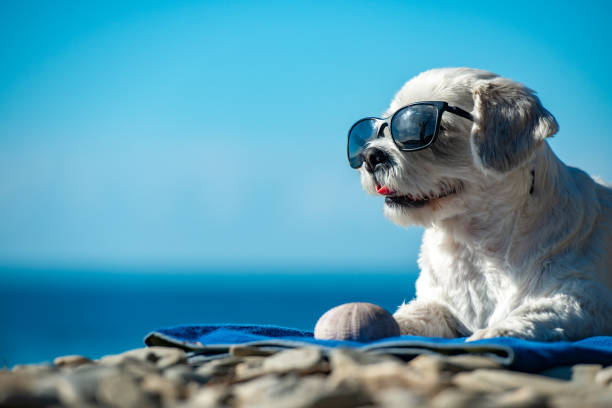 Off-Leash Dog Parks Near Navarre
Going to the beach is great when your pup has room to run and play without the restriction of his leash.
Dogs need the freedom to run, bounce and play by themselves without the constant tugging of their leash.
So, where can you take your canine to enjoy some freedom? Santa Rosa County has a waterfront dog park on either side of it.
The Liza Jackson Beach Park in Fort Walton Beach is fenced off for the protection of your pup and that of the wildlife.
There is a petition that has been pushed forward to allow a dog-friendly off-leash beach park in Navarre.
But with concerns for tourist health safety and wildlife trepidations, there has not yet been any final decision on whether or not a park will be opened.
Dog-Friendly Activities In Navarre?
With the limited number of beaches available for your dog to romp around, it would be ideal to find some alternative activities to do that include your canine friend.
Jolly Sailing & Dolphin Cruise: This is the perfect way to explore the ocean and make memories with your best friend. This cruise is pet friendly and will take you to private beaches where your four-legged child will have ample space to enjoy some well-earned freedom.
H20 Pensacola dolphin tours, pontoons, and more offer rentals on pontoon boats and stand-up paddle boats for those adrenaline junky dogs. Rentals of kayaks and SUP are also available, and all their rentals are pet friendly for a truly bonding experience with your best friend.
Blackwater Heritage State Trail this is the perfect place to take a leisurely stroll with your dog or take a scenic bike ride for a more vigorous workout for your friend.
Oak Tree Nature Park is a beautiful walking trail park for you and your dog, just as long as he is controlled on a leash and you clean up after him. This circuit of almost 1 mile long trail is the perfect setting for beautiful scenery and a bonding experience with your pal.
Dog-Friendly Restaurants On Navarre Beach?
We all have to eat, but what do you do with your companion when you need to get a bite to eat? Take him with you, obviously.
Navarre is opening up to the idea of pet-friendly facilities, and more and more restaurants are open to accommodate your four-legged fur babies.
Dewey Destin's is a fast-casual eatery that allows your canine friend to join you outside at picnic tables with soft sandy beaches and cool shady areas.
TC's Front Porch is a funky bar and grill where your canine can join you for a delicious meal and some refreshments at their outside tables.
Samurai welcome your pets at their outside, pet-friendly tables if sushi is what you're after for lunch or dinner.
Tropical Smoothie Café is a great healthy alternative to the usual fast-food options and welcomes your furry friend as well for a relaxing break before the next big adventure.
Conclusion
So, whether you're a resident or a visitor in Florida's Emerald Coast, understanding these regulations can help you plan for a great day out with your furry friend. 
But sadly the beaches don't accommodate the family dog that is no longer left at home when you go vacationing.
There are, however, some great beaches close to Navarre where dogs are welcome to frolic and romp around.
But the beach is not everything the emerald coast has to offer, and there are some great activities apart from the beach that can be enjoyed with your companion.
Not to mention some fantastic places to sit down for a well-deserved break and enjoy a great meal.