Navarre Beach brands itself as Florida's most relaxing place, and the truth of this statement is visible to anyone who visits.
With clear air, clean translucent sea, well-maintained facilities, and one of the best beaches in North America, Navarre Beach is the perfect destination to get away and relax. 
Ninety-six percent of the people visiting Navarre Beach come on holiday rather than on business, and of these, 81 percent enjoy the beach the most.
Navarre Beach attracts people who want to steer clear of the "madding crowd," As a result, there are only a few times a year when the beaches are crowded.
While Florida boasts destinations like Disney World, which enjoy a global brand awareness, it also has small gems hidden away not on most people's radars.
Navarre Beach is one such destination with wonderful soft white beaches and a clear blue sea.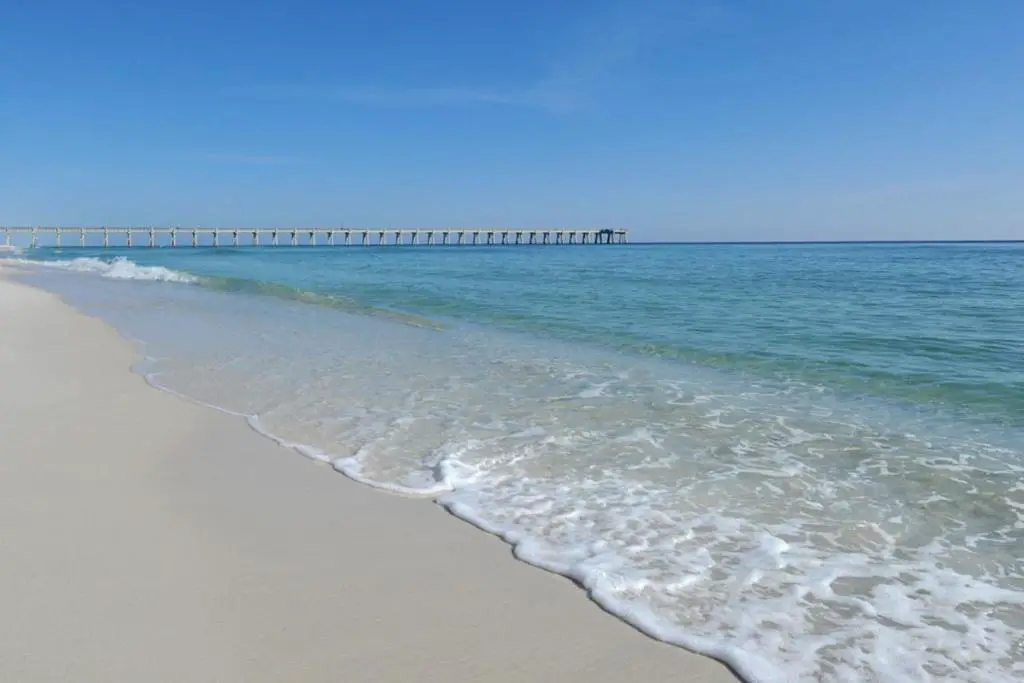 Is Navarre Beach Crowded?
Navarre beach's tagline is "Florida's Most Relaxing Place," Even during peak vacation times, it remains true to its slogan.
If you're looking for a less family vacation that is less crowded and has a combination n of sun, sand, and solitude, Navarre Beach is one of the best choices of any Gulf Coast beach in Florida.
When you first arrive at Navarre beach, it seems almost isolated.
While it remains one of Florida's less crowded beaches, people (weather permitting) always take advantage of the beach's sugary and white Appalachian quartz sand. 
Remarkably the sand stays cool even in direct sunlight.
Such an oasis of tranquillity can't stay so quiet for the whole year, and the truth is there are a few periods of the year when the beaches are crowded.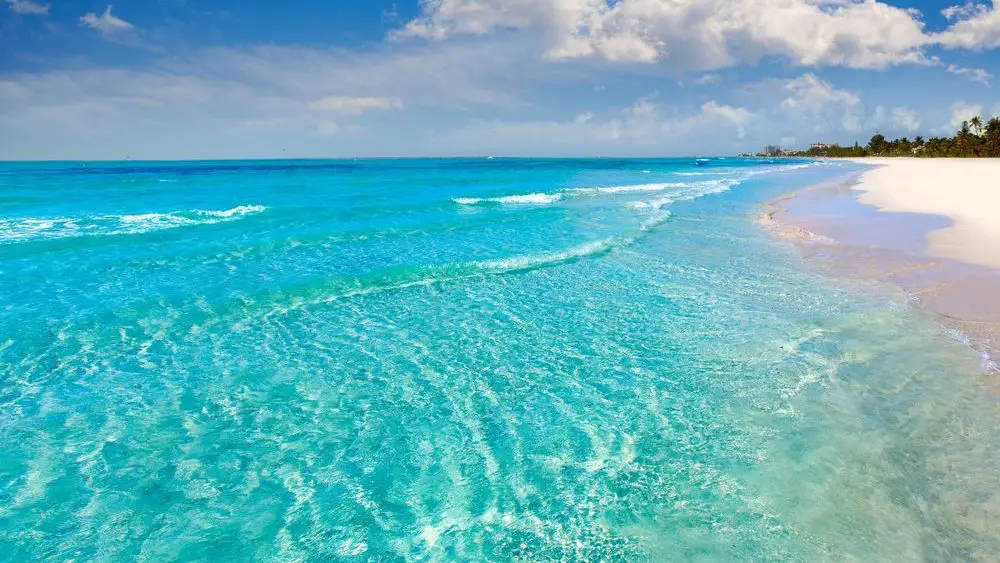 Navarre Beach's Most Popular Months
Navarre beach is not as crowded as some beaches in Florida.
Navarre is a popular destination for spring break weeks and the busiest time tends to be in the middle of March (from the 10th of March through to the 23rd of March).
Colleges and high schools in Florida, Georgia, and Arkansas see Navarre beach as a perfect destination.
The normally peaceful town that 37,362 residents (2022 census) call home swells by almost 300,000 visitors during spring break week.
During this limited period, it is true that Navarre Beach is crowded.
The busiest tourist month in Navarre Beach is June during the rest of the year, followed by July and May.
The times when the beaches are least crowded are between November and December when the water temperature is reduced.
The following shows the percentage of people who visit Navarre beach per month. These numbers do not include the spike caused by the massive influx over spring break.
| | |
| --- | --- |
| Month | Percentage visitors over the year |
| January | 4.97% |
| February | 6.95% |
| March | 9.77% |
| April | 10.26% |
| May | 11.59% |
| June | 16.56% |
| July | 13.91% |
| August | 6.29% |
| September | 5.96% |
| October | 4.64% |
| November | 3.81% |
| December | 5.30% |
Apart from the exceptionally busy periods, the beaches remain relatively unpopulated.
Although most beachgoers congregate around the Navarre Beach pier, you will generally have your bit of paradise beach to yourself if you are prepared to walk a little distance away.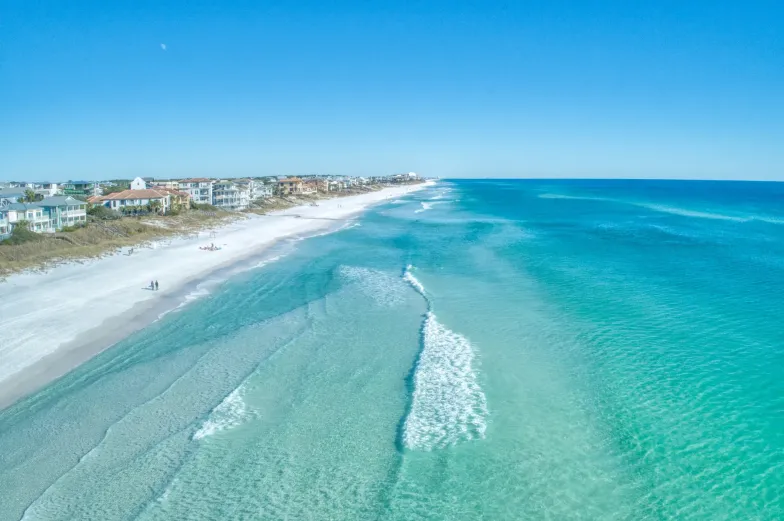 What About The Future For Navarre Beach?
90.1% of visitors to the county stayed in Navarre during their trip.
Navarre beach appeals to short-term holidaymakers, and while the average stay at Navarre beach is for 9.89 days, 80% of holidaymakers stay for a week or less.
When people holiday at Navarre beach, they are generally very happy with the experience. In a recent survey, just over 92% of respondents were very satisfied with their visit to Navarre beach.
While 6.2% were somewhat satisfied, less than 2% of respondents replied that they were somewhat or very dissatisfied. 
Nearly ninety percent of respondents said they were extremely likely to return to the county, while another 7.0% thought it was somewhat likely.
Less than 3% of respondents said they were either moderately or extremely unlikely to return.
These numbers are very positive for Navara beach and point to the possibility that Navarre beach will increase in popularity in the future, which may impact the number of people and crowds on the beach.
What Accommodation Capacity Does Navarre Beach Offer?
Based on licenses issued by the county, Navarre beach offers the following lodging units.
Condos are the most popular accommodation and account for 48.4% of the rented accommodation.
24.2% of visitors stayed with friends and family. 
10.7% of visitors stayed in a hotel  
Campground/RV rentals accounted for 9,9% of accommodations.
In Navarre beach, there is the following number of accommodation rooms available.
| | | |
| --- | --- | --- |
| Type of accommodation | Number of establishments | Number of units |
| Condos | 36 | 421 |
| Dwelling | 22 | 101 |
| Hotel | 5 | 487 |
| Motel | 8 | 465 |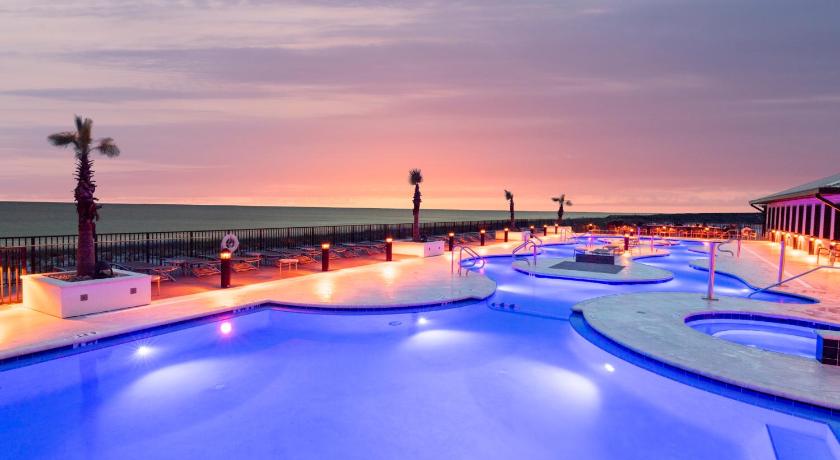 What Do People Do At Navarre Beach?
One of the attractions of Navarre for its visitors is that other than the amazing beach, there are very few other attractions. Navarre Beach has no entertainment centers, casinos, or other tourist attractions.
In the recent survey, the almost unanimous view was that the lack of crowds and attractions is a major reason for the holidaymakers to return.
A random selection of holidaymakers' reviews.
Navarre Beach: January 2022
"We absolutely were wowed by the seashore areas. The beach is great at this time of year for long quiet walks as the beautiful emerald; clear green waters are too cold to swim in. (58-62F).
It is a peaceful location without crowds to contend with until late March/April."
Navarre Beach: November 2021
"visited a few of the beaches. It was probably our best experience, particularly from a tourist perspective. Easy to find free parking very accessible to a wonderful beach."
Navarre Beach: October 2021
"We stopped at the park to use the restroom facility.
On a scale of 1-10, I give it a 12 for cleanliness, the number of toilets & sinks, functioning door locks, purse hooks, hand soap, and paper products, including seat covers, toilet paper, and paper towels.
So many public bathrooms are sadly lacking incompleteness."
Navarre Beach: August 2021
"the best months to visit the city and avoid the heat and humidity are April to late May and late September to early November."
Conclusion
There is a jewel in the Northwest of Florida, which has no hustling theme parks or crowded beaches but rather a place where you can restore your soul and recover from the madness in the world today. 
Navarre Beach is situated on the same barrier island as Pensacola Beach, lying between the Gulf Islands National Seashore and Navarre Beach Marine Park.